The biggest benefit to an online book club is that you never have to miss a meeting again. The Peanut Blossom Book Club was created with YOU in mind. We meet once a month on GoodReads for discussion of our latest pick. Come on and join us!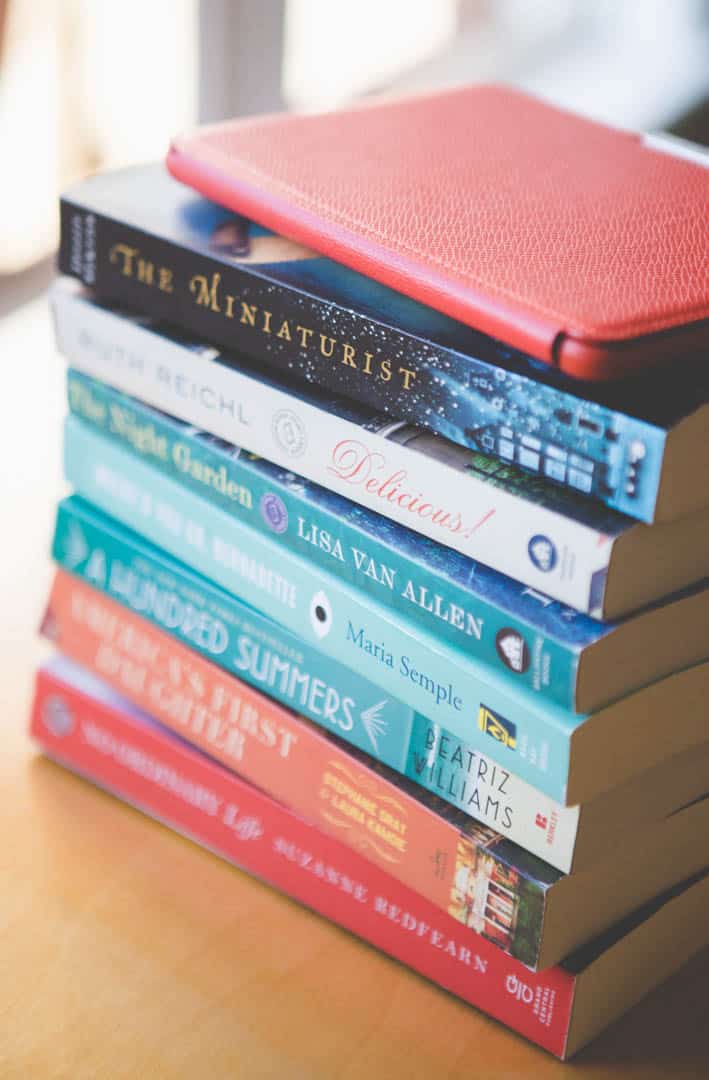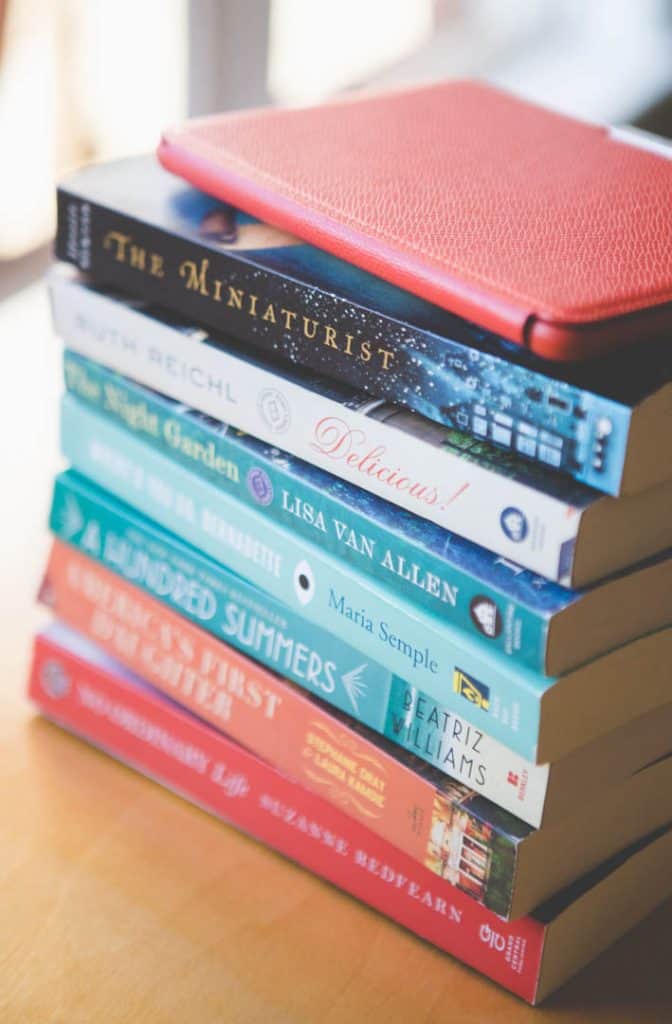 I distinctly remember the exact moment where I had the inspiration to launch the Peanut Blossom Book Club, an online book club for crazy-busy moms.
I was driving home from Target. My attempt at participating in a real-life book club had just failed. My book club friends lived 45 minutes away and with young kids I had missed one too many meetings due to a last-minute conflict. After making time to read the official pick, I hated missing the discussion time after time.
I knew I couldn't possibly be alone.
ALL moms are crazy-busy, whether or not their kids are little.
Who hasn't experienced the frustration of an unexpected cancelation of something you were really looking forward to because something came up? Sick kid, unexpected school event, etc? That's just mom life, right?
I thought there just had to be a way to enjoy the pay-off of the book discussion after investing my time in reading. So I took things into my own hands and set out to create the perfect online book club for me. A group where I would never have to worry about missing a meeting again.
Four years later I can honestly say that our book club has saved me from abandoning reading as a pastime. Without our group I was barely reading 3-5 books in a year.
Now? Two years in a row I've read 30+ books.
Running our book club has an extremely selfish drive behind it. I love knowing how much it helps and serves other moms, but:
*I* am the reader that needed the saving most.
How to organize a great online book club:
I thought long and hard about the kind of friends I wanted to draw into our group.
I specifically hoped to find:
women who used to love reading but struggled to find time for it in their busy mom life
women like me who felt bogged down with daily stresses and needed something fun and uplifting in their life
women who enjoy a good laugh and a not-too-serious book
women who have a diverse set of interests and love to read books from all kinds of genres

Which books make the best online book club book picks?
This was my biggest hang-up. Too often I had to force myself through a book club pick that was too heavy, too sad, or too "brainy." I wanted to read for pleasure and relaxation.
There is absolutely nothing wrong with organizing a book club around reading intellectually stimulating books. I can definitely imagine a day where that will be something I would love.
But right now? In the crazy hustle and bustle of raising my young kids? If I'm going to carve room for it in my schedule, it needs to be FUN.
I think the best book club books are the ones that match what the group wants to read! I set very specific parameters for picking books for our group.
How do we pick our online book club books?
When I look for books for our official monthly choices, I keep these things in mind:
NO Tearjerkers: This is my #1 rule. If the book looks too sad or depressing, it's an absolute NO.
No big controversy: I get enough of that in social media. If the book's subject is a hot button issue in politics or social commentary, I generally try to avoid it.
Easy prose: I like to think of our club like a Top 40 Radio Station. I look for big blockbuster authors that write popular easy reading hits. How I define "big" and "popular" may change from genre to genre.
A variety of genres: I don't stick to just women's fiction. Every year I've sprinkled in mystery, historical fiction, romance, YA, mild thrillers, and magical realism.
Group suggestions: I am always listening and watching which books our group members recommend on their own. I've discovered new authors and genres thanks to the comments from our members. Our annual picks are absolutely shaped by the feedback I get from YOU each and every month even if I'm not directly asking for a vote.
Where do we hold our online book club discussions?
When I launched our group, I thought I'd find the most people over on Facebook. My mission was to find moms who didn't even know how much they were missing reading until they discovered there was a group built just with them in mind.
For the first three years I held our discussions publicly on the Peanut Blossom page as a way to attract and draw in new moms to our group.
Social media changes and we have to change with it. Now in our fourth year, I'm excited to experiment with moving our monthly book discussions onto a new platform with our GoodReads group. The original Facebook group remains open and active, but I'm excited about offering up the option for participating in either spot.
Want to join our book club?:
Facebook: Our original group remains live and active here. It's a fun and easy spot for sharing book recommendations and pleasant chatter with fellow book lovers.
Email subscription: I send a weekly email with book reminders and other fun seasonal suggestions for spending time with your family. If you really want to be sure you never miss an important announcement, I highly recommend you get on my list:
GET ON THE LIST
Still not sure? If you like any of these books, you'll be happy in our online book club:
My favorite book club memory comes from the very first meeting of my real-life book club back in Illinois before we moved. In order to make sure we were a good fit for each other, everyone listed their favorite books. We knew the group would be fun when there was so much cross-over in our titles.
So if you like ANY, not necessarily all, of these titles, you just might be my reading soulmate:
The Night Circus
Big Little Lies
Outlander
Me Before You
America's First Daughter
Ready Player One
The Maze Runner
A Court of Thorns and Roses
Anything by Sarah Addison Allen
Anything by Mary Kay Andrews

Want to see which books we've read as a group?:
Year 1, 2015 book club books:
Check out the full list of our 2015 book club picks here. (COMING SOON)
Year 2, 2016 book club books:
Check out the full list of our 2016 book club picks here. (COMING SOON)
Year 3, 2017 book club books:
Check out the full list of our 2017 book club picks here. (COMING SOON)
year 4, 2018 book club books:
Check out the full list of our 2018 book club picks here.
Year 5, 2019 book club books:
Check out the full list of our 2019 book club picks here.
Still not finding what you want? Check out these book lists for great book club book ideas: