This vanilla bean crème brûlée has an amazing secret ingredient: Grand Marnier liqueur gives it a mouth watering brightness that makes this the very best crème brûlée you've ever had.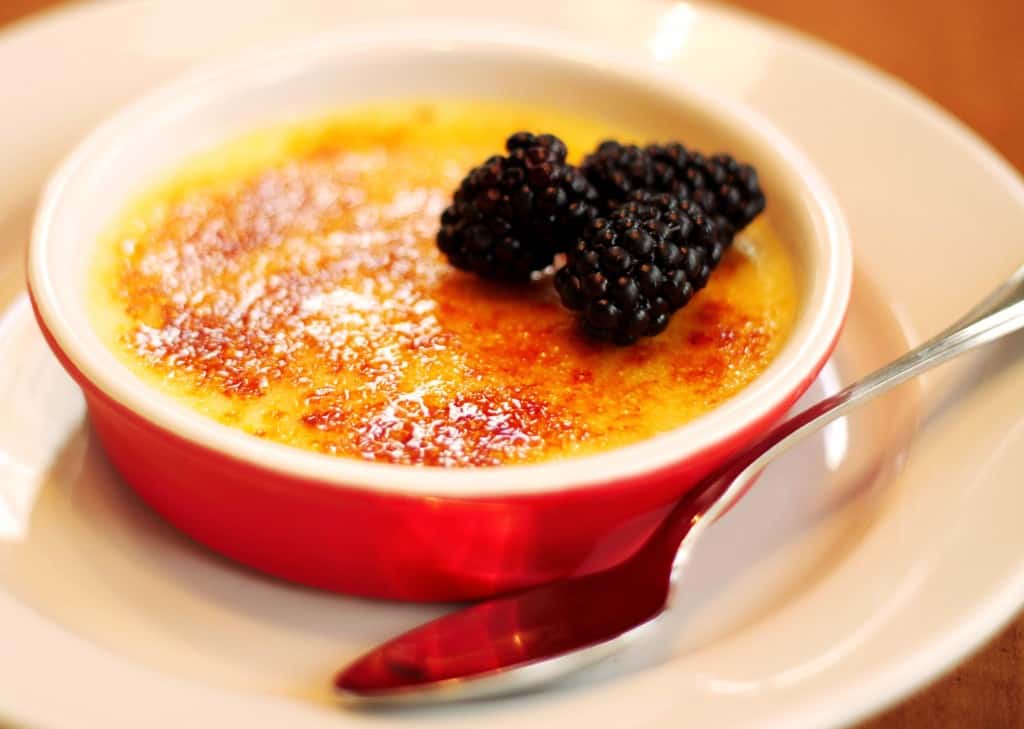 Several Christmases ago, my good friend Zina gave me a surprise gift. We do not normally exchange holiday presents so it was with delight and laughter that I opened the package to find a crème brûlée set. Zina told me she was giving me the set in hopes that I would make my famous vanilla bean crème brûlée for her! A win-win gift if ever there was one!
Fast forward to several office birthday parties and special occasions and I am now the Official crème brûlée girl. Instead of cupcakes, this is the treat that Zina consistently requests. It really took me by surprise to find just how easy this vanilla bean crème brûlée recipe is to make.
The only thing you really need to learn is a few very specific tricks in the method. My recipe below is obsessively detailed and long but should take all the guesswork out of when to do as you assemble the dessert.
Party guests are always wowed by my vanilla bean crème brûlée dessert. Many of my book club lady friends said it belonged more in a restaurant than in a home. We were too busy chatting that evening, but it would also be fun to lay out the kitchen torch and let your guests burn their own sugar. Interactive food at its best.
Why vanilla bean crème brûlée is the perfect party dessert:
You can make the custards ahead of time and just torch the sugar in front of your guests.
The custard is light and pairs wonderfully with fresh berries for a sweet treat.
Your friends will think you are an amazing Kitchen Goddess.
Tools you need to make vanilla bean crème brûlée:
Print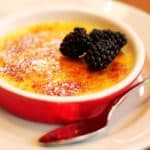 Vanilla bean crème brûlée
---
Author:

Yield:

6

servings

1

x
Description
This elegant dessert is perfect for a dinner party or special occasion. You can make the custards ahead of time and surprise your guests with torching the sugar at the table.
---
Scale
Ingredients
3 cup

s heavy cream

1

extra large egg

4

extra large egg yolks (discard the whites or save for something else)

1/2 cup

sugar, plus more for the tops

1 tbsp

Grand Marnier (Truly, don't skip this ingredient. Crucial.)

1 tsp

vanilla extract
---
Instructions
1. Preheat your oven to 300 degrees.
2. Place a large saucepan of water on to boil.
3. Get all of your equipment in place. This is probably the most important step. You will need 6 ramekins. I really prefer this style of creme brûlée dishes since it allows for a greater surface area for the burned sugar. Now find a roasting pan or oven-safe baking dish that fits all 6 ramekins in a single layer. Place the ramekins inside the pan. It is ok if the sides of the ramekins touch, you just want to be sure they are all level. Set out your 1/2 cup measuring cup next to the baking pan.
4. In a small saucepan, add the 3 cups of cream. Don't turn the burner on just yet!
5. In the bowl of your electric mixer, add the egg plus additional yolks and the 1/2 cup of sugar. Mix on low until just combined. Place the vanilla and Grand Marnier near the mixer and have your measuring spoons ready.
6. Now you can turn the burner on under your cream to medium high. Continuously whisk the cream to prevent it from burning on the bottom. Scald the cream (bring it to a level just before boiling, nice and hot.)
7. Now this is the only tricky step: You need to temper your eggs. If you add the hot cream all at once, the eggs will scramble. With your mixer turned on low, add just a spoonful of the hot cream to the eggs and blend. For good measure, do it again with another spoonful of cream. Keep the mixer running on low and SLOWLY add the remaining hot cream.
8. Once the cream is blended with the eggs, add your vanilla and Grand Marnier. Turn the mixer off. There will likely be some foam at the top of your cream. Using a shallow spoon, carefully scrape the foam as best you can off the cream and discard.
9. Using your 1/2 cup measuring cup, fill your prepared ramekins with the cream mixture. My ramekins take about 3/4 cup of cream but it is best to start smaller and divide as evenly as you can until you've filled the ramekins with the entire cream mixture. You want them to all cook evenly so I have found it best to measure.
10. With the ramekins filled, your large saucepan of water should now be boiling. Carefully pour the boiling water into your baking dish without spilling the water into your ramekins. You are creating a water bath to prevent the custards from cracking and to help aid the even cooking process. Pour the water until it comes up to about half the height of your ramekins.
11. Bake for 35-40 minutes. Custards should be set when gently wiggled. (I use a pair of tongs for this test.)
12. Using a pair of tongs, carefully remove the ramekins from the water bath. Let cool to room temperature and then chill to set. You want the custards cold so they can withstand the torching process during serving. They may be made up to 3 days before serving.
---
Notes
To serve: Sprinkle a tbsp of sugar over the top of each custard. (I spread evenly with the back of my spoon.) Torch with a kitchen creme brûlée blow torch. No, a broiler does not do as good of a job. Treat yourself to this fun toy, it is so worth it!
Category:

Dessert

Cuisine:

French