Easy Swiss meringue buttercream frosting is perfect for cakes or cupcakes that need to sit out for a while at your party. Light and airy and not too sweet, this is a deceptively easy recipe for beginner bakers and can be flavored lots of different ways.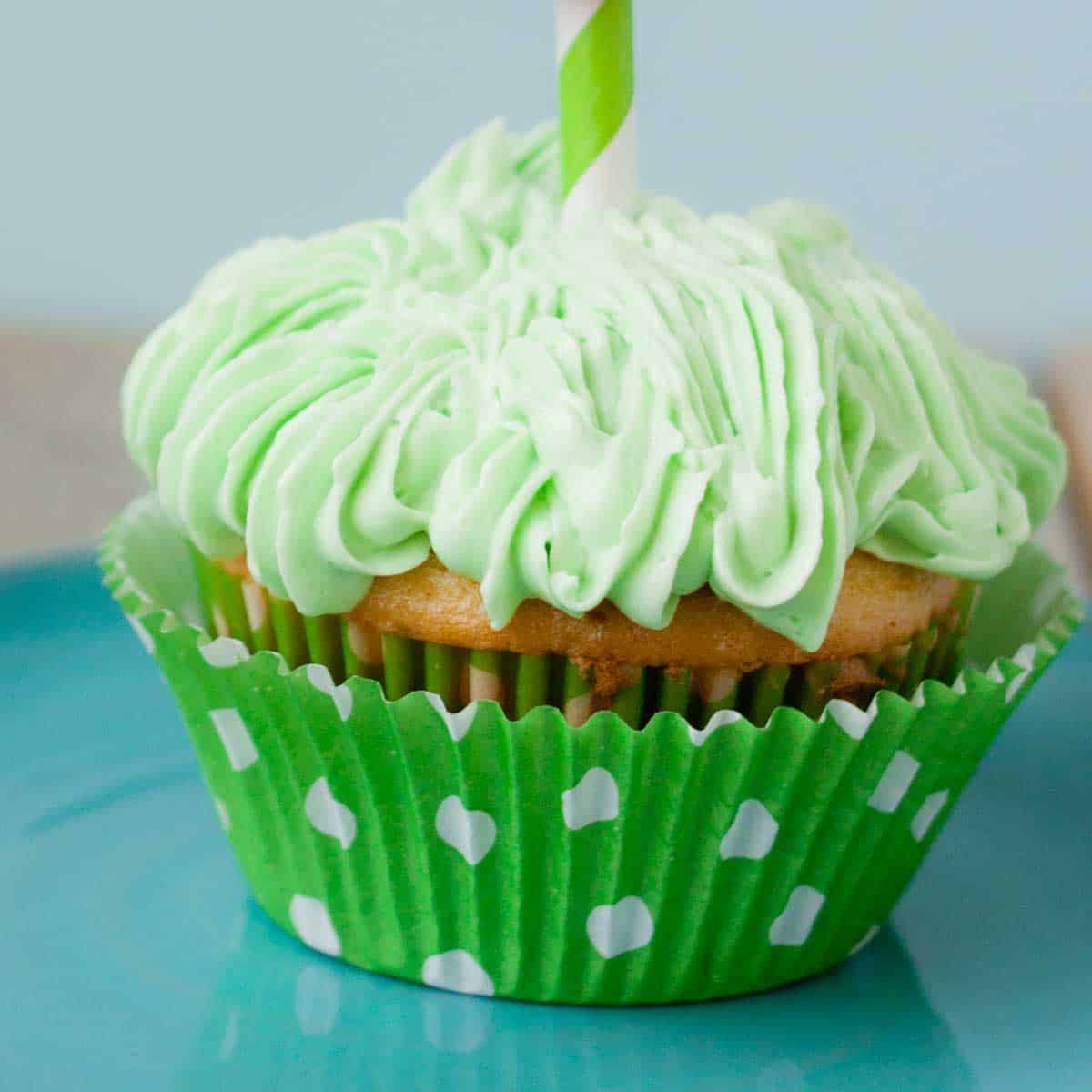 If you're looking for a frosting that can be used for a cake that will sit out for a while at your party, you should absolutely consider a Swiss meringue buttercream.
This light and fluffy frosting is a much more delicate tasting alternative to traditional buttercream.
It is also more stable for sitting out on a buffet table because there is no milk in the mix.
My mom actually prefers this vanilla Swiss meringue buttercream to all other cake frostings because it isn't too sweet and doesn't feel as thick on each bite of her dessert.
If you thought you didn't like birthday cake, chances are likely you just haven't tried the right frosting. This is likely going to be a huge hit for you.
Jump to:
Why This is the Best Recipe
I chose this easy Swiss meringue buttercream when I baked my popular 7-layer rainbow cake for my daughter's birthday.
The pretty white vanilla frosting offset the stunning layers of colorful cake in every slice.
It was also the perfect choice because:
Room Temperature Ready: You can let the cake sit out for several hours and not worry about milk in the mix going sour.
Light and Fluffy: The airy meringue base gives the frosting a delicate texture that still holds its shape when decorating.
Not Too Sweet: If you're planning a super-sweet cake like a vanilla cake or even a funfetti, this frosting is a perfect pick because it will let the cake flavor shine.
Easy to Use: The frosting holds its shape well and is perfect for decorating either a layer cake or batch of cupcakes.
Freezer Friendly: You can make this frosting in advance and store it in the freezer. This makes your cake decorating day SO much easier!
Ingredients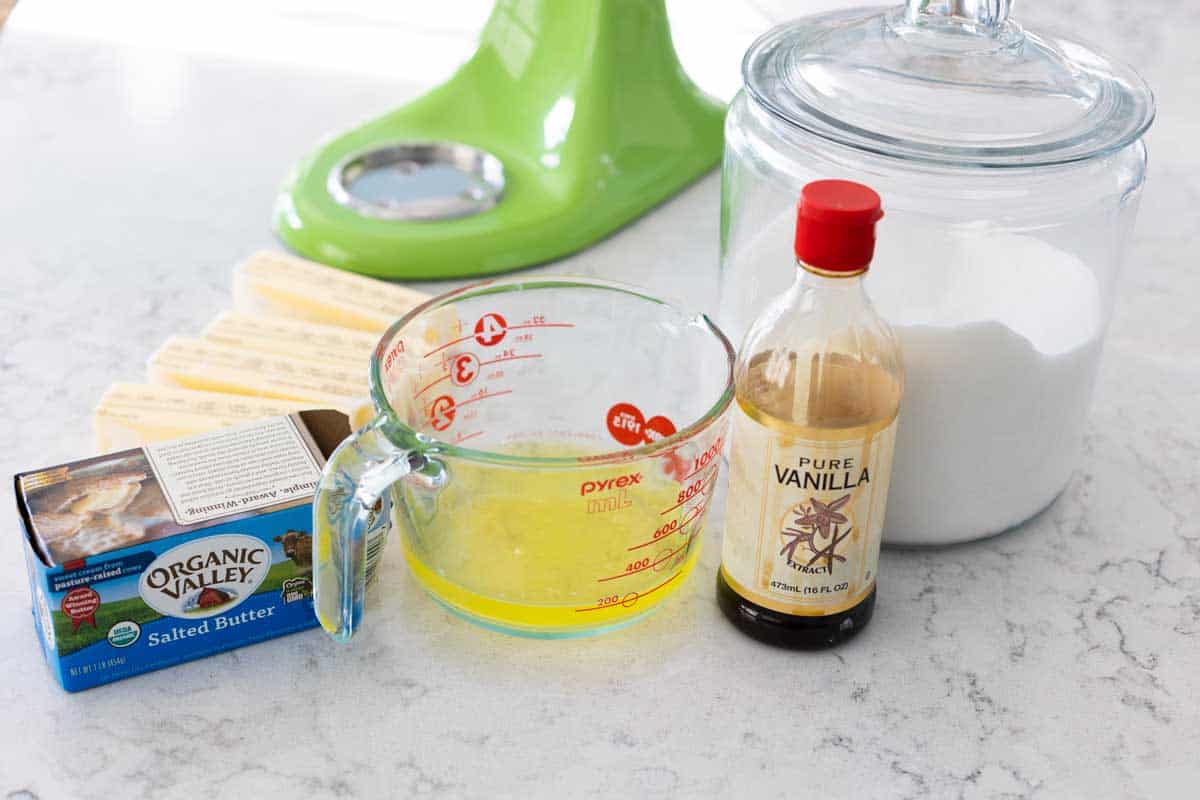 This delicious frosting is made with just a few high quality ingredients:
Egg Whites
Salted Butter
Vanilla Extract
Sugar
That's it! Easy, right?
Note: Freezing Egg Whites
With egg prices rising, you don't want to let any bit of your eggs go to waste.
I made this frosting after making making a batch of my favorite vanilla bean crème brûlée that uses just the yolks and I had the whites leftover.
Then I froze the frosting for using on a birthday cake 2 months from now!
You could also freeze the egg whites after making my homemade creme anglaise vanilla sauce and then make this frosting when you're ready.
Either way, these recipes definitely go hand in hand!
Prepare the Double Boiler
The only fancy part about this recipe is that you'll need to use a double boiler to cook the egg whites before whipping the meringue.
You don't need to buy another one-use cooking tool, you can easily make a DIY double boiler using things you have right in your kitchen.
I use a small saucepan filled with water and then set a larger metal mixing bowl on top for a homemade double boiler: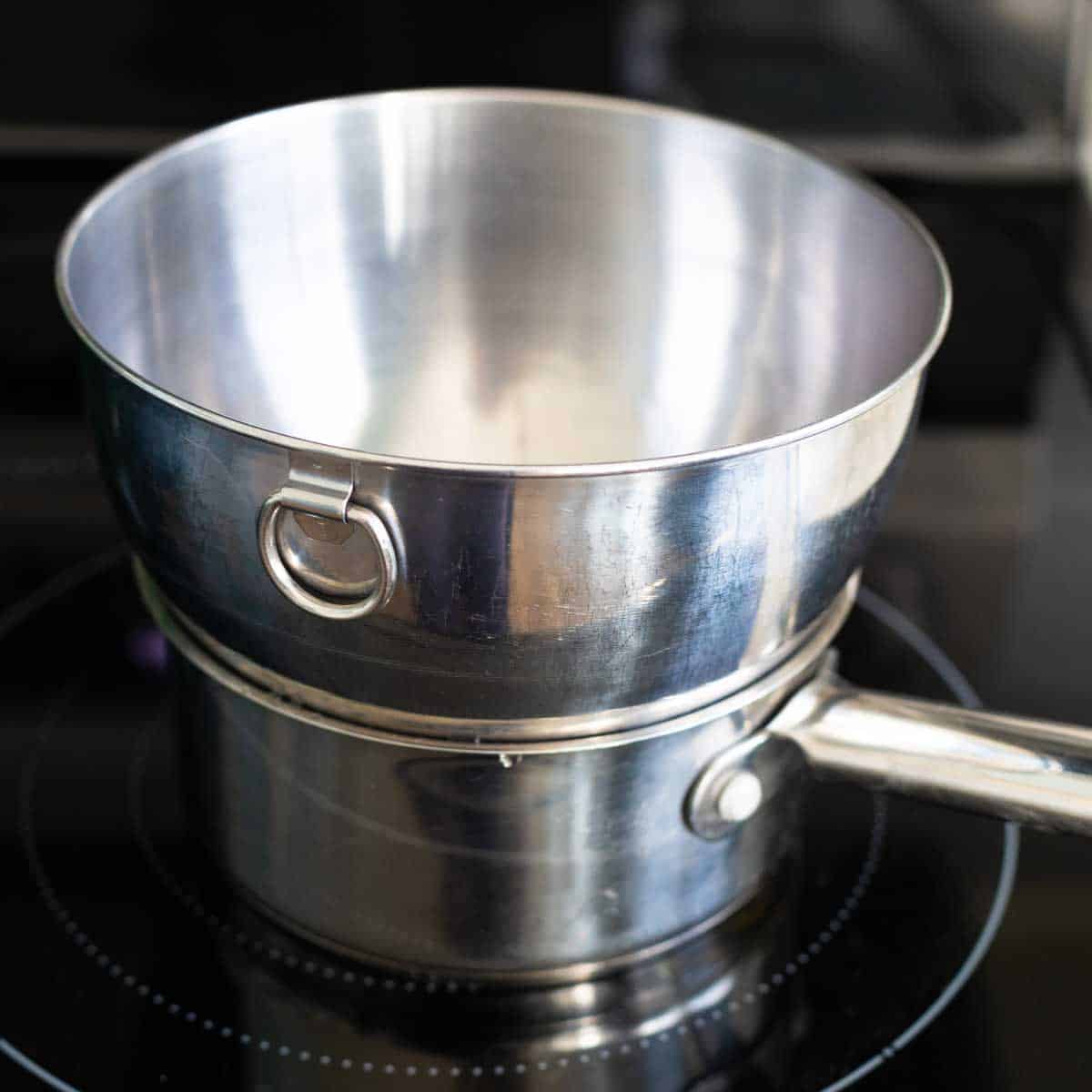 Prepare the Egg Whites
First, whisk the egg whites and sugar together in the mixing bowl you plan to place on top of your homemade double boiler.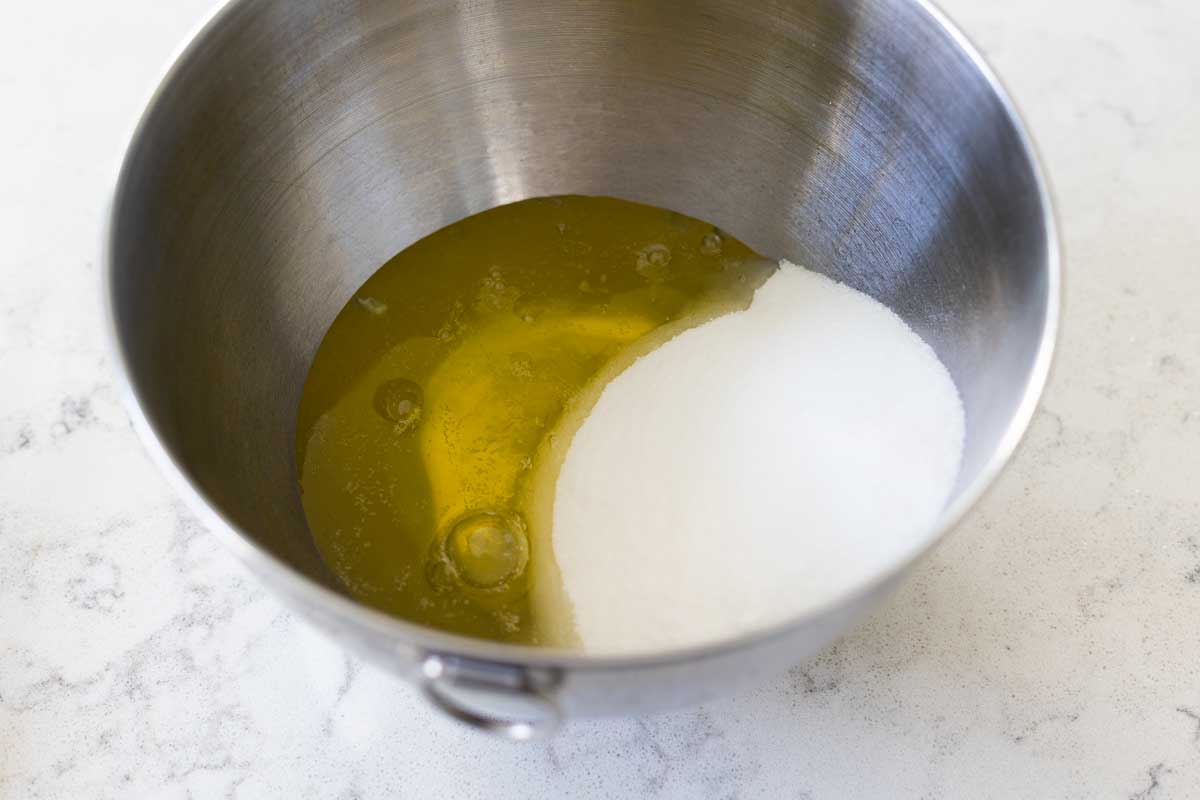 Then add a candy thermometer to the bowl so you can watch the temperature.
Cook the egg whites, while whisking gently the entire time, over medium-high heat until they reach 160°F.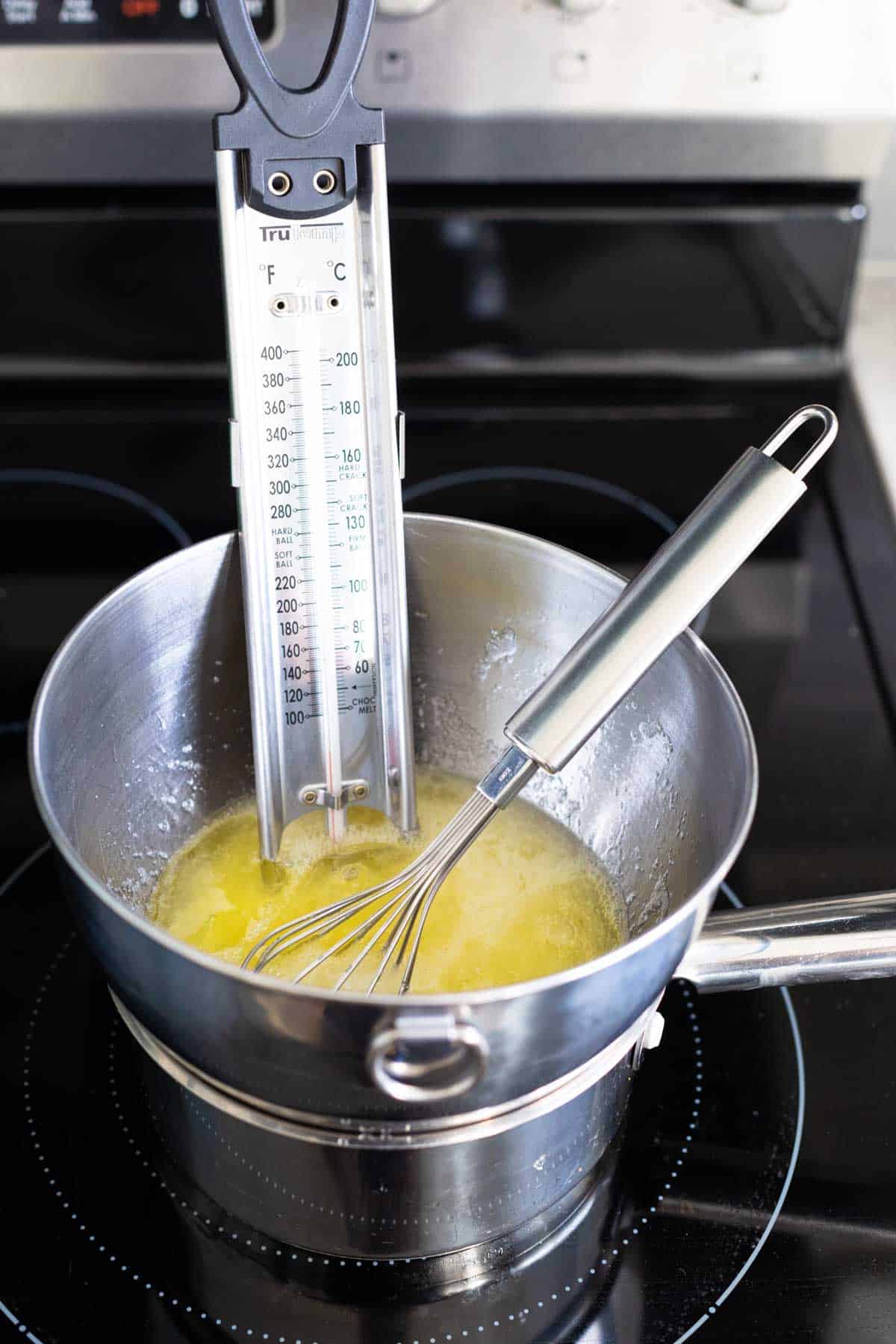 If the water in your double boiler gets too vigorous, turn the heat down to medium. You just need it to be hot enough to continue to cook the egg whites and bring them up to temp.
Whisk the Meringue
Once your egg whites have reached 160°F, pull them from the double boiler and add them to your stand mixer fitted with the whisk attachment.
Whisk them for 8 - 9 minutes or until they have cooled down to room temperature and formed a glossy white meringue with stiff peaks.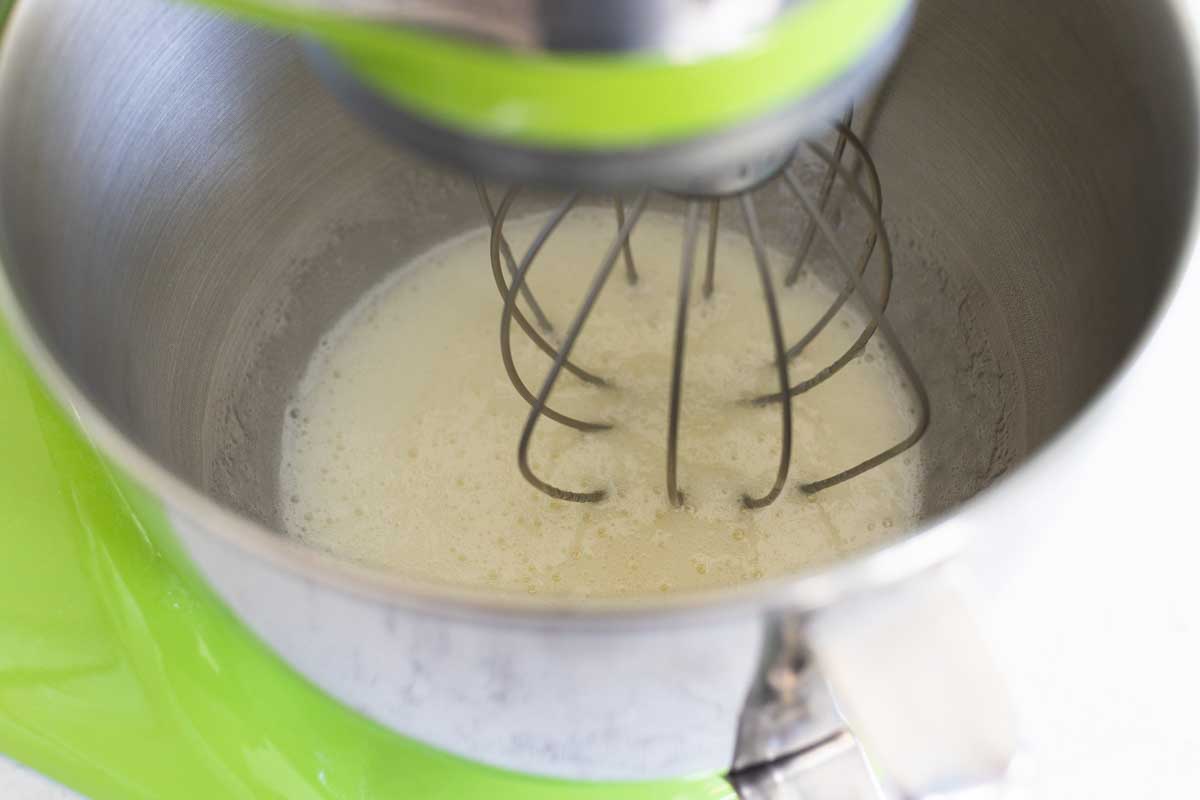 If you've never made a homemade meringue before, you'll know it is ready when the egg whites are thick, glossy, bright white, and a peak forms and stays in place when you pull the whisk up out of it.
It will look a lot like this: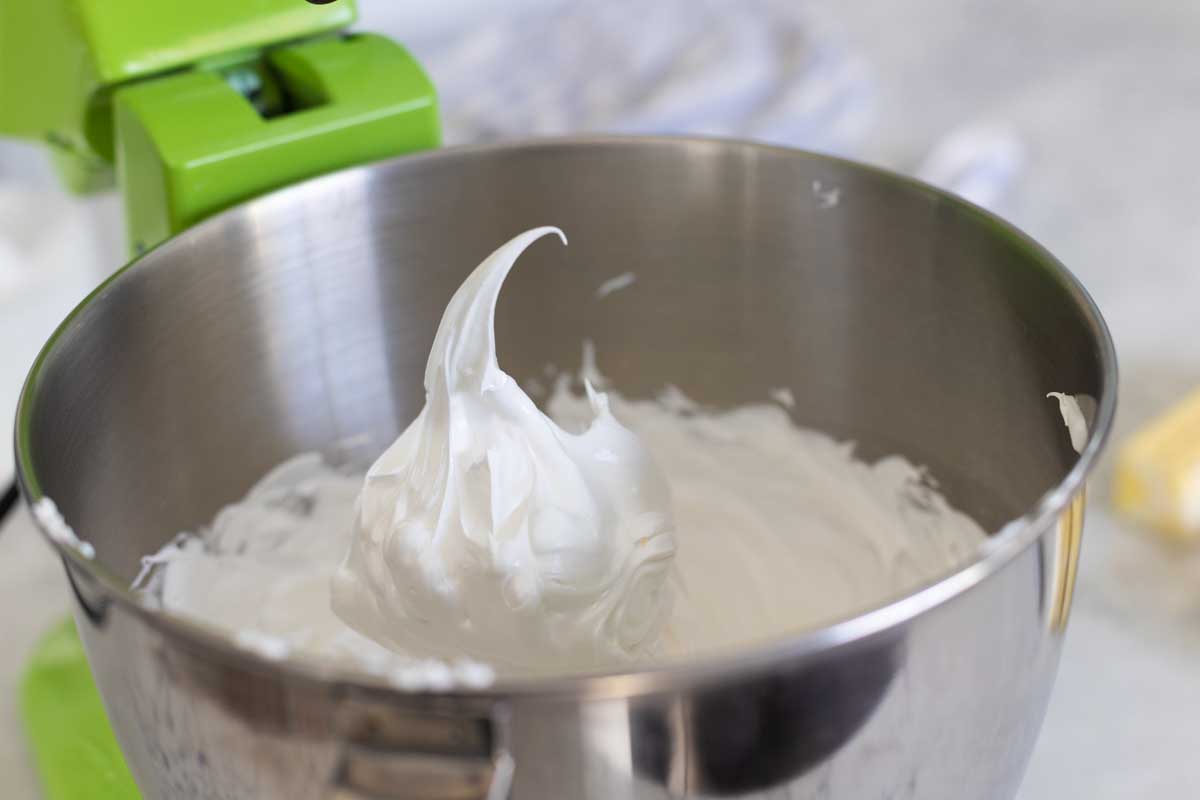 Add the Butter
Now that you have your meringue prepared, it is time to finish the buttercream.
Add the softened butter to the mixing bowl, just 2 tablespoons at a time, with the whisk attachment running at medium speed.
Continue to whisk and add butter until it is all incorporated.
If your buttercream starts to look curdled, just keep whipping and it will smooth out.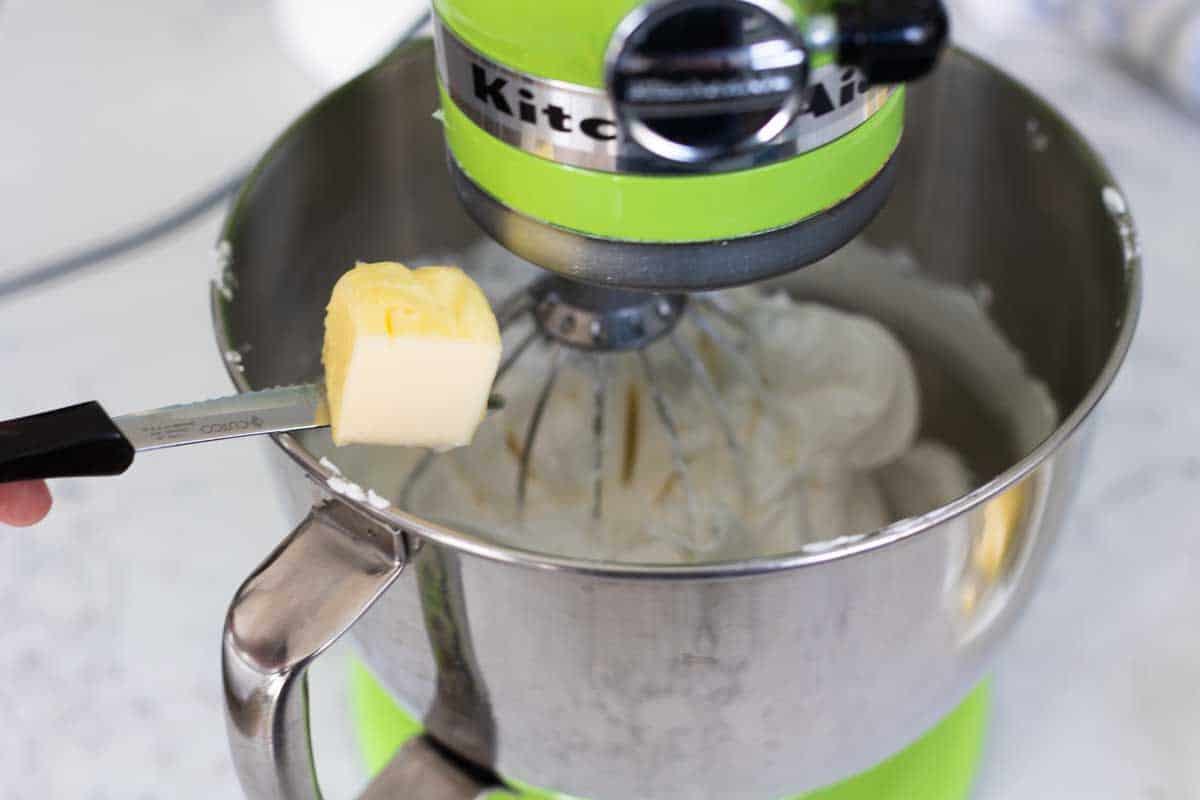 Flavor the Frosting
For the vanilla Swiss Meringue buttercream, all you need to do is add a touch of vanilla extract.
If you wanted to be extra fancy, you could add a tablespoon of Grand Marnier to mimic the flavor of my delicious crème brûlée.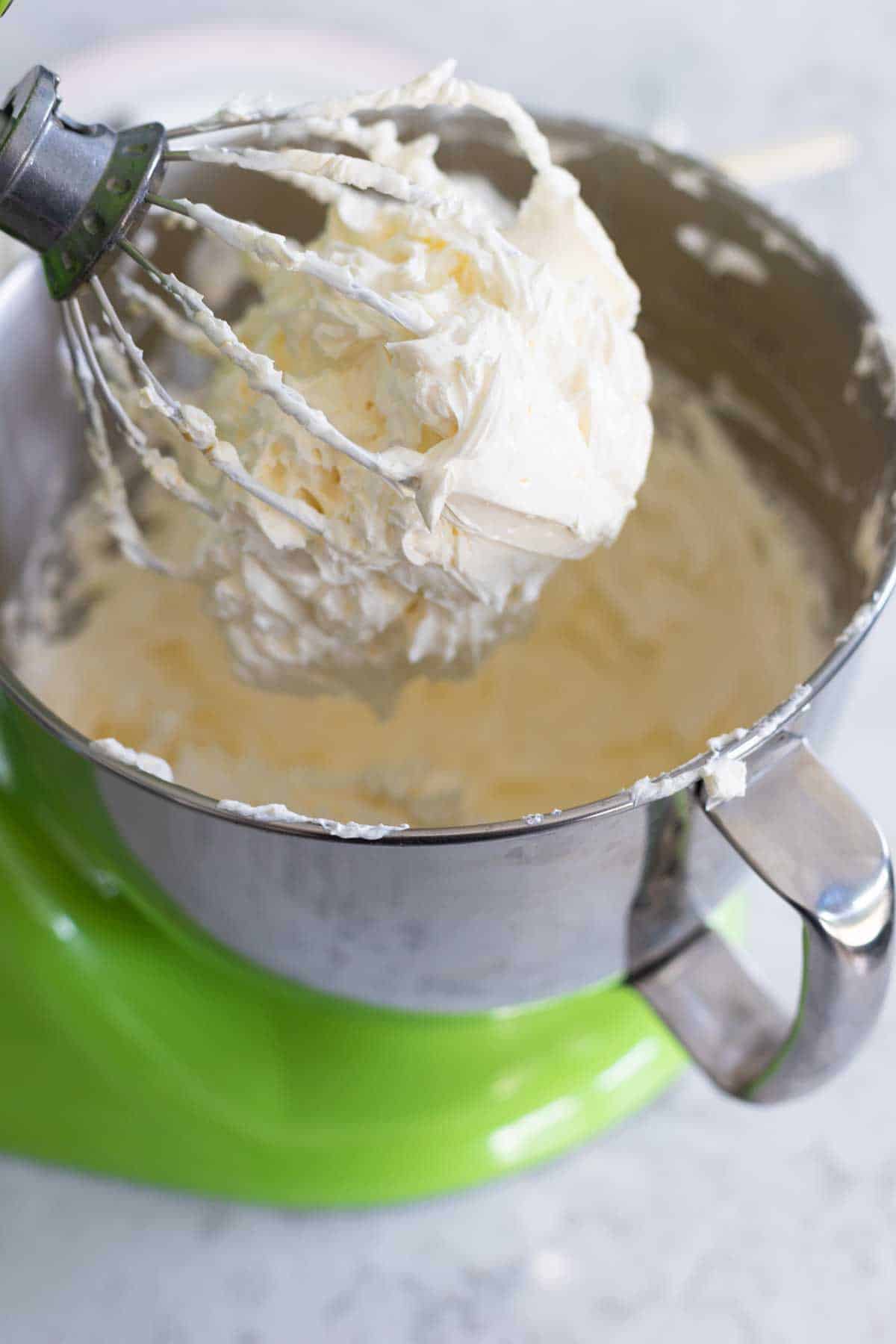 Make Ahead and Freezer Tips
Even though I didn't need frosting right when I made this, I had my egg whites ready to go.
Both my girls have birthdays coming in a few months, so I saved myself some time and made the frosting knowing I could pop it in the freezer and save it for later.
Simply find a freezer-safe airtight container that is big enough, smooth out the frosting inside, and seal the lid. Label and freeze until you're ready to decorate.
Thaw the frosting in the fridge overnight and then let it come to room temperature on the counter before decorating.
You can tint this with food gel when you first make it before freezing or just when you plan to use it after thawing.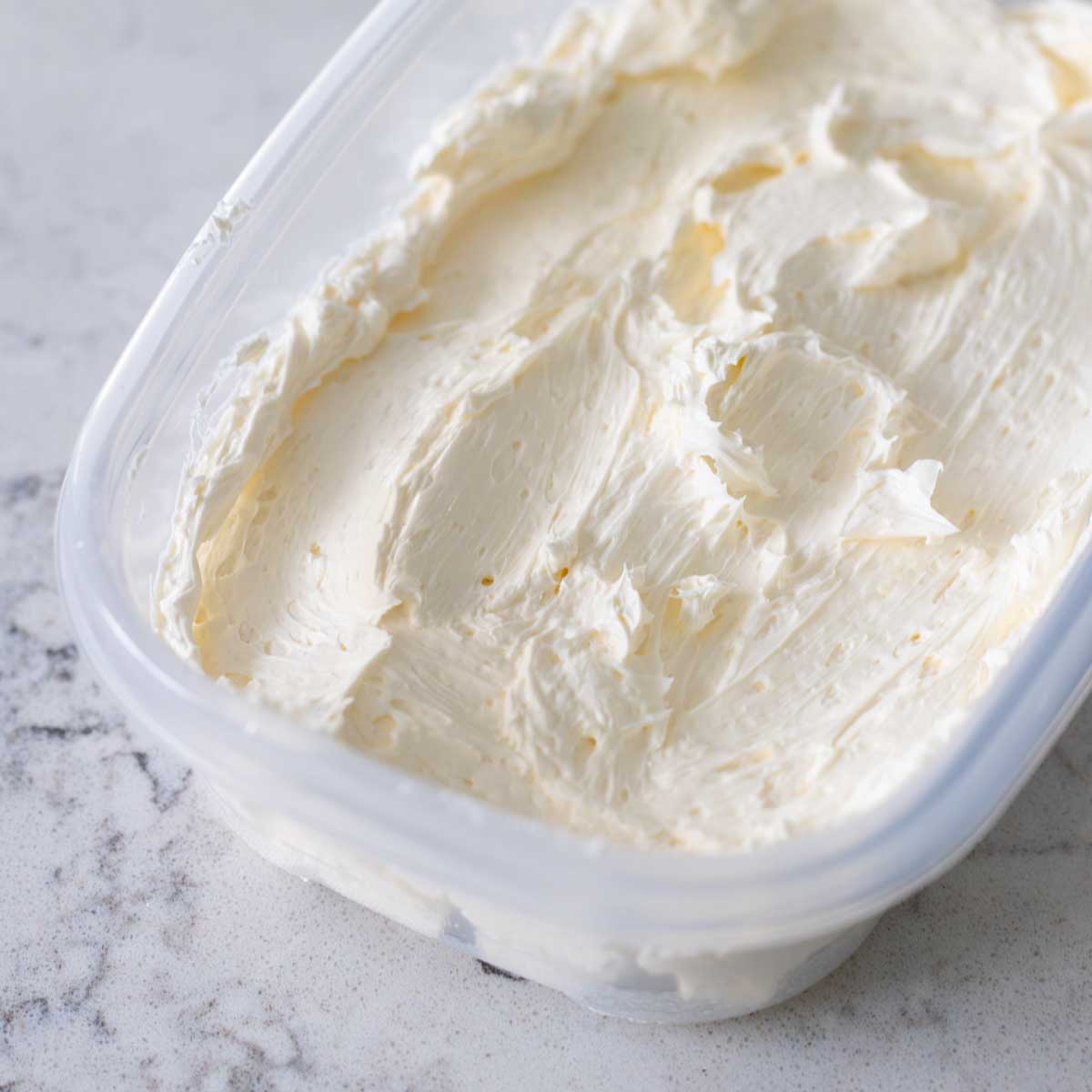 Flavor Variations
I love starting with a basic vanilla frosting recipe that you can then add some fun flavor swirls to mix it up.
This delicious frosting could be turned into any of these easy variations:
Lemon Swiss Meringue Buttercream: Mix ¼ cup lemon curd into the finished frosting.
Strawberry Swiss Meringue Buttercream: Mix ¼ cup strawberry jam into the finished frosting.
Caramel Swiss Buttercream: Mix in ¼ cup salted caramel sauce into the finished frosting.
Peanut Butter Swiss Meringue Buttercream: Stir ½ cup creamy peanut butter into the finished frosting.
Raspberry Swiss Meringue Buttercream: Mix ¼ cup raspberry preserves into the finished frosting.
Blackberry Swiss Meringue Buttercream: Mix ¼ cup blackberry jam into the finished frosting.
Serving Suggestions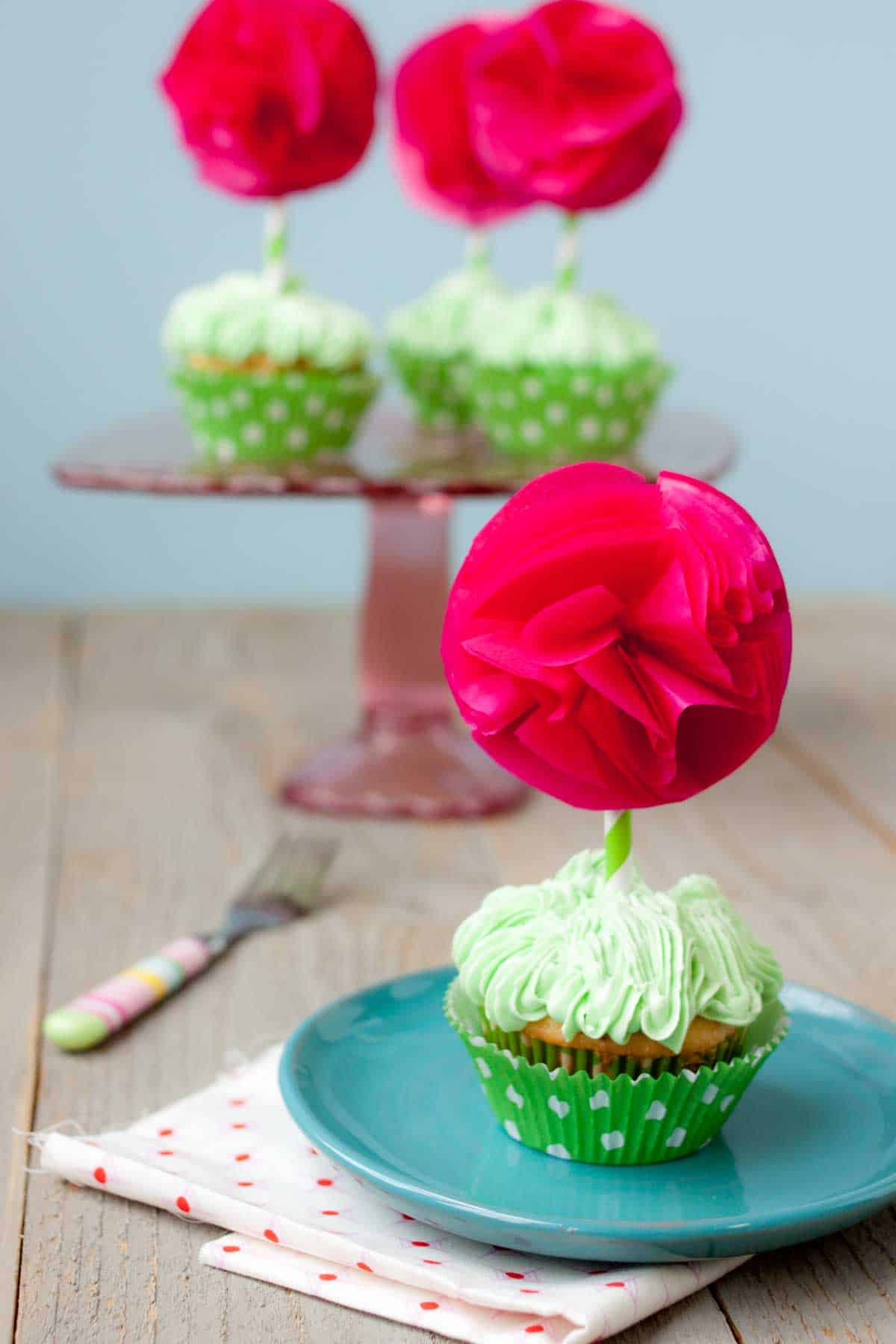 This Swiss meringue buttercream is a perfect choice for birthday party cupcakes or layer cakes.
When decorating treats for kids, I tend to go easy on the quantity of frosting because my girls definitely prefer a higher cake to frosting ratio.
That's the beauty of making a homemade birthday cake, though. You can use as much or as little as your birthday person loves!
📖 Recipe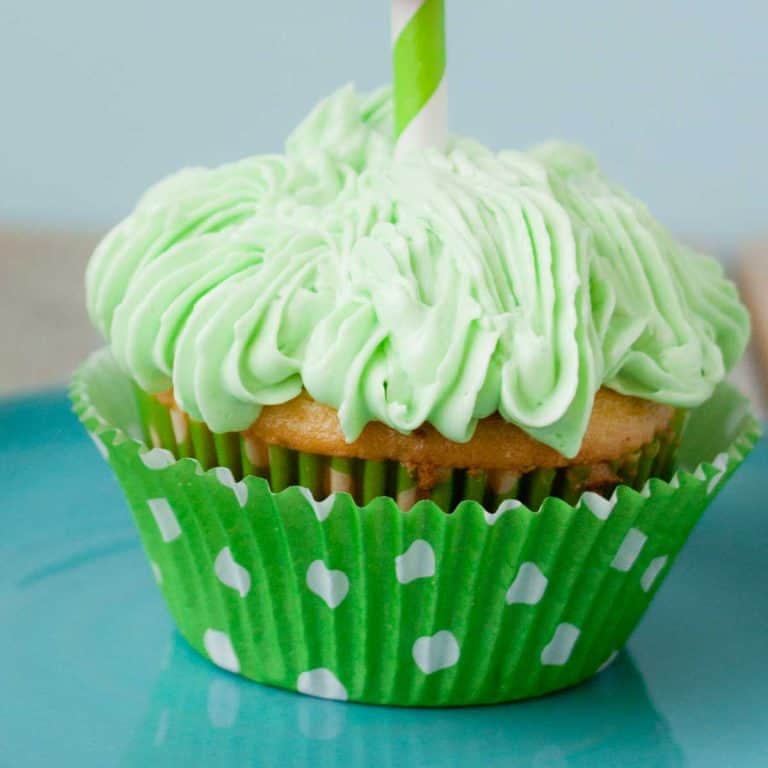 Swiss Meringue Buttercream Frosting
This light and not too sweet buttercream frosting is perfect for your favorite layered cake or cupcakes.
Ingredients
5

large egg whites

1

cup

plus 2 tbsp. sugar

Pinch

of salt

1

lb

(4 sticks) unsalted butter

at room temperature

2

teaspoon

vanilla extract
Instructions
Combine egg whites, sugar, and salt into a double boiler. I use a metal mixing bowl set over a simmering pot of water. Insert a candy thermometer and whisk until the mixture reaches 160°F and the sugar has dissolved.

Pour the mixture into the bowl of your stand mixer with the whisk attachment, beat on medium-high until stiff peaks form and the mixture has cooled to room temperature. About 8 minutes or so.

Reduce your speed to medium and add the butter in 2 tablespoon increments. Once each 2 tablespoon addition has been incorporated, add the next. Continue to beat on medium-high until the frosting is thick and smooth, about 3-5 minutes. Some have complained about it looking curdled, if you just continue to whisk it, it will come together eventually. I have not yet had this problem.

Stir in the vanilla extract until just incorporated. Tint with gel icing to reach the color you desire.

The buttercream will keep at room temperature if you are using it the same day. If you are making it ahead of time, store in an airtight container in the fridge for up to 3 days or the freezer for 1 month. Before using, bring to room temperature and use your mixer with the paddle attachment to beat on low speed until smooth again.
Save This Recipe to Your Recipe Box
Find this delicious recipe next time you visit by saving it to your very own recipe box on my site. All your favorites stored in one easy place!