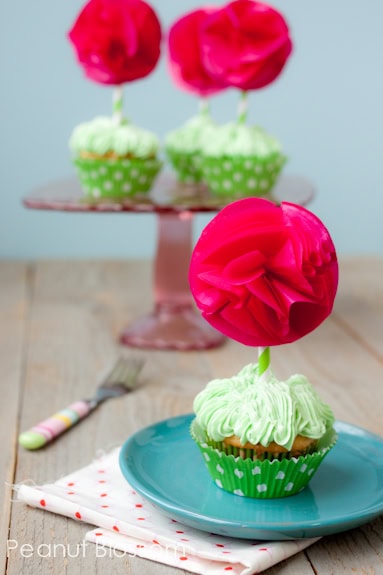 The next few weeks will turn my kitchen into baking central. I have the Peanut's birthday & Easter to contend with all in the same week. With such a busy schedule, I need to make things easy on myself but I still want to make the celebrations special.
My favorite trick in these situations is to fancy up simple treats. In this case, I made box mix cupcakes and coated them in heavenly homemade swiss meringue buttercream frosting. I guarantee no one will know the difference between these and fancy bakery made cupcakes once they bite into this amazing frosting. Once you taste this, you will never buy canned frosting again. And, if you think making an entire cake from scratch is daunting, your efforts are best spent on the frosting anyway!
The final touch is adding those sweet tissue paper pom flowers. If you'd like to learn how to make them and see some other sweet garden ideas for Easter, head on over to Melissa & Doug's blog where I'm sharing my tips.

Swiss Meringue Buttercream Frosting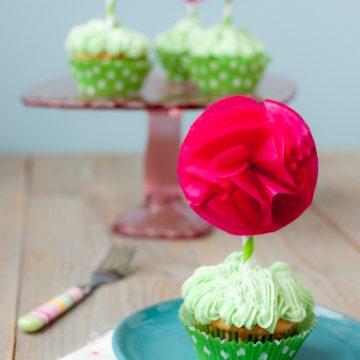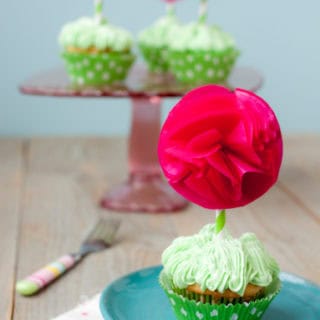 Swiss Meringue Buttercream Frosting
This light and not too sweet buttercream frosting is perfect for your favorite layered cake or cupcakes.
Ingredients
5 large egg whites
1 cup plus 2 tbsp. sugar
Pinch of salt
1 lb (4 sticks) unsalted butter, at room temperature
2 tsp vanilla extract
Instructions
Combine egg whites, sugar, and salt into a double boiler. I use a metal mixing bowl set over a simmering pot of water. Insert a candy thermometer and whisk until the mixture reaches 160 degrees and the sugar has dissolved.
Pour the mixture into the bowl of your stand mixer with the whisk attachment, beat on medium-high until stiff peaks form and the mixture has cooled to room temperature. About 8 minutes or so.
Reduce your speed to medium and add the butter in 2 tablespoon increments. Once each 2 tbsp addition has been incorporated, add the next. Continue to beat on medium-high until the frosting is thick and smooth, about 3-5 minutes. Some have complained about it looking curdled, if you just continue to whisk it, it will come together eventually. I have not yet had this problem.
Stir in the vanilla extract until just incorporated. Tint with gel icing to reach the color you desire.
The buttercream will keep at room temperature if you are using it the same day. If you are making it ahead of time, store in an airtight container in the fridge for up to 3 days or the freezer for 1 month. Before using, bring to room temperature and use your mixer with the paddle attachment to beat on low speed until smooth again.