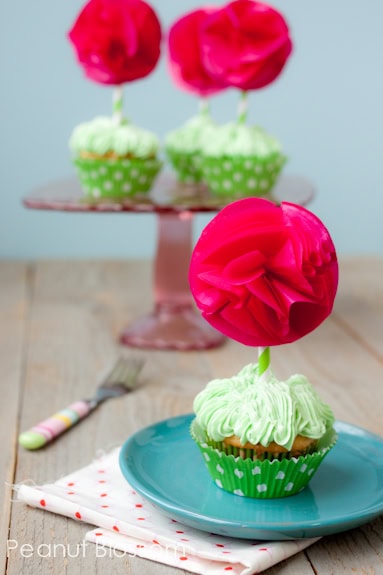 The next few weeks will turn my kitchen into baking central. I have the Peanut's birthday & Easter to contend with all in the same week. With such a busy schedule, I need to make things easy on myself but I still want to make the celebrations special.
My favorite trick in these situations is to fancy up simple treats. In this case, I made box mix cupcakes and coated them in heavenly homemade swiss meringue buttercream frosting. I guarantee no one will know the difference between these and fancy bakery made cupcakes once they bite into this amazing frosting. Once you taste this, you will never buy canned frosting again. And, if you think making an entire cake from scratch is daunting, your efforts are best spent on the frosting anyway!
The final touch is adding those sweet tissue paper pom flowers. If you'd like to learn how to make them and see some other sweet garden ideas for Easter, head on over to Melissa & Doug's blog where I'm sharing my tips.

Swiss Meringue Buttercream Frosting