This stunning 6-layer rainbow cake with white frosting is a show stopping birthday cake that is actually really easy to bake and assemble.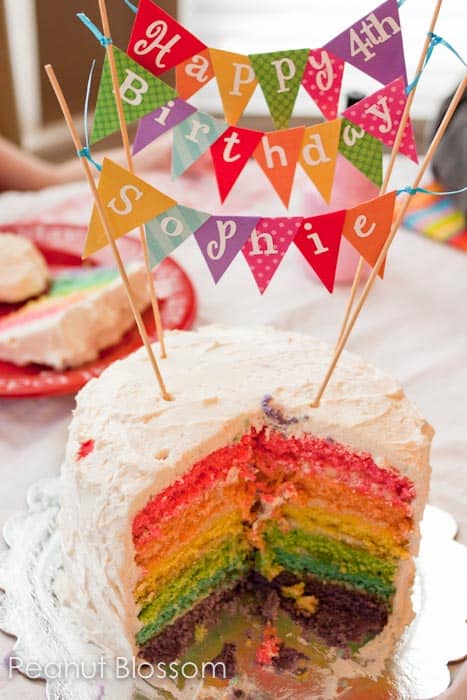 When I was hunting for inspiration for the Peanut's birthday party, I stumbled across Whisk Kid's mind-blowing rainbow layer cake that had been featured on Martha Stewart's show.
The picture of the cake sliced open was so amazing to me I just could not get it out of my mind. I chose the rainbow theme purely so we could use this cake recipe.
Now when it comes to experimenting with things in the kitchen, I almost always do better with recipes that are VERY specific. I am so much more a baker than a cook.
I followed the recipe for the cake with absolutely no substitutions.
(Ok, that's not completely true, I greased my cake pans with butter instead of vegetable shortening, but I swear that's the only change.)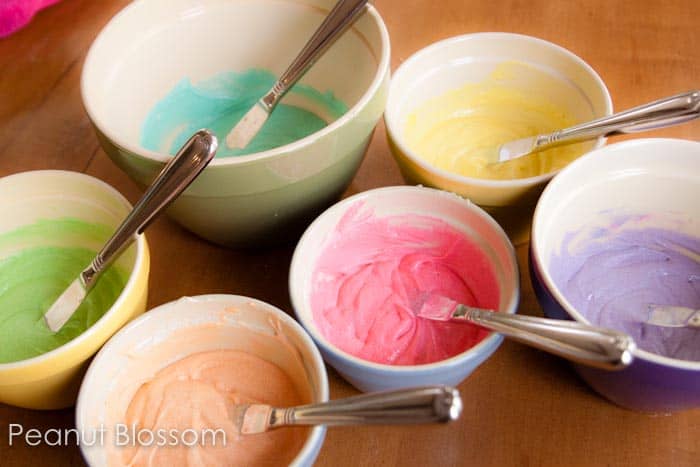 Colored batter in the cake pans ready for baking.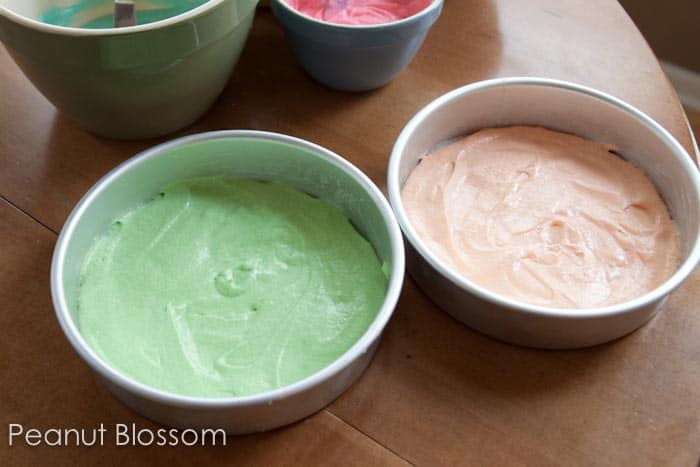 Layers cooling on racks after baking.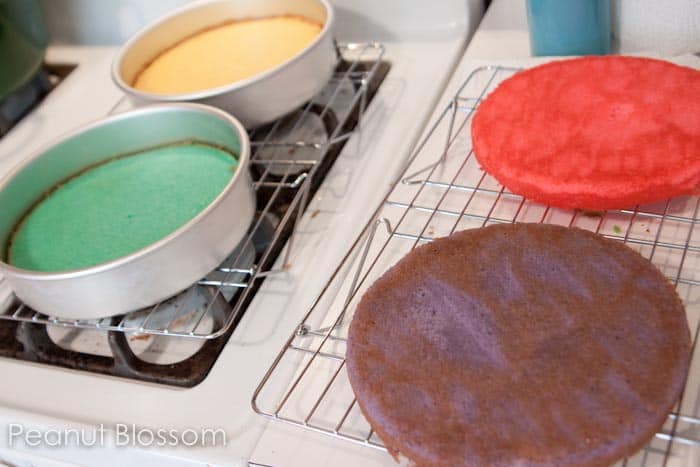 Cake layers assembled with filling.
At this point I let the cake sit overnight on my counter with a clean towel over it.
I left the second batch of frosting sitting in the bowl of my mixer so it could come to room temperature.
In the morning, I beat it for a few seconds and then frosted the top of the cake.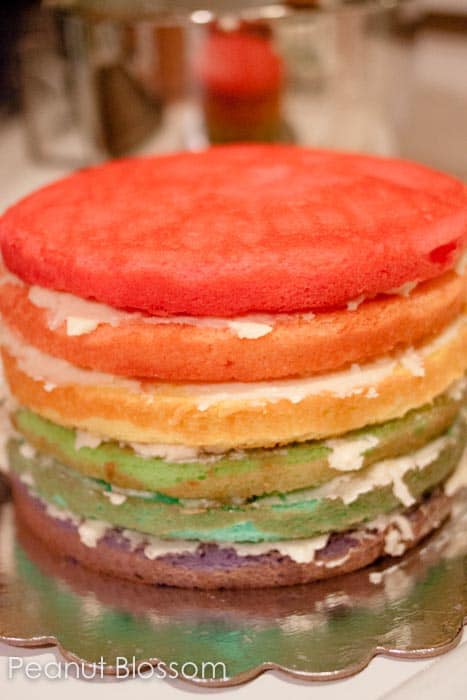 I knew this recipe absolutely required a homemade white frosting but I just wasn't sure about the lemon frosting mentioned in the cake recipe.
Too scared to just leave the lemon extract out, I went hunting for a different white frosting recipe and decided on a Swiss Meringue Buttercream instead.
When I first tasted the frosting, my immediate thought was that it is like Cool Whip but more buttery.
It is so light and fluffy but substantial enough to frost a cake with. This will definitely be my standard frosting recipe from now on.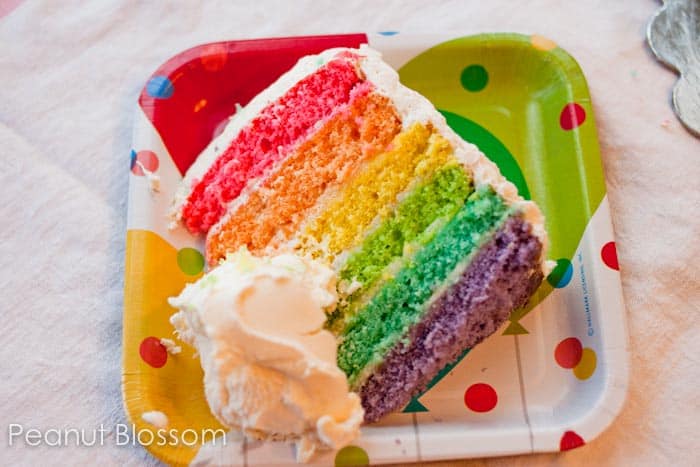 I had a baby shower to attend an hour away the day before the Peanut's birthday bash, so I decided to attempt freezing of the cake layers and frosting so I could simply defrost and assemble the night before.
Other than one glitch, it worked like a charm!!
So I've added my make-ahead tips below which will allow you to have this crazy show stopper of a cake without it consuming your entire pre-party time budget!
You can bake the layers one day and make two batches of frosting on two other days. Fit it in however you have time!
How to Bake a Rainbow Layer Cake
📖 Recipe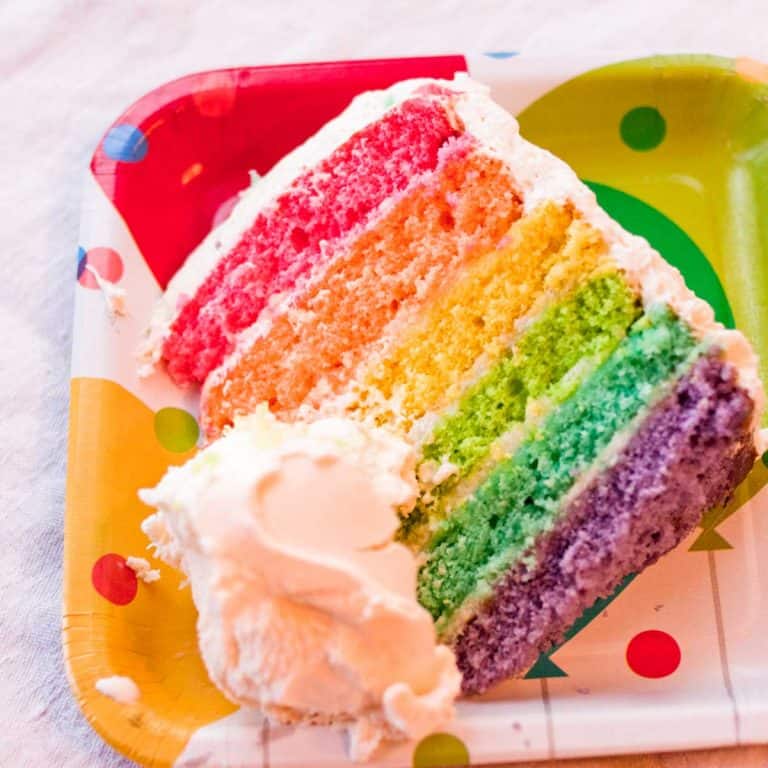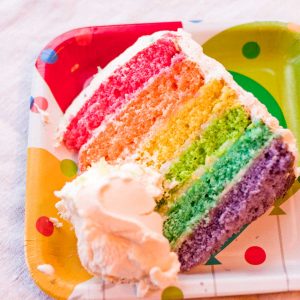 Rainbow Layer Cake
This cheerful rainbow layer cake with stunning white frosting is a show stopping birthday cake that is deceptively easy to recreate.
Ingredients
1

cup

(2 sticks) butter

softened

2 ⅓

cup

sugar

5

eggs

room temp

2

teaspoon

vanilla

3

cups

all-purpose flour

4

teaspoon

baking powder

1

teaspoon

salt

1 ½

cups

milk

room temp

GEL food coloring: red

orange, yellow, green, blue, purple

2

batches of white frosting
Instructions
Preheat the oven to 350°F.

Working with just 2 round cake pans, you'll need to bake the layers in stages. Butter 2 cake pans and line them with a circle of parchment paper. Butter the parchment paper as well. This ensures your layers come out smoothly and is really important for this recipe.

Sift together the flour, baking powder and salt. Set aside.

Cream the sugar and butter, then add the egg whites and add them a little at a time. Add the vanilla and mix until fully incorporated. Then, alternating between wet and dry, add the milk and flour mixture in two parts.

Divide the batter EVENLY amongst 6 bowls. It helps to measuring it out with measuring cups. Put 1 cup of batter into each bowl and then use a ⅓ c to divide the remaining batter. Whisk a fair amount of the appropriate food color into each bowl. Keep in mind that the color of the unbaked batter will be the color of the baked batter. Pour into the pans and bake for 15 minutes each or until a toothpick comes out clean.

When you remove the pans from the oven, let them rest on the cooling rack, in the pan, for ten minutes. Then flip onto the wire rack to cool completely.
To Decorate:
Once the layers are completely cooled, you can assemble the cake. Put one layer on your cake plate and top with a scant 1-cup of white frosting. Add the next layer and another cup of frosting. Continue this pattern until the cake is assembled and then finish frosting as desired.
Recipe Notes
To save time, you can bake the layers in advance and freeze them. Then just assemble the cake closer to your party.
To Freeze:  If freezing your layers, wrap COMPLETELY COOLED individual layers in a double layer of plastic wrap and then in a layer of tin foil. Stack the layers on a cookie sheet and store in your freezer.
To Defrost and Use: Let the cake layers sit on the counter still in their wrappings for about two hours before you attempt to assemble the cake. Work carefully layer by layer spreading a scant 1 cup of frosting between each layer.
The cake will last 1 - 3 days frosted in the fridge.
Save This Recipe to Your Recipe Box
Find this delicious recipe next time you visit by saving it to your very own recipe box on my site. All your favorites stored in one easy place!