21 leftover turkey recipes will ensure you use up every bit of that delicious Thanksgiving dinner! Many of these easy turkey leftover ideas use up more than one of your Thanksgiving leftovers: the mashed potatoes, cranberries, and dressing all have recipes here.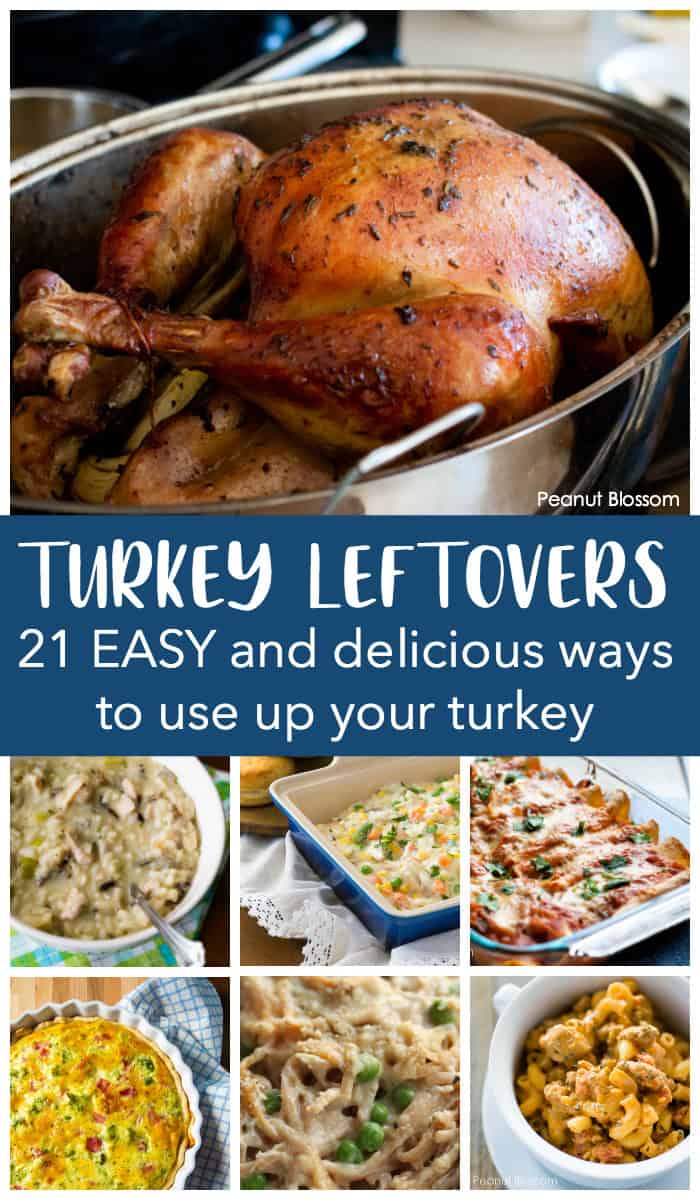 Every Thanksgiving my husband and I have the same exact argument over what to do with all the leftover turkey:
Me: Honey, which of these amazing and delicious turkey recipes that I've painstakingly collected for weeks do you want me to try with all the leftover turkey?!
Him: <jaw drops in horror> A sandwich. On white bread with mayo.
Me: . . . <heart sinks with disappointment, quietly files away the recipes for next year>
Every. Dang. Year.
Y'all. I've been desperate to do something super fun with all the leftover turkey after Thanksgiving. THIS might be my year. We bought an insanely huge bird on Saturday so that there will be oodles of leftovers for Tim to get his white bread + mayo sandwich and for me to still have enough to try something more unique next weekend!
I. Can't. Wait.
Now that leaves just one big question . . .
What to do with leftover turkey:
There are just So Many Options for what to do with leftover turkey I honestly don't even know where to begin! I've already purchased a big fat chunk of brie to try a grilled brie and cranberry sandwich with my favorite cranberry sauce. It is most likely that the leftover turkey will end up in at least one soup and one turkey casserole, too.
I've been stockpiling turkey leftover recipes forEVER so here are some of my favorites rounded up to share with you!
21 leftover turkey recipes for the easiest holiday weekend ever: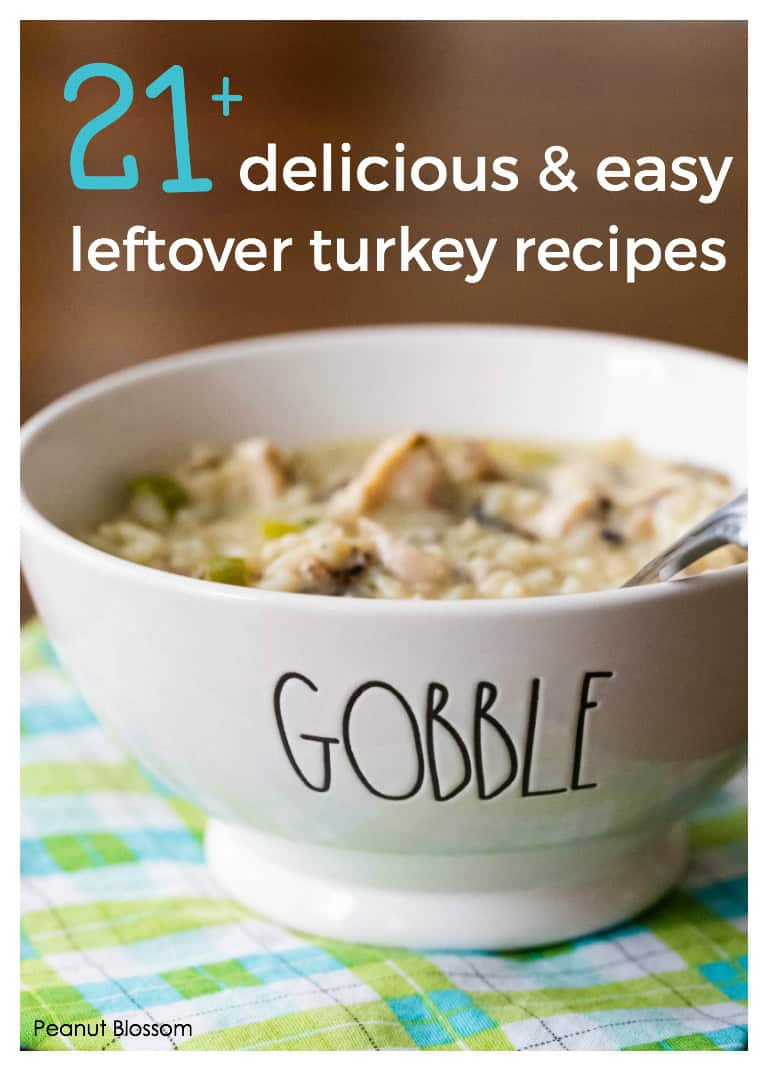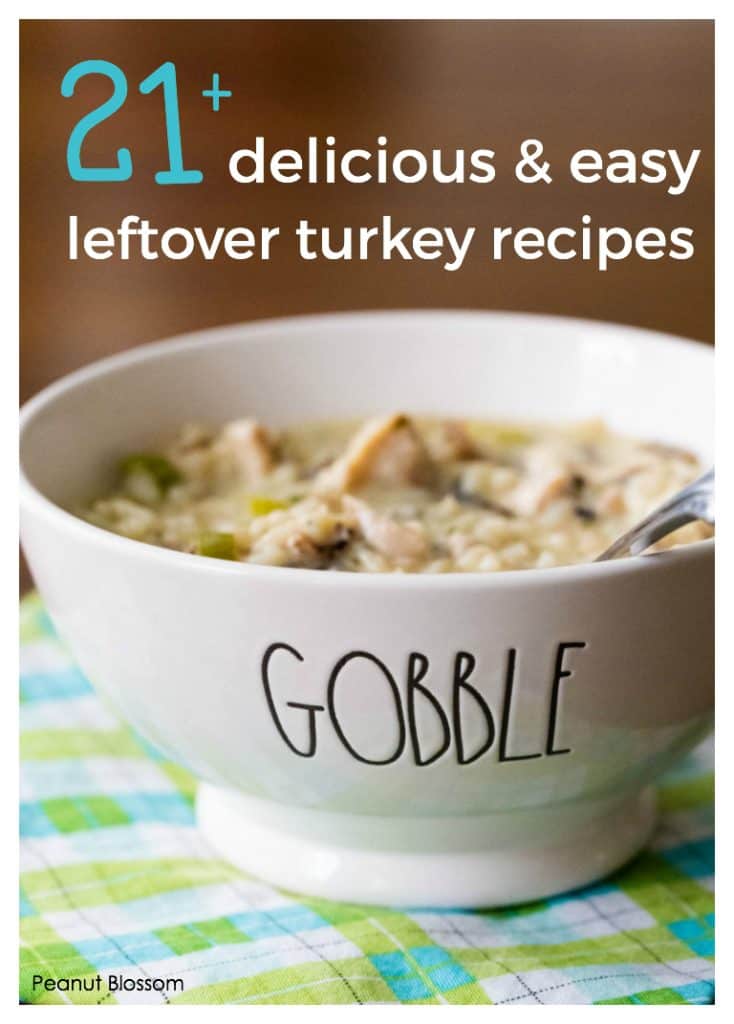 Leftover turkey soup recipes:
Soup is the perfect place to use leftover turkey, especially if your bird turned out a little dryer than intended. Some of these are rich and creamy, some fall on the healthier scale of things. All look like amazing and delicious leftover turkey recipes:
Leftover turkey casseroles:
Casseroles are one of the most classic leftover turkey ideas for a reason. You can use multiple Thanksgiving leftovers like the mashed potatoes, cranberries, and dressing/stuffing to whip up a delicious Thanksgiving inspired casserole. Or you can use the leftover turkey in a whole new way like the spicy turkey enchiladas!

Leftover turkey pasta dishes:
I will never forget the turkey scaloppine my dear friend Moira's mom made for me when I was living in Italy and away from my family for the first Thanksgiving ever. Turkey and pasta go hand in hand, so these leftover turkey pasta dishes seem like a perfect fit.
Leftover turkey sandwiches:
Tim can keep his white bread and mayo, if I turn my leftover turkey into a sandwich, you can bet it is going to be one of these amazing leftover turkey ideas:
And quick, before you go . . .
Like to celebrate? Get on the list!!
I love sharing seasonal recipes and ideas for celebrating the holidays. This recipe is perfect for Thanksgiving. If you'd like more ideas for the coming holidays, be sure to get on my weekly email list where I share the latest ideas for making the season special:
GET ON THE LIST
Don't miss these reader's favorites Thanksgiving recipes: