Learn how to make croutons from bread ends stored in your freezer. Mix and match a variety of bread flavors for a deliciously crunchy topping for a homemade salad or soup. These bite-sized bits of bread make an utterly addictive snack, too!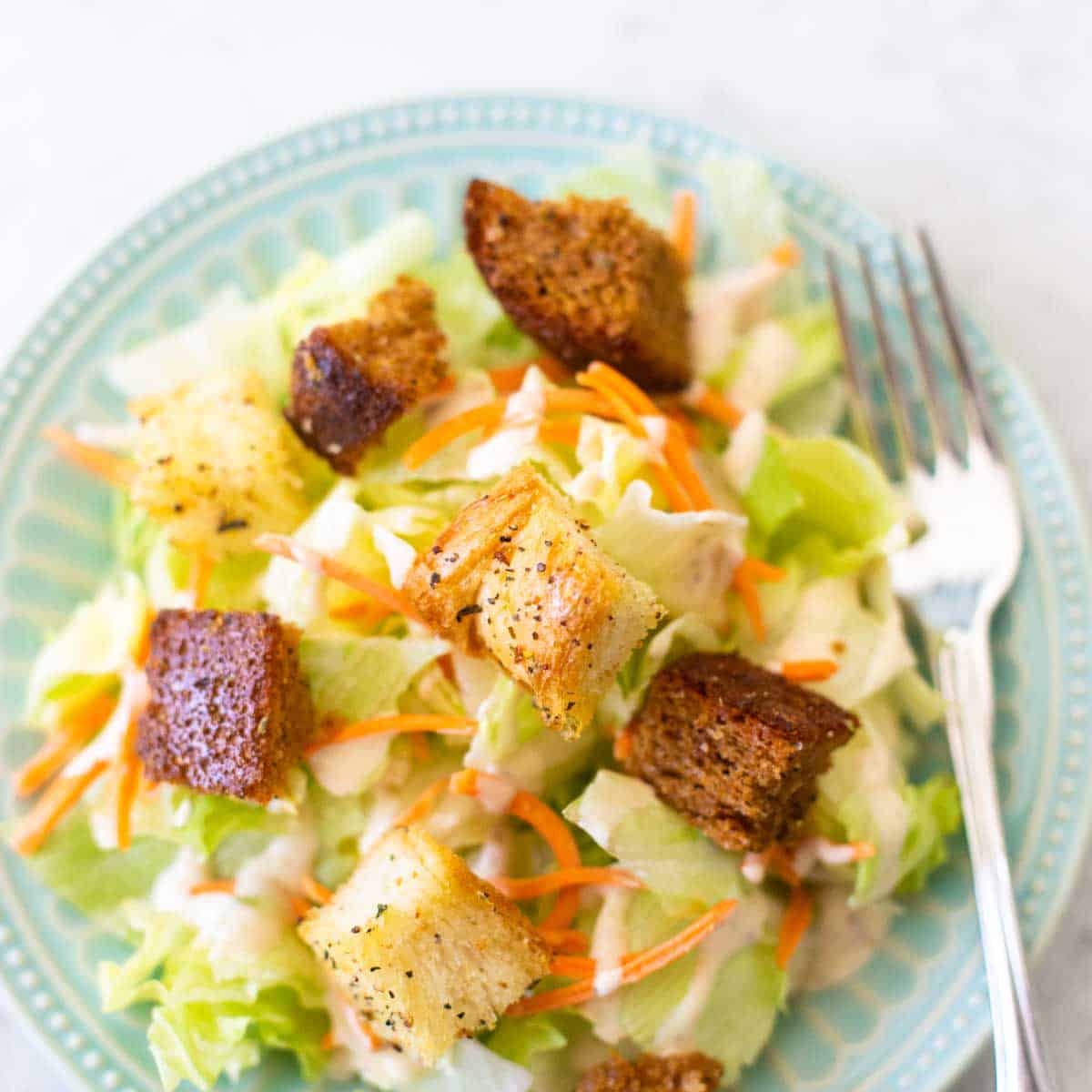 As a kid I remember stealing all the giant breadcrumbs from my parents' salads whenever we'd dine out.
I couldn't imagine why they bothered with the veggies underneath, but who could resist that crispy, buttery cube of bread on top??
They helped make the best salad ever! I can't wait to try them on top of soup next.
Jump to:
Ingredients
The ingredients for homemade croutons are shockingly simple: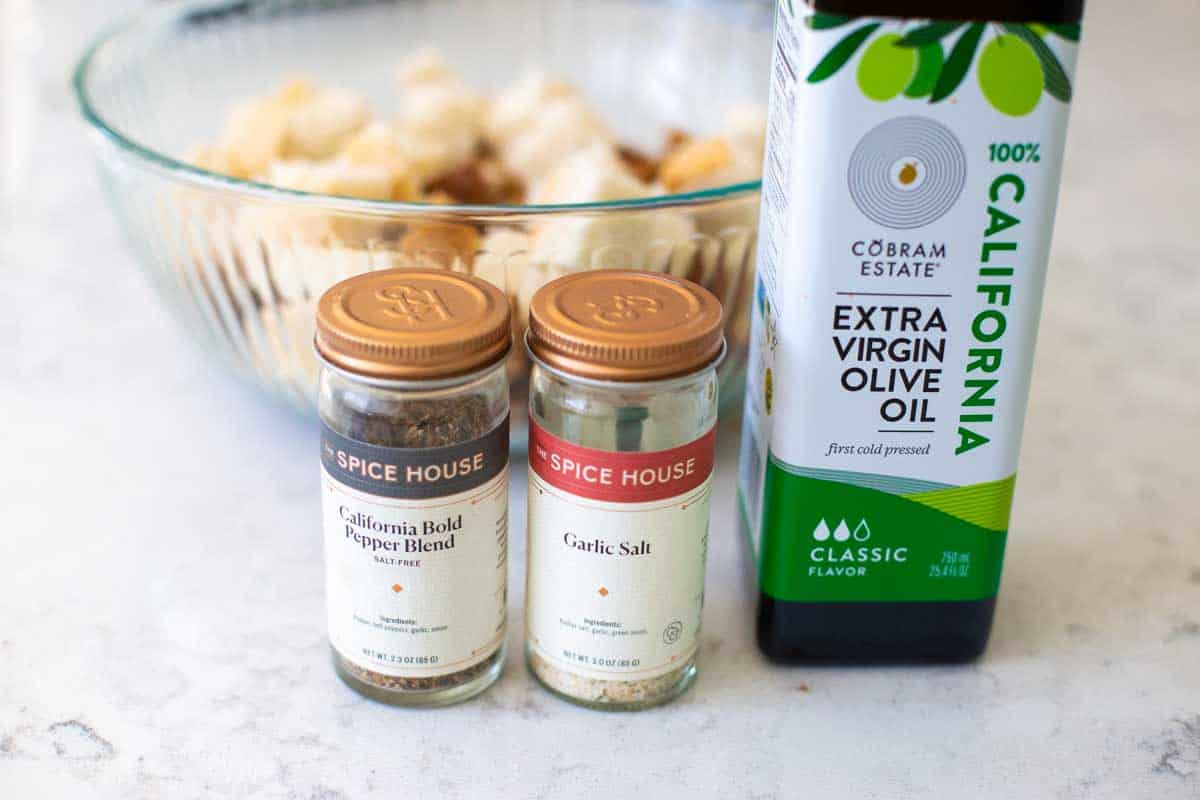 Leftover ends of bread
Olive oil (or butter if you prefer)
Garlic salt
Pepper
Seasoning blend of your choice
See recipe card for quantities.
Instructions
The most important part of this recipe is obviously the bread for the croutons.
When we bake a batch of homemade bread machine bread, I steal the two end pieces and whatever last slice or two doesn't get eaten and pop them into a freezer bag.
I don't mix sweet and savory flavors, but keep them separate for storage.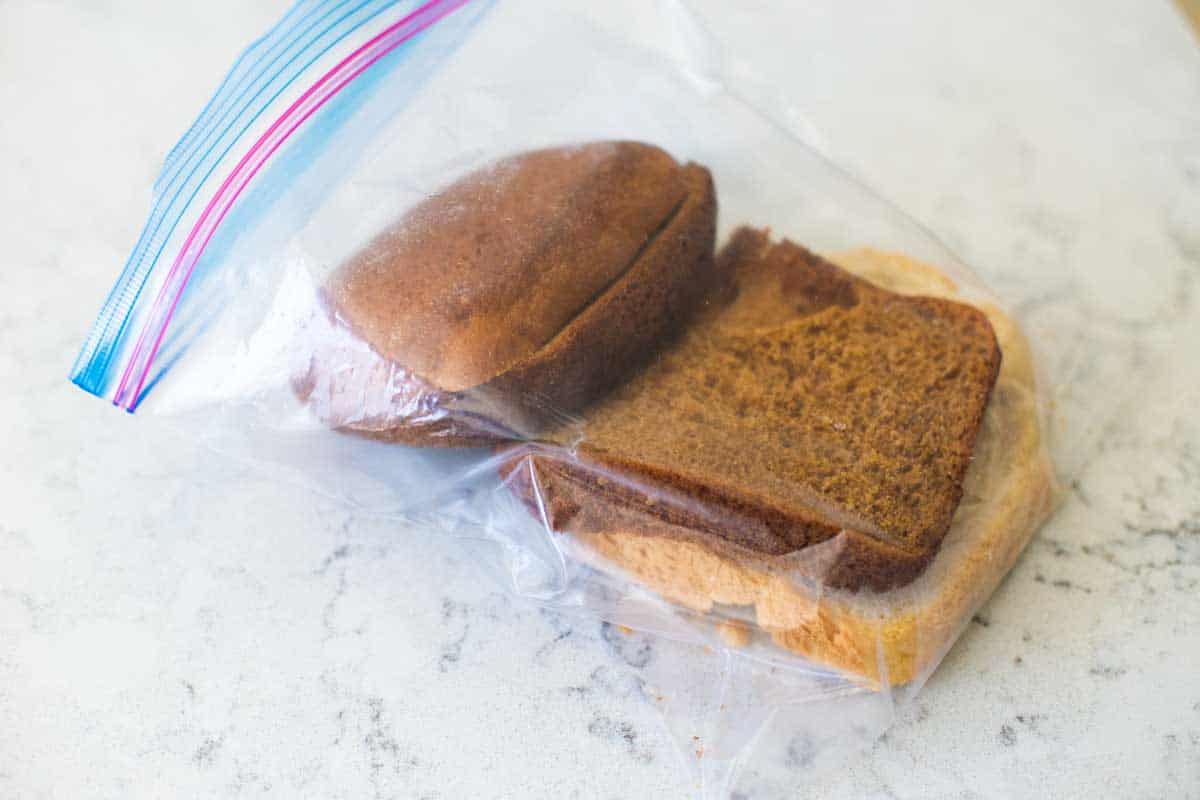 Let the leftover bread slices thaw in your fridge overnight with the baggie open to prevent condensation making your bread soggy.
It's totally ok if the bread is a little stale, baking it into croutons will definitely improve the texture.
Preheat the oven to 400°F when you're ready to bake.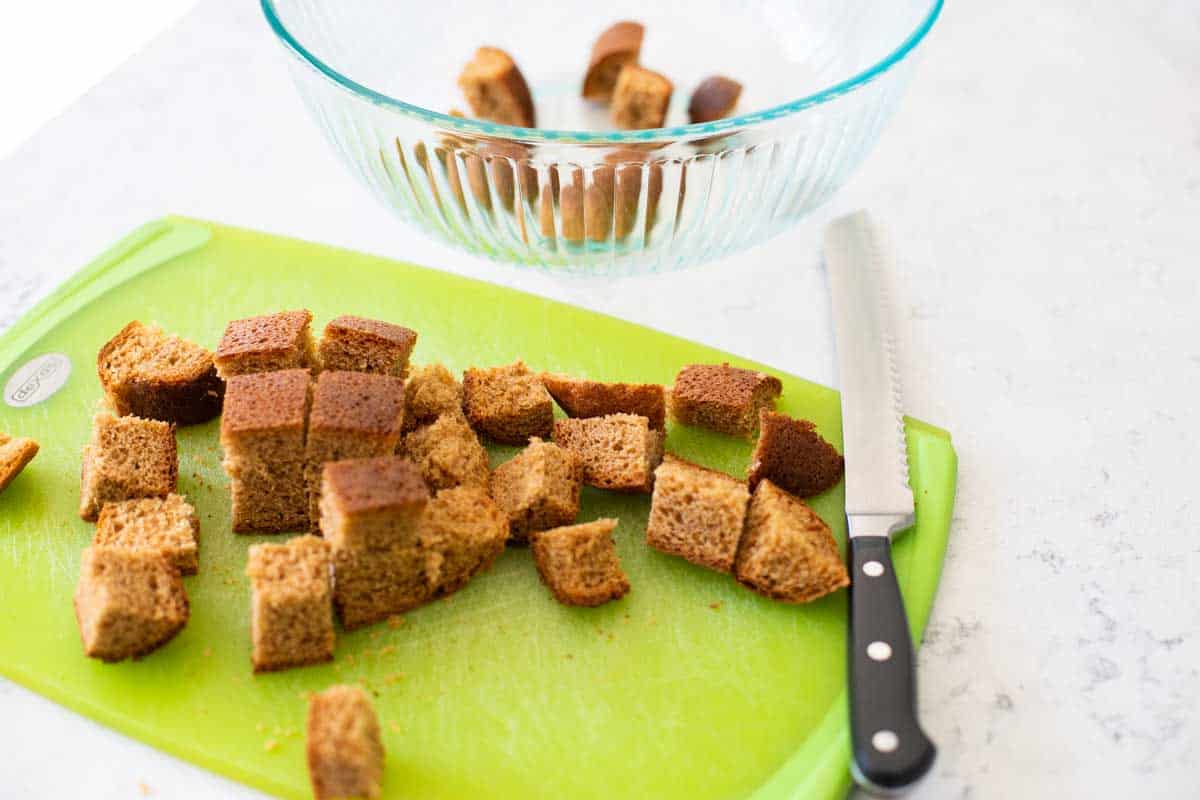 Slice the chunks of bread into 1-inch cubes and add them to a mixing bowl.
Drizzle the olive oil, or melted butter, over the cubes of bread.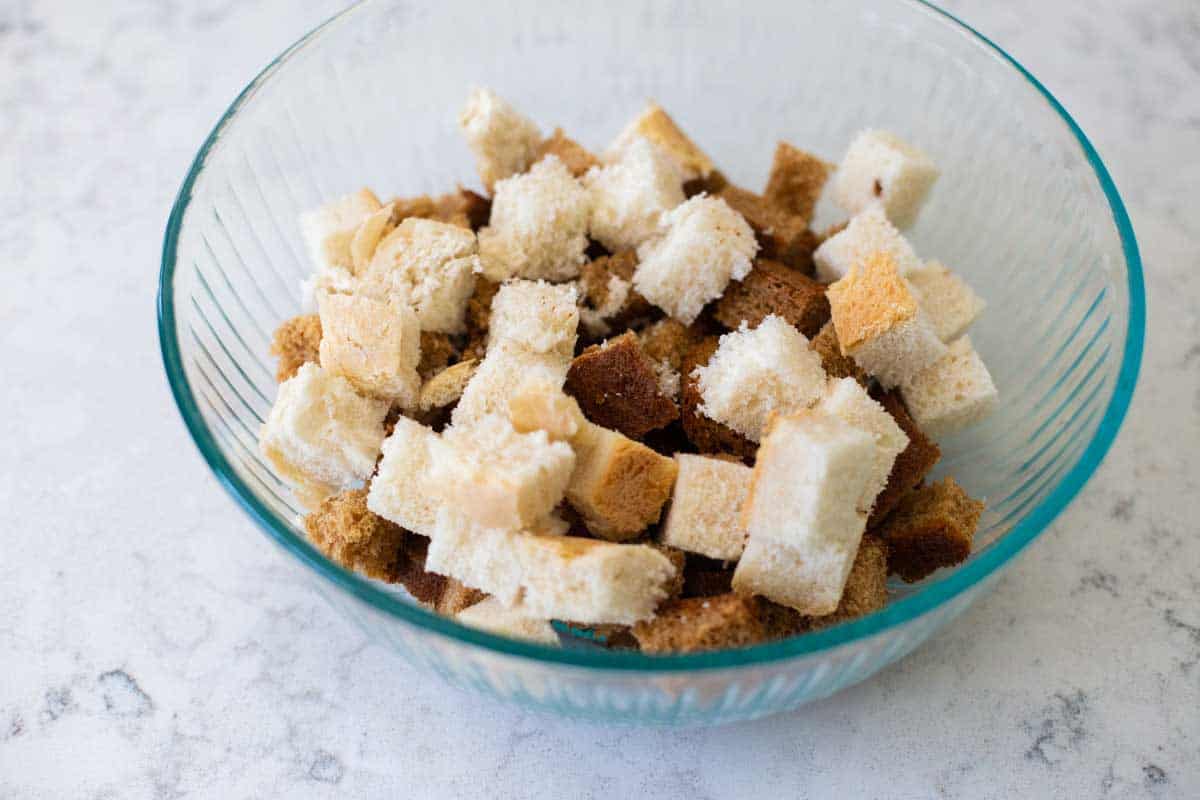 At this point, the bread is still likely very soft and can crumble if you handle it too roughly.
GENTLY toss the bread in the olive oil with your hands until every cube has been coated in a bit of oil on all sides.
Hint: If you drizzle the oil down the sides of the bowl, the bread will brush against it as you gently toss. It is easier to coat the pieces this way.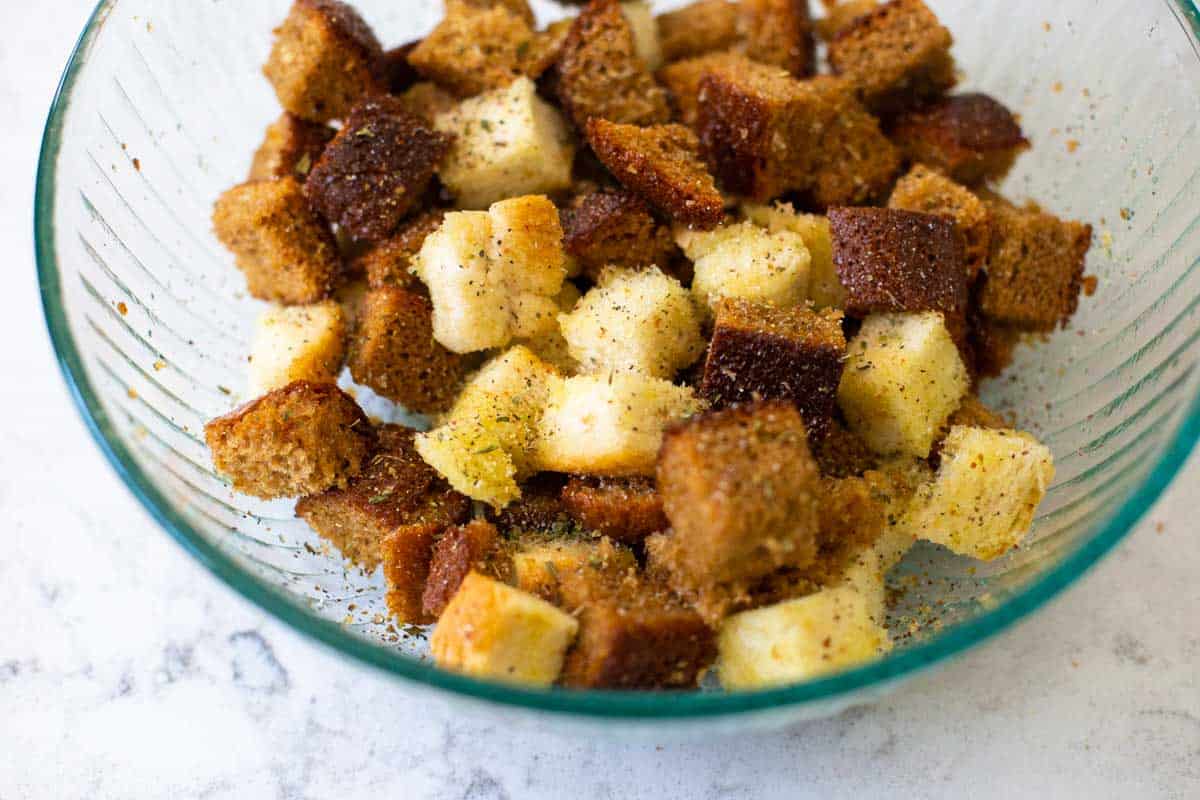 Sprinkle half the seasonings over the bread and gently toss again. Sprinkle the remaining half of seasonings over the top.
Pour the bread onto a baking sheet lined with parchment paper or a silicone baking mat. Spread it out into an even layer.
At this point, you can decide whether your croutons have enough seasoning for your taste. It's ok to sprinkle a little more on any pieces that still look unseasoned.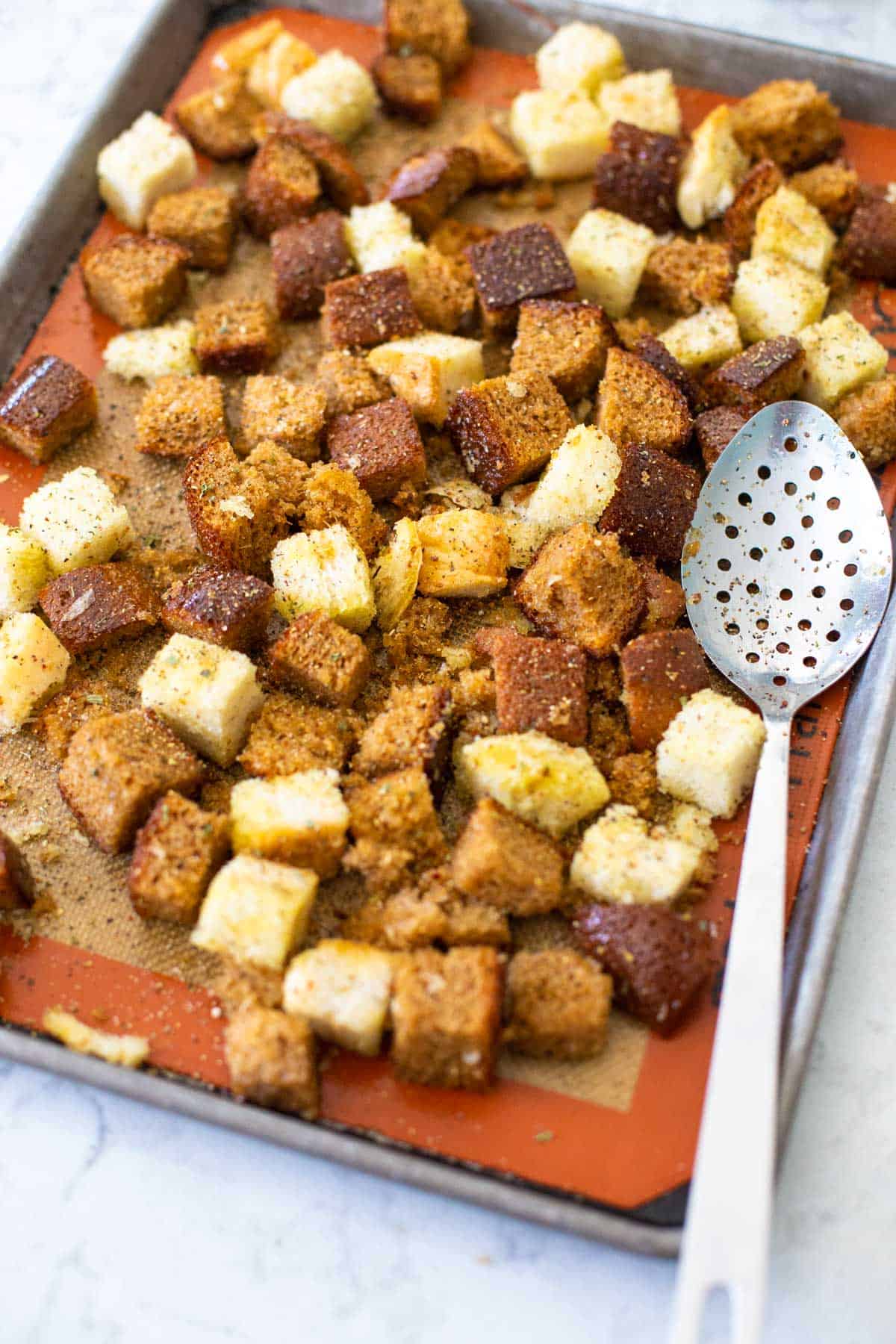 Bake the croutons for 5 minutes.
Gently toss the cubes of bread with a spatula and bake for an additional 5 minutes or until golden brown and toasted.
The Finished Texture: The outside texture will be very crisp, the inside texture will likely still have a bit of delicious chewiness.
Variations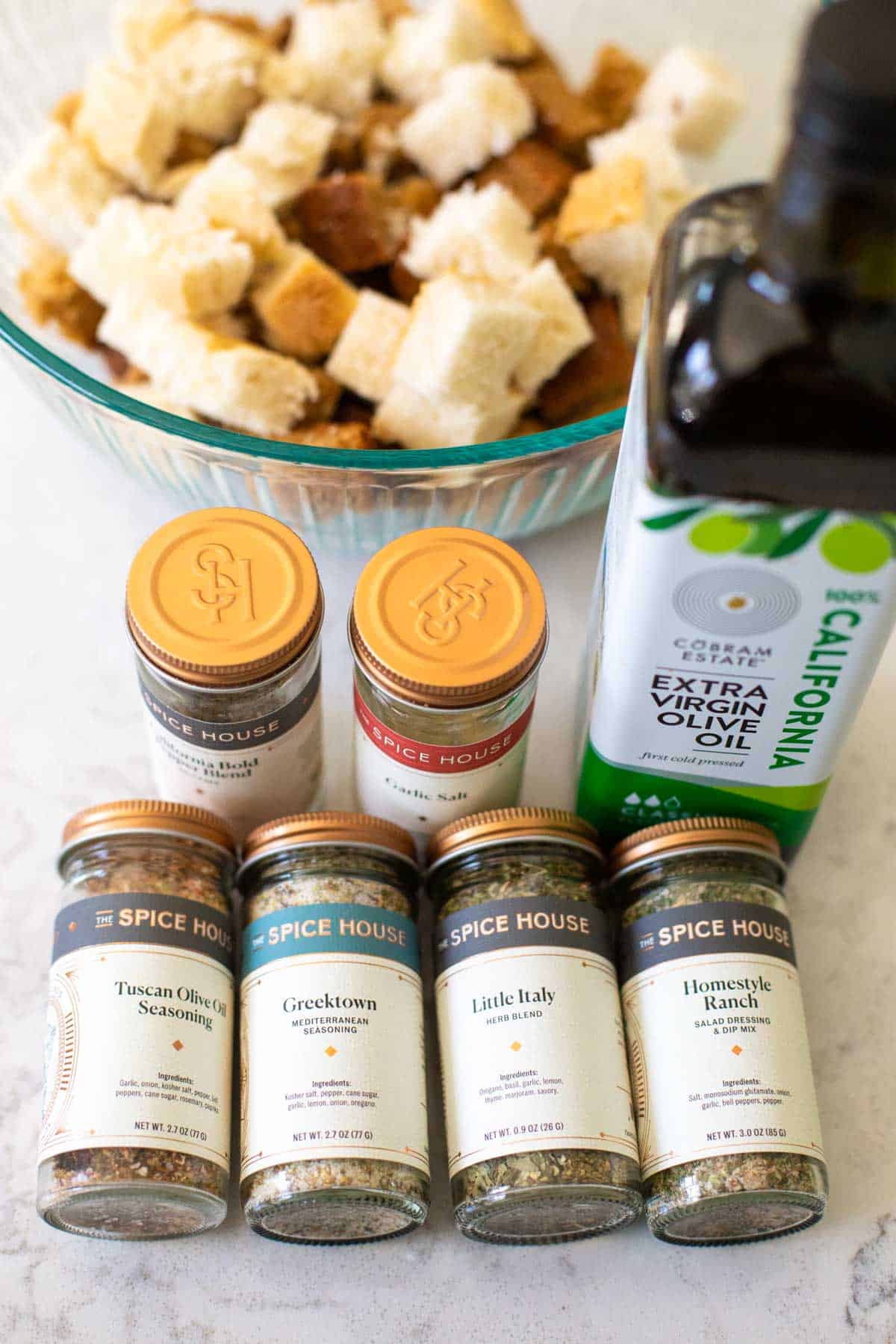 There are so many ways you can make a wide variety of croutons just by adjusting the type of bread you use as the base or the seasoning blend you choose for the top.
Cornbread Croutons - this recipe could go sweet or savory, check out the instructions and variations at the cornbread crouton recipe here
Greek Style Croutons - use a mix of savory white breads, toss in olive oil, add a Greek seasoning blend
Italian Style Croutons - use a mix of savory white or whole wheat breads, toss in olive oil, add Italian Herb blends and a touch of crushed red pepper flakes
Seasoned Ranch Croutons - use a mix of brown breads and white breads, toss in melted butter, and season with a ranch herb mix
Spicy Croutons - use any savory bread you love, toss in melted butter, add a sprinkle of cayenne to your favorite herb blend
Sweet Croutons for Fruit Salad - use a poppyseed bread or challah, toss in melted butter, add a dash of cinnamon sugar
Thanksgiving Croutons - use a savory white bread, toss in melted butter, add poultry seasonings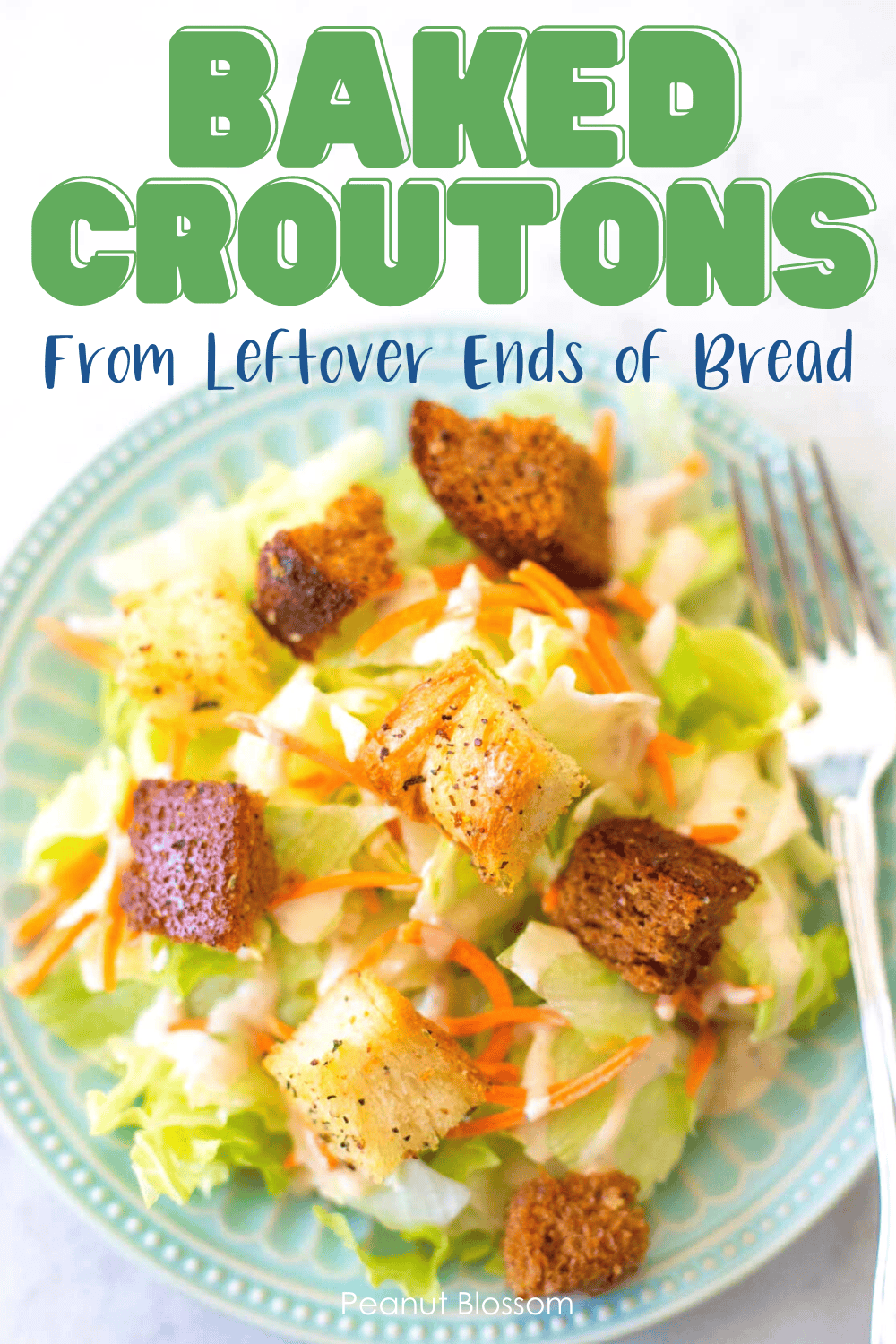 Storage
Homemade croutons are best served the day you bake them. Their texture is absolutely perfect and delicious warm out of the oven or at room temperature.
However, you can bake the croutons up to 2 days in advance of when you plan to use them if you store them in an airtight container.
Serving Tips
While the obvious choice for serving croutons is to sprinkle them over a salad, you can actually use croutons for a variety of dishes:
Top a salad
Sprinkle over a bowl of soup
Make a panzanella salad
Serve alongside a creamy dip for an appetizer: Brown bread croutons would be simply amazing in my cold spinach dip or artichoke dip.
If you've tried these homemade croutons or any other recipe on PeanutBlossom.com please don't forget to rate the recipe and let me know where you found it in the comments below. I love hearing from you!
FOLLOW along on Instagram @peanut.blossom as well as on Pinterest and Facebook.