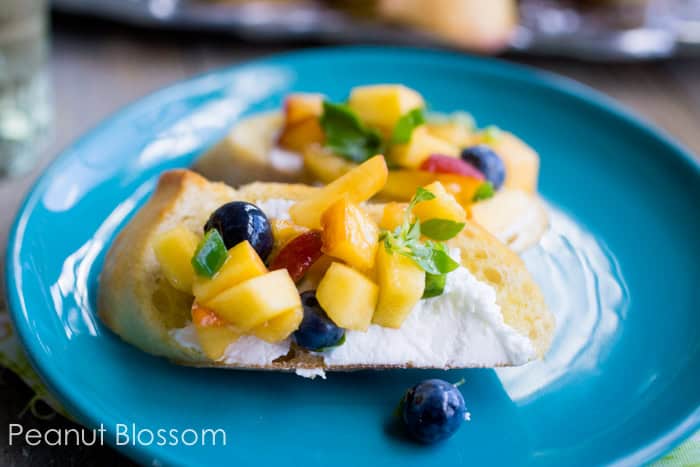 Meet my new summer Breakfast, Lunch, & Dinner! Holy Macaroni, when I went on a search to find the best recipe for our amazing summer peaches, I never expected to stumble across the most perfect appetizer/snack/meal of all time.
This, my friends, is summer on a cracker. (Or crostini/toasted baguette to be more specific.)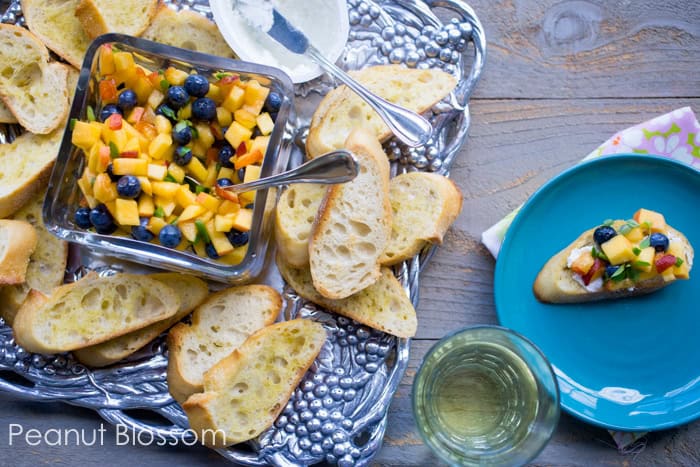 I was looking for inspiration for a peach salsa but Mr. Google automatically filled in the "blueberry" part of the equation and I was immediately intrigued. Apparently this is such a thing that Google auto-fills it when searching for "peach."
I fell down a wormhole of inspiration and looked at a minimum of a dozen different recipes that came up in my search. I took a little from here, a little from there, and a little of what I found at my local grocery store to come up with this inspired recipe.
Even still, I wasn't sure how I'd feel about the final result. All it took was one bite and I knew it was deserving of a full photoshoot. That first batch disappeared in a heartbeat one evening so just 3 days later I made it again to capture it for you. (That's when I discovered the local peaches from Harris Teeter are even better than the ones from my farmer's market. Read more about that here.)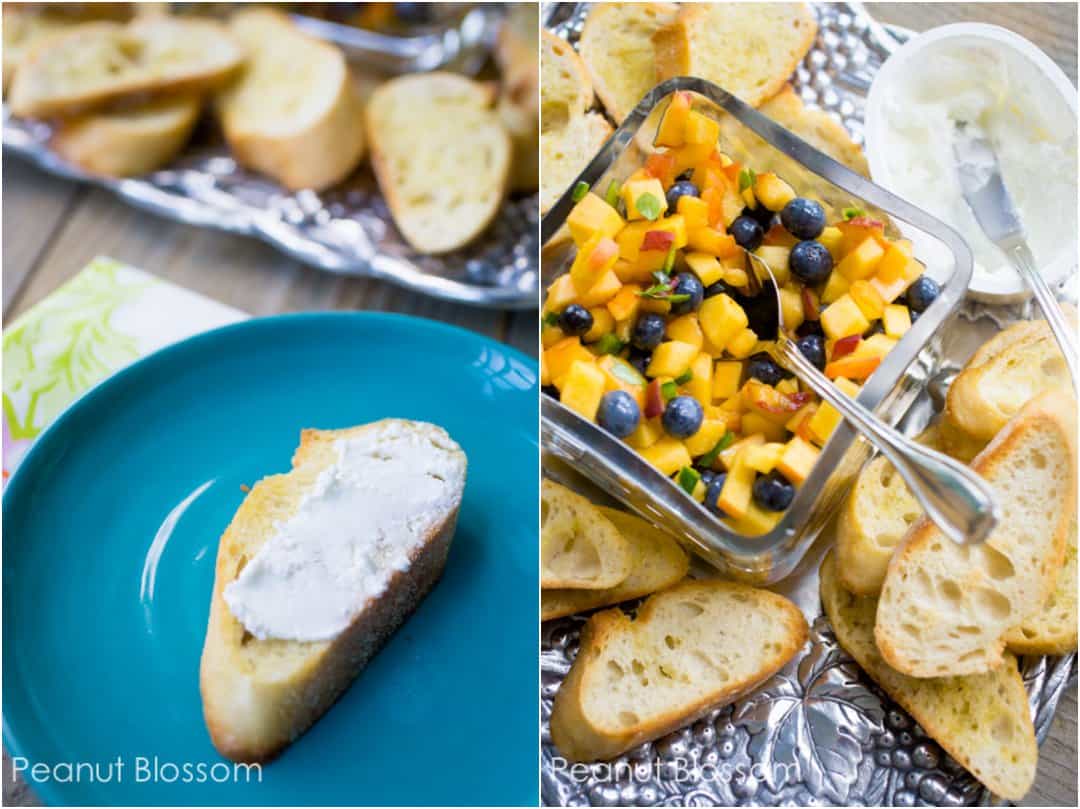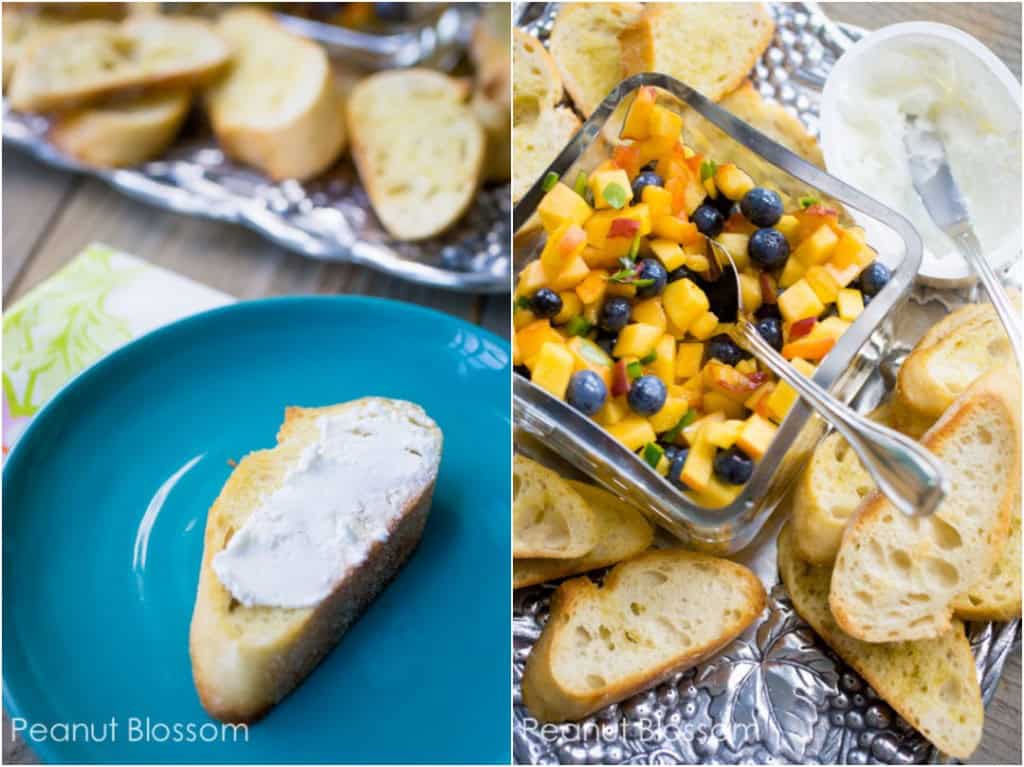 But the recipe couldn't be easier:
You slice and toast baguette pieces that have been brushed with olive oil to make the crostini. Spread a thin layer of whipped goat cheese on top, and finish with a hefty spoonful of this peach blueberry salsa.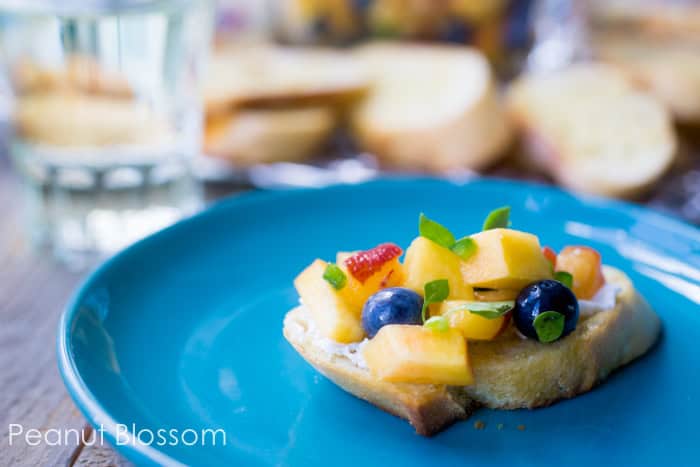 If you've done it right, the peaches are so juicy they'll run down your arm while you devour this beauty. There are bits of minced jalapeño in there to keep it from being too sweet and the fresh basil rounds it all out with that "fresh from the garden" taste.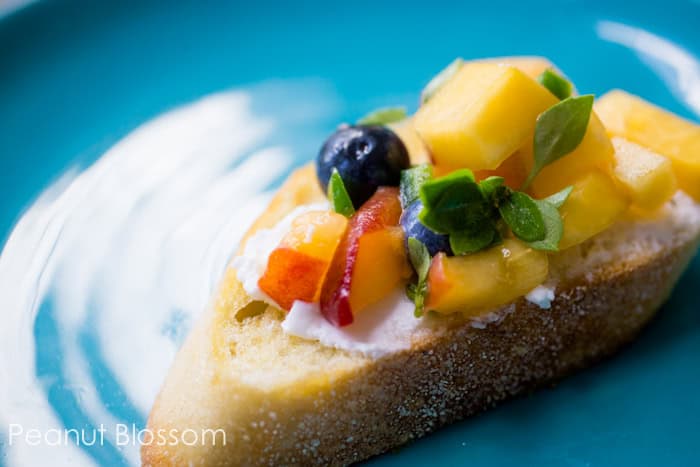 I honestly made this my complete dinner with a glass of white wine one evening. What?? It has all the food groups!
To serve this as a summer party appetizer, I put the salsa in a bowl in the center, surrounded it with the crostini, and put the goat cheese container on the side. Your friends can assemble whatever combo pleases them and the toasts stay properly crunchy.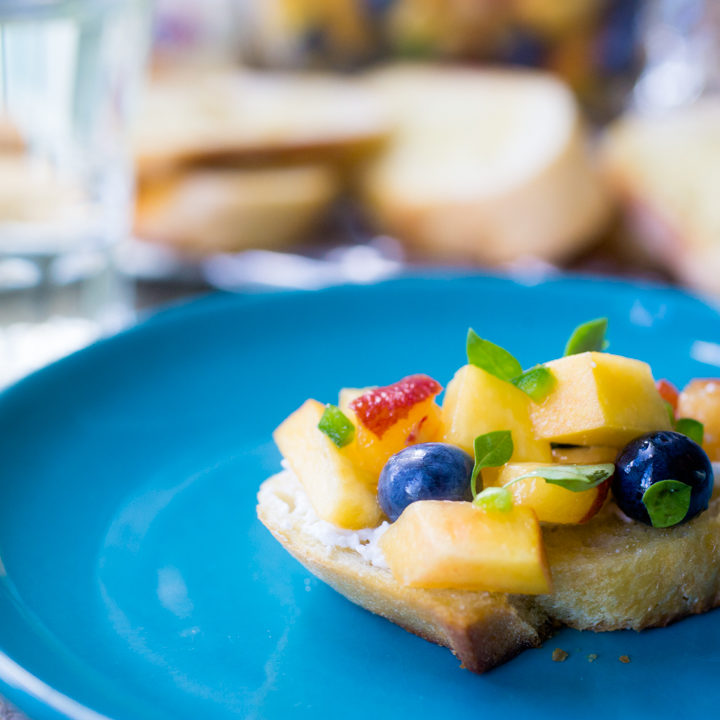 Peach Blueberry Salsa with Goat Cheese Crostini
This elegant appetizer is perfect for summertime entertaining. Fresh peaches, blueberries, and basil are mixed with a spicy jalapeno and served alongside crispy crostini.
Ingredients
1 baguette, sliced into ⅔ inch pieces on an angle
Olive oil for brushing
Whipped goat cheese (If you can find it. Otherwise regular will be fine.)
2 fresh ripe peaches, diced
1 cup fresh blueberries
½ jalapeño, seeds and ribs removed, minced
Juice of one lemon
1 tsp maple syrup
1-2 tbsp fresh basil
Instructions
Preheat the oven to 350 degrees. Place the baguette slices in a single layer on a cookie sheet and brush the tops with olive oil. Bake for 8-10 minutes until golden brown and toasted. Remove and set aside.
In a small bowl, add the peaches, blueberries, jalapeño, lemon juice, maple syrup, and basil. Gently toss to combine.
To serve: Place the salsa bowl in the center of the tray, surround with the slightly cooled crostini, and put out the goat cheese with a spreader for your guests to build their own appetizers.