Elegant fresh peach blueberry salsa bites are made with ripe fruit, fresh basil, and spooned over a crispy crostini toast spread with softened goat cheese.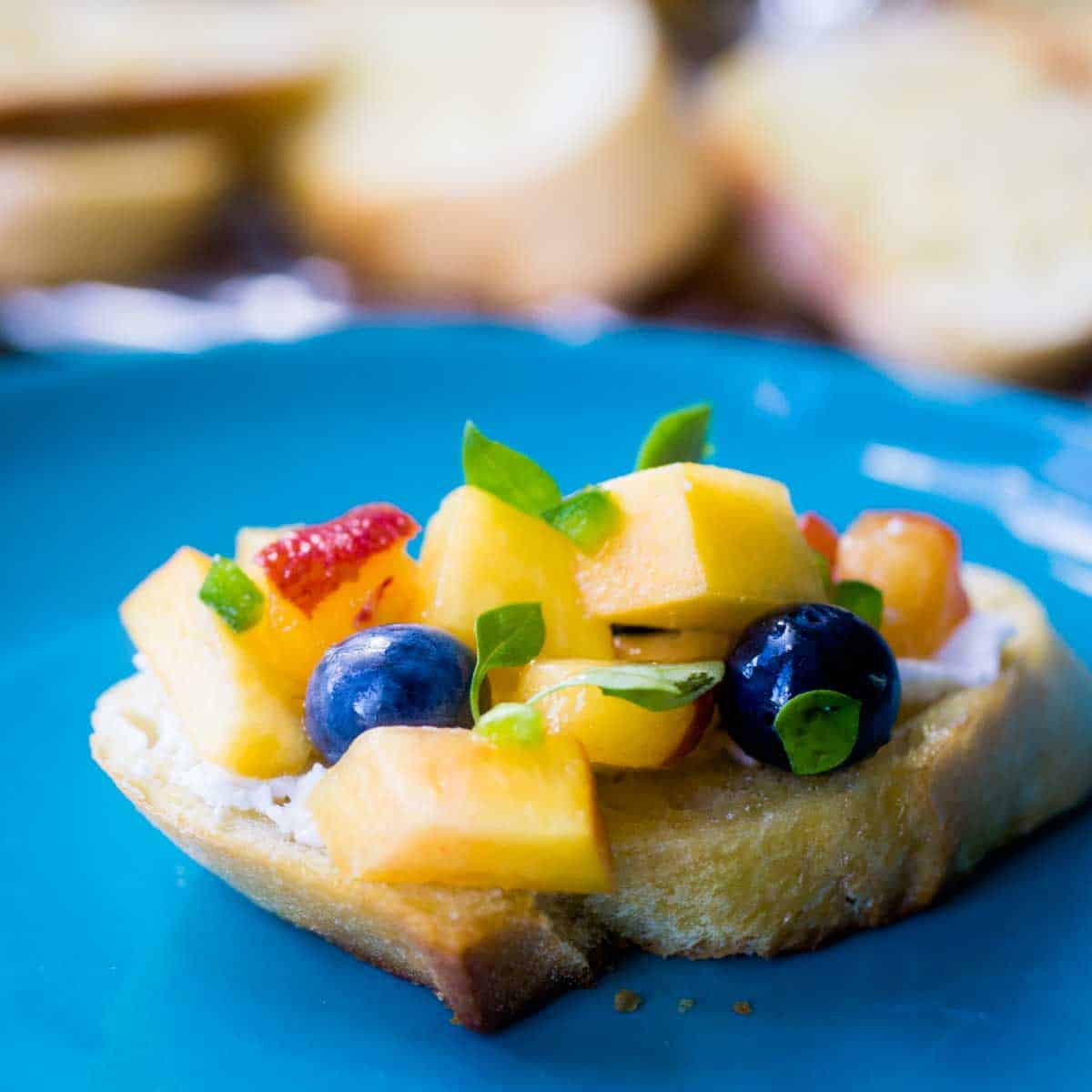 Meet my new summer Breakfast, Lunch, & Dinner! Holy Macaroni, when I went on a search to find the best recipe for our amazing summer peaches, I never expected to stumble across the most perfect appetizer of all time.
This, my friends, is summer on a cracker. (Or crostini/toasted baguette to be more specific.)
I was looking for inspiration for my spicy peach salsa but accidentally discovered this easy peach relish made with fresh blueberries, fresh basil, and served on a crostini.
What started as a simple happy hour appetizer quickly turned into dinner for my husband and me. We couldn't stop eating it!
Save this recipe for when the peaches at your market are simply perfect. It's a recipe worth waiting for.
Jump to:
Ingredients
This list of ingredients is short and sweet, you just really want to make sure they are at the peak of freshness!
Fresh peaches
Fresh blueberries
Jalapeño
Lemon
Maple syrup
Fresh basil
For serving:
Crostini: Either homemade crostini or storebought
Goat cheese: Strongly recommend. If that makes you anxious, you could substitute softened cream cheese but I promise goat cheese is better.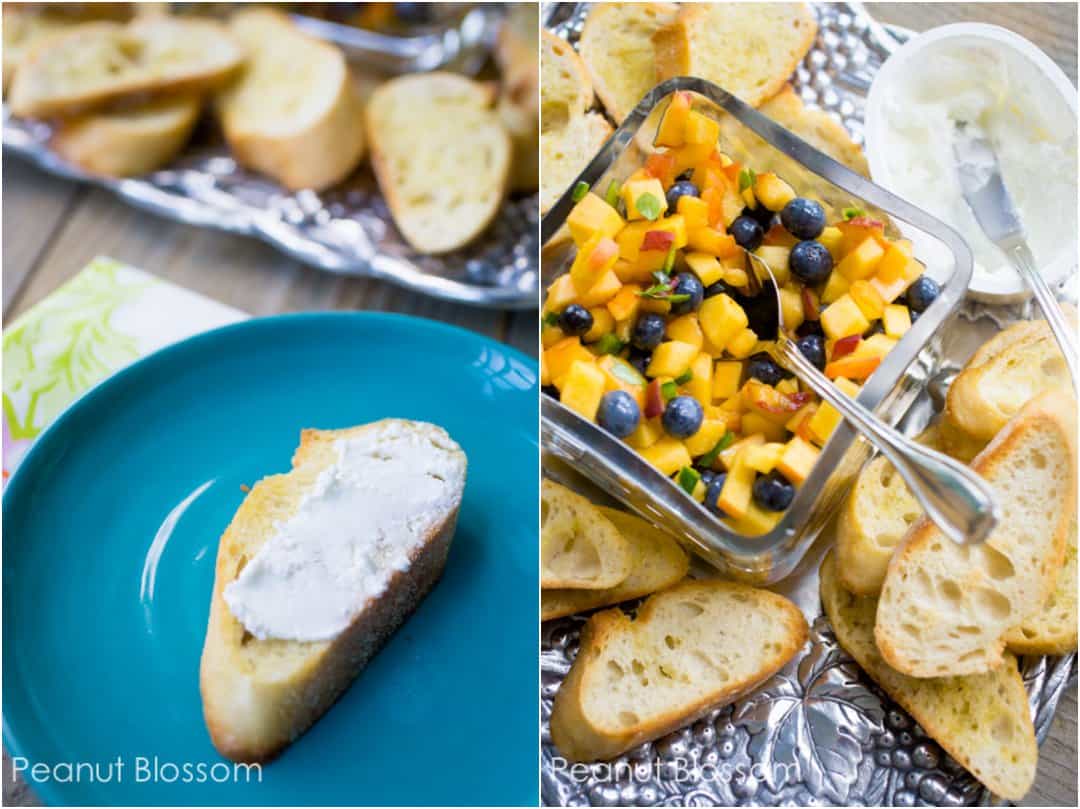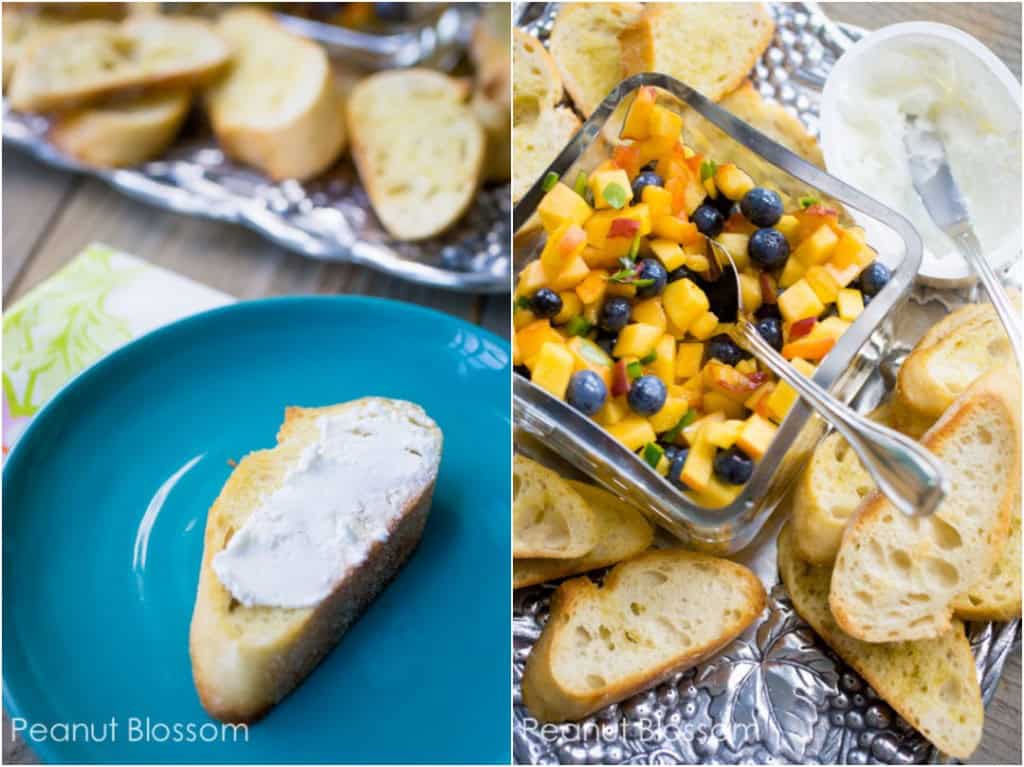 Assemble the Appetizer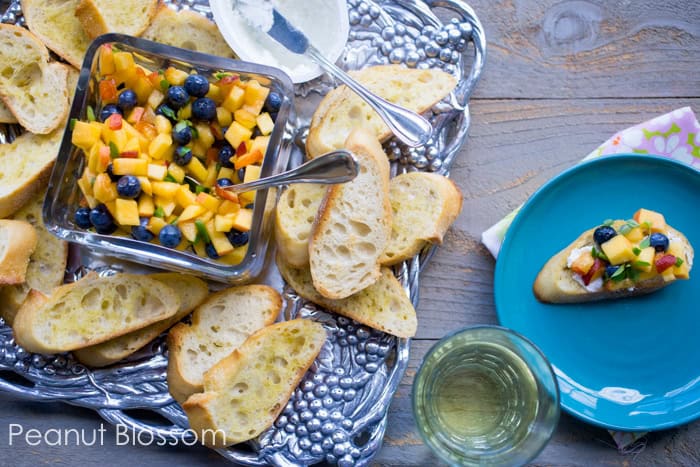 The recipe couldn't be easier:
You slice and toast baguette pieces that have been brushed with olive oil to make the crostini.
Spread a thin layer of whipped goat cheese on top, and finish with a hefty spoonful of this peach blueberry salsa.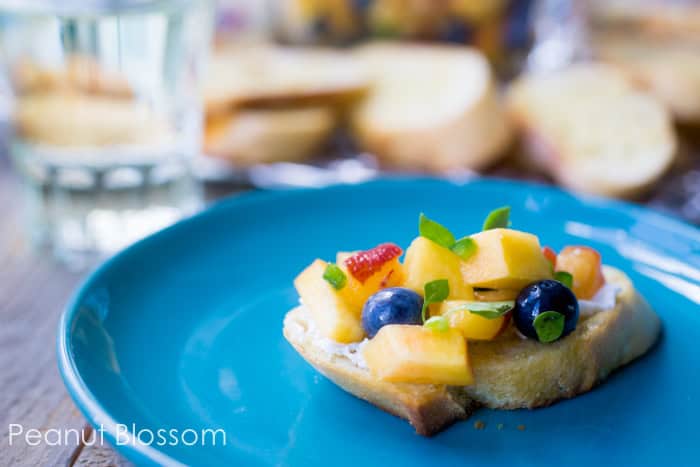 If you've done it right, the peaches are so juicy they'll run down your arm while you devour this beauty.
There are bits of minced jalapeño in there to keep it from being too sweet and the fresh basil rounds it all out with that "fresh from the garden" taste.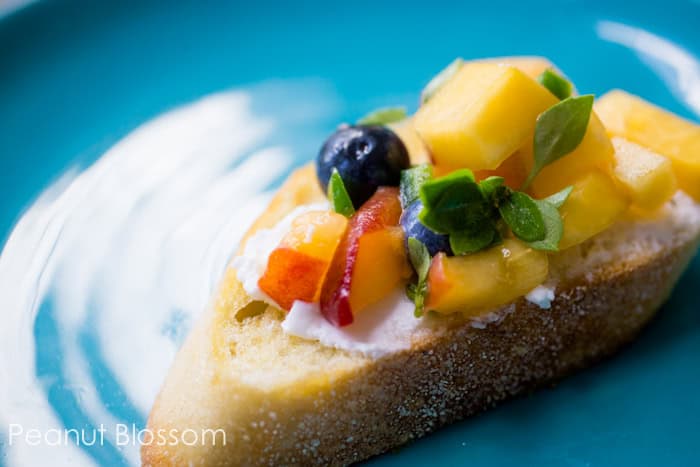 I honestly made this my complete dinner with a glass of white wine one evening. What?? It has all the food groups!
To serve this as a summer party appetizer, I put the salsa in a bowl in the center, surrounded it with the crostini, and put the goat cheese container on the side.
Your friends can assemble whatever combo pleases them and the toasts stay properly crunchy.
More Elegant Appetizers
Looking for more delicious appetizers that would pair well with crostini? This easy roast beef crostini with horseradish sauce is a perfect fit, but you might also enjoy: