Whether your kids just got braces or you've got a super busy school morning, these smoothie recipes for kids are the perfect protein-packed breakfast to give them energy all morning long.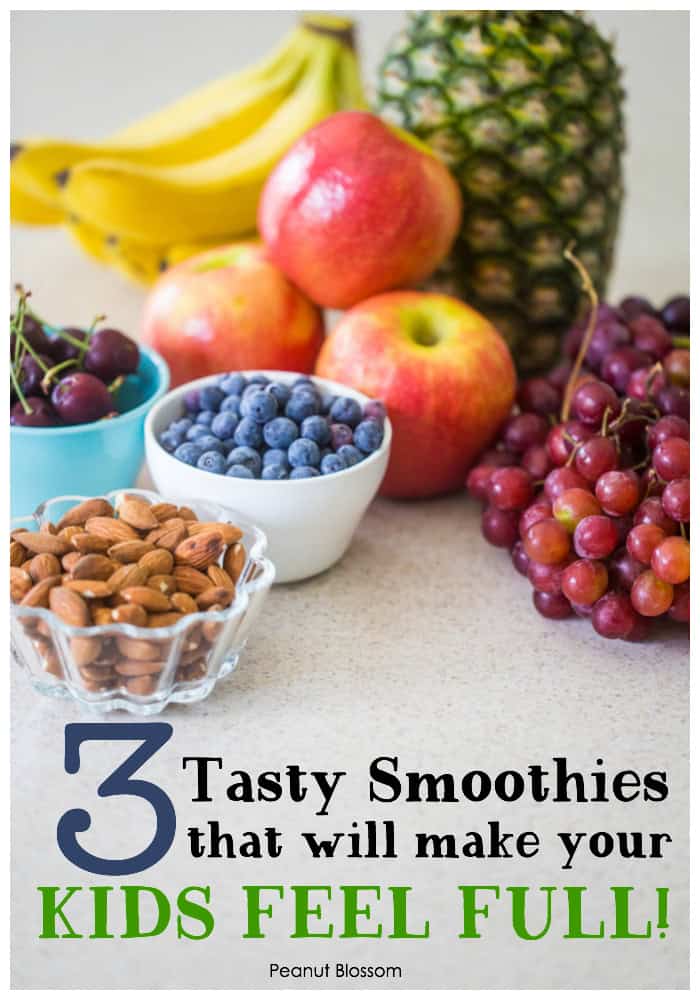 We're coming up on the two year anniversary of the Peanut getting braces from Dr. Hull at Hull & Coleman. I can't believe how time flies. One of the things we have learned over all these months with braces is that kids need a little extra TLC after an adjustment.
When the Peanut comes home from her orthodontist adjustment, her teeth tend to be pretty sore for a few days. We've even found that sometimes as the teeth move around, she'll have an odd day here or there throughout the month with a little bit more discomfort. Dr. Hull's office has always been wonderful about providing suggestions for making her more comfortable and I do everything I can to help.
One of the easiest things to do to make braces more comfortable is provide easy-to-chew or no-chew foods to help get her through those few rougher days. Fruity smoothies have been one of her favorite treats forever. She would beg for a smoothie from Jamba Juice on the way home from the appointment but I'm not running to the store every time she wants to drink one!!
We've been trying to Master the Art of the Smoothie here at home and I'm always on the hunt for the perfect smoothie recipes for kids. I've got three amazing recipes for you and all the tips you need for keeping the smoothie making the process super easy.

P.S. The Peanut and I appeared on Charlotte Today to showcase our favorite recipes. Check out the demonstration here:
[adthrive-in-post-video-player video-id="G9rlyRjk" upload-date="2019-08-07T16:51:36.000Z" name="3 fantastic smoothie recipes for kids that will keep them full!" description="Give your kids something easy to eat when they have their braces adjusted, this will keep them full all morning long!"]
And if you're looking for more advice on braces, don't miss:
Super tasty protein-packed smoothie recipes for kids that will help them feel full!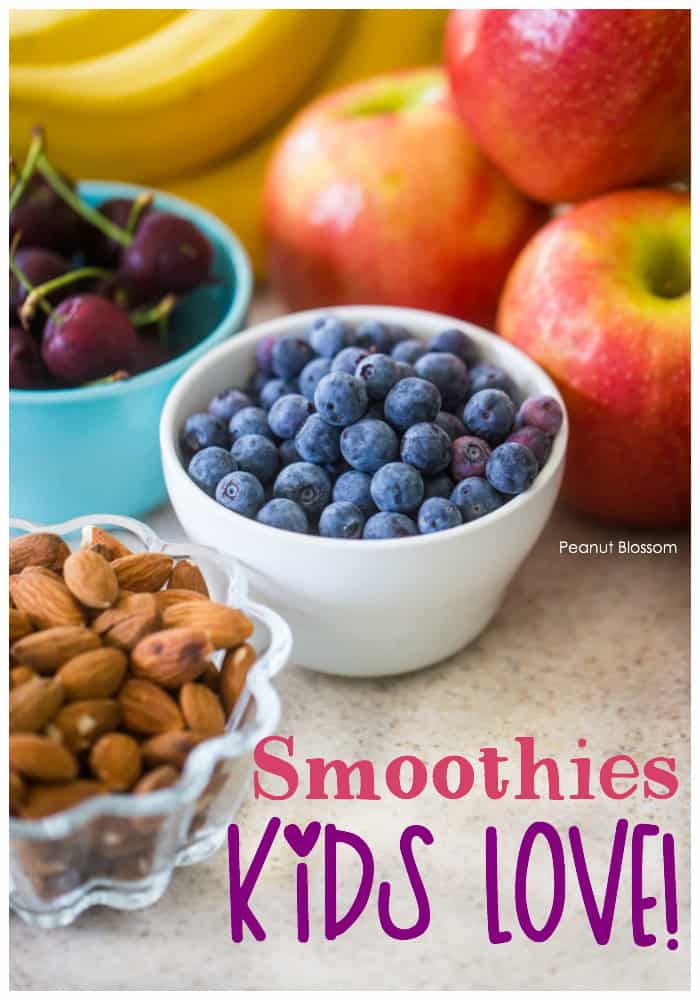 What are the best smoothie recipes for kids?
When my girls first started ordering smoothies at the local store, I discovered that they would quickly feel hungry again in an hour or two. It took me a while to notice the pattern and realize that the smoothie flavors they chose were totally lacking in any kind of protein. They were essentially ordering fruit slushies with nothing to stick to their ribs and give them energy.
I totally flipped my wig when my friend Erin from Delightful E Made announced she was publishing The Protein Smoothie Bible with an entire section devoted to smoothies for kids.
Erin's smoothie recipes are filled with whole foods and healthy proteins. There is an enormous variety of flavors in her adorable, handy book. I love that each recipe has a fairly short list of ingredients and that several ingredient staples are used over and over again.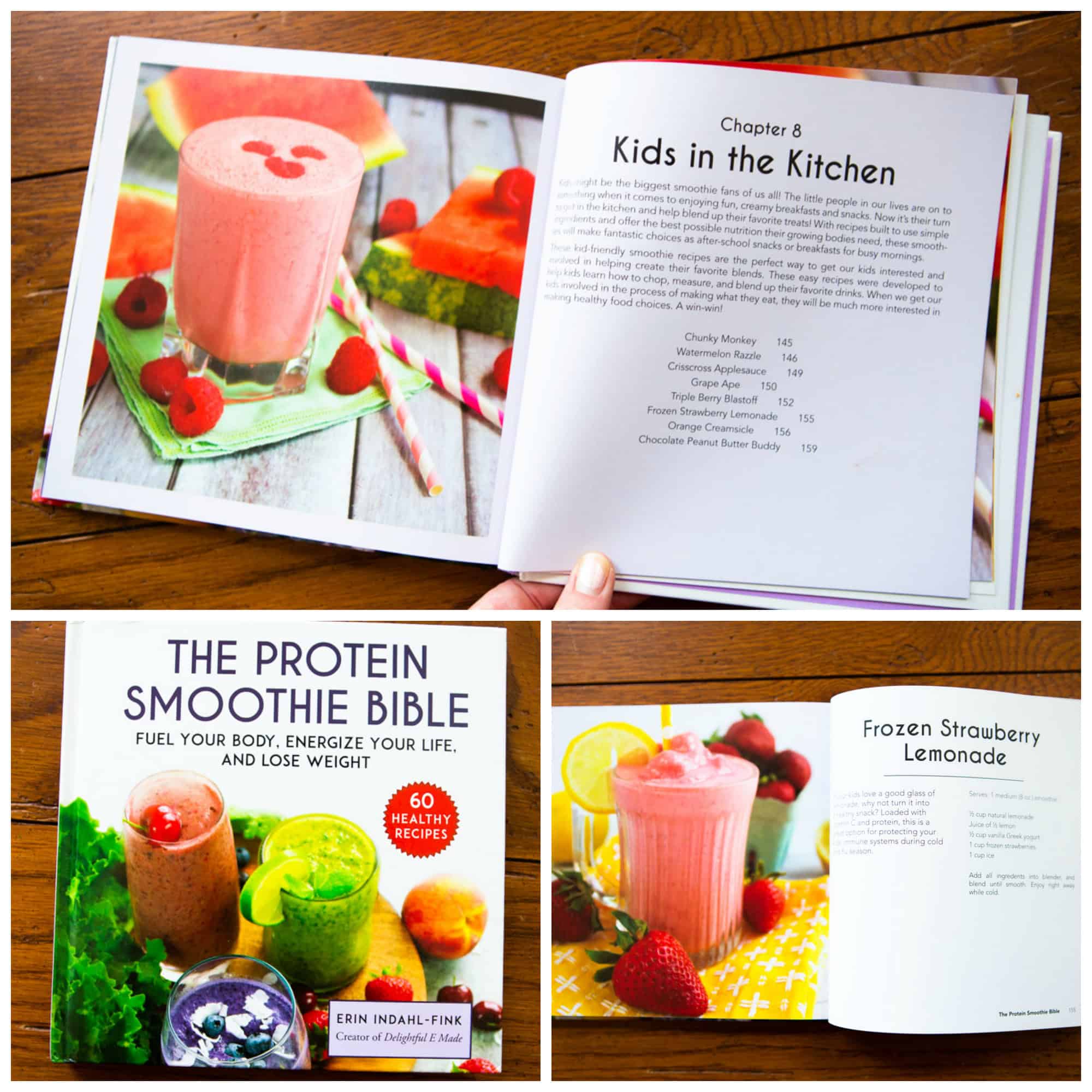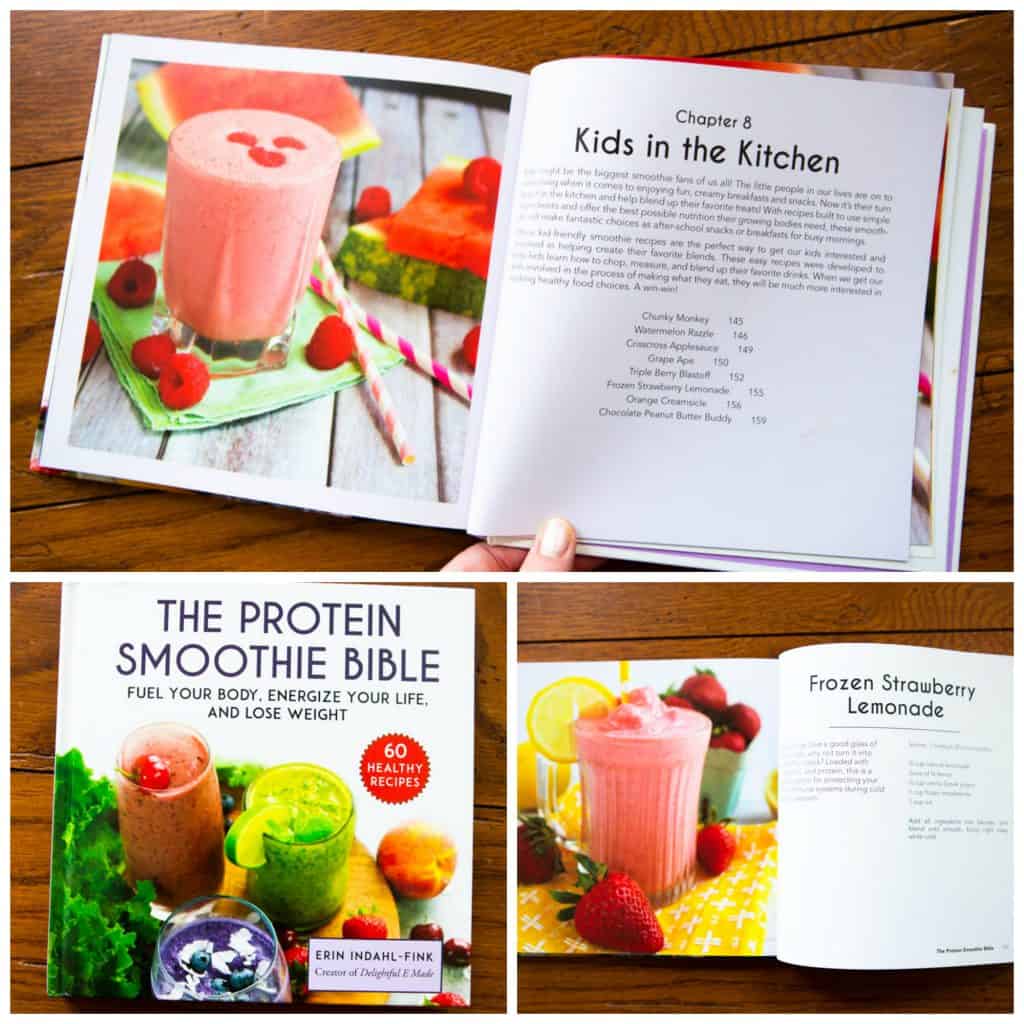 You can easily stock your fridge and freezer with everything you need to quickly make a wide variety of smoothies for your kids in just a pinch. You can grab your own copy of her awesome book right here:
BUY THE PROTEIN SMOOTHIE BIBLE
But if you'd like to test out a few of her tasty recipes before you buy, keep scrolling. Erin gave me permission to share three of our favorites with you below!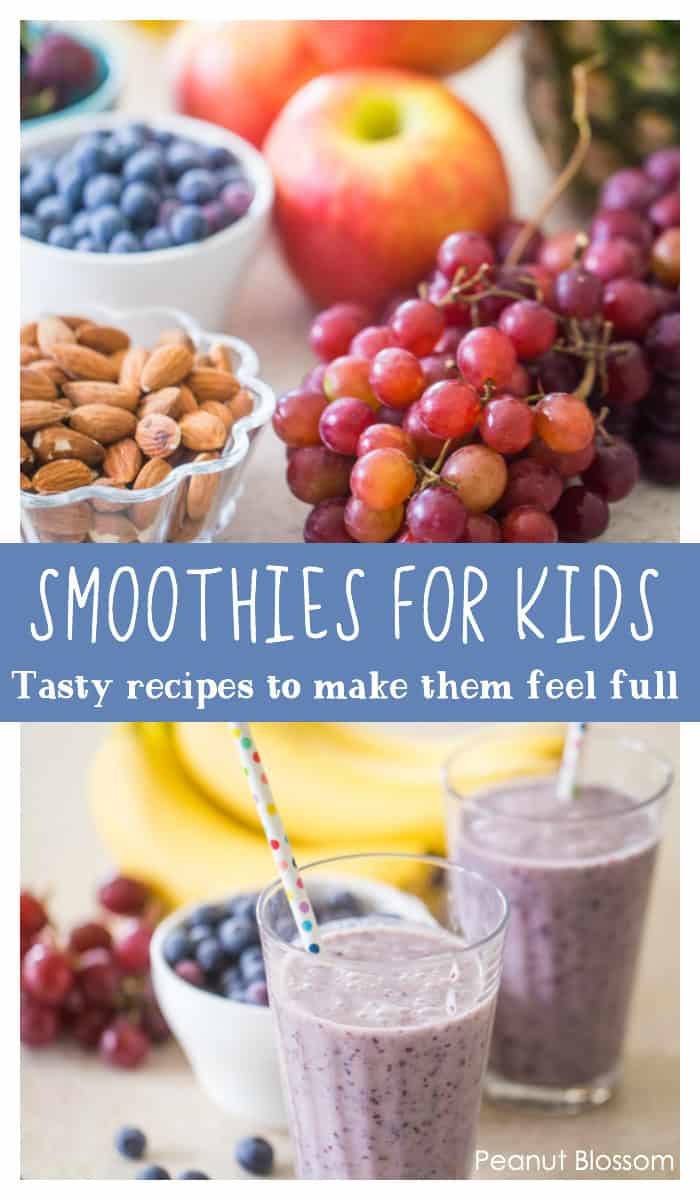 How to make smoothies for your kids easily on a busy morning:
My kids definitely prefer a variety of flavors over having the same thing day after day. We all know that fresh produce can actually be quite expensive when you're buying it in large quantities.
My favorite part about smoothies is that you can buy the fruit that is in season (and more affordable!) right now and then freeze it in small pre-measured prep bags in your freezer for later. I recommend planning out a few flavors of smoothies and then measuring out the ingredients you need. Store just enough for 1 - 2 smoothies in each separate freezer bag and then bundle them all together in a large bag for the freezer to keep things organized.
Then on a super busy school morning or in a teeth-hurting post-ortho appointment "emergency" you can grab just what you need and pop it in the blender without any cutting, washing, or fruit-prep.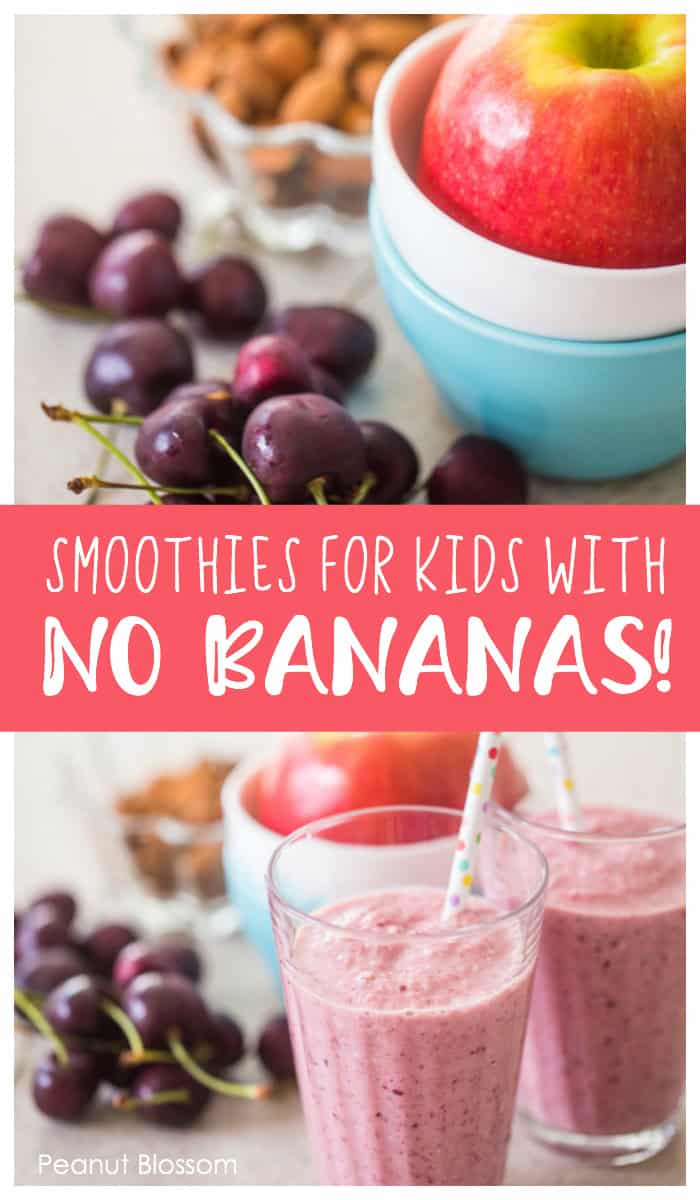 What happens if your kid can't stand smoothies with bananas??
I'll be perfectly honest. This is actually one of our bigger challenges. The Peanut inherited an absolute loathing of bananas from me. I can't stand their smell, their flavor, their texture. There is nothing redeeming about them in my opinion. She and I can both detect even the slightest hint of banana even buried deep in a fruit smoothie with another major flavor that tries to mask it.
Most smoothies require bananas to help give that thick creamy consistency. Bananas also help to give the smoothie some bulk with their additional fiber. It's not usually as easy as just leaving them out.
I've learned a few tricks for handling this problem. If you want to make smoothies for your kids who hate bananas, I recommend:
Cut the banana portion in half and double up on the yogurt (or add yogurt if the recipe calls for milk)
Choose smoothie flavors that have really strong accent fruits that will mask the banana better. Look for chocolate, peanut butter, or really tart fruits like cherries.
Pick one of the 35+ recipes from The Protein Smoothie Bible that have NO bananas.
Tasty apple cherry almond smoothie for kids that has NO bananas:
Note: If the raw almonds in this cherry almond smoothie recipe make you nervous, try substituting 2 tablespoon of almond butter. It might be easier for your blender to keep the smoothie smooth!
Delicious grape ape smoothie for kids:
Fresh and yummy orange creamsicle smoothie for kids: