Need to host a virtual birthday party while your family is safe at home? The Drive-by Virtual Party Kits from Party City make it easy and fun! Thanks to Party City for sponsoring this post.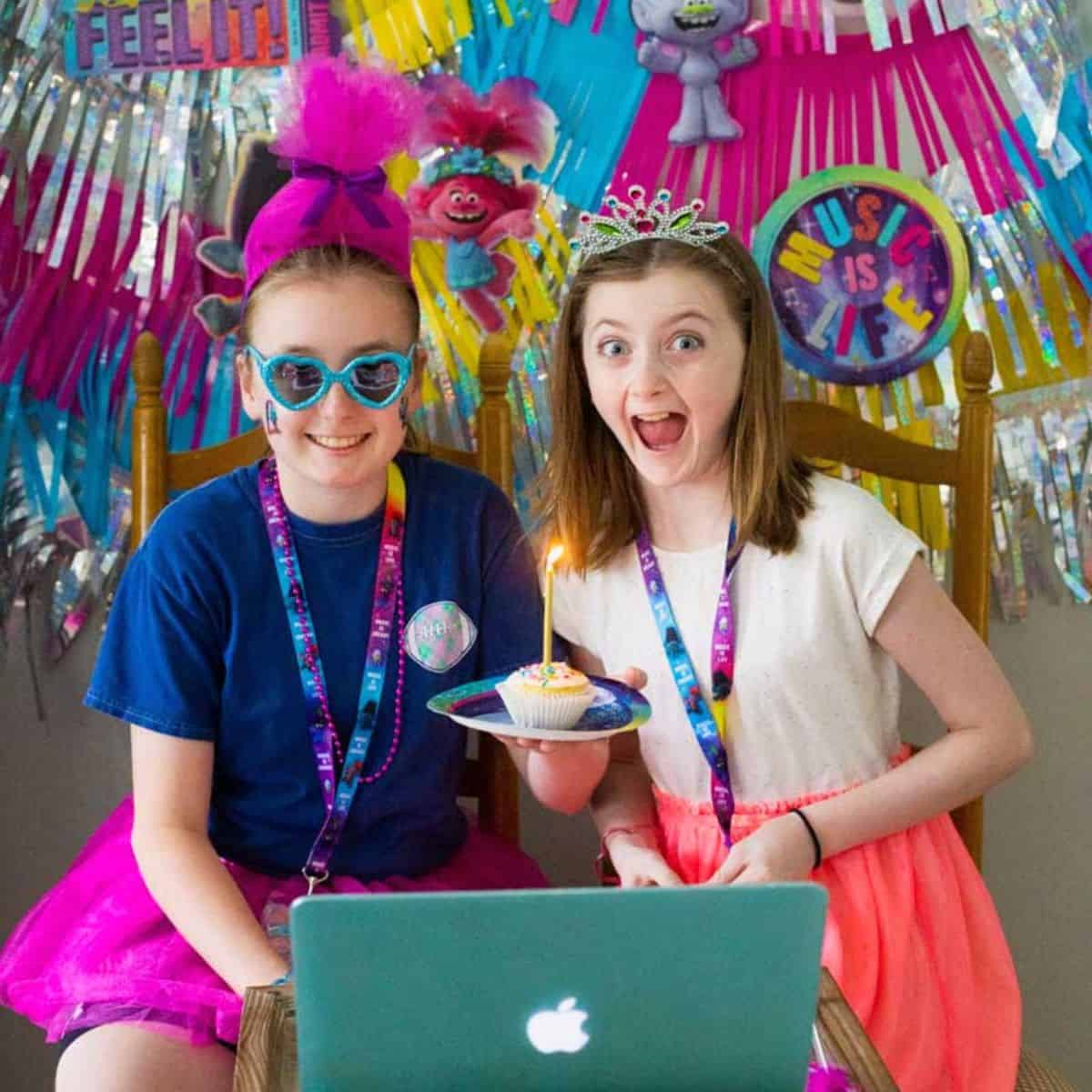 Both of my girls have had milestone birthdays fall during our safe at home quarantine this spring. Little Pea, especially, had been looking forward to celebrating with her new homeschool friends.
We always make a big deal over birthdays with our little family. I had hoped that maybe that would be enough for this year.
Then I heard about the awesome Drive-by Virtual Birthday Party kits from Party City and I just knew we had our answer.
Party City made it crazy easy to host a virtual birthday party for Little Pea and her friends over Zoom. They sent along everything we needed except the cake!
If you've got a little one celebrating a birthday in the coming weeks, I highly recommend hosting your own Drive-by Party. Here is everything you need to know to get set up with one your kids will love.

How to Host a Virtual Birthday Party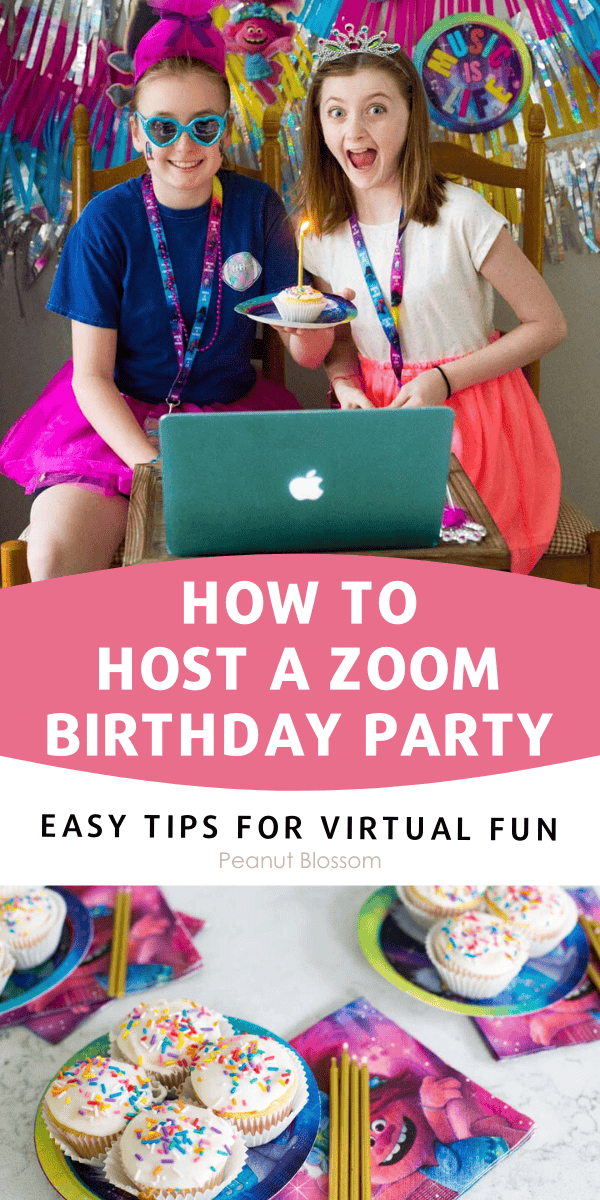 Order a Birthday Kit
I hopped onto Party City's web site and let Little Pea pick the theme for her party.
They had a great selection of party theme options including:
Frozen
magic unicorns
Disney Princess
Toy Story
Avengers and more . . .
Since we just rented Trolls World Tour a few weeks ago, my girl was super excited to spot Poppy, Branch & Co. among the options so we went with the Trolls birthday party theme.
Divide the Party Supplies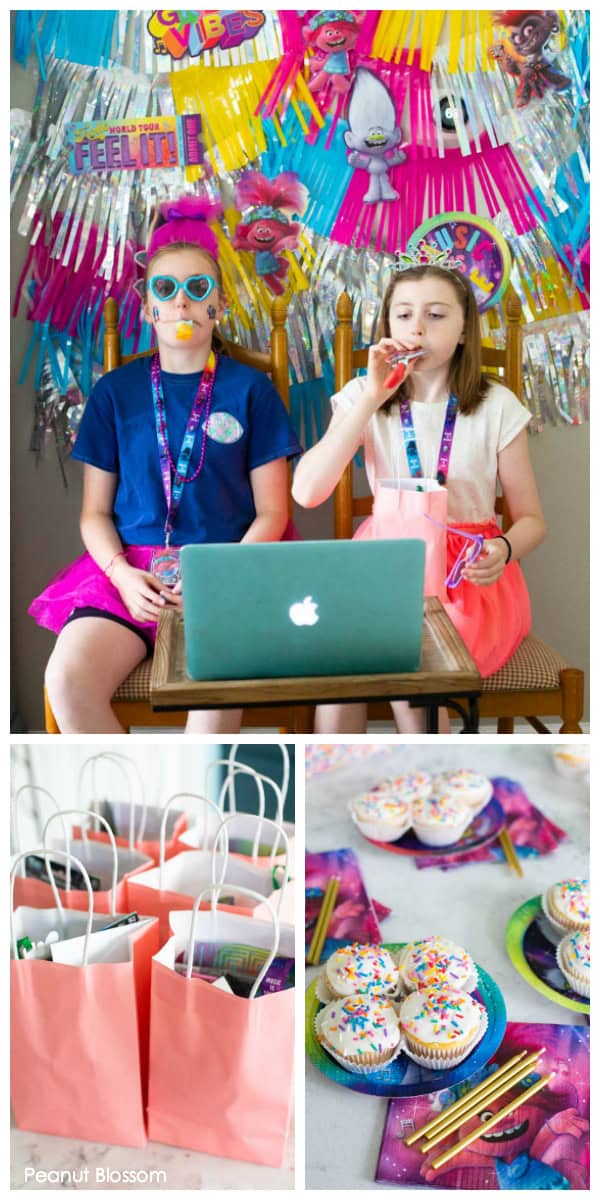 The big box of party supplies arrives at your door. Party City includes literally everything you need to host the party:
A fun backdrop for the birthday girl/boy to hang for the Zoom session
Costume elements for everyone: Special items for the birthday girl/boy and headbands, bracelets, lanyards, beaded necklaces, etc. for the guests
Cupcake supplies: wrappers and birthday candles, you just have to bake up the cupcakes themselves from your own supplies
Tableware: party plates, napkins, cups
Fun favors and balloons
Gift bags for delivery of the supplies
I opened up all the supplies and evenly divided them among the party bags. I almost couldn't fit everything inside the gift bags there was so much included.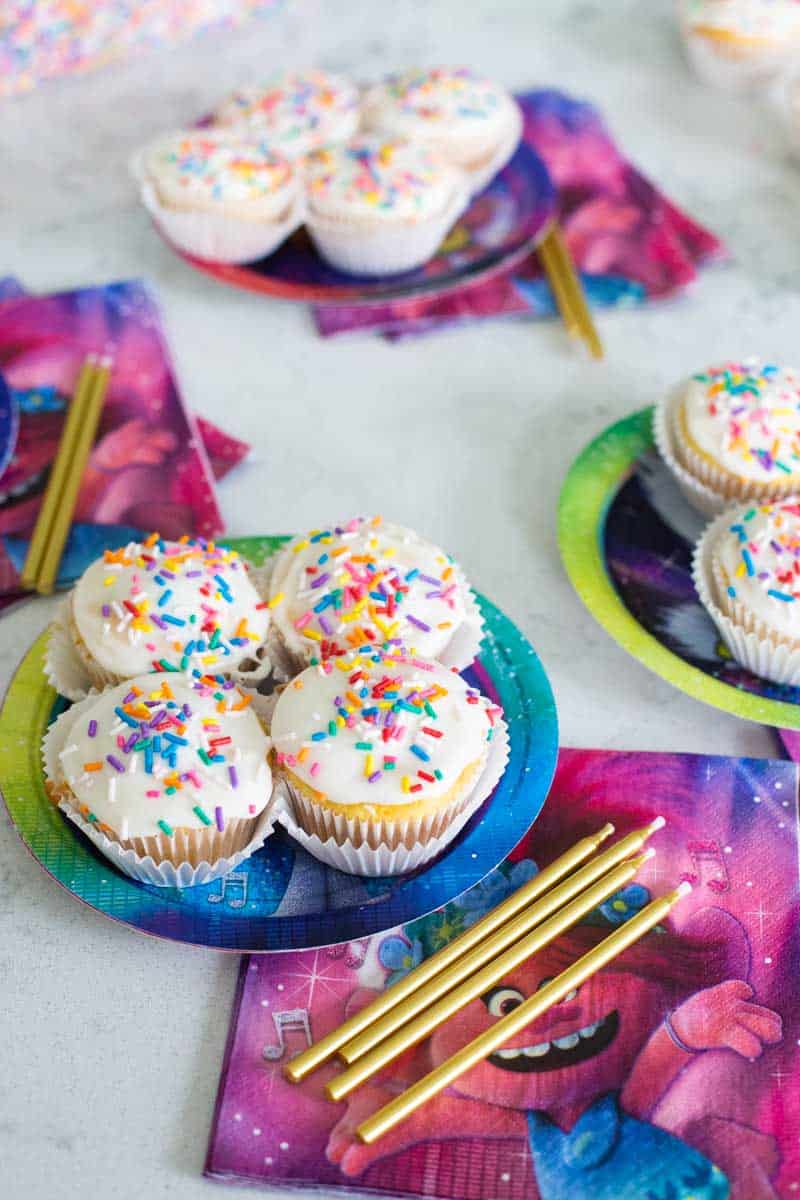 Bake Easy Cupcakes that Travel Well
Since I knew we'd be bundling up the cupcakes into smaller delivery packages and driving them over to our friends' houses, I needed a cupcake that would still look as pretty upon arrival as it did in my kitchen.
Cupcakes with towering swirls of frosting tend to be a disaster in the car. Instead, I made these super-easy, super-delicious vanilla donut cupcakes. The easy vanilla glaze with rainbow sprinkles turn a basic box mix batch of cupcakes into the cutest, happiest little birthday treats ever.
I was sure to add a couple of birthday candles into each of the bundles for our guests.
Everyone knew to hold off on eating the cupcake until the party. The parents all stepped in to light the candles and the kids got to blow them out together.
Deliver the Goodies
We texted everyone to let them know we were on our way. I carefully organized everything into our trunk.
At each stop, the Peanut hopped out and walked the gift bag full of supplies and a plate of cupcakes up to the door, rang the bell, and came back to the car. Our friends opened the door to find the supplies neatly waiting for them.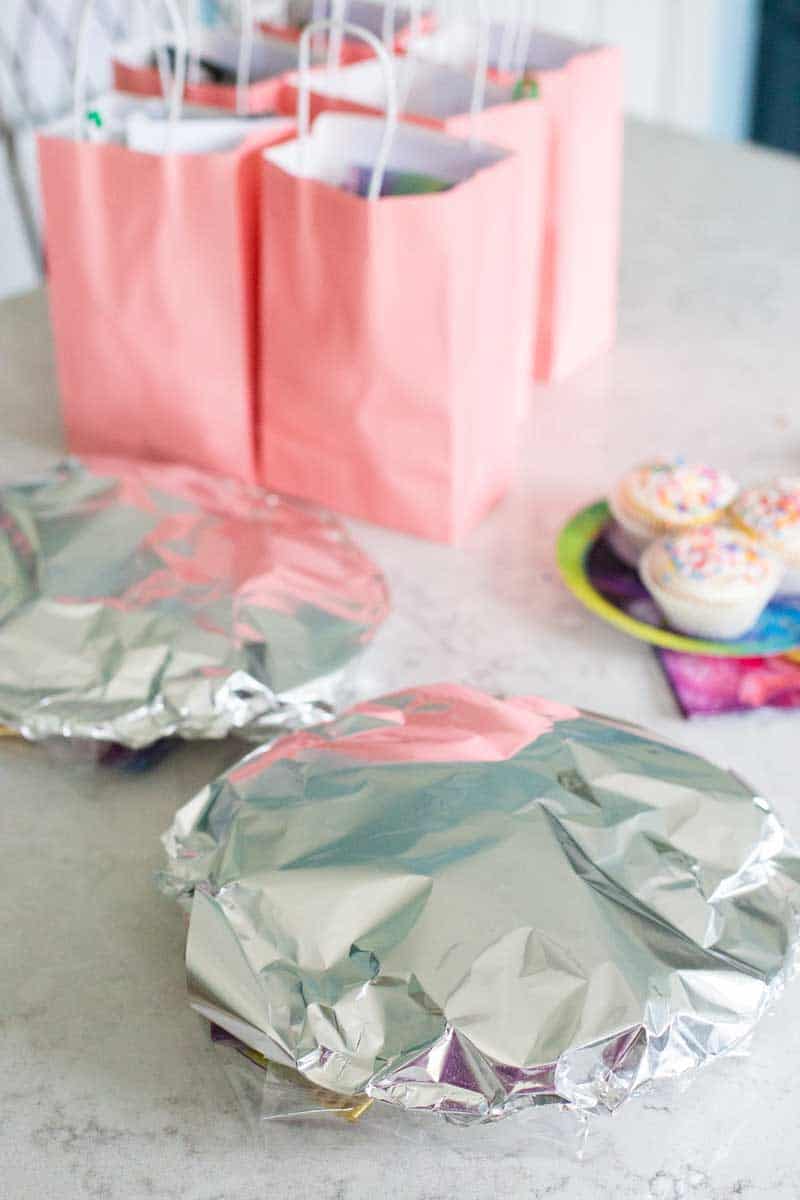 Party on Zoom
I sent out the party link and everyone joined at the same time. The Peanut served as Mistress of Ceremonies dressed as Poppy Troll in a pink wig and pink tutu. The birthday girl wore a tiara and carried a princess wand.
The Peanut ran the party guests through a series of virtual games.
We wrapped things up with the virtual candle blowing and birthday singing. Everyone chatted for a bit and then the party was done.
They ended up having so much fun together. There's just something about seeing everyone's happy faces with the cupcakes and supplies we dropped off. It was a great way to feel connected in honor of her special birthday.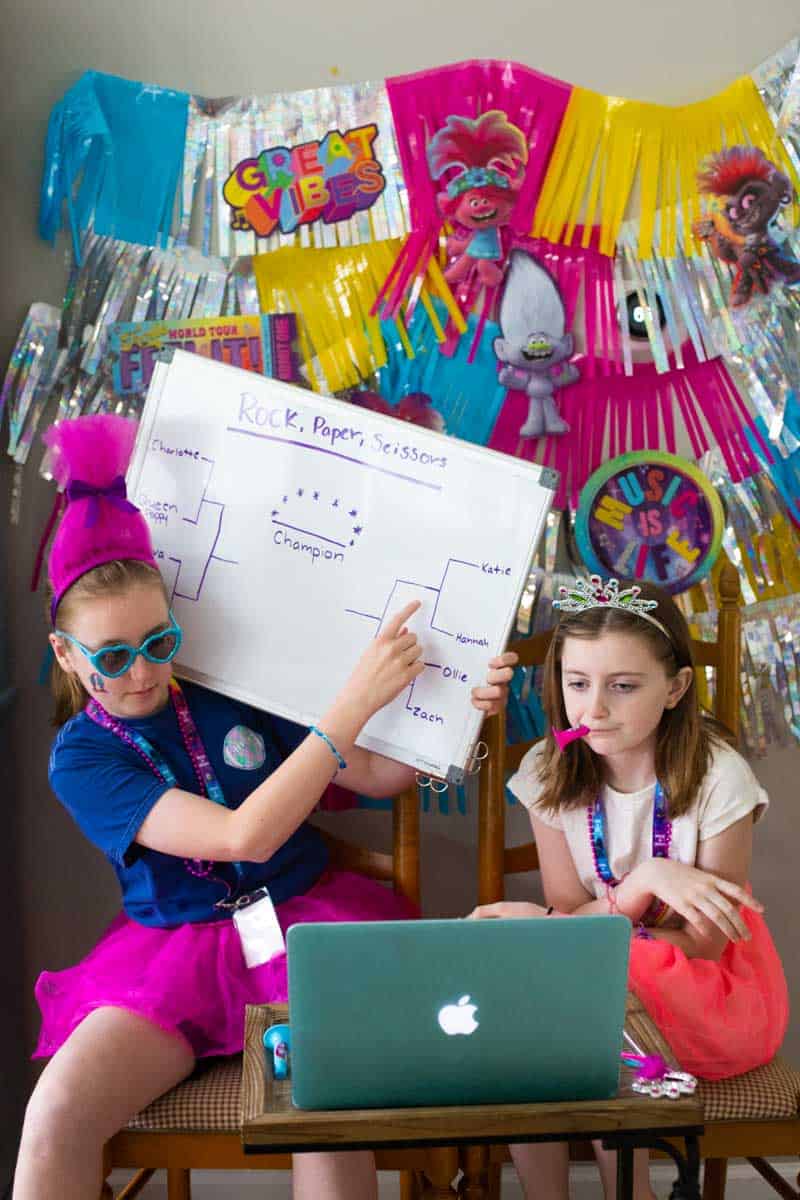 5 Virtual Party Games to Play on Zoom
The Peanut and I brainstormed some games to play with the kids. These are easy enough to do with just a whiteboard or large paper pad: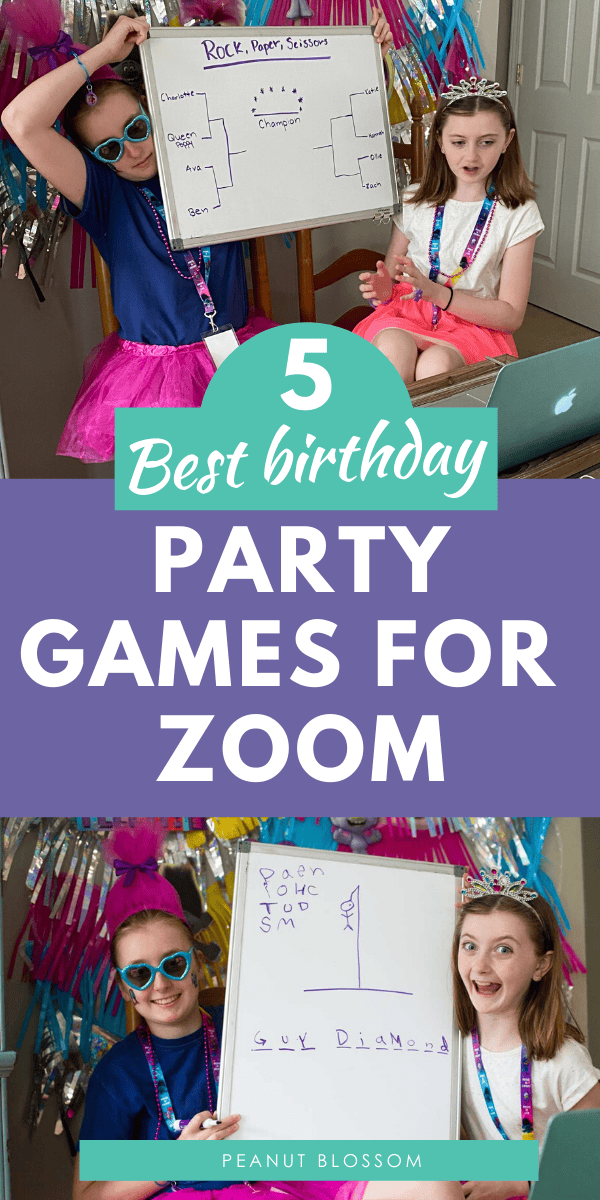 1. The Ultimate Rock, Paper, Scissors Tournament:
We made an official bracket on the whiteboard with all the guests' names paired up for the contest. Pair by pair, the Peanut would call their names.
The kids played rock, paper, scissors and the winner of 2 out of 3 won that portion of the bracket. They kept going until one guest was left as the official winner of the tournament.
2. Hangman:
We brainstormed several Trolls-themed words: Guy Diamond, Glitter, Poppy, etc. Then the Peanut called out each guest in turn to guess a letter and move the game along.
3. Pictionary:
If you plan ahead, you could add a few drawing prompts to each guest's supplies bundle. The supplies included a notebook and markers for everyone to doodle on.
4. Charades:
Brainstorm some actions based on your theme and add the slips of paper to the guests' supplies bundle.
5. I Spy:
Perfect for the younger kids celebrating birthdays. Have everyone hang some of the party supplies into their own backdrop and take turns spotting things for I Spy.