Kid bakers will love to roll out and hand-twist this easy pretzel dough. It is the perfect first bread baking recipe for kids.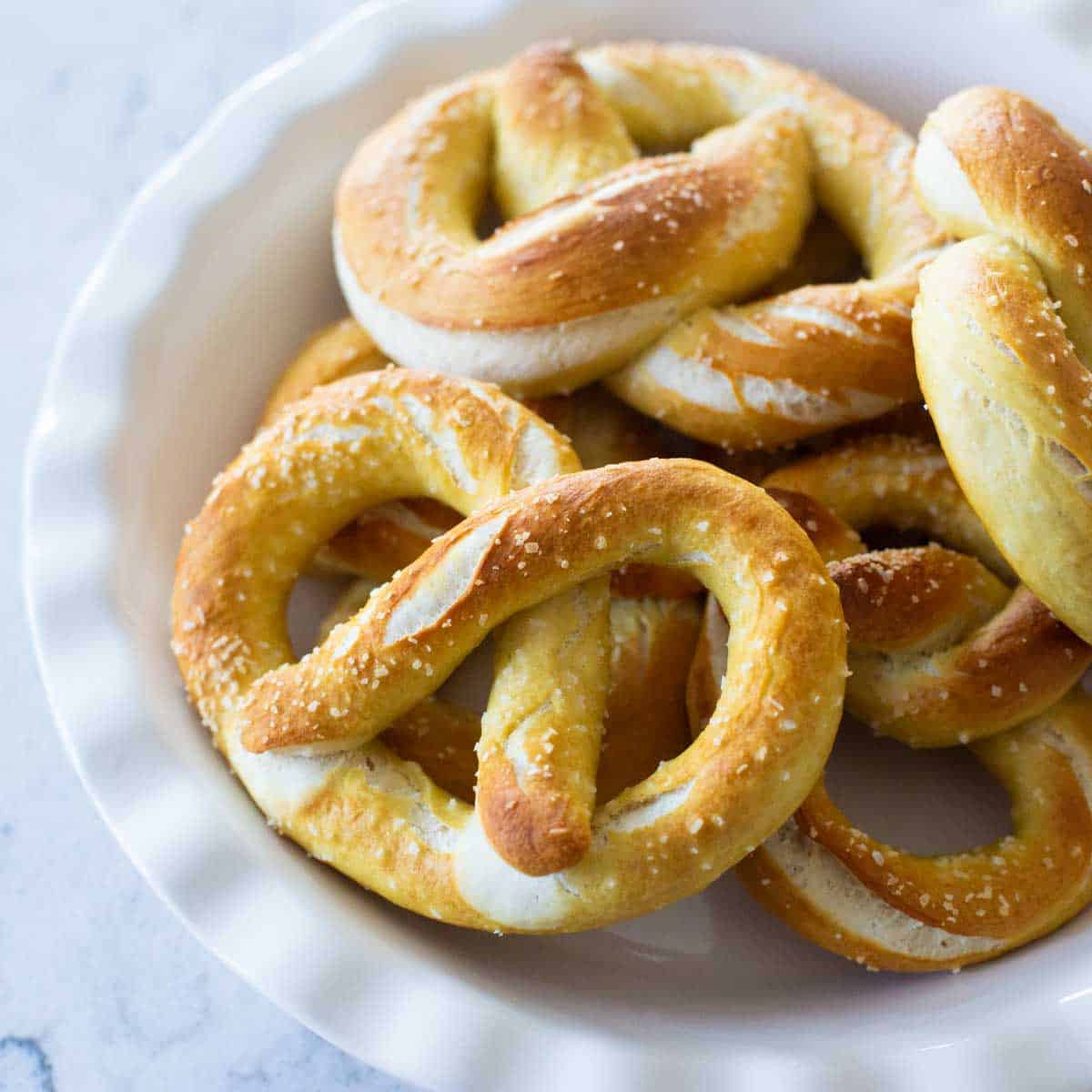 I have heard people say that baking homemade pretzels is so easy but I guess I was always just a little skeptical. How on earth could something so pretty and twisty be easy?
Just before Christmas, Little Pea and I decided to try our hand at rolling up a batch of pretzels. I used a pizza cutter to divide the dough into 12 equal portions for rolling. We each took a turn at trying one and wouldn't you know that little stinker ended up fighting me for the remaining balls of dough??
She had SO much fun channeling her inner Bavarian maiden and very quickly became the family expert in the proper shaping of pretzels.
She was so excited to share her tricks with big sis that we tried it again for our New York themed book club party last month.
I mean, what's more fun for a New York party than BIG, huge, salty hot pretzels like you get from the street carts??
RELATED: Check out our full New York party theme menu here.
If you'd like to try it with your kids, there are definitely a few tricks you need to know in order to keep the peace, avoid fighting over each of the steps, and keep your kitchen safe.
Jump to:
Why This is the Best Recipe
I love baking with my kids but I think this is the best pretzel recipe for kids because:
Easy Ingredients: The recipe is very simple and only requires 5 ingredients to make it.
Fun to Roll: The dough is perfect for the kids to shape and roll into pretzels.
Super Delicious: The hardest part will be waiting for the pretzels to finish baking, you will be so excited to dig in.
Fun Reasons to Serve Them: Don't miss the fun family party ideas at the bottom, these simple events would be perfect for the kids to bake pretzels.
Ingredients
This wholesome recipe has just 5 ingredients!
Active dry yeast
All-purpose flour
Brown sugar
Butter
Kosher salt
Baking soda: For the water bath
Tips for Baking with Kids
I confess it was a little easier baking with just one kid vs. both of my girls. They were both so excited to do the baking that hey bickered over who got to do each step.
Here are some great tricks for helping you to navigate the baking with your kids:
Prepare the Dough
Despite the fact that the pretzels have yeast, they don't really need to rise like traditional bread. There's just a brief 10-minute period that the dough rests before shaping.
You can divide the dough-making tasks among kids like this:
Kid 1: Gets to help make the dough with the mixer
Kid 2: Gets to help knead the dough on a floured surface
Prepare the Water Bath
The key to that golden brown crunchy exterior of the pretzels is a brief dunk in a boiling water bath with baking soda.
SAFETY NOTE!: Be sure to add the baking soda to the water BEFORE you bring it to a boil. I mistakenly added it to the already-boiling water the second time we made them and it was practically a volcanic explosion on my stovetop!
Roll the Pretzels
Evenly divide the dough into 12 portions. Give each kid an equal amount of dough balls for rolling. (Adult helper takes any spares to keep it even.) Then roll and shape each pretzel. The kids will have SO much fun with this part.
Be sure the adult is the one to do the water bath dunking. Use a slotted spoon to place each rolled pretzel into the water for just 20 - 30 seconds. Scoop it out of the water, drain it off, and place it on a prepared baking sheet.
The kids can sprinkle the salt over the top of each pretzel while they are still damp from the water bath.
From the time we started to the time we had the last pan washed, I really only think the pretzels took an hour and a half to bake. They were such a fun experience and the kids think they taste better than anything we've gotten at the grocery store!
Bread Machine Variation
One of my very favorite recipes from The Ultimate Bread Machine Cookbook is how to turn a basic pretzel dough recipe into four different pretzel flavors for an Epic Party Pretzel Platter.
All four flavors get bake on one pan at the same time. So fun! You can find the recipe on page 133.
Serving Suggestions
These pretzels are delicious all on their own but would be super yummy dipped into one of these easy dip recipes:
📖 Recipe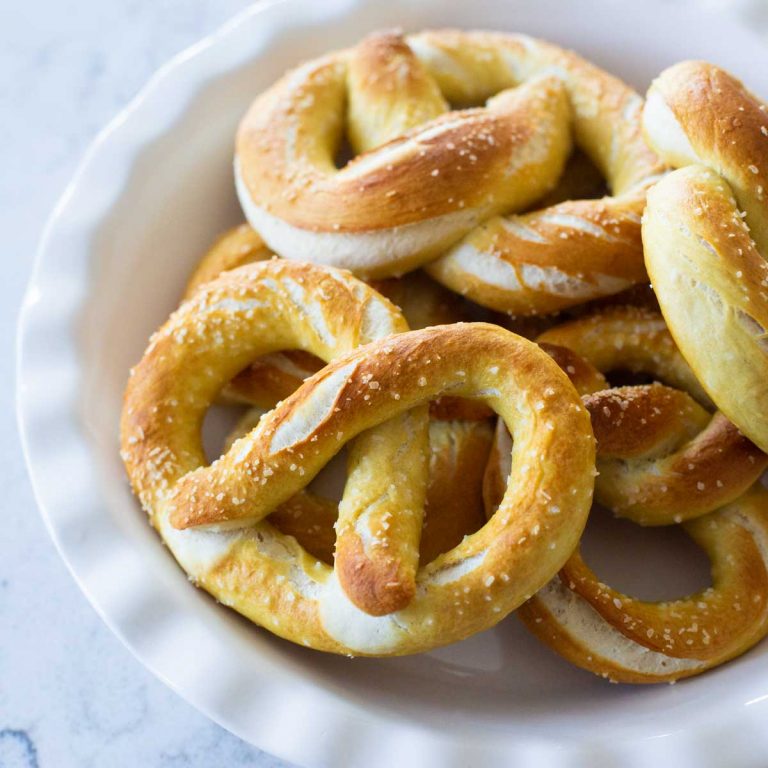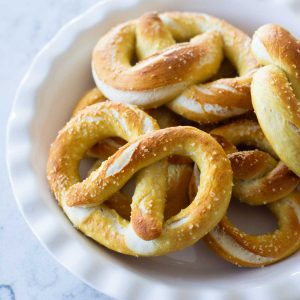 Easy Pretzels
This easy pretzel dough is perfect for baking with kids. Bake a batch of these delicious soft pretzels for dunking in cheese dip or honey mustard for your next football party or for a fun snack any time of year.
Ingredients
1 ½

cup

warm water

straight from your kitchen tap, no need to test the temperature

1

packet active dry yeast or 2 ¼ teaspoon yeast from a jar

1

teaspoon

salt

1

tablespoon

brown sugar

1

tablespoon

butter

melted

3 ¾ - 4

cups

flour

kosher salt for sprinkling on top
For the water bath:
½

cup

baking soda

9

cups

water
Instructions
Preheat the oven to 400°F. Line 2 baking sheets with parchment paper or silicone baking mats and set aside.

Measure the warm water into a measuring cup and sprinkle the yeast into the water. Stir it together with a fork and let it sit for one minute.

Add the salt, brown sugar, and melted butter to the bowl of an electric mixer with the dough hook attachment. Pour the yeast and water into the bowl and whisk them together.

Add 3 cups of the flour just one cup at a time to the bowl. With the mixer on low speed, use the dough hook to beat it together between each addition.

Add the remaining ¾ cup of flour and then test to see how sticky the dough is. You can add ¼ cup to ½ cup more flour if it sticks to your fingers. Be careful to add just enough. You can. always add more, but can't take it back out.

When the dough bounces back when pushed, it is ready to knead. Place it on a lightly floured surface. Knead the dough for 3 minutes and then shape it into a ball. Cover it with a clean kitchen towel and let it rest for 10 minutes while an adult prepares the water bath.
PREPARE THE WATER BATH:
Add ½ cup baking soda to 9 cups of water and whisk together. Bring to a boil over medium heat.
ROLL THE PRETZELS:
Use a pizza wheel to cut the dough into 12 equal portions.

Roll each dough ball into a 20 - 22-inch snake. Take each end of the snake and pull them up, around, and down with a twist to form the pretzels.

Pinch the ends of the pretzel to the dough to hold.
DUNK AND BAKE:
The adult should use a slotted spoon to dunk each pretzel for just 20 - 30 seconds in the hot water bath. Drain the water and place the pretzel on the prepared cookie sheet.

Sprinkle kosher salt on the pretzels while they are still damp so the salt will stick.

Bake for 12 - 15 minutes or until the pretzels are golden brown.

Recipe Notes
The pretzels are best on the day they are made but can keep in an air-tight container for up to 3 days.
Save This Recipe to Your Recipe Box
Find this delicious recipe next time you visit by saving it to your very own recipe box on my site. All your favorites stored in one easy place!