These easy summer Crockpot recipes are the perfect way to get dinner on the table and enjoy longer days at the pool or in the park with your kids. Keep your kitchen cool and meal prep fast and easy by using this awesome kitchen appliance all year long.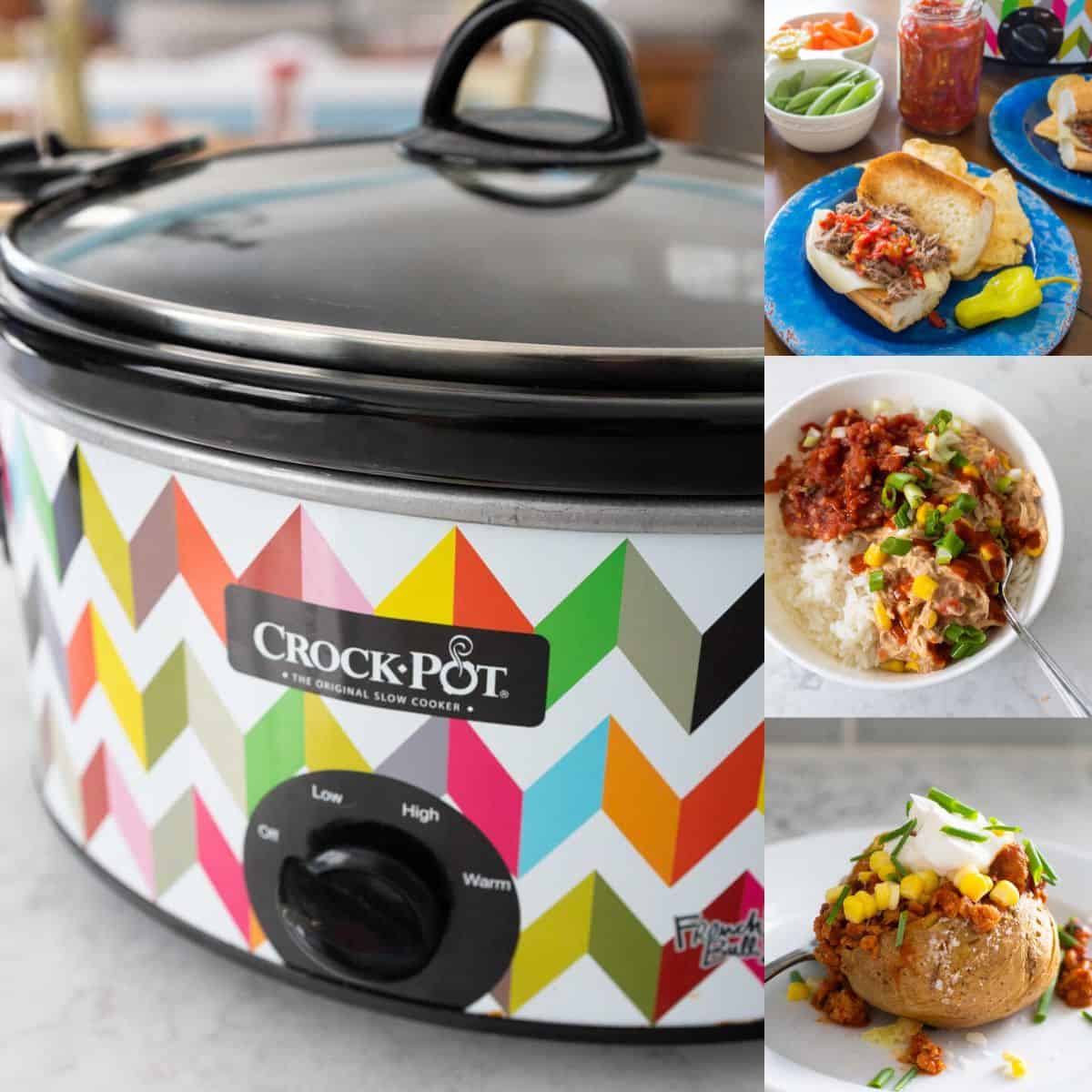 When we head to the coast for our annual family vacation, I love to make summer Crockpot meals so I can enjoy more time at the beach and less time in the kitchen.
But easy summer Crockpot recipes aren't just for family vacations, they're a brilliant dinner solution to use back at home while the kids are off on summer break.
I love knowing we can enjoy our adventures during the day and come home to a dinner that's already made.
BONUS: Using a slowcooker means I'm not heating up the kitchen when the temps outside are soaring!
Why the Crockpot is Perfect for Summer
Most people think of their slowcookers in the fall and winter for cozy stews but I think a Crockpot is the perfect summer kitchen tool.
A Crockpot helps you keep your house cool since you don't need to turn on the oven and heat up the whole kitchen.
But when you're trying to enjoy summer vacation with your kids, a slowcooker is even better because you can enjoy your family time all day long and come home to an easy homemade dinner that is waiting for you.
Now THAT feels like a break!
Easy Summer Side Dishes
The list of Crockpot meals below all cook the main dish for you.
To round out your meal plan, just add a few of the following easy side dishes:
Fresh Summer Fruit: Watermelon, peaches, pineapple, strawberries, whatever you can find locally will taste even better!
Tortilla Chips & Salsa: There are a lot of taco-inspired meals on the list that would taste great with chips and salsa.
Frozen Potatoes: Tater tots, frozen french fries or potato wedges, or even prepared mashed potatoes would be an easy fix.
Rice: Buy bags of rice from the freezer section and you could just pop them right into the microwave.
Bagged Salad & Dressing: Buy a big bag of salad, a package of croutons, some cherry tomatoes, and your favorite prepared dressing for easy salads all week.
Raw Veggies & Dip: Grab a bag of baby carrots, raw broccoli, celery, or bell peppers and a container of your favorite veggie dip.
More Easy Cooking Tips
If you want to get dinner to the table faster and easier, don't miss these other great family dinner tips: