These easy grilled meatball skewers use prepared chicken meatballs and cook up perfectly evenly without any stray meatballs falling through the cracks of the grill. Line up a few skewers of fresh veggies and serve it with a bowl of fresh pineapple for a super easy dinner.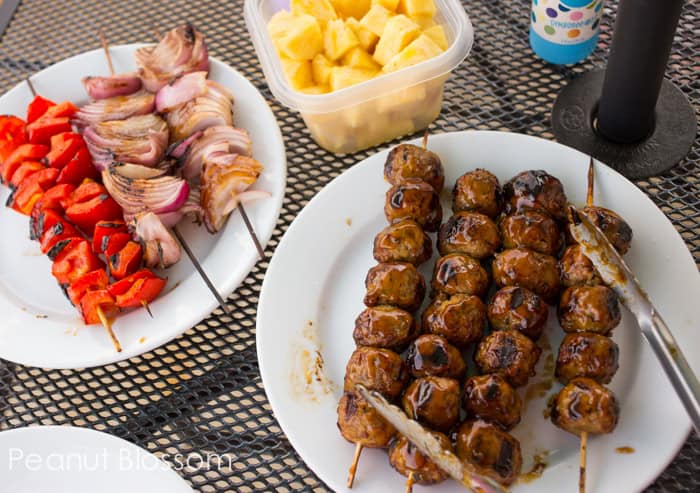 You're looking at a slice of real life here. This is down and dirty slapping food on plates and serving dinner up NOW because the kids are starving and mommy's tired and is it bedtime yet??
But this dinner was So easy and just perfect for exactly that kind of night that I knew I had to share it with you. Stylized food photo or not.
We recently got a shiny new grill and while all the grilled recipes I've pinned to my Fire It Up board on Pinterest look absolutely drool worthy, sometimes a weeknight dinner doesn't allow time for playing. In that case, these Mango Jalapeño Meatballs with Teriyaki glaze, grilled veggies, fresh pineapple, and jasmine rice step in to take the winning meal of the day.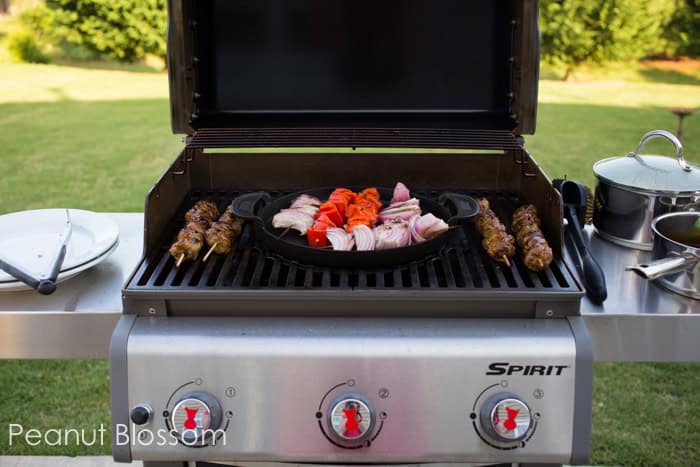 The secret? The meatballs are from Costco! They are the prepackaged Aidell's Spicy Mango & Jalapeño flavor. And no, this is not a sponsored post. I wouldn't normally mention so specific of a brand for a recipe, especially since normally I make most food from scratch. But, this particular flavor of meatball is so fantastic I always have a package in my freezer.
If you're not a Costco member, I have seen them at my local grocery store and you can also purchase them online here. Again, I have no affiliation whatsoever with Aidell's, they have no idea I'm sharing this post.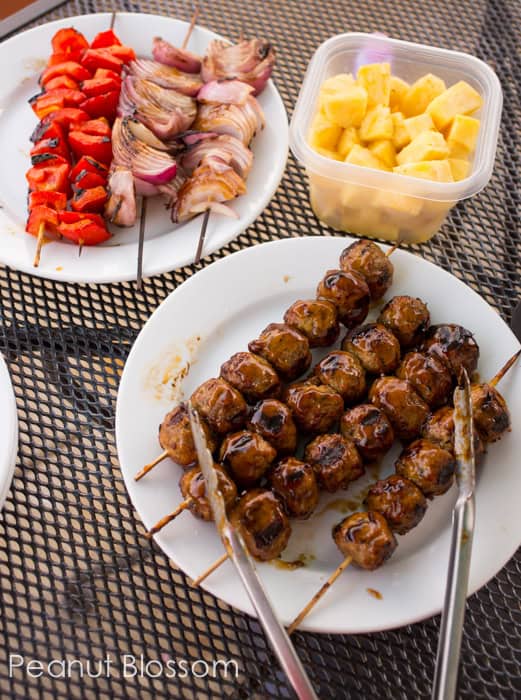 During the winter months I just sauté the meatballs, peppers, and onions in a pan and serve it up with this awesome homemade teriyaki glaze. Since we have the new grill, we wanted to be outside. I didn't want to be in the kitchen cooking while everyone else was on the patio so I decided to thread the meatballs on skewers to keep them wrangled and cooked everything on the grill instead.
The key is to grill the thawed meatballs on their own and then just baste them with the sauce towards the end. There's a fair amount of sugar in the teriyaki and you don't want them to burn.
If your family likes grilled pineapple, definitely throw that on the grill too. Mine prefers cold and raw so I just served it up on the side. The red bell peppers and purple onion were basted with just a smidge of olive oil before grilling and then I basted them with some sauce at the end too. I served it up over jasmine rice.
My only caution with this dinner is that be warned the meatballs fall on the spicy side. Little Pea won't touch them, the Peanut has finally come around but needs LOTS of pineapple on her plate to balance out the heat. The teriyaki has a bit of kick from the ginger and garlic, so tweak the ingredients as you see fit!