These air fryer chicken chimichangas can be made ahead for the freezer and then warmed for an easy dinner on a busy night. Filled with shredded chicken, cheese, sweet corn, and diced tomatoes, your family will love the crispy tortilla coating!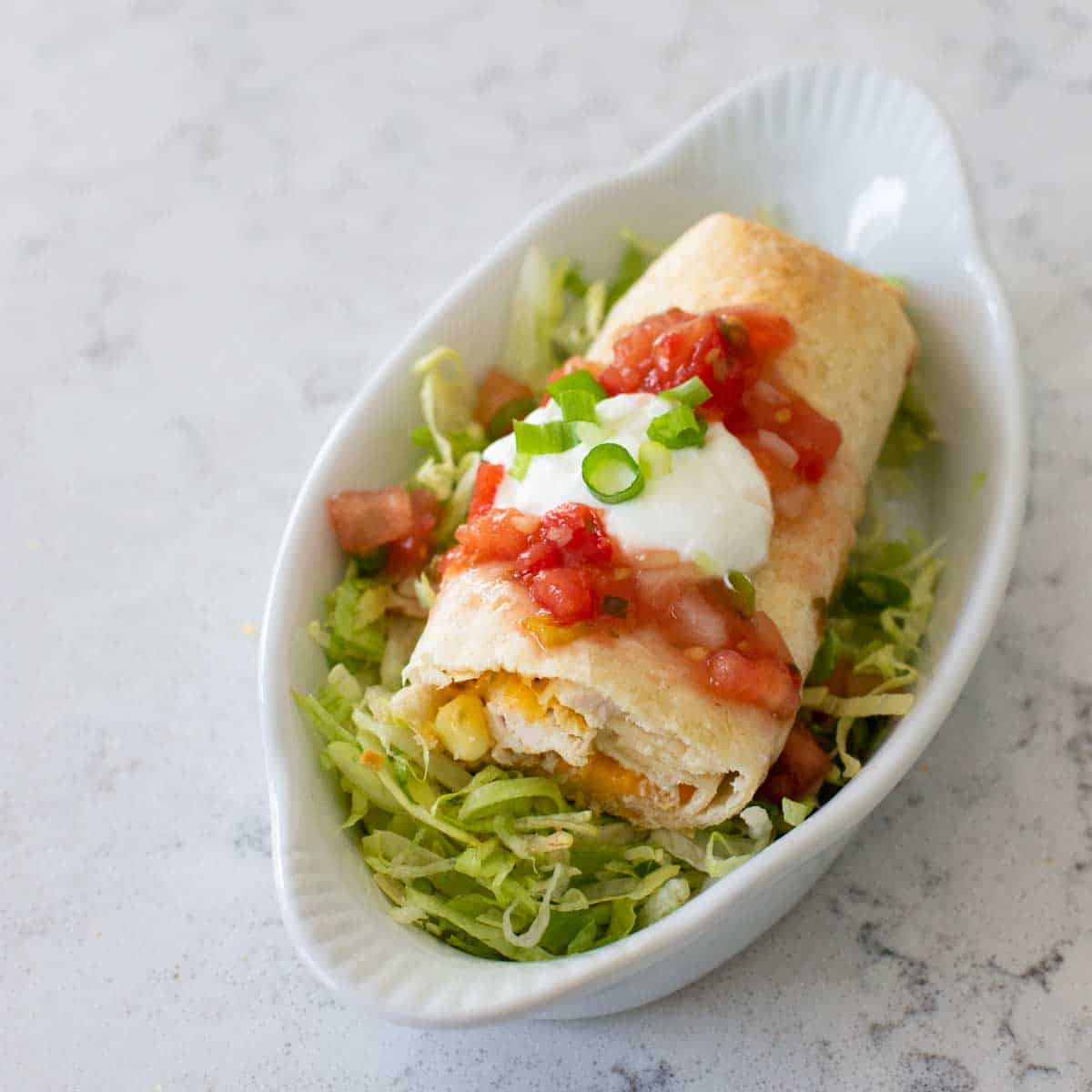 My kids could eat Mexican food every night of the week if I let them. I'm always on the look out for alternatives to tacos and these air fryer chimichangas are one of my absolute favorites!
A delicious shredded chicken filling is mixed with shredded cheese, sweet corn, and seasonings and then baked inside a crispy tortilla wrap right in my air fryer!
I love that you can make them ahead of time and freeze them, just like my make-ahead breakfast burritos.
Heat them up in the microwave if you're in a rush, or use your air fryer or oven to warm them for a quick and easy dinner.
Jump to:
Why This is the Best Recipe
There are a lot of air fryer chimichangas recipes out there, but I believe this one is the best recipe because:
Kid-Friendly & Family Approved: My recipe uses familiar ingredients you likely already have on hand and that your kids already love.
Flexible: You can easily adjust the seasonings and fillings to match your family's preferences.
Make Ahead: You can make these on a weekend afternoon and freeze them for a super-easy dinner down the road.
Freezer Friendly: They freeze so well and I have several options for how to warm them back up listed below.
Ingredients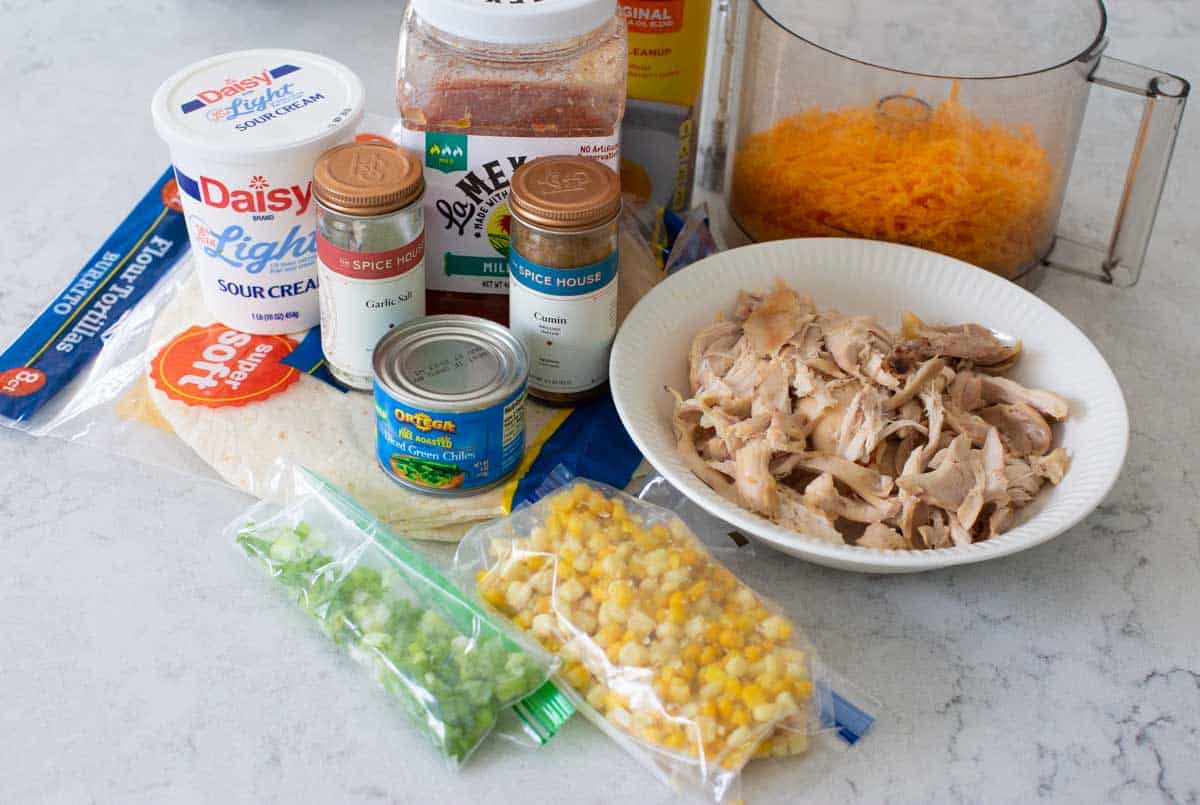 This chicken chimichangas recipe is very playful. I'm going to list the basic set of ingredients with plenty of options for substitutions.
Don't miss the easy list of variations at the bottom of the post, too!
To make my basic recipe, all you need is:
Shredded Chicken: I use a rotisserie chicken, but any leftover chicken meat will do. You could also substitute leftover ground beef taco meat, leftover pulled pork, or even leftover Thanksgiving turkey breast if you have it!
Rotel Diced Tomatoes: I love the ease of use of using a can of Rotel but if you don't have it, you could also use canned green chiles mixed with a cup of salsa or canned diced tomatoes.
Frozen Corn: I love the sweetness this gives the chimichangas.
Shredded Cheese: Mexican cheese melts so well but cheddar has even more flavor. You can use whatever you have.
Large Tortillas: Look for the burrito-sized wraps so you have room to fold the chimichangas properly.
Make the Chicken Filling
There is so much room to play with the chicken filling and add what your family loves best.
Just keep in mind you want things like canned tomatoes or canned chiles to be drained so your chicken filling doesn't become soupy.
Start by adding the shredded chicken to a large mixing bowl.
Add the cumin, garlic salt, and canned tomatoes and chiles to the bowl. Toss with a spoon to combine.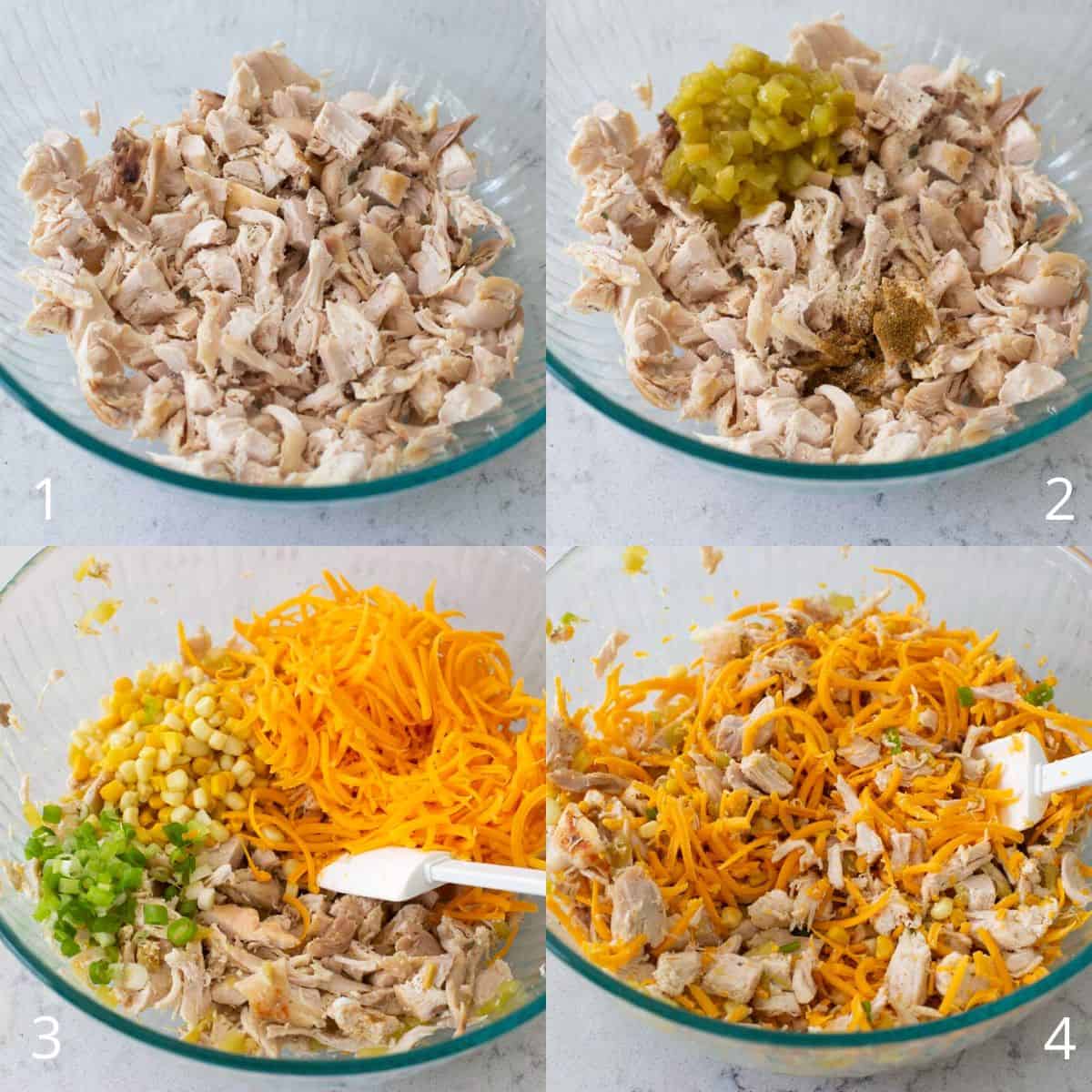 You can then add the thawed corn, shredded cheese, and any other filling ingredients you want.
I love the taste of fresh chopped green onions, so I threw some in.
You could also add a squeeze of fresh lime juice and some chopped fresh cilantro if you have it.
Stir the filling together.
How to Fold Chimichangas
Now you're ready to assemble the chicken chimichangas.
You're going to fold them just like you would a burrito. If you've never done that before, here's what that looks like:
First, lay out a tortilla. Scoop about ½ cup of your prepared chicken filling and place it in the center of the tortilla.
Spread the filling out just a little bit, so you don't have a rounded ball of the scooped filling. (See photo #2.)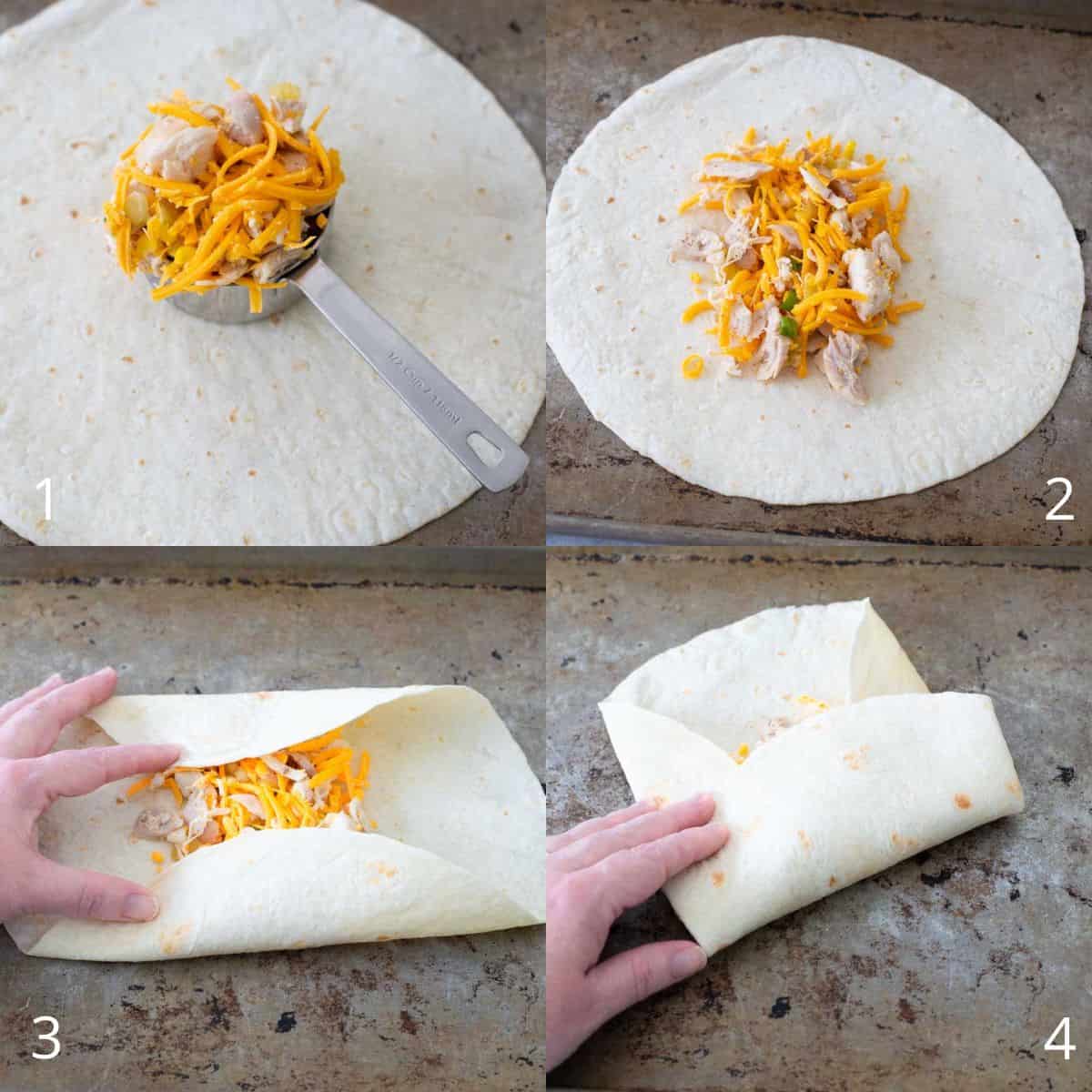 To fold the tortilla around the filling, first bring two sides towards each other but don't let the edges meet. (Photo #3.)
Rotate the tortilla and while holding the gathered edges in place, roll the tortilla from one of the opposite sides over the filling, tucking the gathered sides under as you roll. (Photo #4.)
Continue to roll the chimichanga until it is perfectly rounded like a burrito.
Air Fryer Baking Instructions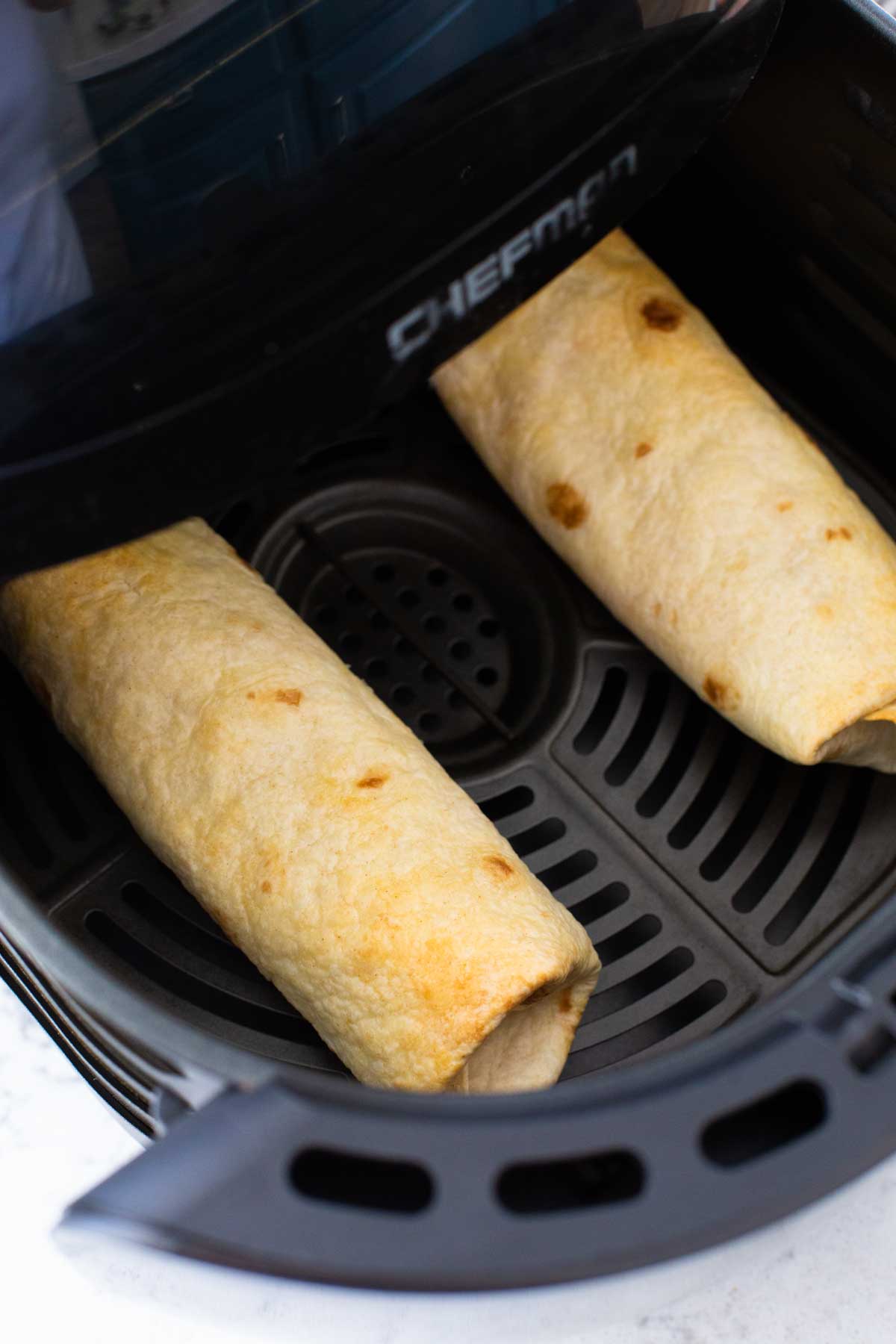 Preheat your air fryer to 400°F.
Brush the assembled chimichangas with olive oil and then place them seam side down inside the air fryer basket.
Bake them for 10 - 15 minutes or until they are golden brown and crispy and the filling is nice and hot.
Be careful to not overcrowd the air fryer basket. You may need to work in batches depending on the size of your air fryer. There should be a bit of room around each chimichanga to let the air flow crisp them up on all sides.
Oven Baking Instructions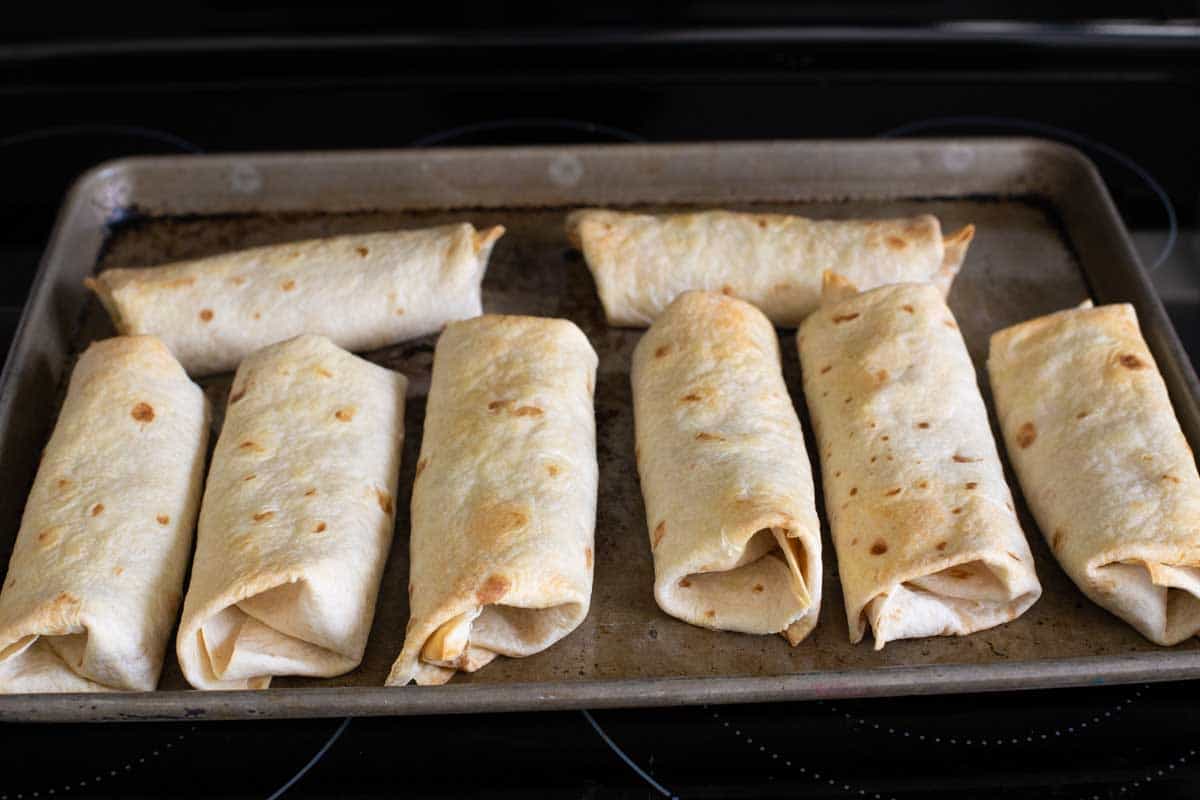 If you don't have an air fryer, you can also bake the chicken chimichangas in your oven.
Preheat the oven to 425°F.
Place the assembled chimichangas on a baking sheet in a single layer and brush them with olive oil.
Bake for 10 - 15 minutes or until golden brown and crispy.
How to Freeze Chimichangas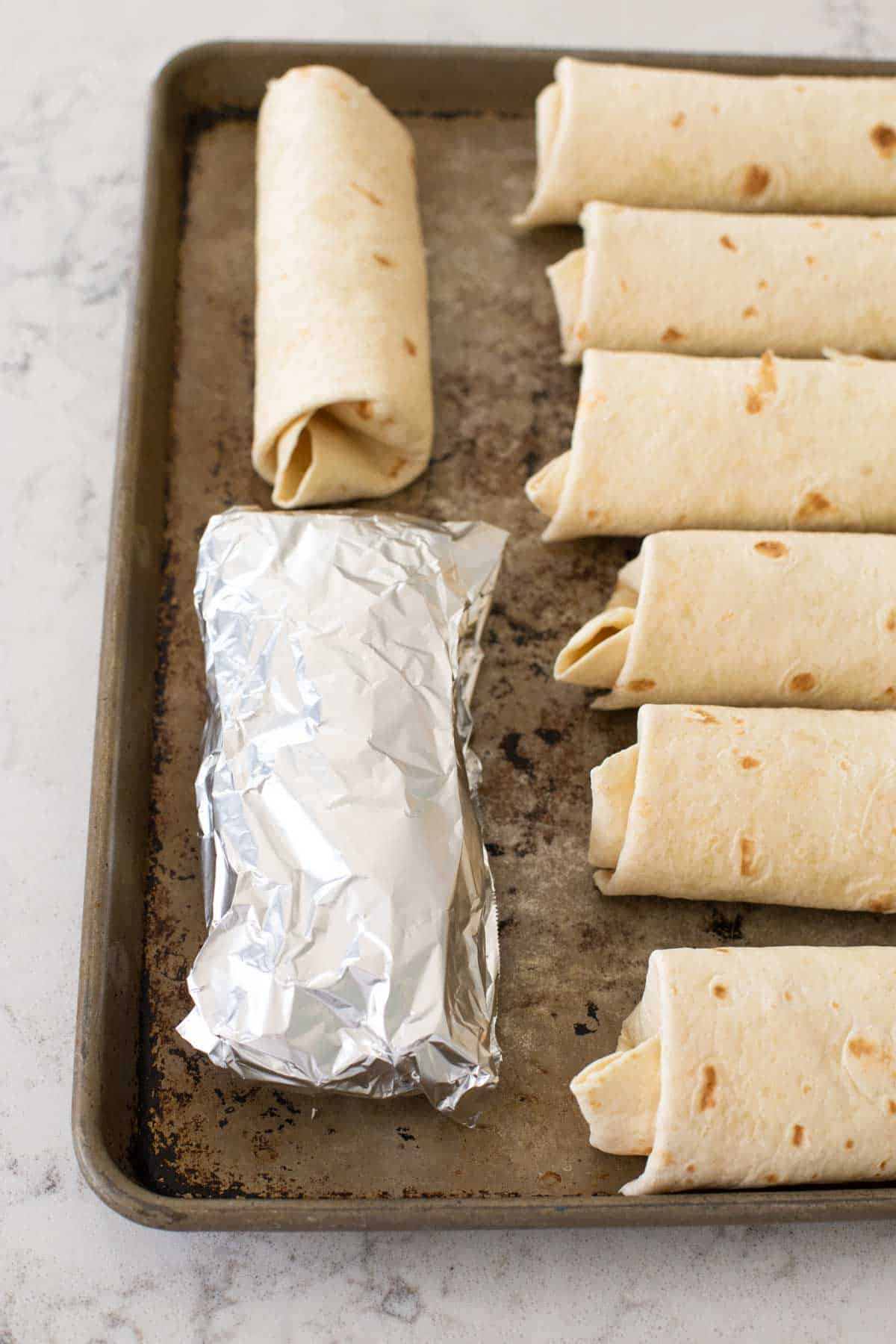 You have two choices for freezing chimichangas:
1. Assemble & Freeze
You can freeze the assembled chimichangas before you bake them.
Roll them up and then wrap each one individually in aluminum foil. Freeze them unbaked.
You'll need to thaw them in the fridge overnight and then bake them as directed above.
2. Bake & Freeze
This is my preferred option. If you bake the chimichangas in your air fryer or oven first, you can freeze them after they have cooled completely.
Wrap them each individually in aluminum foil and then freeze.
Reheating Instructions
You can reheat baked chimichangas in your microwave, air fryer, or oven.
Safety Note: Unwrap them from the foil before microwaving!
You can heat them directly from frozen in the air fryer or oven.
Preheat your oven or air fryer to 350°F.
Keep the chimichangas wrapped in the foil as they warm up for 10 minutes. Then unwrap them and let them crisp up for another minute or two.
Variations
You can use this same method of baking chimichangas to make your own custom creation!
Beef Chimichangas: Substitute browned ground beef taco filling for the chicken.
Pulled Pork Chimichangas: Substitute leftover pulled pork filling for the chicken.
Turkey Chimichangas: This is a great idea for Thanksgiving leftovers from a slowcooker turkey breast.
Shrimp Chimichangas: Chop up a batch of my 5-minute spicy shrimp and use in place of the chicken.
Spicy Chimichangas: Use a can of hot Rotel or fire roasted tomatoes. Chop up a fresh jalapeño to add to the filling. Serve with your favorite hot sauce or spicy salsa.
Vegetarian Chimichangas: Double the cheese and add a drained can of your favorite beans to the filling. You could also add chopped bell peppers, onions to bulk it up.
Serving Suggestions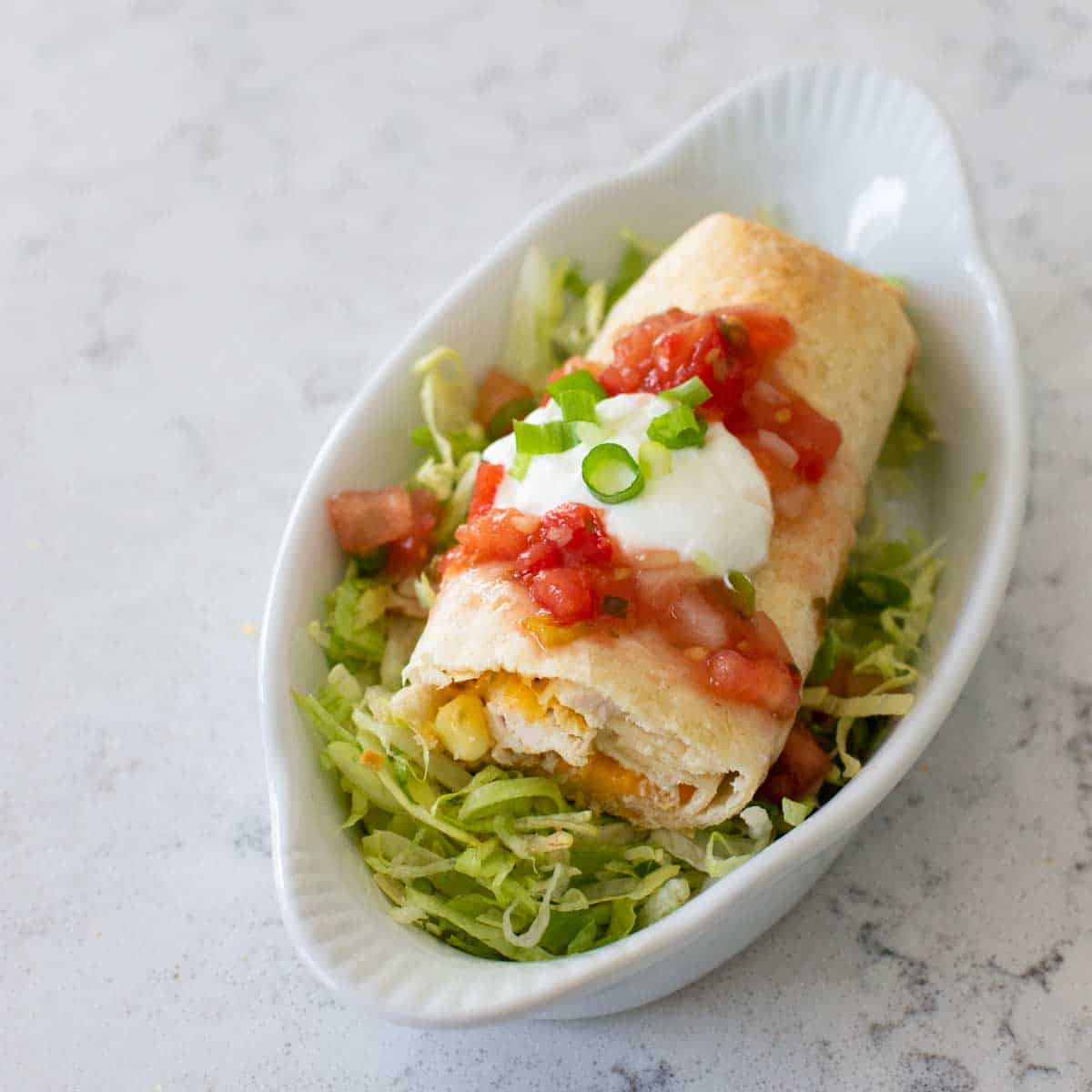 📖 Recipe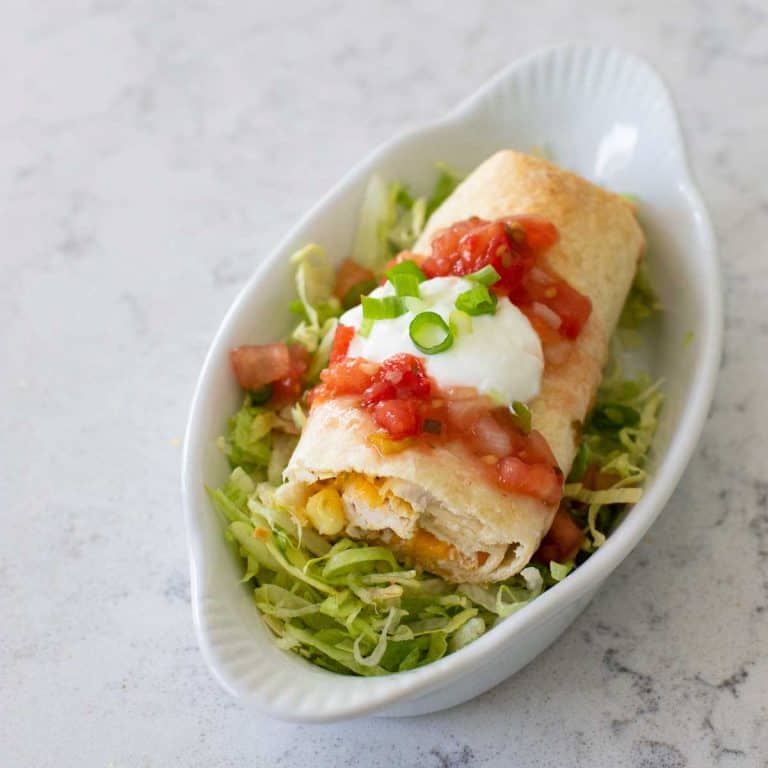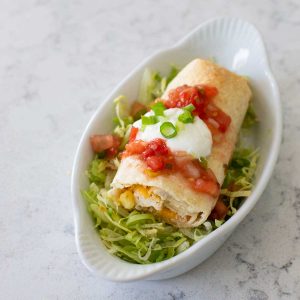 Air Fryer Chicken Chimichangas
These make ahead chimichangas are filled with shredded chicken, shredded cheese, and easy vegetables for a quick and easy dinner in a pinch. You can prep them in advance and freeze them for an even faster dinner on a busy night.
Ingredients
4

cups

shredded chicken

from 1 rotisserie chicken or leftover roast chicken

2

teaspoons

cumin

1

teaspoon

garlic salt

1

(10.5 oz) can Rotel diced tomatoes

drained (or 1 cup salsa + 1 (4oz) can of green chiles, drained)

1

(10 oz) bag frozen corn

thawed

2

cups

shredded Mexican cheese

or sharp cheddar if you prefer

8

(10-inch) large tortillas

1

tablespoon

olive oil
For Serving (Optional)
1

(8 oz) bag of shredded lettuce

Sour cream

Mexican-style hot sauce

like Valentina

Salsa

Fresh green onions

chopped, can be used in the chicken filling as well
Instructions
Add the shredded chicken to a large mixing bowl. Sprinkle the cumin and garlic salt over the top and use a large spoon to stir it together.

Drain the Rotel tomatoes and add them to the mixing bowl. Add the thawed corn and shredded cheese and stir everything together.

Set out a clean tray or baking pan to hold the assembled chimichangas as you work.

Place a rounded ½ cup scoop of chicken filling on each tortilla and fold them up like a burrito. (For visual instructions, see the photos in the post above.) Place each assembled chimichanga, seam side down, on the baking pan as you go.

Preheat the air fryer to 400°F.

Brush the olive oil over the tops of the chimichangas.

Working in batches as necessary, bake the chimichangas in the air fryer for 10 - 14 minutes or until the tortillas are golden brown and toasted and the filling is piping hot. They should fit in the basket in a single layer with at least an inch around them on all sides for the air flow to crisp up the tortilla.

The chicken chimichangas are delicious when served on a bed of shredded lettuce and topped with a dollop of sour cream and your favorite salsa. A sprinkle of fresh green onions makes the perfect garnish.
Recipe Notes
Make Ahead Tips
The chicken chimichangas can be baked and then frozen for future use.
Simply reheat them in the microwave or let them thaw overnight in the fridge and reheat them in the air fryer or oven at 350°F until warmed through, about 10 minutes.
Easy Variations
You can make shredded pork chimichangas or ground beef chimichangas by substituting the equivalent amount of your favorite meat for the shredded chicken.
For extra-spicy chimichangas, you could add chopped jalepeños to the filling.
Save This Recipe to Your Recipe Box
Find this delicious recipe next time you visit by saving it to your very own recipe box on my site. All your favorites stored in one easy place!
Chimichangas Recipe for Kids
This easy chicken chimichangas recipe is a great dinner for your kids to learn to make all by themselves.
I included an even easier version of the recipe with kid-friendly instructions in The Totally Awesome Ultimate Kids' Cookbook.
If your kids love Mexican food as much as mine do, this makes an amazing gift that will teach your kids essential life skills while having a little fun right in your home kitchen!