Fun desserts to make with kids can turn a rainy day into a memorable one. This summer, keep all the ingredients for these desserts for kids to make handy—everything you need can keep in your pantry for a last-minute surprise!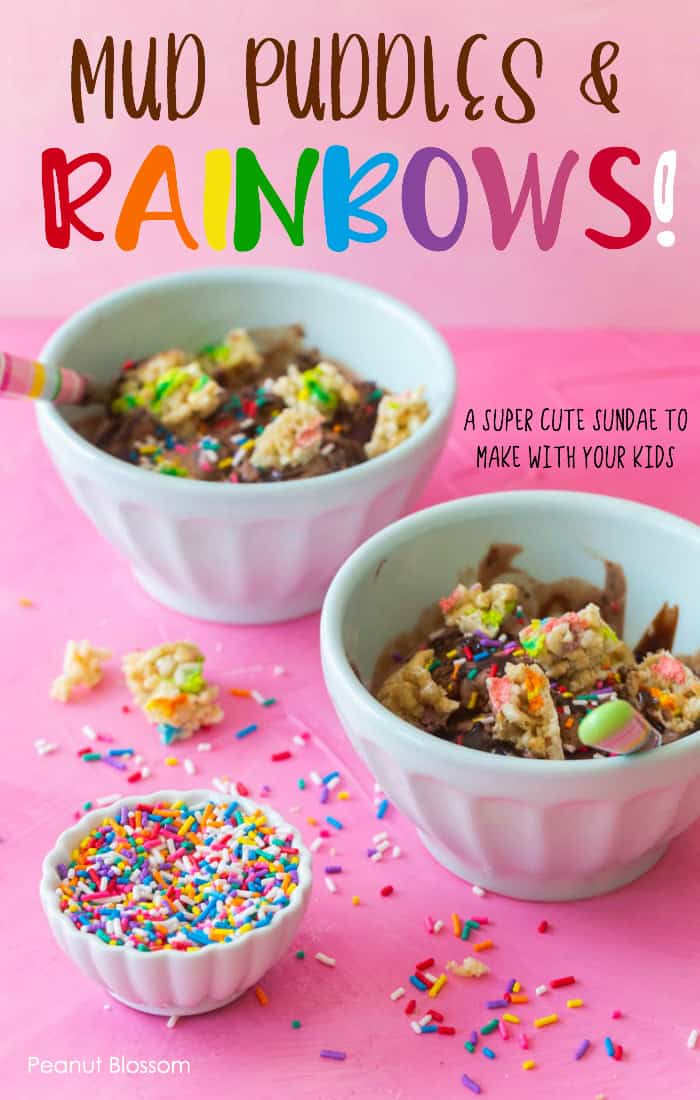 Ice cream is practically its own food group as far as my girls and I are concerned. If we were forced to live on a desert island and could only choose one dessert to take with us, hands down we'd choose ice cream. Never mind that it might be the trickiest treat to take to a desert island, ha!
Last summer, we decided to do a local ice cream challenge. We made a list of all the best ice cream places here in Charlotte and worked our way down the list all throughout the summer. The list was longer than we were able to get through, so the girls are super excited to dig back in this year to see how far we get.
We were lucky enough to get a jumpstart on the challenge a couple of weeks ago when our local Walmart hosted an awesome ice cream truck event run by the lovely folks from General Mills. They were giving out free ice cream sundaes featuring their new Lucky Charms Treat Bars, Cinnamon Toast Crunch Treat Bars, Golden Grahams S'mores Treat Bars, and Reese's Puffs Treat Bars.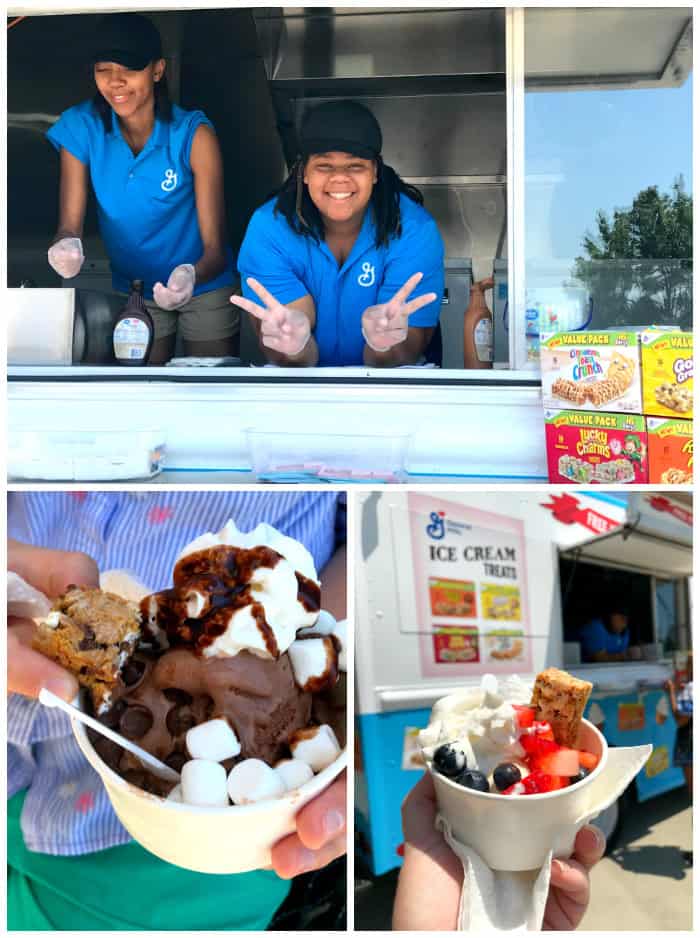 They had six awesome ice cream sundae combos to choose from. I went with the fresh and fruity All American; the kids totally gravitated towards the super-chocolatey Gimme S'more Sundae. We each thought our treat won the contest.
The adorable ice cream truck was covered in nostalgic images of cereal treats. It was such a fun surprise for a Sunday afternoon and a great way to spend a few extra minutes with my girls while running errands at Walmart before the busy week ahead.
(If you want to check to see if your Walmart is hosting a fun event, too, be sure to check out their store locator and call ahead.)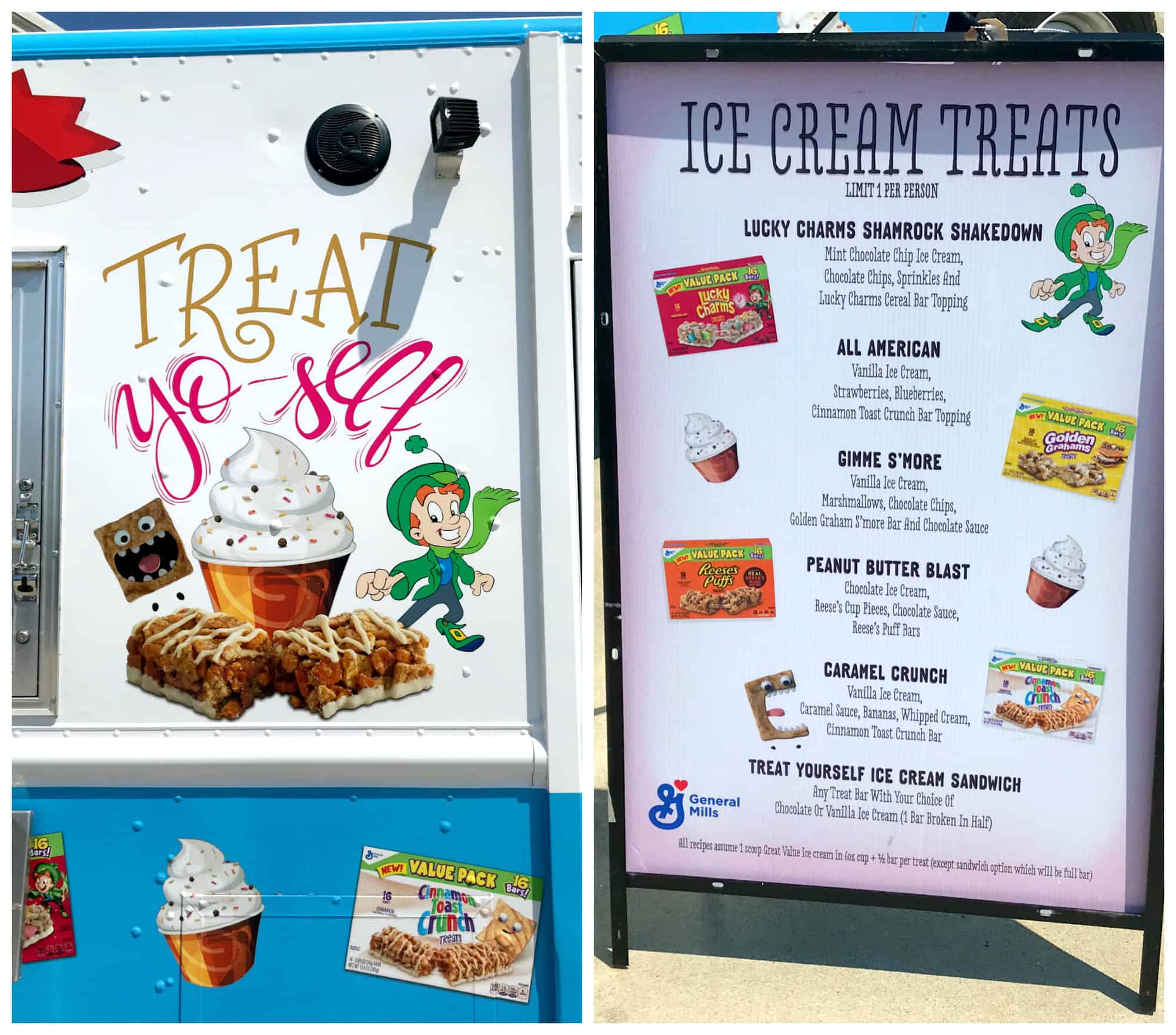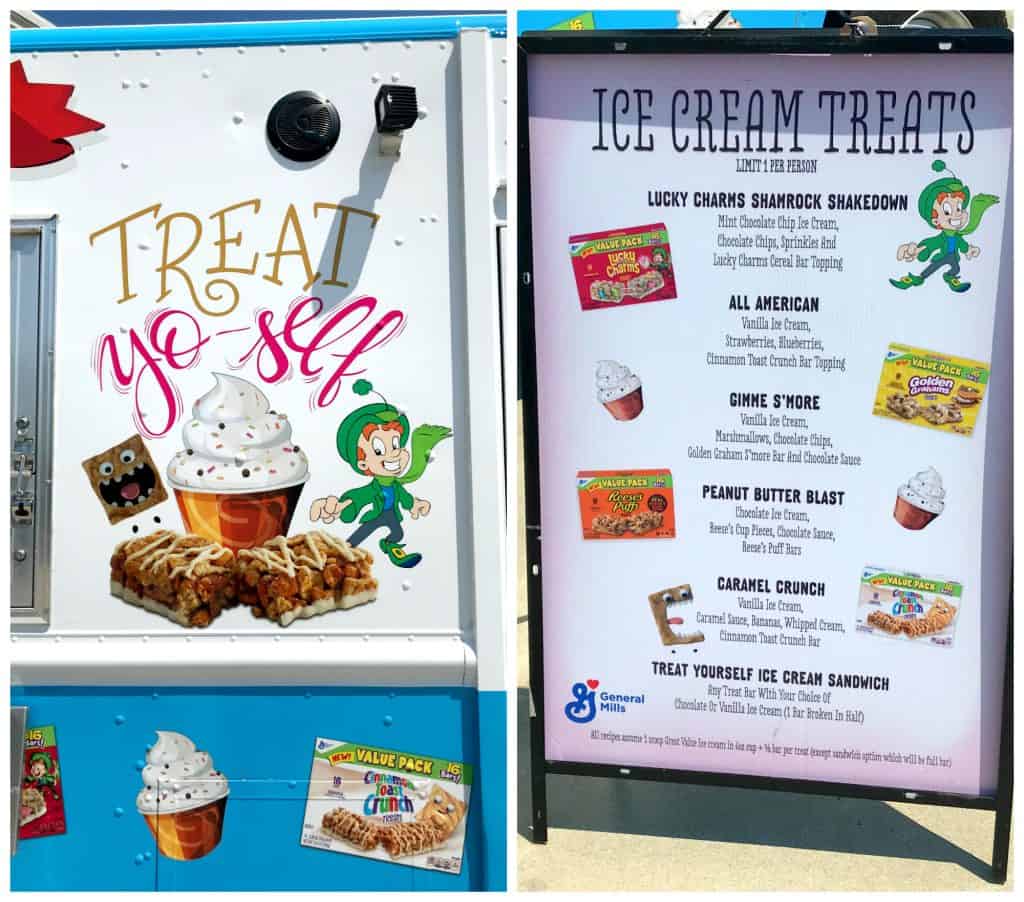 We enjoyed the cereal treat bars so much and felt bad that Tim missed out on our sweet break, so we decided to bring a sampling of them home for him to test, too. His love for Cinnamon Toast Crunch is so epic, it actually made its way into our best man's speech at our wedding reception. Totally not kidding.
The girls wanted to recreate the ice cream sundaes we enjoyed at the ice cream truck, so we decided to invent our own special combination!
Chocolate ice cream is their very favorite flavor. I tend to lean towards vanilla, so it's always a huge treat when we bring home the chocolate. We all are pretty fond of letting our ice cream melt a bit before we eat it. So naturally, we came up with the idea of this adorable "Mud Puddles & Rainbows" ice cream sundae.
Melty chocolate ice cream topped with crumbled-up rainbow Lucky Charms Treat Bars, a drizzle of chocolate sauce, and more rainbow sprinkles over the top.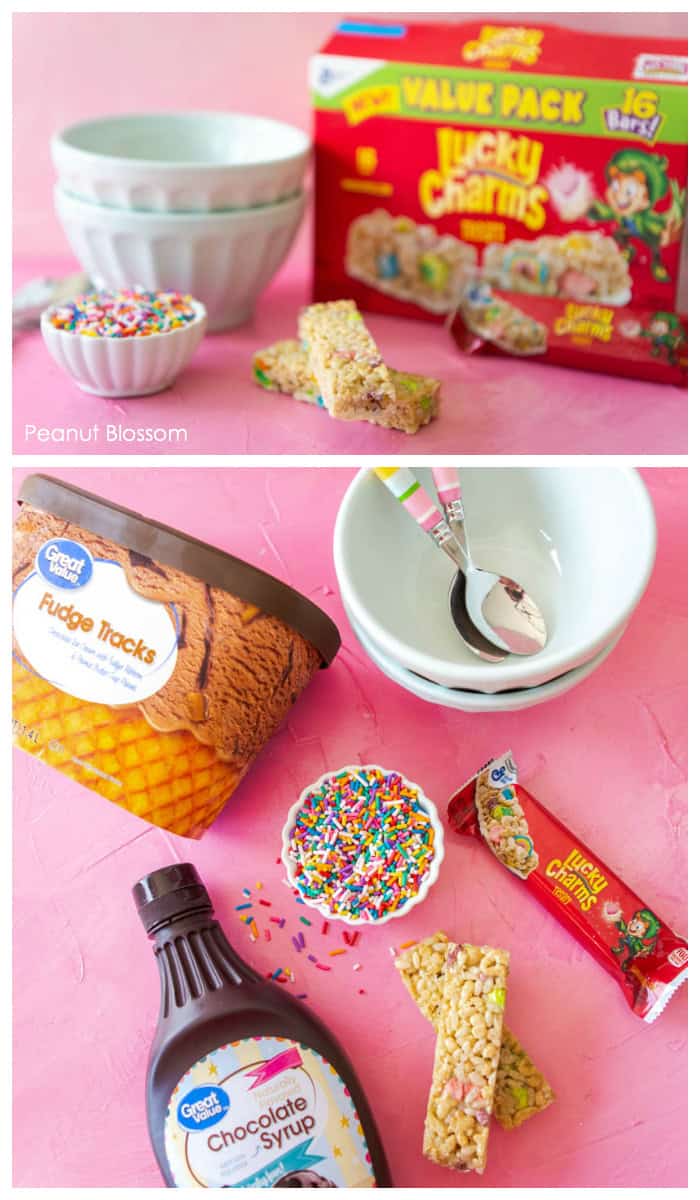 This is such a fun dessert to make with kids because they can completely manage to assemble everything all on their very own. The Lucky Charms Treat Bars are super yummy, but they look even cuter once you crumble them up a bit and discover the rainbow marshmallows hiding inside.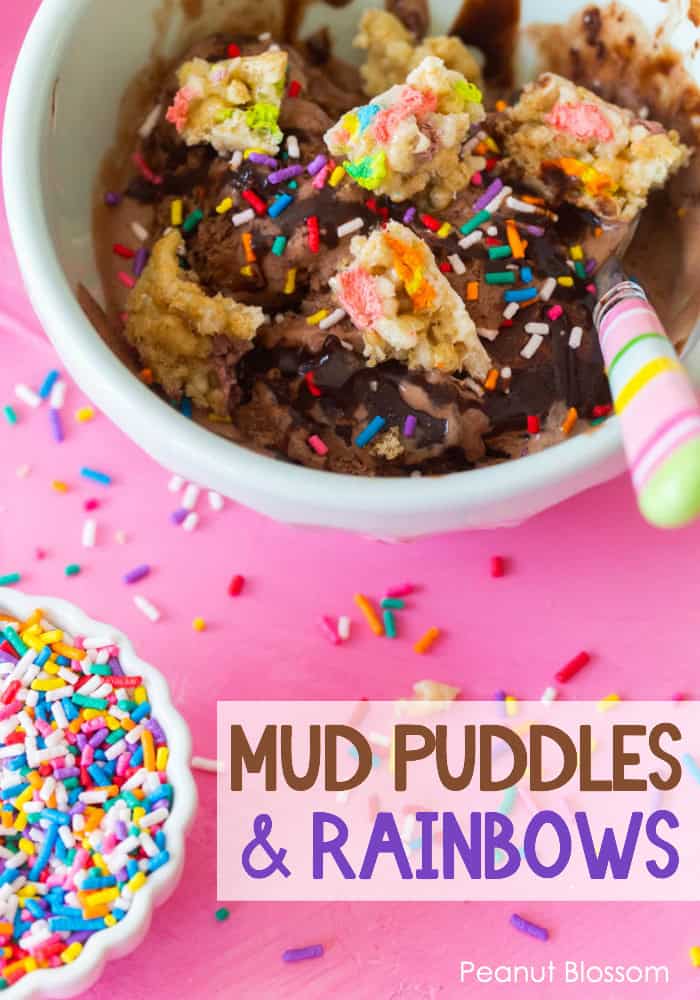 Rainy days are bound to happen over summer vacation. I love that all these simple treat ingredients can be ready to go in a pinch straight from the pantry.
How fun would it be to turn on a movie featuring rainbows or read a picture book together about rainy days and rainbows to enjoy while you eat your simple dessert?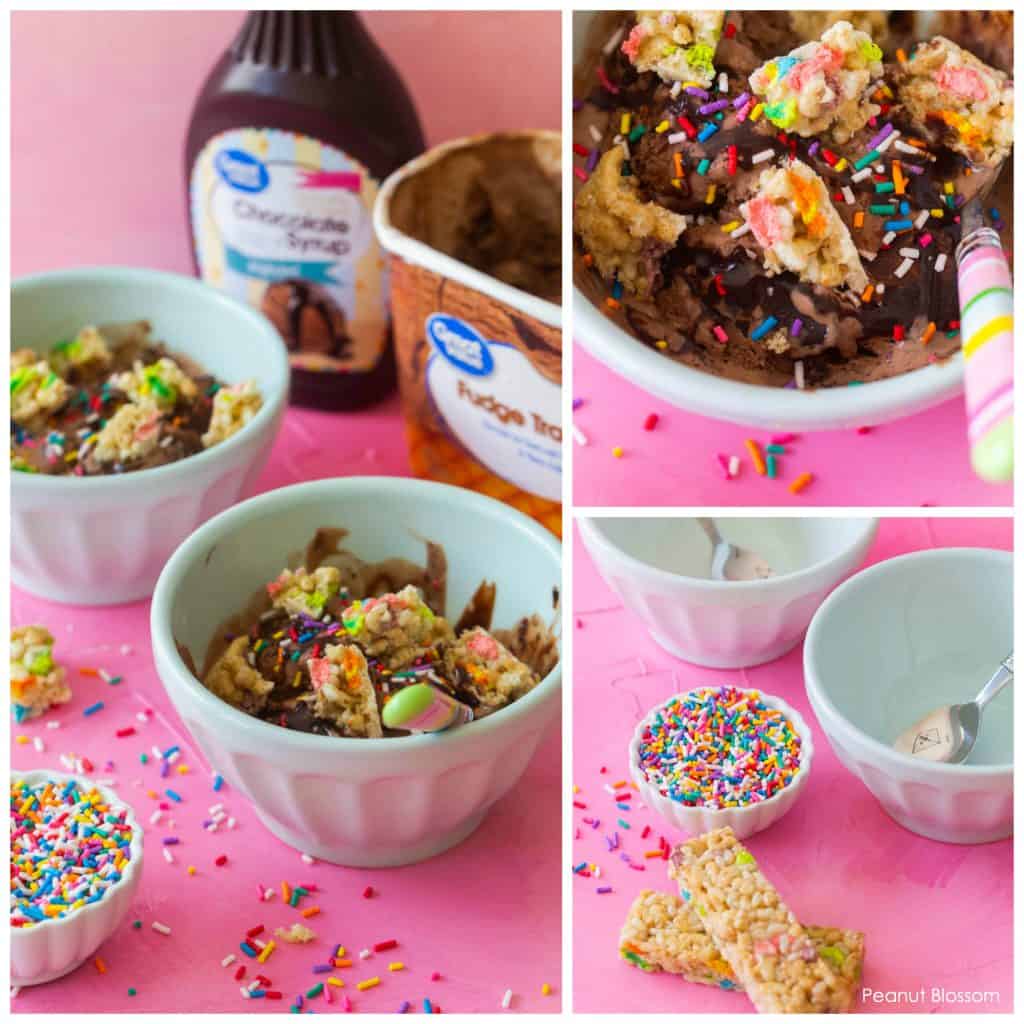 The rainbow-y delicious Lucky Charms Treat Bars make this a perfectly fun dessert for kids to make for:
St. Patrick's Day
Earth Day
any rainbow-themed party
a unicorn-themed birthday party
or just any gray and drizzly day that needs a little more color and fun
Though this ice cream sundae doesn't really need a recipe card, I wrote one up with simple instructions for your kids just like in my cookbook: The Ultimate Kids' Cookbook.
You can print this off, hand it to your kids, and let them be in total control of the dessert making!
📖 Recipe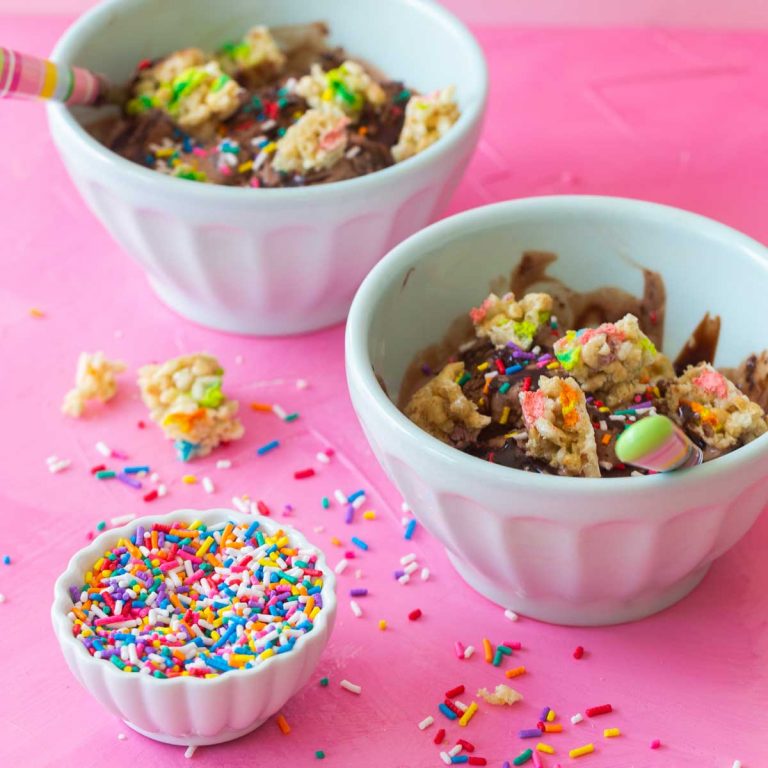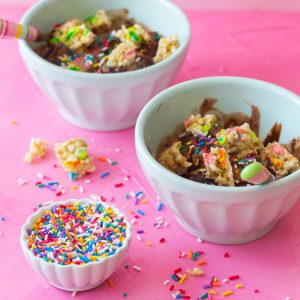 Mud Puddles & Rainbows Ice Cream sundae
This adorable ice cream sundae is one of the most fun desserts to make with kids! Put them in charge of prepping the toppings and let them assemble the final dish.
Ingredients
1

half gallon of chocolate ice cream

1

Lucky Charms Treat Bar

Chocolate syrup

Rainbow sprinkles
Instructions
Set out 2 ice cream bowls and 2 spoons. Use an ice cream scooper to scoop out 1 - 2 balls of chocolate ice cream and place them in the bowl.

Use a butter knife to cut the Lucky Charms Treat Bar in half. Use your fingers to break it up into chunks and sprinkle one half of the bar over each bowl of ice cream.

Drizzle the chocolate sauce over the top. Use your fingers to pinch the rainbow sprinkles over the top. Serve with a big smile!
Save This Recipe to Your Recipe Box
Find this delicious recipe next time you visit by saving it to your very own recipe box on my site. All your favorites stored in one easy place!
Looking for more fun desserts to make with kids?: