This post is sponsored by General Mills Cereal who taught us a thing or two about how to make trail mix so delicious your kids will gobble it up on your next road trip. It's the perfect travel snack for kids!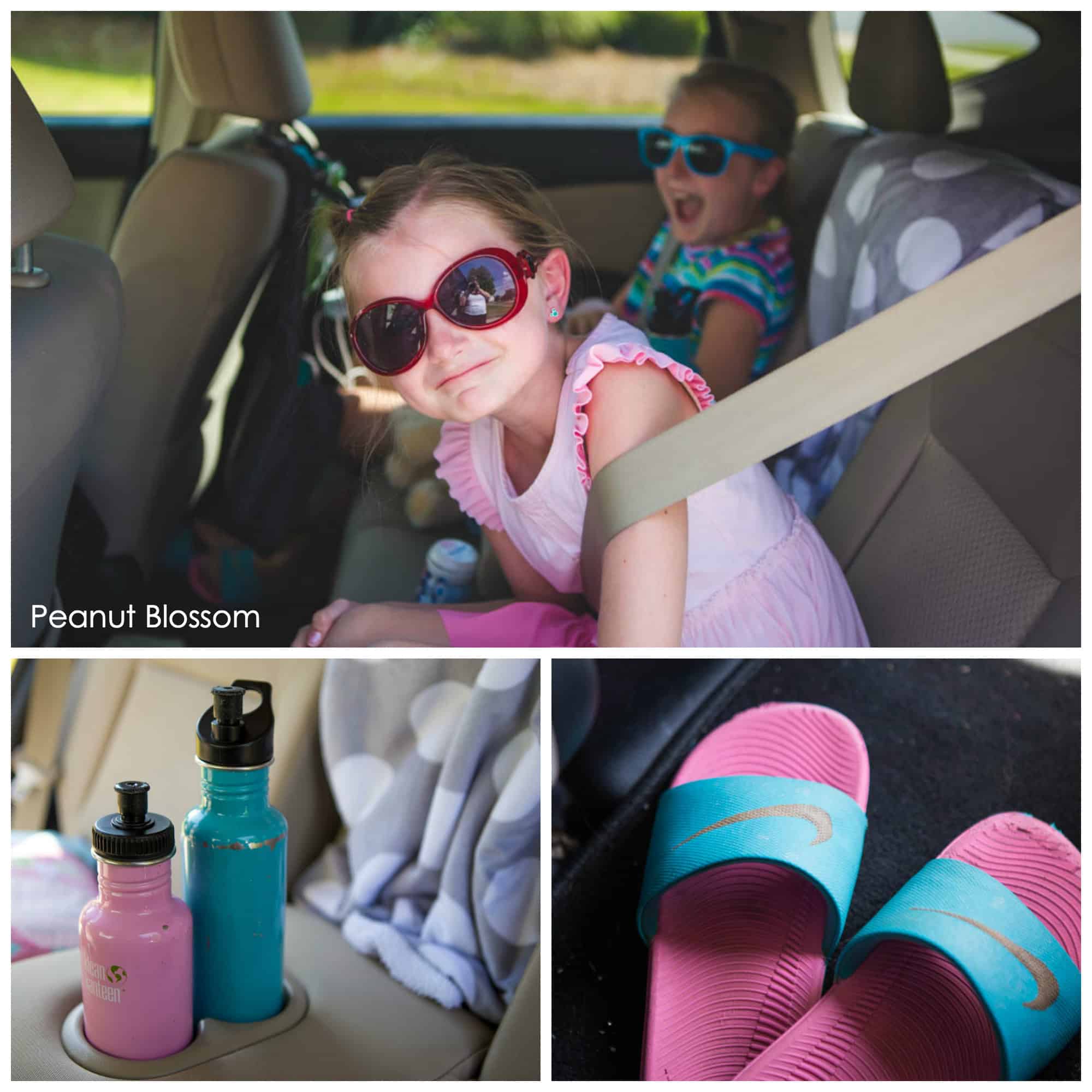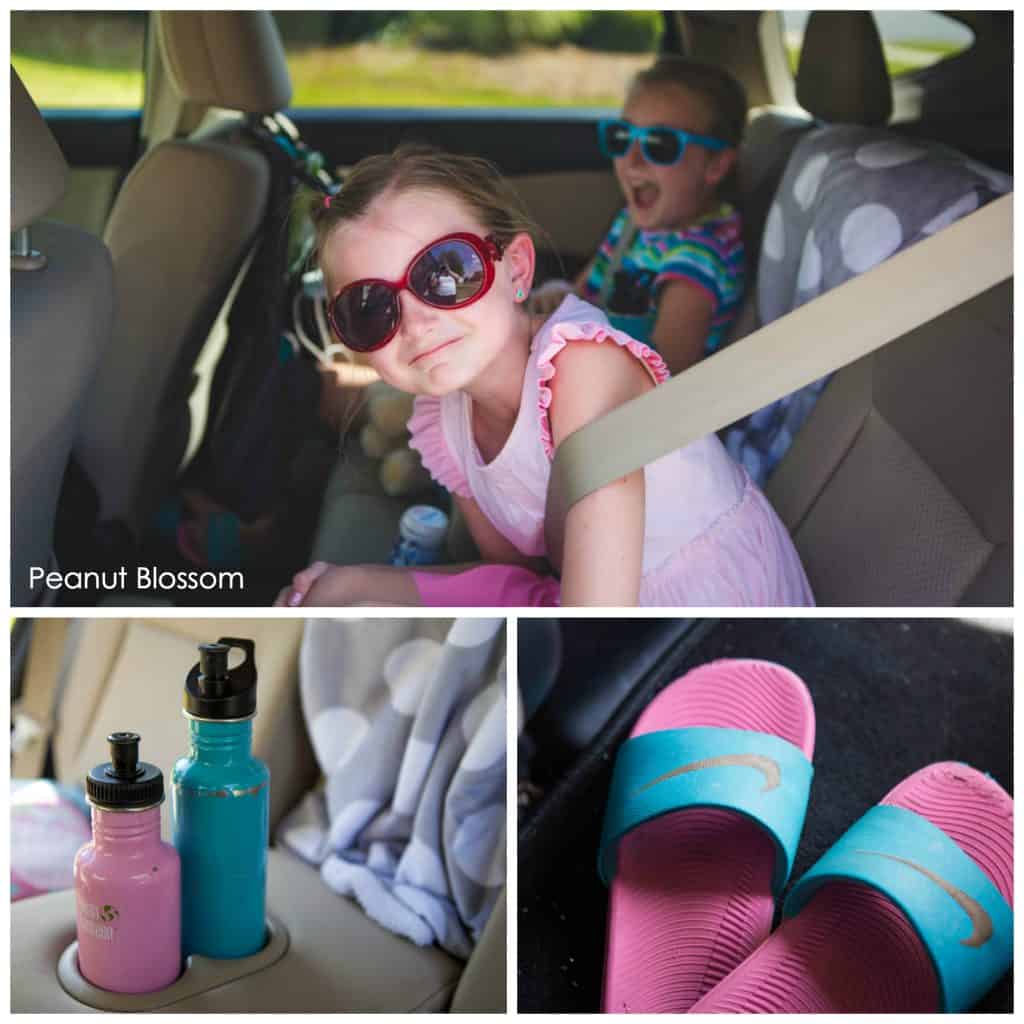 It's TAKEOVER time here! My friends over at General Mills Cereal asked me to hand over the keys to the blog to the girls to find out what advice they might have for moms planning a road trip with their kids this summer.
What makes the back seat more comfy for the little ones on a long haul? And specifically, what is our favorite road trip snack for the trip? I asked the girls to let us know, and this is what they said:
https://www.facebook.com/peanutblossom/videos/10154458043206949/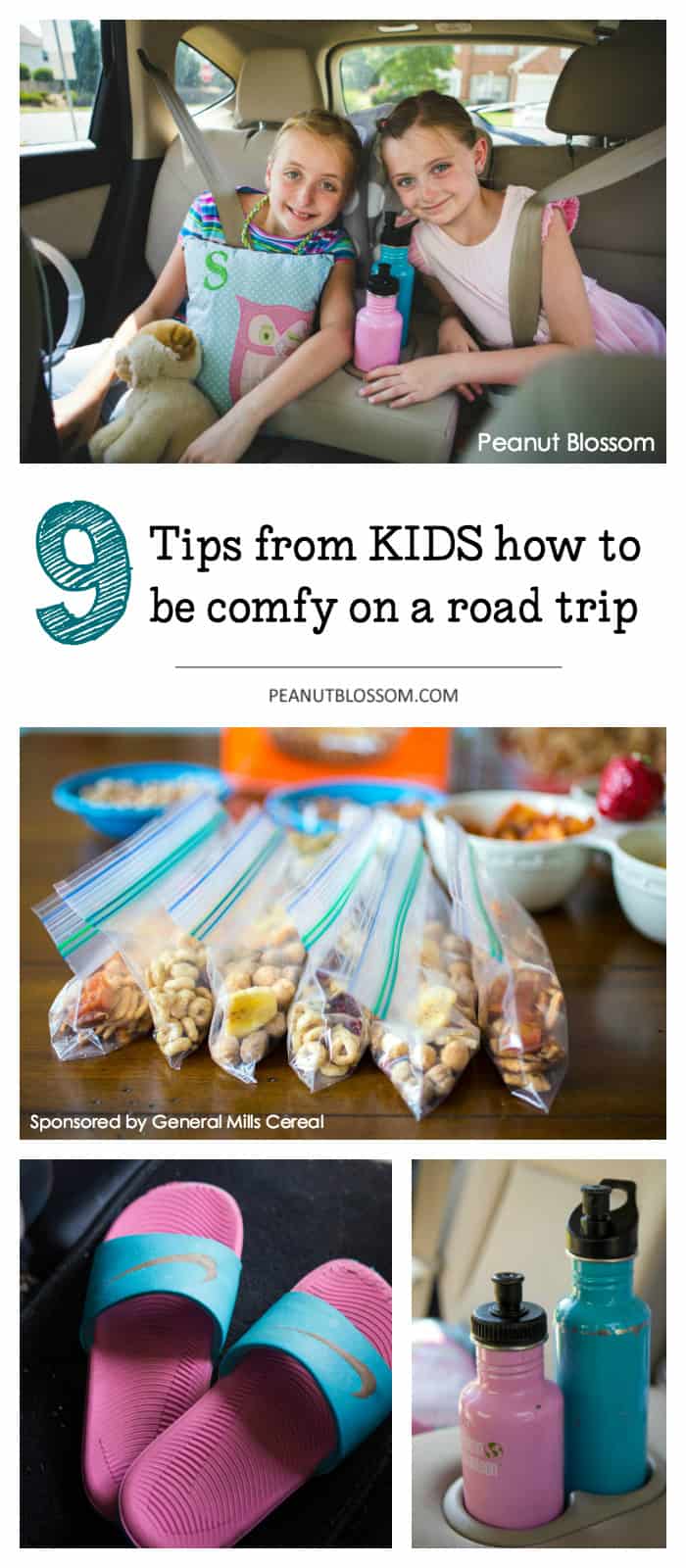 According to my ladies, there are 9 essential things to keep kids comfy on a road trip. Here's what they want other mommies to know:
Easy On, Easy Off: Pack slip on/slip off shoes for getting cozy in the car. Flip flops or slides of some kind are ideal. We want to kick off our shoes while driving but put them back on in a pinch when it comes time for a rest stop at a gas station.
Toasty Toes: Keep socks handy for covering our freezing toes (especially in summer when we're wearing sandals and will have the air conditioning blasting!)
Don't make us beg: Leave snacks and water bottles easily accessible so we don't have to ask for things when we are hungry or thirsty.
Cuddle time: We're never too big to enjoy cuddling up with stuffed animals on the ride. Please let us bring one each.
Temperature control: We really need a blankie to cover with when mom & dad make it too cold with the air conditioning or not enough heat in the winter. It works great for blocking out light for naps, too.
Too much together time: Letting us use screens & headphones (SEPARATELY) for audio books we are interested in can be a wonderful break from all the togetherness of a long trip. Everyone has different tastes and sometimes we want to be selfish with what we listen to.
Ear poppers: Long drives can bring us through various elevations. Let us keep gum handy for popping ears when we drive through mountains or low lands.
We've got to wear shades: We love to keep our sunglasses in a pocket nearby so we can avoid squinting. Let us be in control of them so we don't have to ask you.
Naps make the trip go faster: It is really hard to get comfy in the back seat when you can't lay down because of our seat belts. If we have a small pillow it is so much easier to rest our heads against the car seat. A pillow works great for extra comfort at our final destination, too!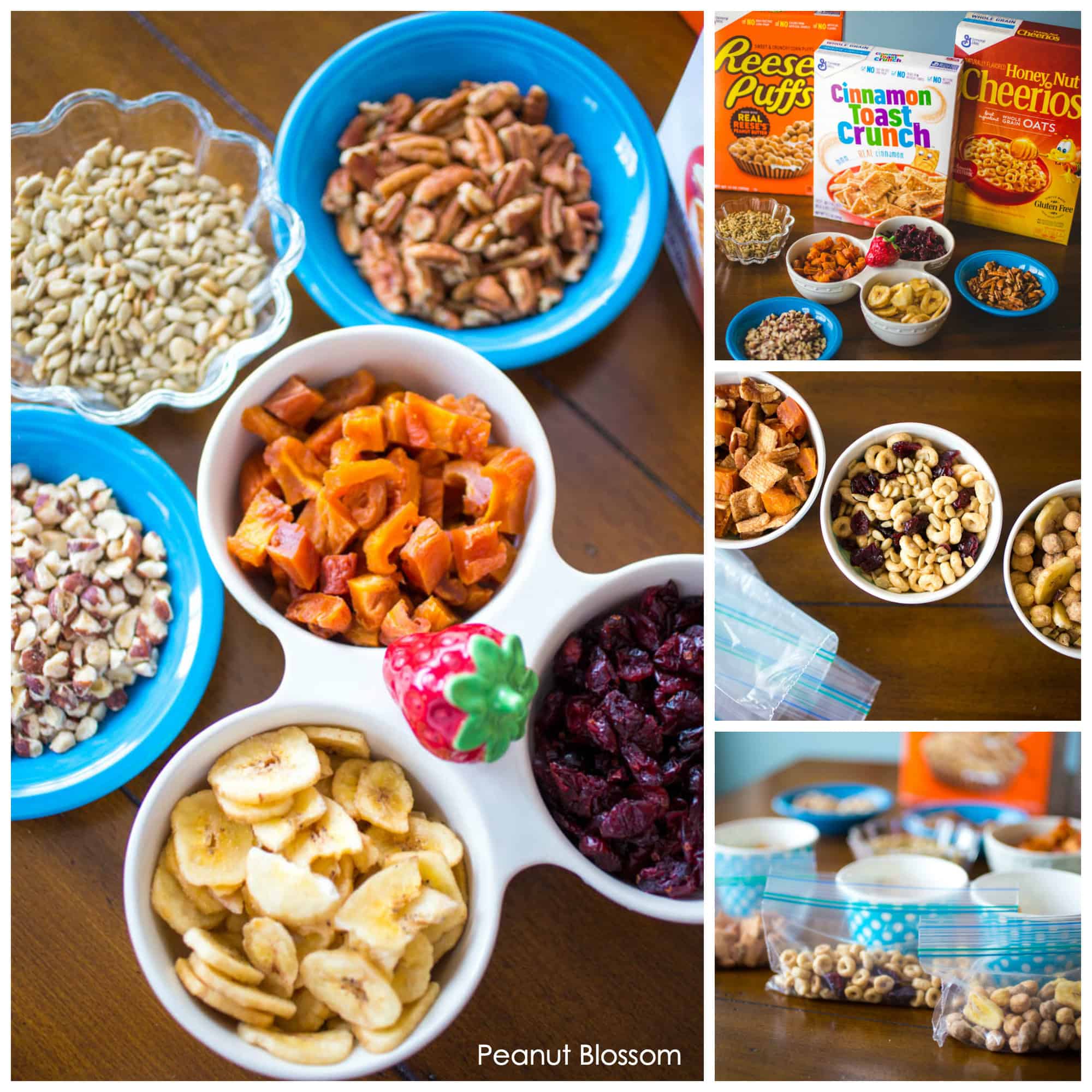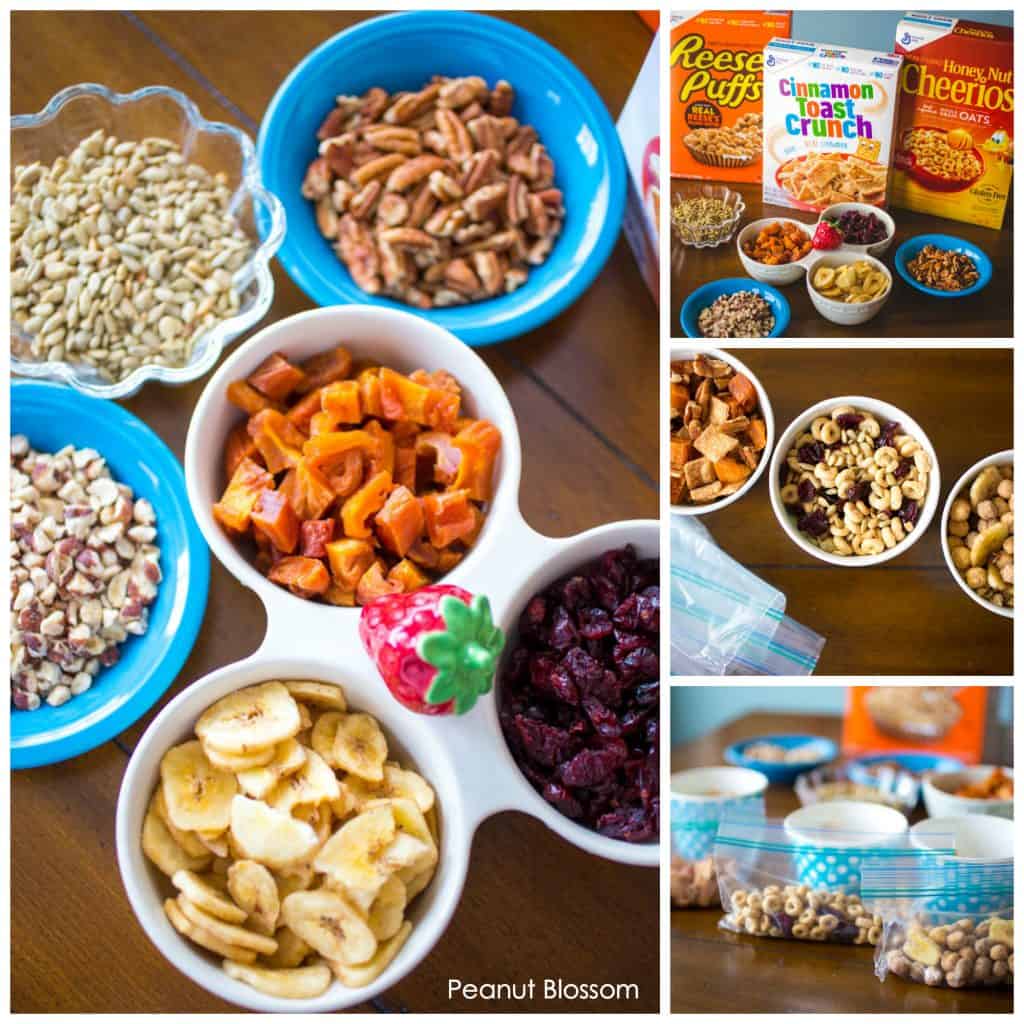 And for those snacks they mentioned loving? We're big fans of keeping premixed baggies of trail mix handy in the car. All those tiny bites slow my kids down and helps to kill some time as they nibble. Store bought trail mix is all too often just raisins, chocolate, and nuts. Already knowing how to make trail mix, we had so much fun coming up with three variations on the idea to make ahead of time and keep stocked in the car for our trip.
I took a stroll through the dried fruit and nuts aisle at our store and found something that goes beyond just your typical peanut or cashew. I wanted something that wouldn't melt in the car (read: No Chocolate!) and that would offer up a variety to keep my girls satisfied over a long day of driving.
How to make trail mix for the best road trip snacks: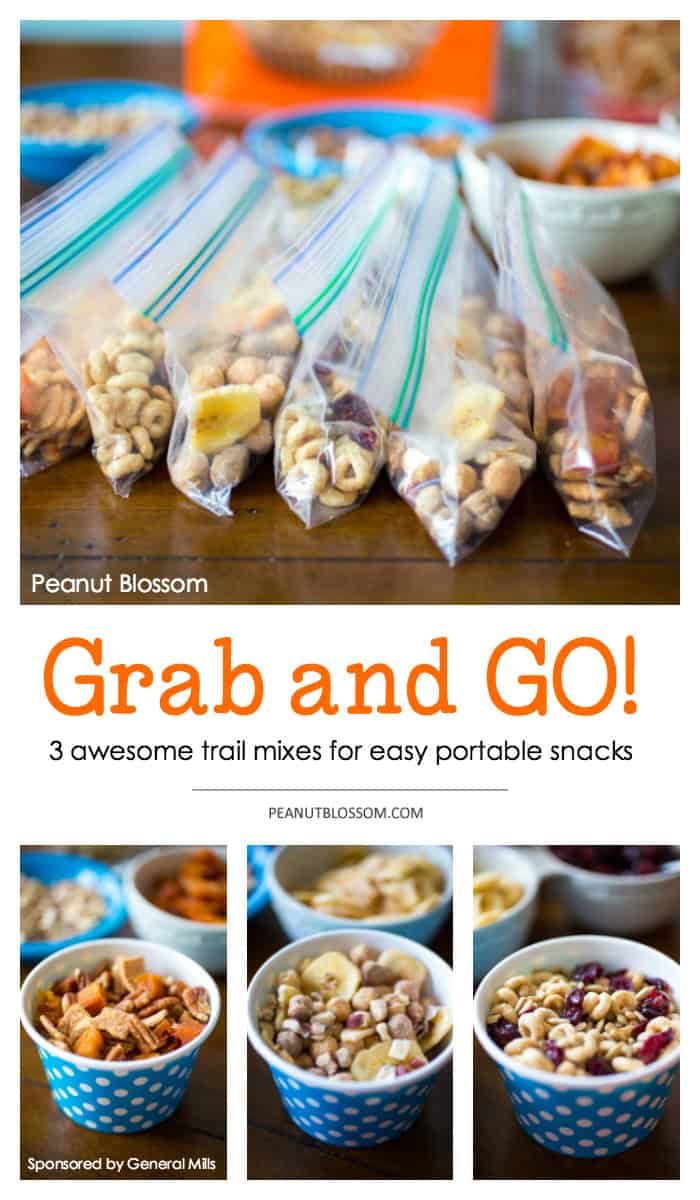 Southern Peaches & Pecans Trail Mix
Tasty Cinnamon Toast Crunch is mixed with chopped dried peaches and salted pecan chunks. This is my new favorite snack! I love the combo of the crunchy cereal with the chewy dried fruit chunks. A little salty, a little sweet.
Chunky Monkey Trail Mix
I had Elvis in mind for this mix but just couldn't bring myself to add bacon bits to it! I mixed the yummy chocolatey peanut butter puffs from Reese's Puffs with sweetened dried banana chips and chopped roasted hazelnuts. Shh: I actually loathe bananas, don't tell the girls. BUT, the dried banana chips in this mix made me a convert. I love how they complement the peanut butter flavor and add an even heartier crunch.
Salted Cherry Trail Mix
My kids both love a salty sweet combo and this one is amazing. I mixed Honey Nut Cheerios with salted sunflower seeds and dried cherries for a trail mix that tastes quite a bit like a snack version of my favorite cherry crisp dessert.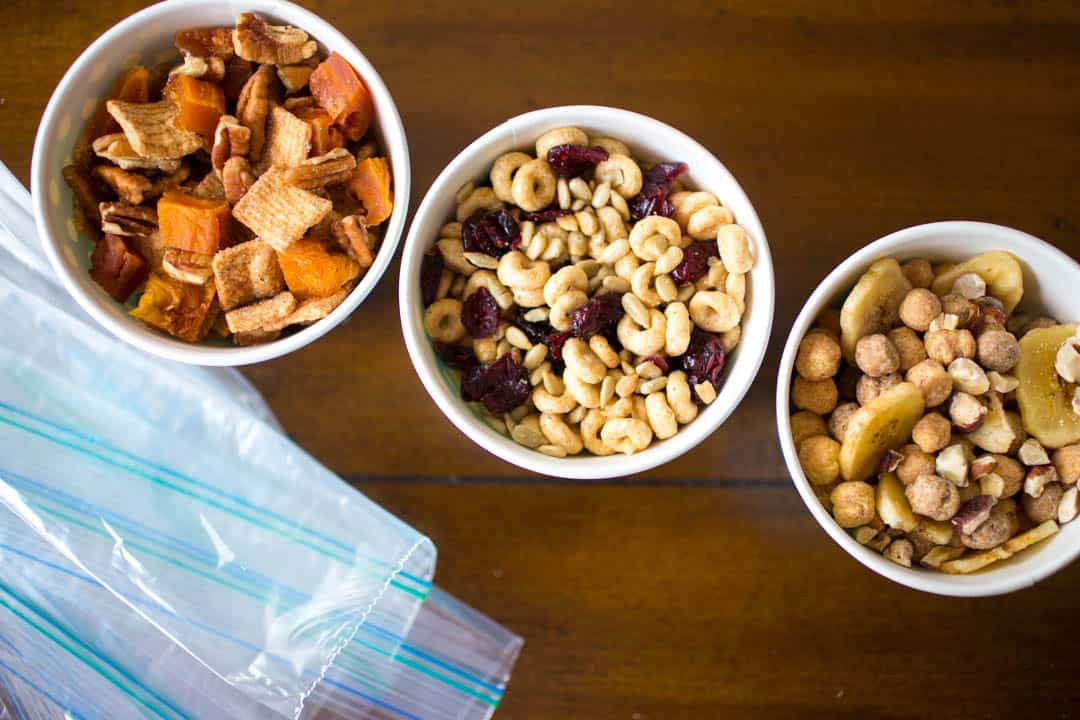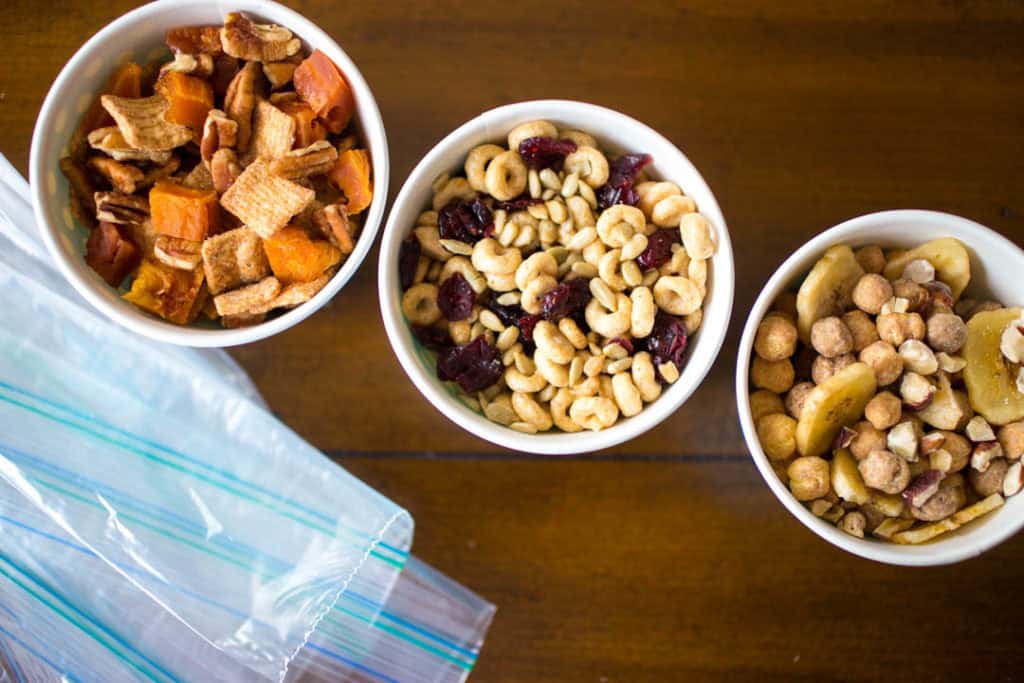 I love that these trail mixes are packed with flavor and nutrition. General Mills Big G Cereals have more whole grain than any other ingredient and use real ingredients for delicious flavors like real honey in Honey Nut Cheerios, real cinnamon in Cinnamon Toast Crunch and real peanut butter in Reese's Puffs. Plus, they don't have any high fructose corn syrup. Thanks to General Mills' commitment to creating cereals, I can feel great about feeding my family. By mixing them with some fruit and nuts, I'm sneaking in a little more fiber and some protein to give my kids energy whether it's on a road trip or as an after school snack during the school year.
I can premix our favorite blends and keep them tucked away in the car pockets for my kids to grab in a pinch knowing they won't melt or get stale too quickly. It's hard to get much easier than mixing up a trail mix, even I have time to handle that while balancing loading up the car for a long trip!