Stock your freezer with this make-ahead Chicken Alfredo Rice Casserole. It's a perfect casserole for picky eaters who will love the rich and creamy chicken and rice recipe.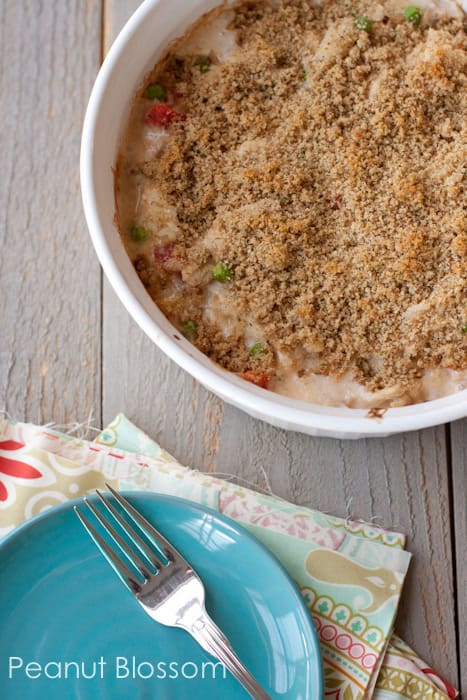 I am slowly starting to stock my freezer and pantry to help make meal prep easier in the last week before and the first weeks after Little Pea's arrival. I went through my files a week or so ago and will be sharing the recipes that are making the rotation.
The first key to cutting time is Rotisserie Chicken. Over the weekend, I headed to Costco and stocked up on 2 huge rotisserie chickens. I got them home and removed and shredded every ounce of meat from the two chickens. I mixed the white and dark meats together and then measured it out in 2-cup portions. I stored each portion into a separate zip-top baggie and then stored the smaller baggies in one large gallon-sized bag for the freezer. Now I have pre-cooked and shredded meat ready to pop into several recipes.
The following casserole recipe is perfect because all the ingredients are now ready in my pantry with no last-minute trips to the grocery store required. The "hardest" part of the recipe is cooking the rice but if you have leftover rice, all the better!

Even though "Alfredo" is in the title and a main ingredient, don't avoid this recipe just because you don't like Alfredo sauce. You can't really taste that it is in there, it is just something that makes the dish a little creamier. Handyman Tim is not a fan of Alfredo at all and yet he really enjoys this meal. He even tolerates the red peppers! If you have sundried tomatoes in your fridge, they would also be a wonderful addition to this casserole, but that is pushing Tim's limits a little too far.
If you have a bigger family than 2 parents and more than 1 good eater child, I would recommend doubling the recipe. As stated, it is perfect for one meal for my small family with just enough for one lunch leftover for the next day.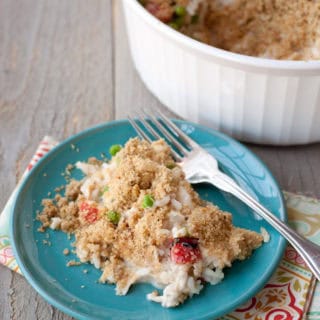 Chicken Alfredo Rice Casserole
This comfort food classic is a big hit with kids who love the rich and creamy chicken and rice. Adults will love the Italian spin on an American casserole. Perfect for a cold and blustery winter night.
Ingredients
For the casserole:
10-oz. container refrigerated light Alfredo pasta sauce or half of this homemade Alfredo recipe
½ cup milk (skip if you are using the recipe for homemade alfredo)
2-½ cups cooked white rice or wild rice
2 cups shredded rotisserie chicken
1 cup frozen peas
⅓ cup chopped bottled roasted red sweet peppers
¼ cup slivered almonds, toasted
1 Tbsp. snipped fresh basil or ½ tsp. dried basil, crushed
Sprinkle of dried red pepper flakes
For the topping:
1 cup dried bread crumbs
⅓ cup parmesan cheese
1 Tbsp. butter, melted
Heavy sprinkle of garlic salt
Instructions
Preheat the oven to 350 degrees.
In a large bowl, combine the Alfredo sauce and milk. Stir in rice, chicken, peas, sweet peppers, nuts, and basil. Transfer to a 1 ½-quart baking dish.
Bake, covered, for 30 minutes. Uncover and stir the dish to ensure the middle gets nice and hot. Combine the topping ingredients; sprinkle over the top. Return to the oven.
Bake, uncovered, 20 to 25 minutes more or until heated through and crumbs are golden brown. Let stand 5 minutes before serving.