Chicken Alfredo Rice Casserole is a warm and comforting dish you can prep ahead and bake just before serving. If you plan ahead and have extra cooked rice, a rotisserie chicken, and prepared Alfredo sauce, this recipe only takes a few minutes to stir together.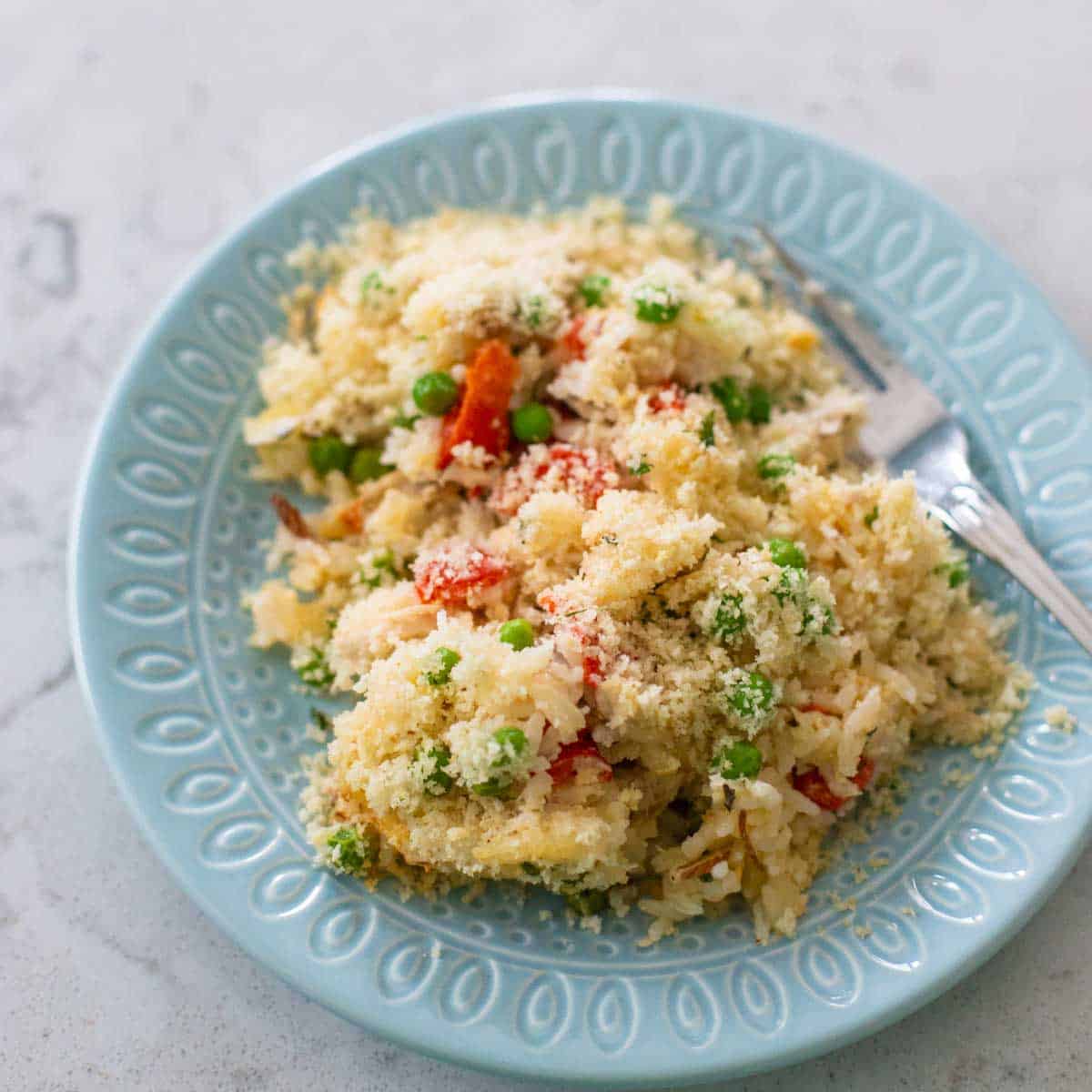 I first prepared this chicken alfredo rice casserole in the last couple of weeks before my second daughter was born.
I was busy prepping dinners for our freezer to help with life after baby's arrival.
What's nice about this particular rice casserole is that there's just the right amount of sauce to prevent it from getting mushy when you bake it.
The vegetables stay nice and crisp, the rice is firm, and the buttery breadcrumbs on top give a nice crunch.
You can use prepared Alfredo sauce, but I highly recommend making a batch of our homemade Alfredo sauce with cream cheese. Use one half of the sauce to make Alfredo pasta or a chicken spinach Alfredo pizza, and save the other half for this freezer-friendly casserole.
Jump to:
Ingredients
This may look like a lot of ingredients, but I have several tricks for keeping it easy and making quick work of the prep of this dish.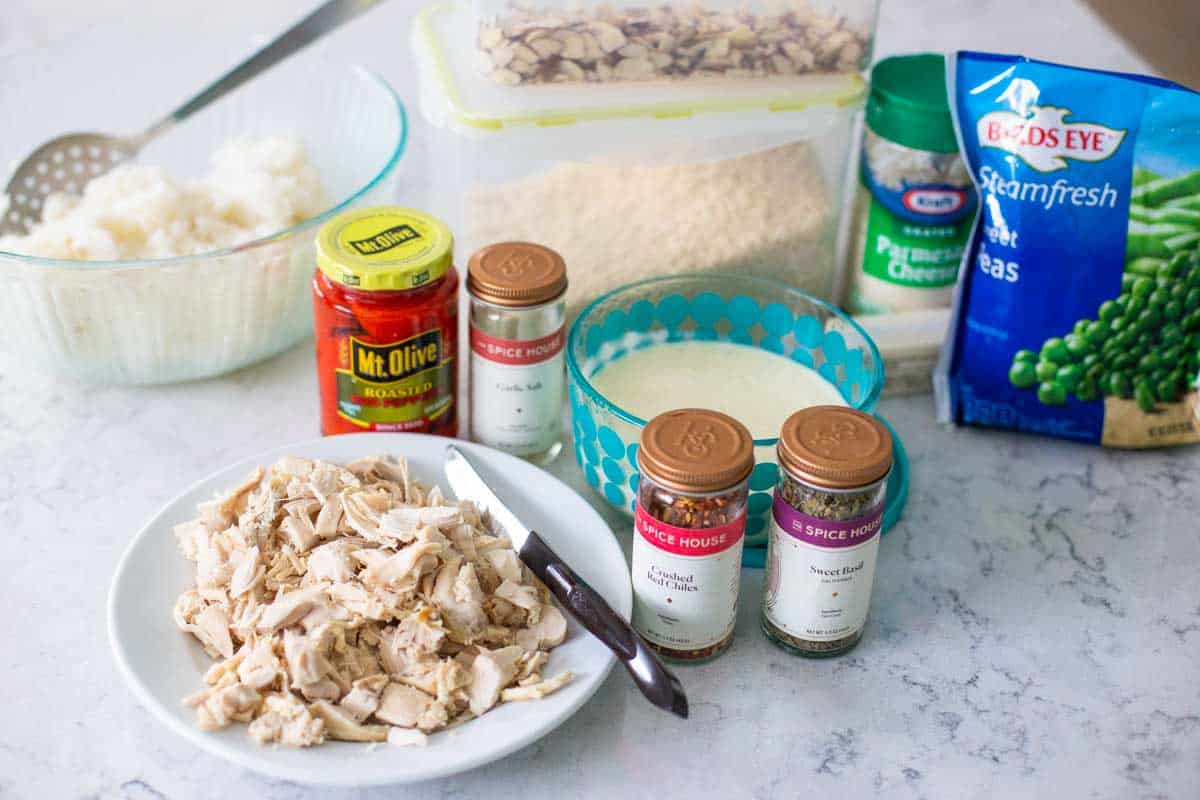 Shredded chicken
Alfredo sauce
Cooked rice
Frozen peas
Roasted red peppers
Basil & Crushed red pepper flakes
Bread crumbs
Grated parmesan cheese
Sliced almonds
Garlic salt
How to Make This A Quick Prep Recipe
Cooked Chicken:
The first key to cutting time is to use a rotisserie chicken.
One good sized chicken will provide 2 - 3 cups of shredded meat once the skin and bones have been removed.
I love to stock up on rotisserie chickens from Costco, pre-shred the meat, and store them in separate zip-top baggies in the freezer.
Then, I can thaw just what I need for a single recipe.
Cooked Rice:
You need about 4 cups of cooked rice (or 2 cups raw rice, then cooked) for this recipe.
I have 3 time-saving tricks for planning ahead for cooked rice:
Chinese Takeout: Order extra containers of white rice when you do carryout. Keep them on hand for meal planning later in the week.
Freeze Cooked Rice: You can cook and freeze rice for using later.
Instant Pot Jasmine Rice: I can place 2 cups of jasmine rice in my Instant Pot mini and the 4 cups of rice I need is ready to use in the casserole by the time I've shredded the rotisserie chicken and chopped the peppers.
Alfredo Sauce: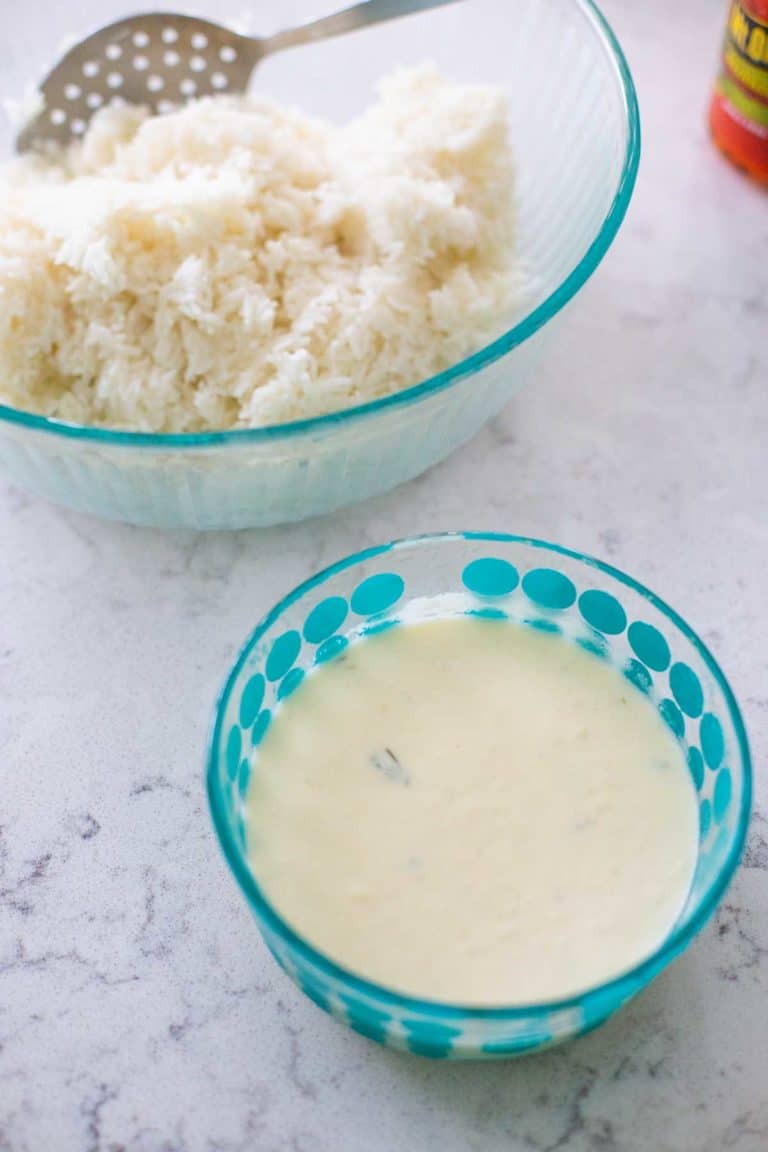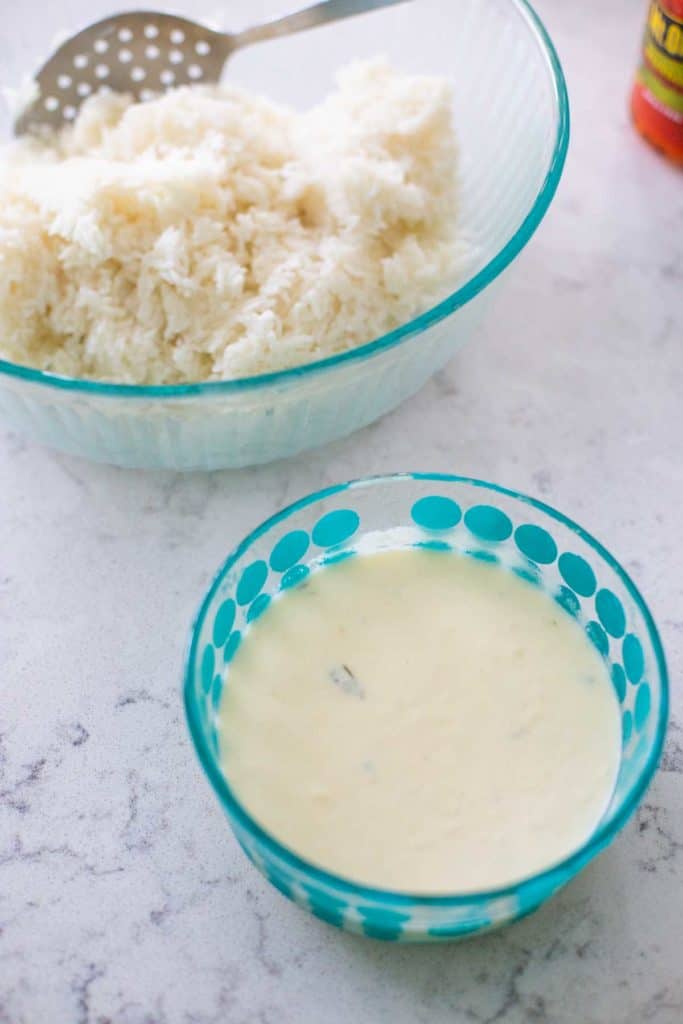 You can use jarred or prepared Alfredo sauce from the grocery store with a little milk to thin it out for this dish.
However, if you make our favorite homemade Alfredo sauce earlier in the week, you can save half of it for this recipe. It is SO MUCH better than the prepared kind and only takes a few minutes.
Instructions
Once you have those main ingredients ready to go, the rest of the recipe is SO easy to prep!
If you plan to bake and serve it right now, preheat your oven to 350°F.
In a very large mixing bowl, combine the rice, Alfredo sauce, shredded chicken, diced roasted red peppers, frozen peas, sliced almonds, dried basil, and crushed red pepper flakes.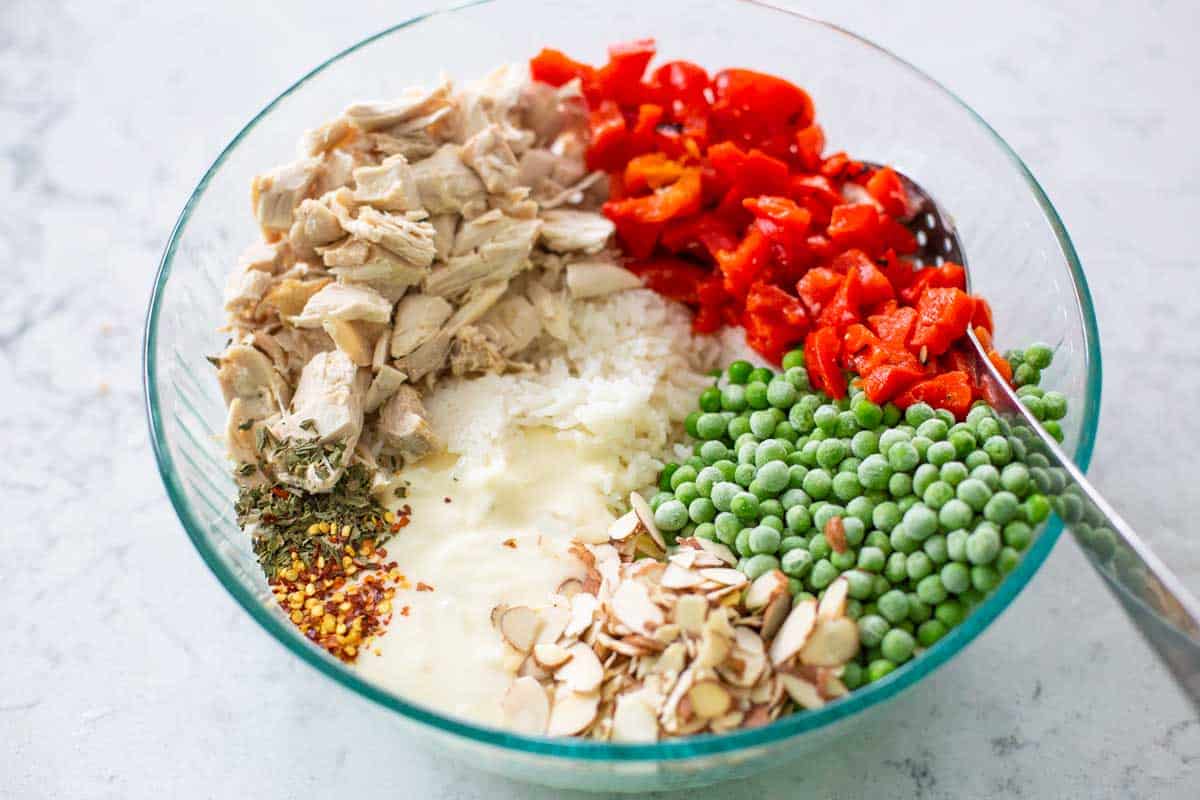 This is a very thick mixture.
If you don't have a very large mixing bowl, you may prefer to stir it in stages:
First, the alfredo sauce and seasonings
Then the alfredo sauce and the rice
Then add the chicken and peppers
Then add the peas and almonds
Be sure to check the recipe card for a note on whether or not you need to add milk at this point.
Spray a baking dish with cooking spray and spread the mixture out evenly.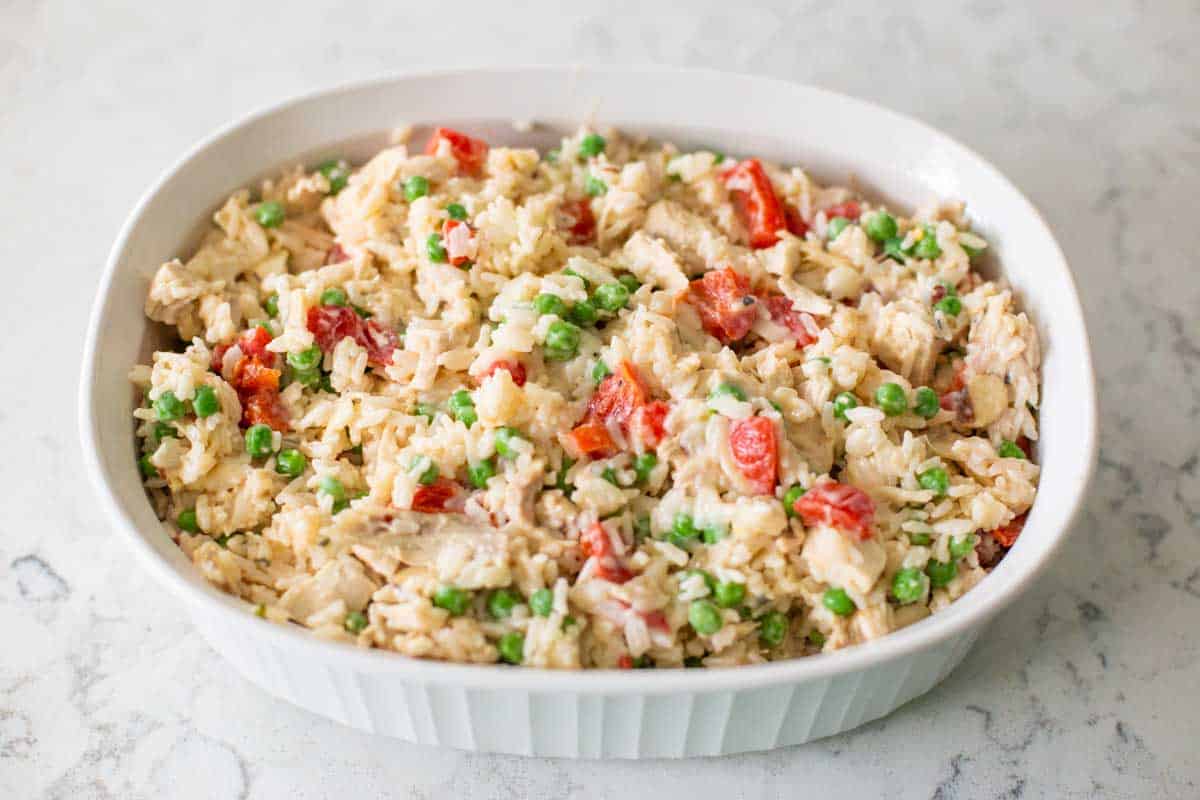 Hint: You can use a 2-quart covered casserole dish or a 9 x 13-inch baking dish.
The 9 x 13-inch dish will give more crispy edges, a thinner breadcrumb layer, and may bake more quickly.
The deeper casserole dish we used leaves more of a creamy center but can take longer to heat in the center.
Bake the covered casserole for 30 minutes.
Meanwhile, prepare the breadcrumb topping.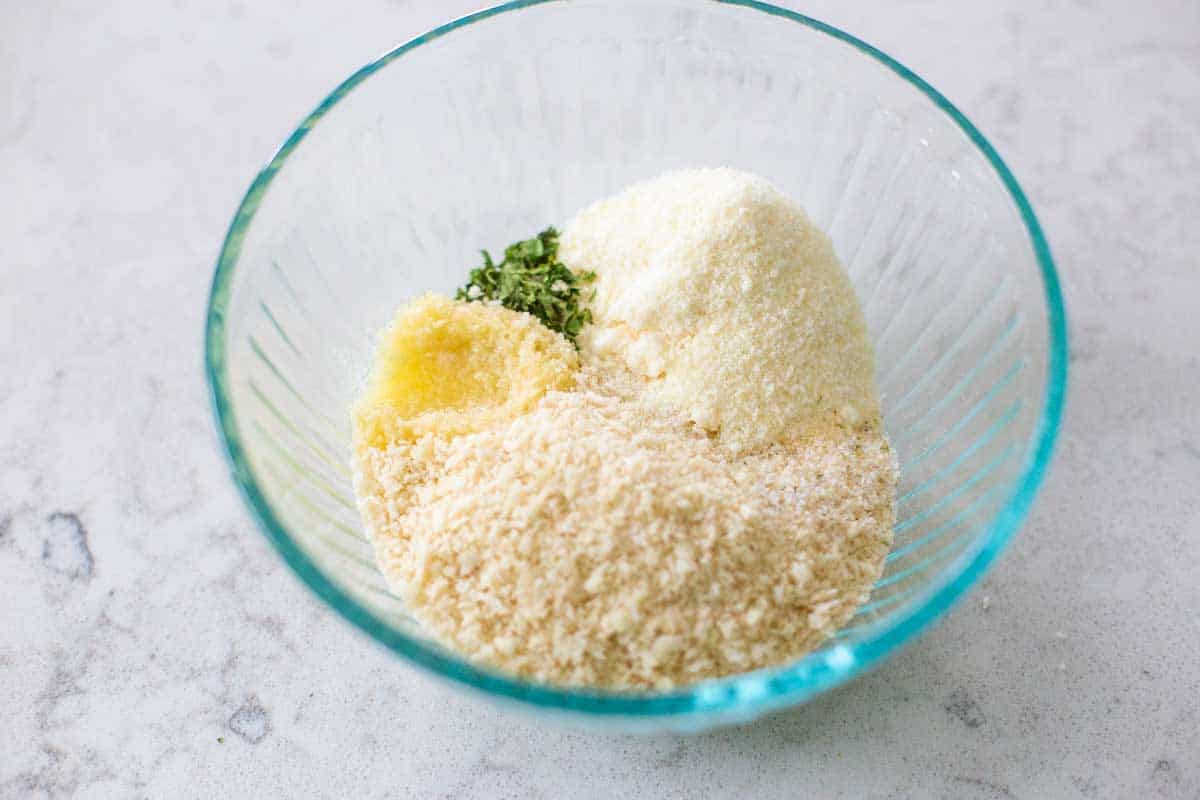 Mix together the breadcrumbs, grated parmesan, melted butter, garlic salt, and dried parsley until the breadcrumbs are evenly dampened.
Uncover the casserole, spread the breadcrumb mixture evenly over the top and bake for an additional 20 minutes.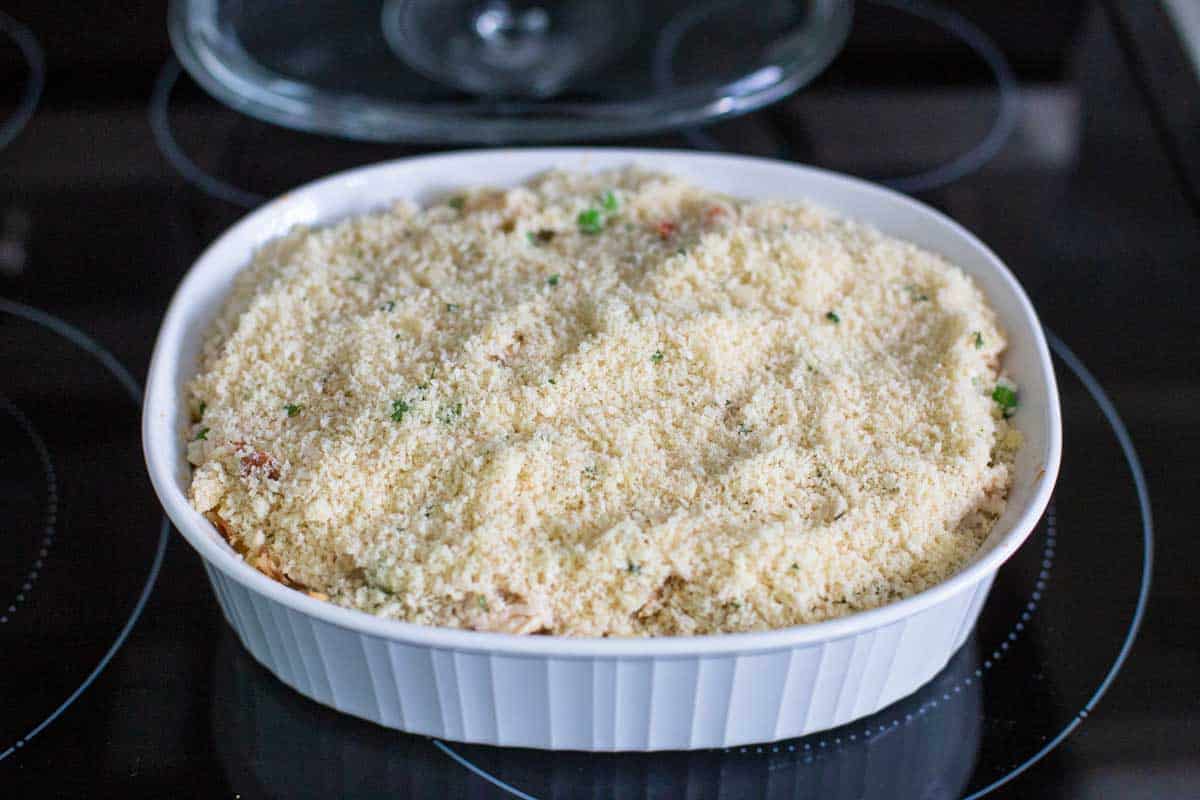 The breadcrumbs should be golden brown and the center of the casserole piping hot.
Serve warm.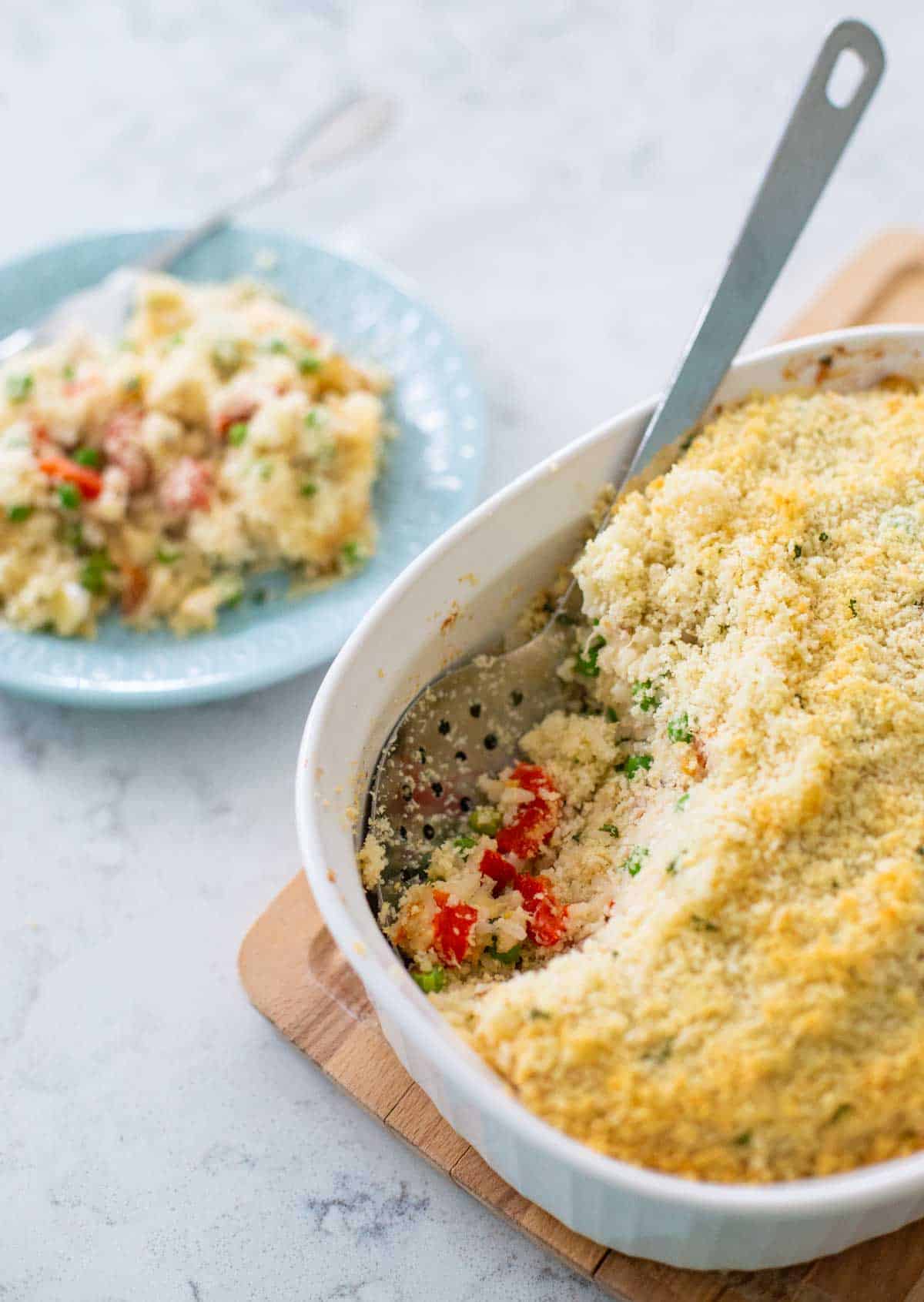 Variations
Frozen peas and roasted red peppers are so easy to keep on hand, but there are several substitutions and variations you could also play with:
Sundried tomatoes
Chopped broccoli
Chopped asparagus
Freezer Tips
If you plan to freeze the casserole, simply assemble it as instructed but then stop before baking.
Spread the mixture into a freezer-safe baking dish, top with the breadcrumbs, cover with aluminum foil, and freeze.
Thaw the dish in your fridge overnight. Bake covered for 30 minutes, uncover and finish baking for 15 - 20 minutes.
More Chicken Casserole Recipes
If you love making easy chicken casseroles, you won't want to miss these delicious recipes:
📖 Recipe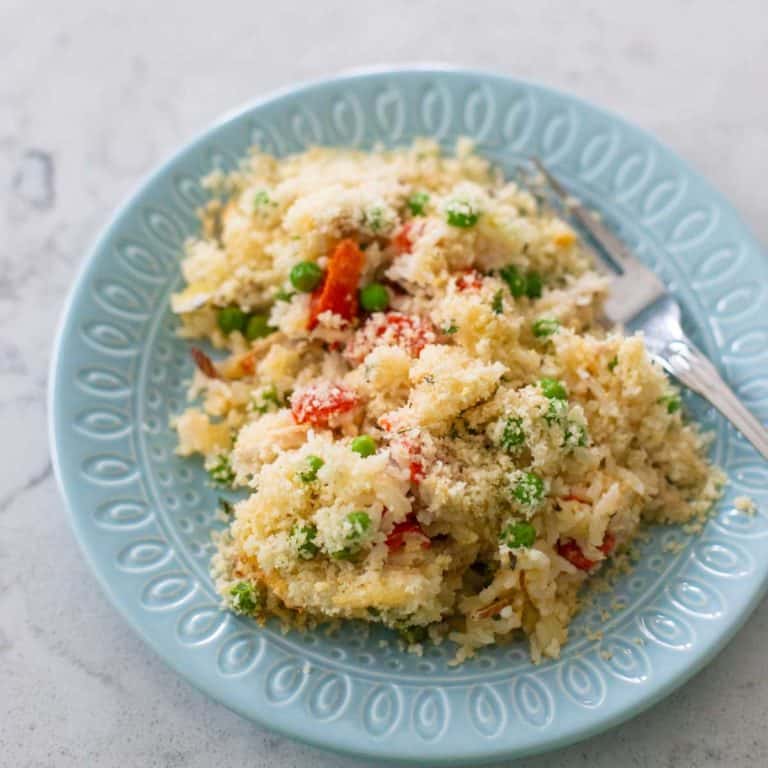 Chicken Alfredo Rice Casserole
This comfort food classic is a big hit with kids who love the rich and creamy chicken Alfredo rice. Adults will love the Italian spin on an American casserole. Perfect for a cold and blustery winter night.
Ingredients
For the topping:
1

cup

dried bread crumbs

⅓

cup

parmesan cheese

2

Tbsp.

butter

melted

½

teaspoon

of garlic salt
Instructions
Preheat the oven to 350°F.

In a large bowl, combine the Alfredo sauce and milk. Stir in rice, chicken, peas, sweet peppers, nuts, and basil.

Spray a 2-quart or 9 x 13-inch baking dish with cooking spray. Transfer the chicken and rice mixture to the baking dish.

Bake, covered, for 30 minutes. Uncover and carefully stir the dish to ensure the middle gets nice and hot.

Combine the topping ingredients; sprinkle over the top. Return to the oven. 

Bake, uncovered, 20 to 25 minutes more or until heated through and crumbs are golden brown.

Let stand 5 minutes before serving.
Save This Recipe to Your Recipe Box
Find this delicious recipe next time you visit by saving it to your very own recipe box on my site. All your favorites stored in one easy place!