Easy chicken spaghetti is a great freezer-friendly recipe to make ahead for busy weeknights.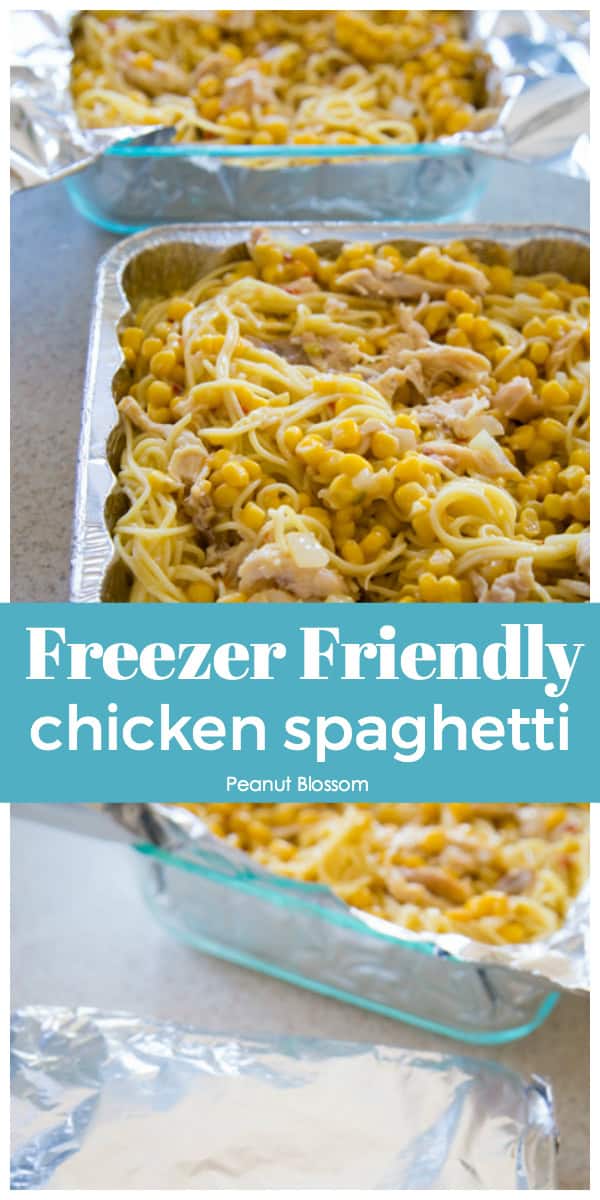 Though this may be the most yellow looking food photo you'll ever see me share, this recipe is a picky eater's paradise. Growing up my mom always served a casserole she dubbed "Saucy Pork & Noodle Bake." I shared the recipe a while back but this is a slightly spicier twist on that family favorite.
This version involves a shredded rotisserie chicken (which is easier to come by than the roast pork) and a different shape noodle so for some reason my kids qualify this as a Totally New Idea.
The best part is I always split this recipe in 2 and store one half in the freezer for another night. This is my "I'm so busy I can't See Straight!" go-to dinner. I LOVE having one of these prepped and ready for popping in the oven when my husband is traveling and it is just the kids and myself at the dinner table.
The irony is that I don't have a cooked shot to share with you because it usually appears on our tables in the deep dark late night after homework! Ha!

Why this chicken spaghetti is the perfect make-ahead freezer meal: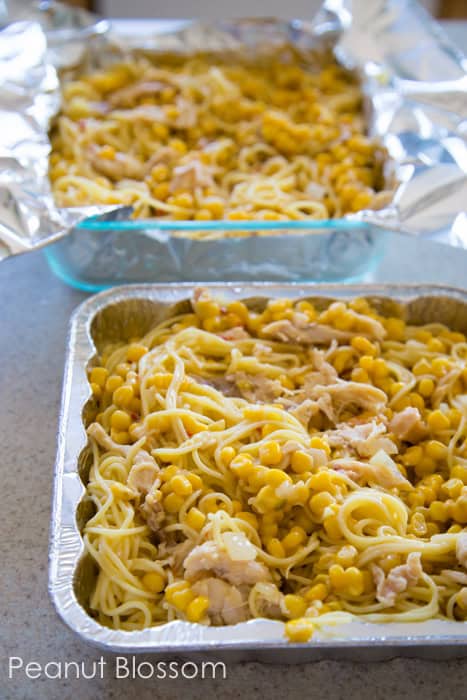 Quick Tip #1: You can enjoy the dinner but pre-freeze the leftovers
The problem with most make-ahead dinners is that you spend all that time in the kitchen and then don't actually have any dinner for the night you are cooking.
With this recipe, I assemble the dish but immediately split it into two 8 x 8 baking dishes. I bake one for dinner that night and freeze the other for another quick dinner with zero prep a different night.
Quick Tip #2: The chicken spaghetti reheats so well
All the ingredients in the chicken spaghetti freeze and bake up so well. Your family will never know this was a freezer dish.
Just be sure to use fresh rotisserie chicken when assembling and only freeze the chicken once. (Don't use frozen and then thawed chicken if you plan to freeze the assembled casserole.)
Quick Tip #3: Perfect for busy families
As much as we love family dinner, we don't always have all 4 of us at home every night. Sometimes it is nice to have a smaller pan of food to prepare for just 2 or 3 of us. When one partner has to travel and another is home with the kids, this is a great way to have an easy homecooked meal ready to go that is just the right size.
Editor's Note: This is a classic family recipe, originally published in December 2013.