Easy cheesy chicken spaghetti is a great freezer-friendly recipe to make ahead for busy weeknights.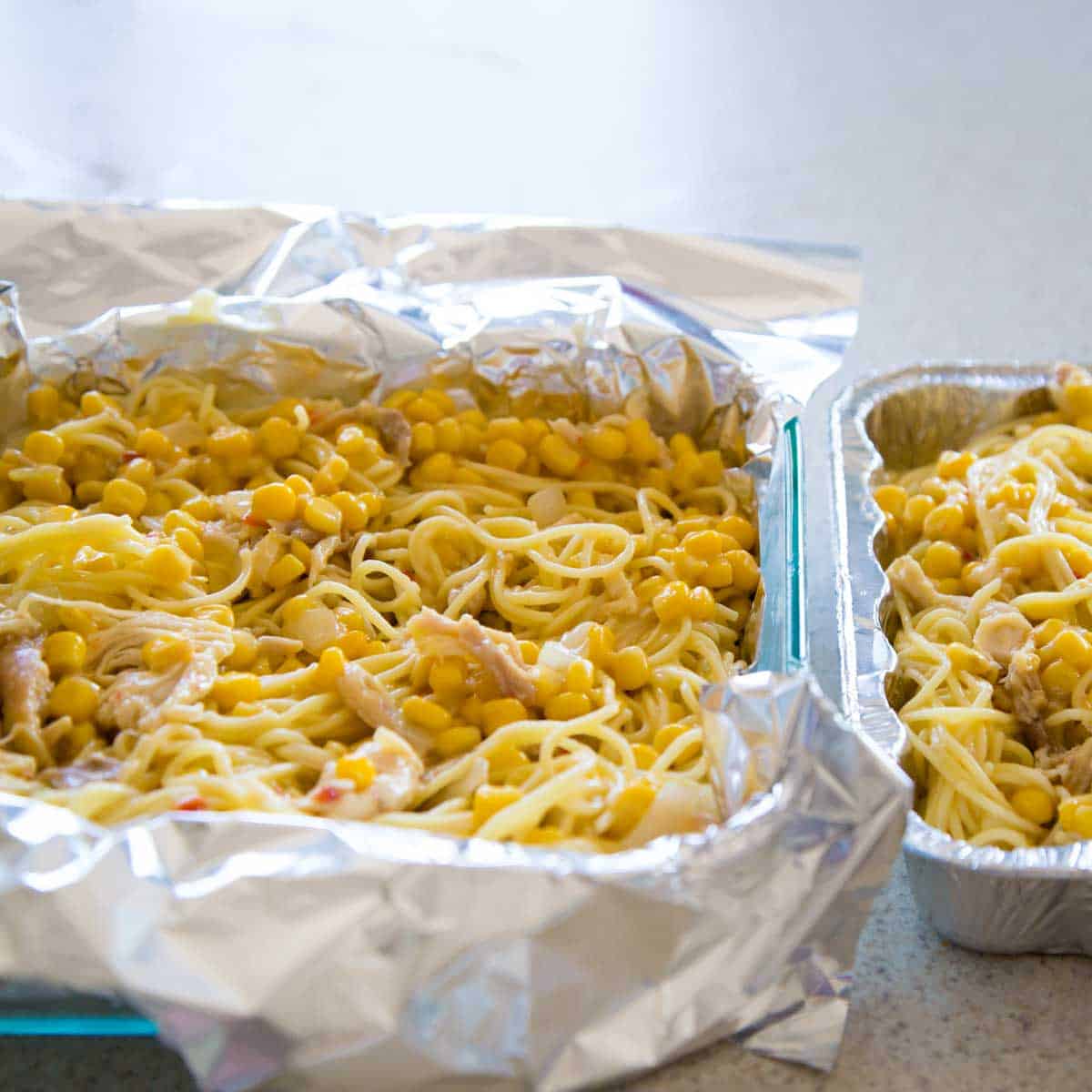 Growing up my mom always served a casserole she dubbed Saucy Pork & Noodle Bake. I shared the recipe a while back but this is a slightly spicier twist on that family favorite.
This cheesy chicken spaghetti involves a shredded rotisserie chicken (which is easier to come by than the roast pork) and a different shaped noodle so for some reason my kids qualify this as a Totally New Idea.
The best part is I always split this recipe in 2 and store one half in the freezer for another night.
This is my "I'm so busy I can't See Straight!" go-to dinner. I LOVE having one of these prepped and ready for popping in the oven when my husband is traveling and it is just the kids and myself at the dinner table.
The irony is that I don't have a cooked shot to share with you because it usually appears on our tables in the deep dark late night after homework! Ha!
Jump to:
Ingredients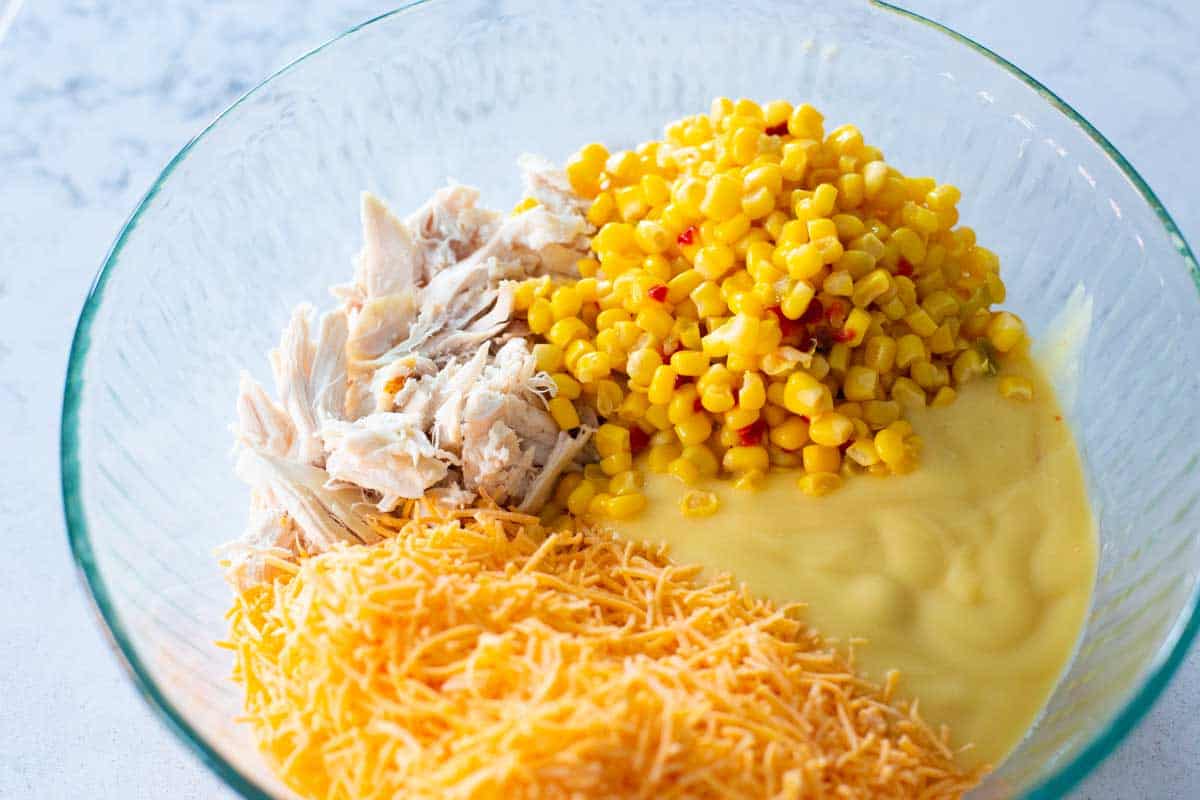 I almost always have the basic ingredients to make this easy casserole sitting in my pantry and fridge:
Shredded rotisserie chicken meat: Or any leftover cooked chicken you want to use up. I like to pre-shred rotisserie chicken and freeze it in 2-cup bags in my freezer for using in easy casseroles like this.
Cream of chicken soup
Canned Mexicorn: This is the corn mix with chopped peppers mixed in as well. You can substitute plain canned corn and then consider stirring in either a little Rotel tomato mixture or a couple tablespoons of canned diced green chilis.
Onion
Thin spaghetti: I prefer how the thin spaghetti tastes in the final dish but you could use regular spaghetti or linguine if you prefer.
Shredded cheddar cheese
Seasoned salt: You can use any brand you like or make my homemade seasoned salt.
Cayenne pepper (optional)
Easy Prep Tips
Whenever I use pasta in a casserole recipe, I alway cook the pasta for 2 - 3 minutes less than the package directions say to. This keeps the noodles nice and firm since they'll soften once they absorb the liquids you stir into your casserole.
If you start with a soft pasta noodle, it will likely turn to mush once you bake it in the final casserole.
The remainder of the chicken spaghetti filling can be stirred together in a large mixing bowl while the pasta cooks.
Simply toss together and fill your casserole pans!
Tip for Busy Families: Split the Recipe
I always prepare the full recipe but I often split it into 2 8x8-inch baking pans, 1 for now and 1 for the freezer to be cooked later.
As much as we love family dinner, we don't always have all 4 of us at home every night. Sometimes it is nice to have a smaller pan of food to prepare for just 2 or 3 of us.
When one partner has to travel and another is home with the kids, this is a great way to have an easy home cooked meal ready to go that is just the right size without too much leftover.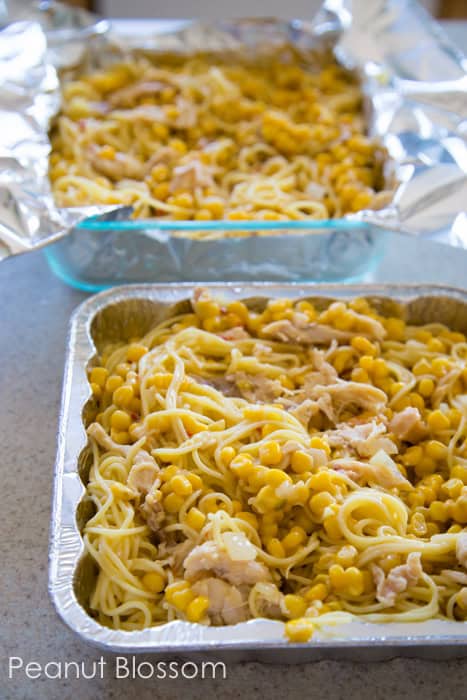 Make Ahead Tips
All the ingredients in the chicken spaghetti freeze and bake up so well. Your family will never know this was a freezer dish.
Just be sure to use fresh rotisserie chicken when assembling and only freeze the chicken once. (Don't use frozen, thawed chicken if you plan to freeze the assembled casserole.)
Wrap the baking pan filled with prepared chicken spaghetti tightly in aluminum foil and freeze for up to 6 months.
The best part of splitting the recipe into two pans is you still have dinner made for tonight but have stashed away another serving for an extra-busy night later.
Reheating Tips
To reheat the chicken spaghetti, preheat your oven to 375°F. Bake for 35 minutes and then uncover it.
Sprinkle with cheddar cheese and continue to bake until hot and bubbly and the cheese has melted. Another 25 minutes or so.
More Casserole Recipes
Casserole recipes are so handy for feeding a busy family or bringing to a friend going through a hard time. I still remember when our neighbor brought over a pan of tuna noodle casserole when we were struggling. It made me feel so loved.
Check out my other freezer-friendly casserole favorites here:
📖 Recipe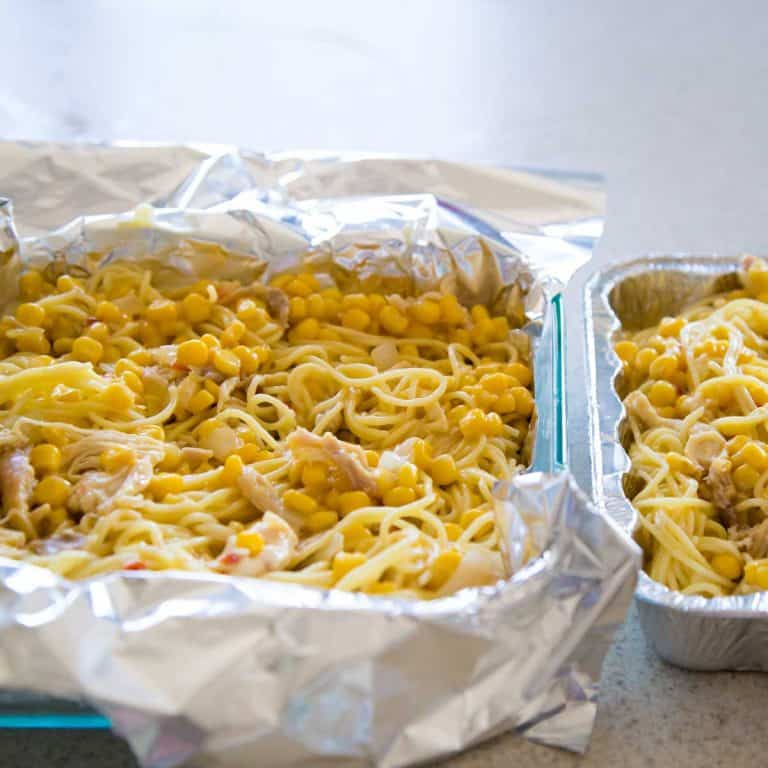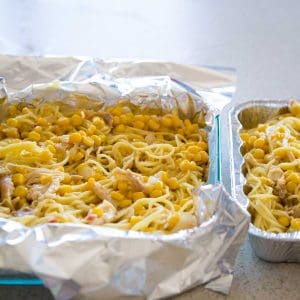 Cheesy Chicken Spaghetti
This make-ahead chicken spaghetti casserole is perfect for stashing in your freezer for a busy night. Split the dish into two 8x8-in pans for a small serving dinner or easy side dish.
Ingredients
2

cups

of shredded rotisserie chicken

2

(10.75 oz.) cans cream of chicken soup

2

(7 oz.) can Mexicorn

1

onion

chopped

1

tablespoon

olive oil

1

(16 oz.) box thin spaghetti

1

(8 oz.) bag of shredded cheddar cheese

Heavy sprinkle of your favorite seasoned salt

A pinch of cayenne pepper
Instructions
Set a large pot of water to boil. Cook the spaghetti for half the time it says on the package, drain and set aside.

In a small sauté pan, heat the olive oil over medium-high heat. Sautee the chopped onions until translucent and tender.

In a large mixing bowl, combine the pasta, onions, corn, and soup until everything is evenly coated.

Distribute the noodles evenly into 2 8x8-inch or 1 9 x 13-inch baking pan. Shred the chicken and toss it into the noodle mixture using your hands. A spoon doesn't mix it in well enough. I just kind of use my fingers to get it spread in evenly.

Lightly sprinkle with seasoned salt.
To Make Ahead and Freeze:
Wrap tightly with tin foil and store. When it is time to bake, preheat your oven to 375°F. Bake for 35 minutes and then uncover it. Sprinkle with cheddar cheese and continue to bake until hot and bubbly and the cheese has melted. Another 25 minutes or so.
To Bake Right Away:
Bake at 350°F for 20 minutes. Cover with shredded cheese and continue to bake another 25 minutes until hot and bubbly and the cheese has melted.
Save This Recipe to Your Recipe Box
Find this delicious recipe next time you visit by saving it to your very own recipe box on my site. All your favorites stored in one easy place!