Homemade yum yum sauce is a great dip to make yum yum shrimp or chicken. Kids who love to dunk will enjoy a dipping cup with this easy homemade condiment for dinner time.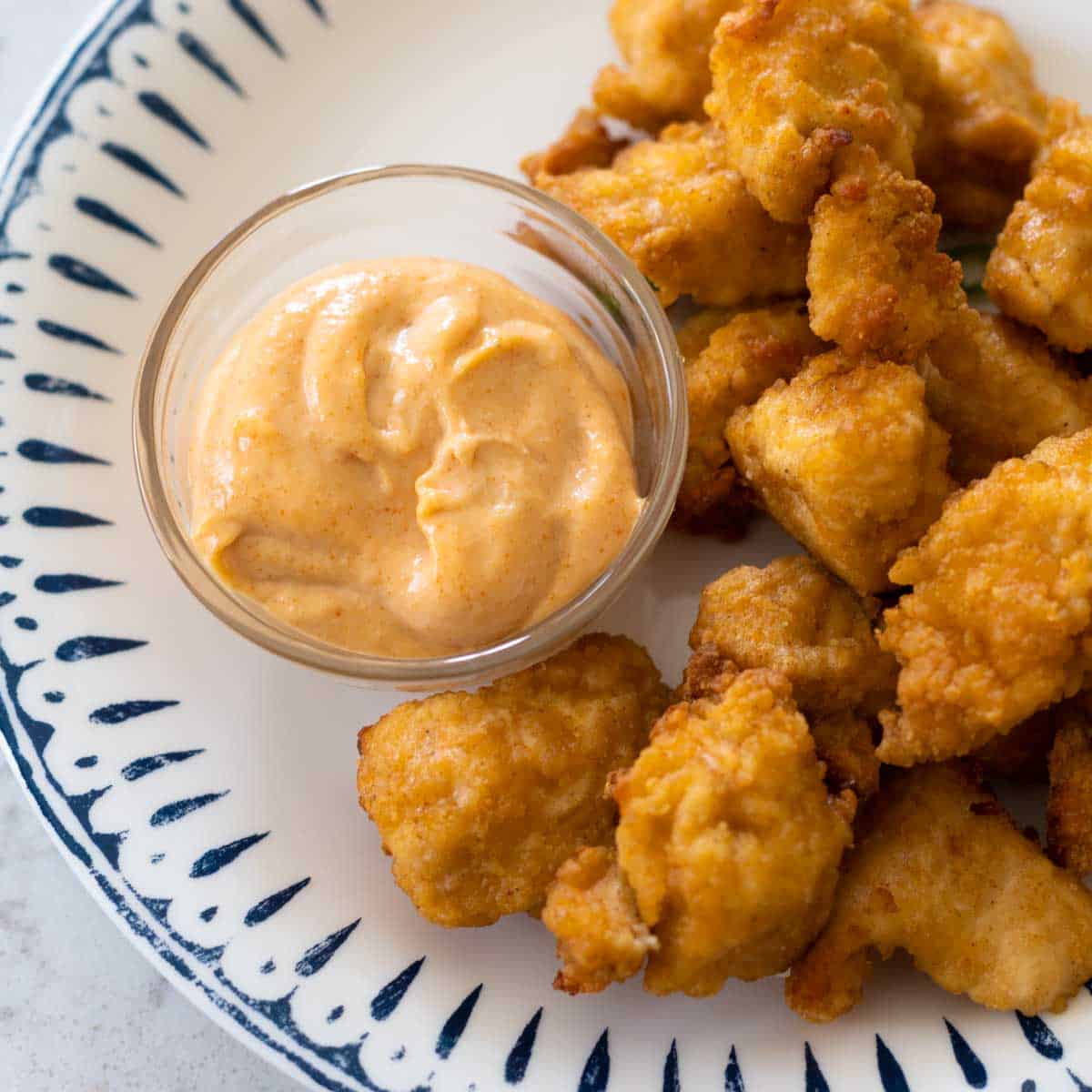 Do your kids love to dunk at dinner time?? It is such a great way to encourage bites of new foods to serve a delicious dip with chicken, shrimp, or veggies.
While I make a lot of things for my kids, even grownups will love this homemade yum yum sauce to go with a fun shrimp appetizer tray for cocktail hour!
Made with just three main ingredients and a few spices, you probably have everything you need in your pantry to make it right now!
Jump to:
What Is Yum Yum Sauce?
Yum yum sauce is a creamy mayo-based Asian-inspired condiment that you can purchase prepared at the grocery store in the Asian foods aisle.
Used as a dip for shrimp or chicken, it actually tastes fantastic as a french fry dip or raw veggie dip, too!
Ingredients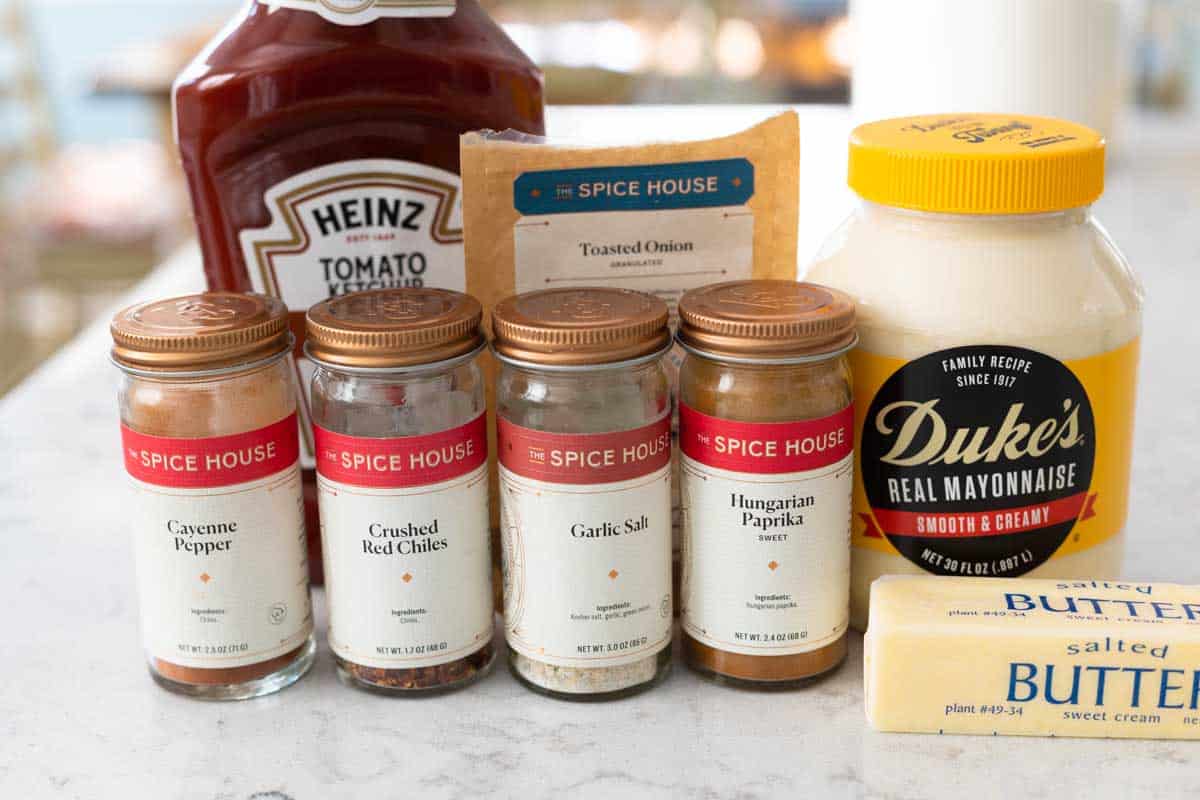 To make homemade yum yum sauce, you only need a few ingredients:
Mayonnaise: You can use a light version made with olive oil if you prefer.
Ketchup
Butter: I use salted butter for this recipe.
Dried Onion Powder
Garlic Salt
Paprika
Cayenne Pepper or Crushed Red Chiles: This sauce isn't spicy, but it does need just a bit of a boost from a pinch of one of these seasonings.
How to Make the Sauce
First, melt the butter in a medium sized mixing bowl.
Add the ketchup, garlic salt, onion powder, and paprika.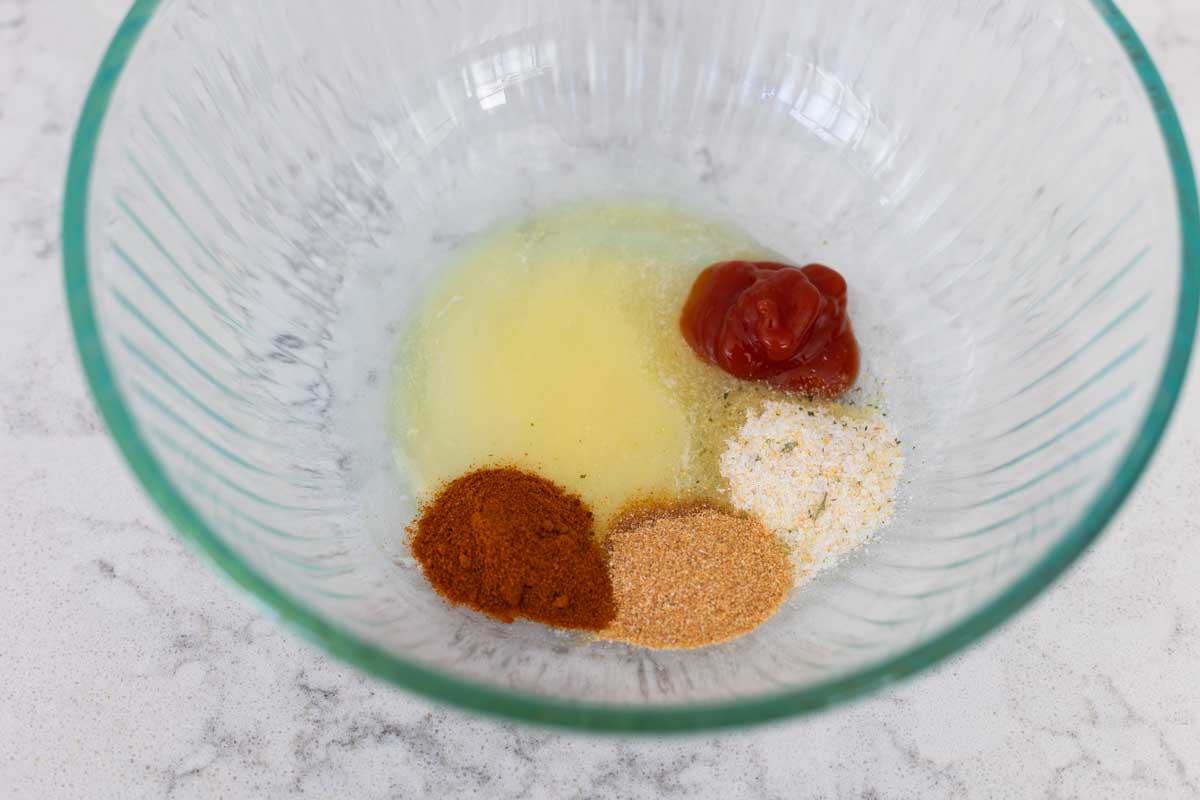 Whisk the seasonings into the melted butter until well combined.
Add the mayonnaise to the bowl and whisk it in.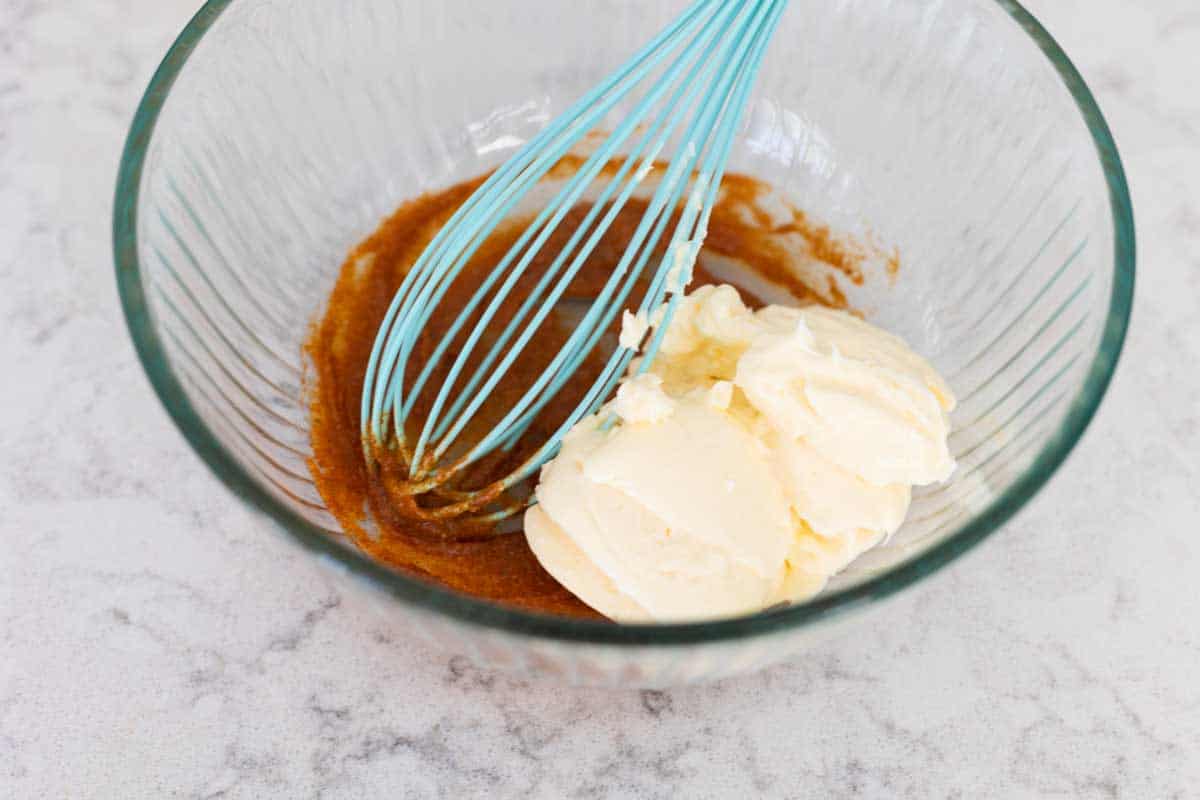 Adjust the Sauce to Your Preference
This should be the thickness and color of the yum yum sauce at this point: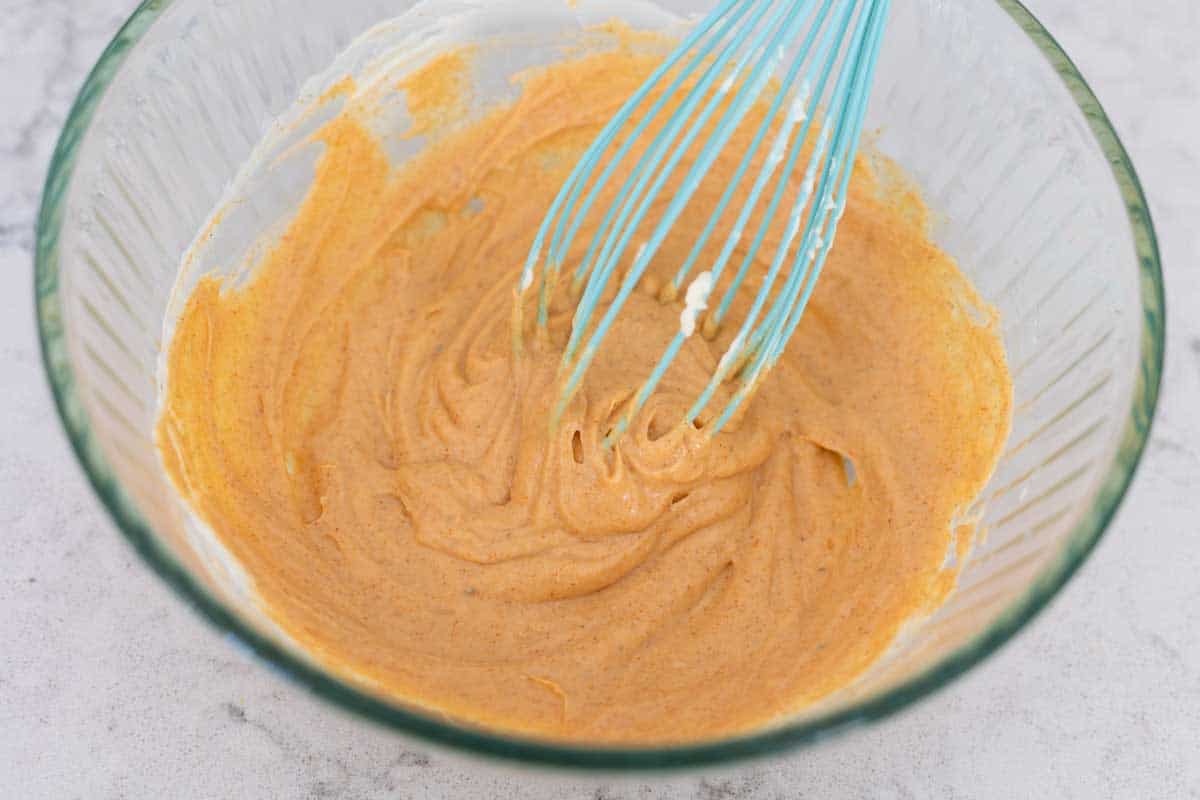 Depending on how you plan to use the homemade yum yum sauce, you'll want to make small tweaks to it.
Adjust the Spice Level
Take a little taste, you'll find that the yum yum sauce is savory but very mild.
Even just ⅛ teaspoon of cayenne pepper or a sprinkle of crushed red pepper flakes will add a lot more flavor without needing salt.
If you like things with more kick, our family enjoys it with a full ½ teaspoon of cayenne powder.
Adjust the Texture
The thick sauce would make a great sandwich spread as is. It is smooth enough to spread over bread but won't make your sandwich drippy.
However, most people want to use homemade yum yum sauce as a dip.
In this case, you will want to add up to 2 tablespoons of water to the sauce to thin it out and give it a glossier, smoother appearance like this: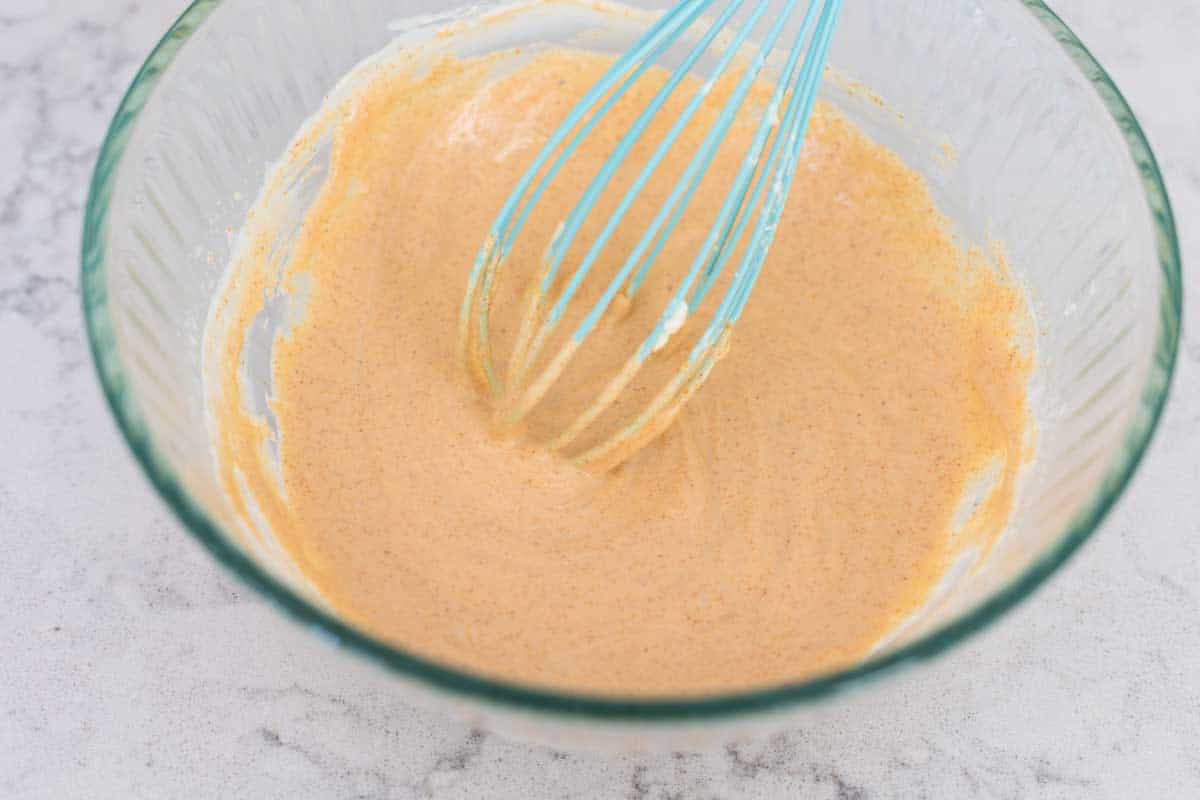 Storage Tips
Transfer the finished sauce to a mason jar or other container with an air tight lid.
Store in the fridge for up to 1 week.
Do not try to freeze the yum yum sauce, the mayonnaise will break in the thawing process.
Yum Yum Shrimp
Now that you've got your perfect homemade yum yum sauce, you can use it to make yum yum shrimp for an appetizer or easy dinner!
Start with a simple shrimp recipe like my frozen shrimp in the air fryer or oven roasted shrimp.
Then, serve the shrimp on a platter with a cup of the yum yum sauce as a dipping sauce for shrimp.
You could also toss the shrimp directly in a few tablespoons of the sauce and serve them over jasmine rice for a main entree. Add some roasted broccoli or steamed pea pods.
Yum Yum Chicken
My kids think that yum yum sauce goes even better with chicken.
I've used it as a dip for frozen chicken nuggets but it is a great choice as a dip for my healthy chicken tenderloins in the air fryer!
📖 Recipe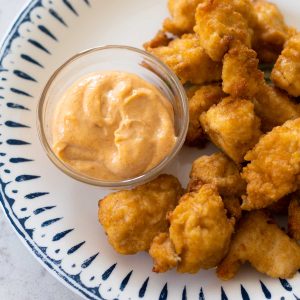 Homemade Yum Yum Sauce
Easy homemade yum yum sauce for dipping shrimp or chicken for an easy dinner or appetizer. You can adjust the spice level and texture to make the perfect dip for your family.
Ingredients
1

tablespoon

butter

melted

1

tablespoon

ketchup

1 ½

teaspoon

garlic salt

1

teaspoon

toasted onion powder

1 ½

teaspoon

paprika

1

cup

mayonnaise

⅛

teaspoon

cayenne pepper

or up to ½ teaspoon for more kick

2

tablespoon

water

optional
Instructions
Melt the butter in a small microwave-safe mixing bowl.

Add the ketchup, garlic salt, onion powder, paprika, and whisk it all together.

Add the mayonnaise and whisk it in. The sauce will be very thick at this point and could be used as a sandwich spread if desired.

Add ⅛ teaspoon cayenne pepper for more flavor, up to ½ teaspoon for a spicier dip.

If you plan to use the sauce as a dip, add 2 tablespoons water to the mix and whisk it together. It will thin the sauce out making it perfect for drizzling and dipping.

Store in an airtight container in the fridge until ready to use. The flavor will be at its best the next day once it has had a chance to marinate.
Save This Recipe to Your Recipe Box
Find this delicious recipe next time you visit by saving it to your very own recipe box on my site. All your favorites stored in one easy place!