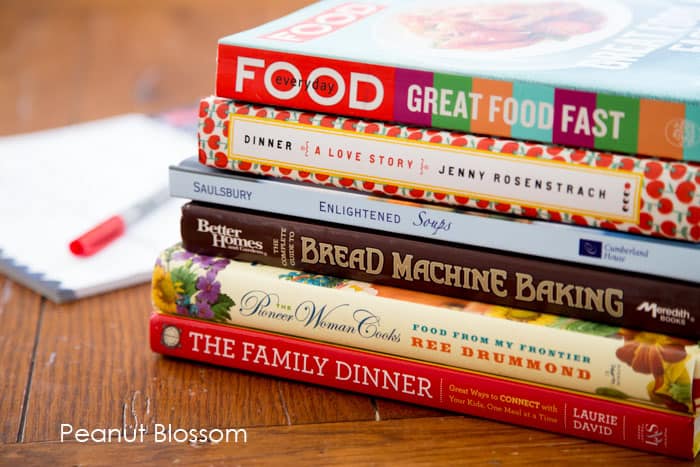 I have a confession to make.
Over the last 6-8 months I have done the absolute bare minimum when it comes to cooking and feeding my family. If you've been a long time Peanut Blossom fan, you may have noticed a remarkable drop in the number of recipe posts I've shared. The few that made it through were only shot because of a food photography challenge deadline.
Between some dietary restrictions and my family's infamous picky eating habits, I lost the will to cook. We've been surviving on a sickly rotation of buttered noodles, macaroni & cheese, pizza, and the one dish we could all agree on, my sticky chicken and rice.
Guys, this is not me. Not only do I love to cook but I firmly believe in the power of family dinner.
The obstacles in front of me felt insurmountable, I felt like I didn't have enough support from the ones eating my food, and it all felt like an unbelievable waste of time, energy, and money.
And then a miracle happened. A little buzzy mosquito named Zina would not stop humming about her new meal plan strategy. She described it a few times and each time I thought, "Yeah yeah, that works for her. That wouldn't work for us."
And then I hit rock bottom. I realized that Little Pea couldn't even name a vegetable when asked what her favorite one was. All the "Make them try it 20 times before you even hope to see them tolerating it" advice came rushing at me and I realized how much I had truly just given up. How would things ever get better if I didn't help them along?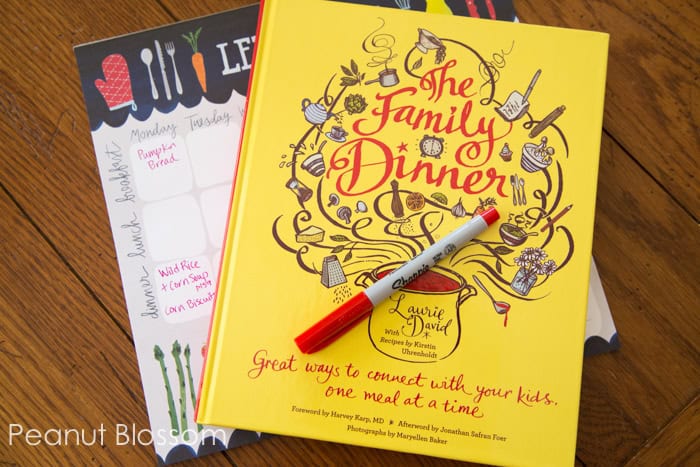 In a fit of frustration, my heart finally opened enough and I finally gave Zina's approach some consideration. I knew she had been inspired by The Family Dinner: Great Ways to Connect with Your Kids, One Meal at a Time which is one of my favorite books along with Dinner: A Love Story. Our end goal was the same: feed our families more healthfully and leave enough time for this to be a special time, not a stressful one.
I am here to tell you, it's an amazing Christmas miracle the difference this has made for my family. The difference it has made for me. I have rediscovered the joy of feeding my family. I am excited to get into the kitchen in the evening. I am back to stocking my freezer.
And best of all?? The girls are eating vegetables! Willingly!!! (Well mostly, anyway.)
And the simple secret?? Assigning general themes to each day of the week for your meal plan.
At first I thought it would be too limiting. Now I see the freedom of exploration it provides!
I worried we'd get sick of the rotations. I didn't realize how open the theme could be.
I couldn't imagine a pattern that would work year round. I'm already planning my warm-weather tweaks!
Last night? My kids ate Shrimp Scampi instead of takeout pizza because I had the ingredients on hand!
Here's how I set up our weekly plan: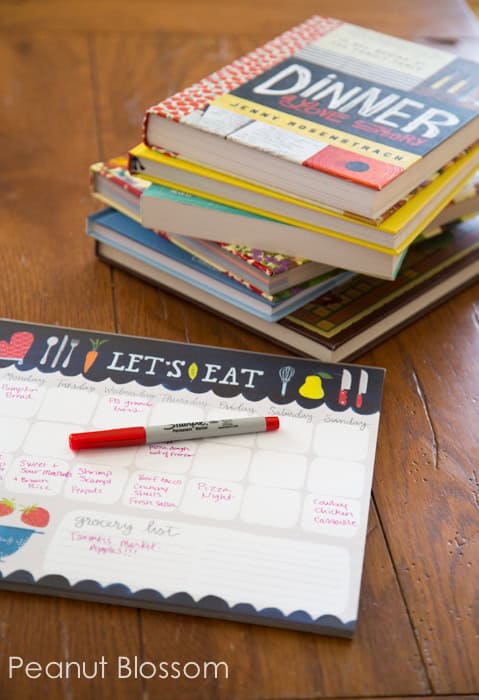 Monday: Soup & Sandwich Night -- I will be experimenting with the dozens of ideas from my favorite cookbook Enlightened Soup and pairing it either with a homemade bread from this bread machine baking book or with fresh baked biscuits from a tube or a grilled sandwich. (When warmer weather comes around this will switch to Salad for Dinner Night and still involve fresh bread.) Please note: these are books I've already had in my library but which were collecting dust!
Tuesday: Crockpot Night -- This is one of our busy after-school days. I will plan ahead in the morning so something hot is waiting for us when we get home.
Wednesday: Noodle Night -- My family could eat pasta every night of the week and be happy. This ensures my kids that at least one night of the week something "easy" and 100% acceptable will be on their plates.
Thursday: International Night -- This was the trickiest thing for me to work into the routine. We love to eat a wide variety of foods: Greek, Chinese, Mexican, Thai. I didn't want to dedicate one whole night to each of those. Yuck. Rather, I look at this night as more of a free for all for our more adventures recipes. I will likely work in those flavors into other nights of the week (Tortilla soup on Mon., Sweet & Sour Meatballs on Tues. in the crockpot) but this is the one night where I'm guaranteed to turn to one of our favorites (chicken gyros for example).
Friday: Family Game Night & Pizza Night -- Depending on my mood that pizza might be homemade, it might be frozen, it might be delivery.
Saturday: Date Night OR Family Movie Party -- This will be our "Popcorn for Dinner" night or we'll eat out at a restaurant (alone or with the kids).
Sunday: Casserole Or Sunday Roast -- With the extra time on Sundays, I can do a traditional roasted meat & potatoes meal or if we're busy having fun, a casserole fresh or from the freezer.
Edited to add: The adorable meal planning pad I have is sold here. I love it because it has a magnetic strip that sticks to the fridge!! But the sheets are tear-off so you could display it any way you like. The bottom half is a perforated tear-off grocery list which is handy too.
Why this approach works:
30 minutes: Once you have your themes, meal planning is just a matter of plugging in the weekly favorites on the appropriate day. I can pick our meals and write the master grocery list in 30 minutes or less. And that's if I'm being extra fussy.
One trip to the grocery store: You've planned the week out, you've done your shopping. You'll have everything you should need for a whole week! I used to practically live at the grocery store!
Frees up mental agony: I keep my menu on the fridge. I never have to guess what's for dinner ever again. I know exactly what prep work to do during small pockets of time throughout the day. Prep a veggie here, mix a marinade there, pull the pizza dough from the freezer for tomorrow.
Opens time for baking: I now have time to make my favorite from-scratch foods because I'm not running to the grocery store all the time! And my fridge is stocked with the right ingredients. I pick one or two things to bake each week and add the ingredients to my one shopping list. I bake them when I have time and am in the mood.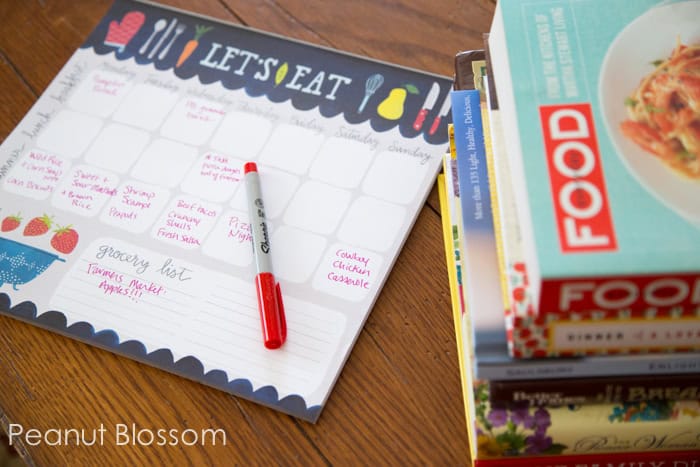 Questions you should ask yourself before you assign your own themes:
1. What are my family's very favorite meals? If I had all the time in the world and the ingredients were handed to me on a platter, what would we enjoy eating? Make a list! Ask your husband and kids to chime in.
2. Now look at that list, do you see any patterns? Are they all chicken? Then it isn't exactly helpful to have a "Chicken Night" because it doesn't narrow your options. You want to consider themes that help you make your weekly decision more easily. It should be broad enough to give you options but narrow enough to shorten that list.
3. Consider your goals. I wanted to start making better use of a few particular cookbooks. They are ones that I love but forget to turn to. Now they are my go-to sources for some of my weekly themes. I also wanted to make better use of the kitchen equipment taking up precious space in my cabinets. By assigning the bread maker and crockpot their own dedicated evenings, they'll start to earn their keep. You can bet the ice cream maker will be getting an evening assigned to it come June.
4. What do you need help remembering? I needed help remembering particular recipe sources and gear. Maybe you need help to remember to eat a new protein? Or to try a new recipe? Use one night of your themes to help be your Post-It note reminder to work towards your goals. Ideas could be: Seafood Night, Make our own takeout, Grilling, Vegetarian or Try a New Veggie Night, Use my baking stones Night, Eat from my Freezer/Pantry Night.
5. Look at your schedule, which night is your busiest? Do you have more than one? Consider time-saving meal themes. For me that was the crockpot but sandwiches, simple pastas, even breakfast for dinner are all themes that would work with a constricted time schedule. Or if you're really that busy, how about picnic night?? Pack foods for a cooler that you're eating in the car on the go so you can avoid the drive thru! Or heck, give yourself a "Drive Thru" night but be intentional about it. It's amazing the guilt it relieves.
6. Which day of the week is best for you to grocery shop? Plan your weekly rotation starting either that day or the next. I meal plan on Sunday, shop on Monday morning, the week starts Monday evening.
7. Check out these other great go-to meal ideas, maybe they'll help prompt a theme for you:
Where you go from here:
I really struggled initially seeing how our personal themes could work. It took listening to Zina mention which meals fit on which theme over the course of a few weeks before I was finally able to customize the plan for us. Every family is different! So to help you out and get you going, I'm doing 2 things:
1. I've created a page on this site where I will document and share which recipes fit under each theme. Consider it my Master Dinner Index. View it here. It's a little barebones right now but I will add to it as the weeks go by.
2. Every Sunday I will also post my weekly plan and then edit the post with what worked and what didn't at the end of the week. View them here.
Join the Conversation:
Looking for more inspiration? Check out these fantastic resources for more meal planning help!
And be sure to follow along over on Facebook at Peanut Blossom & Let's Lasso the Moon.

Liked this post?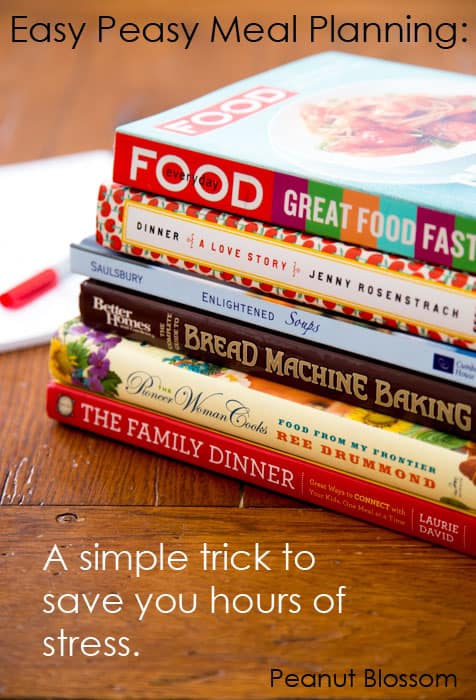 Disclaimer: This post contains affiliate links. View our full disclosure here.