Start your day on the right foot by spending 15 minutes with a morning basket for moms. This self care practice helps reduce stress and increase joy.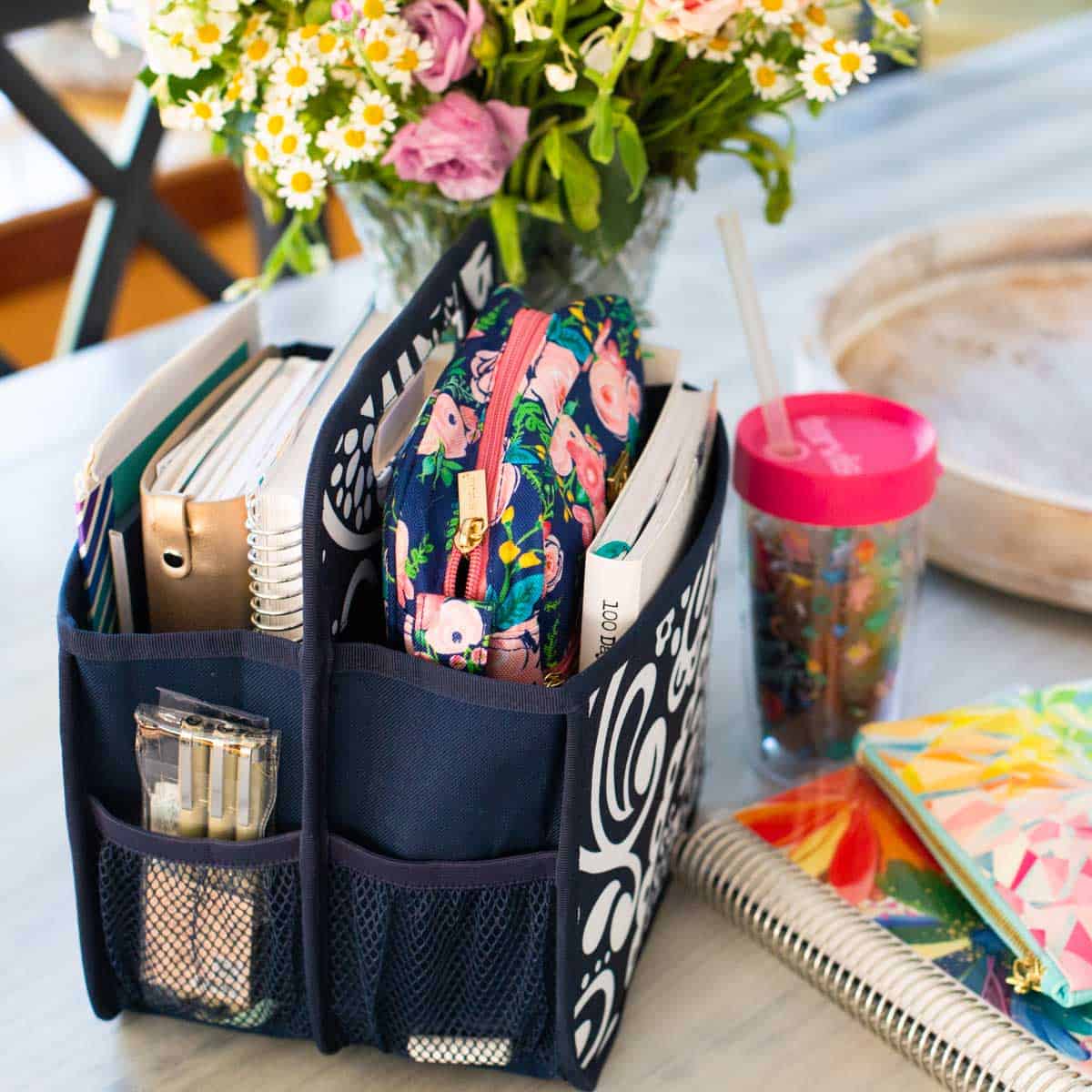 One of my favorite homeschool practices that my daughter and I started during our year of home learning was a daily morning basket time.
Those 15 - 30 minutes were the best part of our whole days and when she returned to a traditional classroom, I missed that experience so much.
As the mom of two young teens, a wife to an awesome guy, and a full-time business owner and writer, all the responsibilities I need to juggle were starting to cause me more stress and anxiety.
In the Spring, I decided that for my own mental health I needed to return to the daily morning basket ritual. Not for homeschool purposes, but for me.
In the 6 months or so since I returned to this habit, I've felt so much happier. Life is still stressful, the morning basket doesn't make that part go away.
But starting each day off with my morning basket materials helps me to have more strength to face whatever life is throwing at me.
I wanted to share this with you and encourage you to find even just 10 minutes in your day to start this new habit.
Jump to:
What is the Purpose of a Morning Basket?
If you're a homeschool family, chances are likely you've been introduced to the amazing Pam Barnhill's morning basket.
The original concept is that a morning basket brings your family together to experience beautiful things together before digging in to the harder school work of the day.
You know who else benefits from starting her day off inspired by beautiful things? BUSY MOMS.
For homeschoolers, this could include poetry, music, art, a morning prayer, or so much more. But I've tweaked this idea to make more sense for my busy mom life.
Supplies You Need
Your Morning Beverage of Choice: I ALWAYS have my favorite iced coffee in my hand when I sit down at the table.
A Table: This could be the dining room or kitchen table like I use, a desk, a coffee table, a lap desk, any hard surface you could write on.
Your Basket: Tips for what to put in your basket are below.
Cheerful Accessories (OPTIONAL): The photos feature a huge bouquet of flowers, it was my birthday this week so that's the arrangement I happened to have on hand. Flowers aren't required, but you're totally worth a $5 grocery store bouquet to keep in your special space. Sometimes I light a candle, sometimes not.
NOTE: I've received a lot of questions about the cute basket in my photos. It's an old caddy from Thirty One that is no longer for sale. You can find some still on Ebay but I did find this cute alternative, too.
What to Put in Your Basket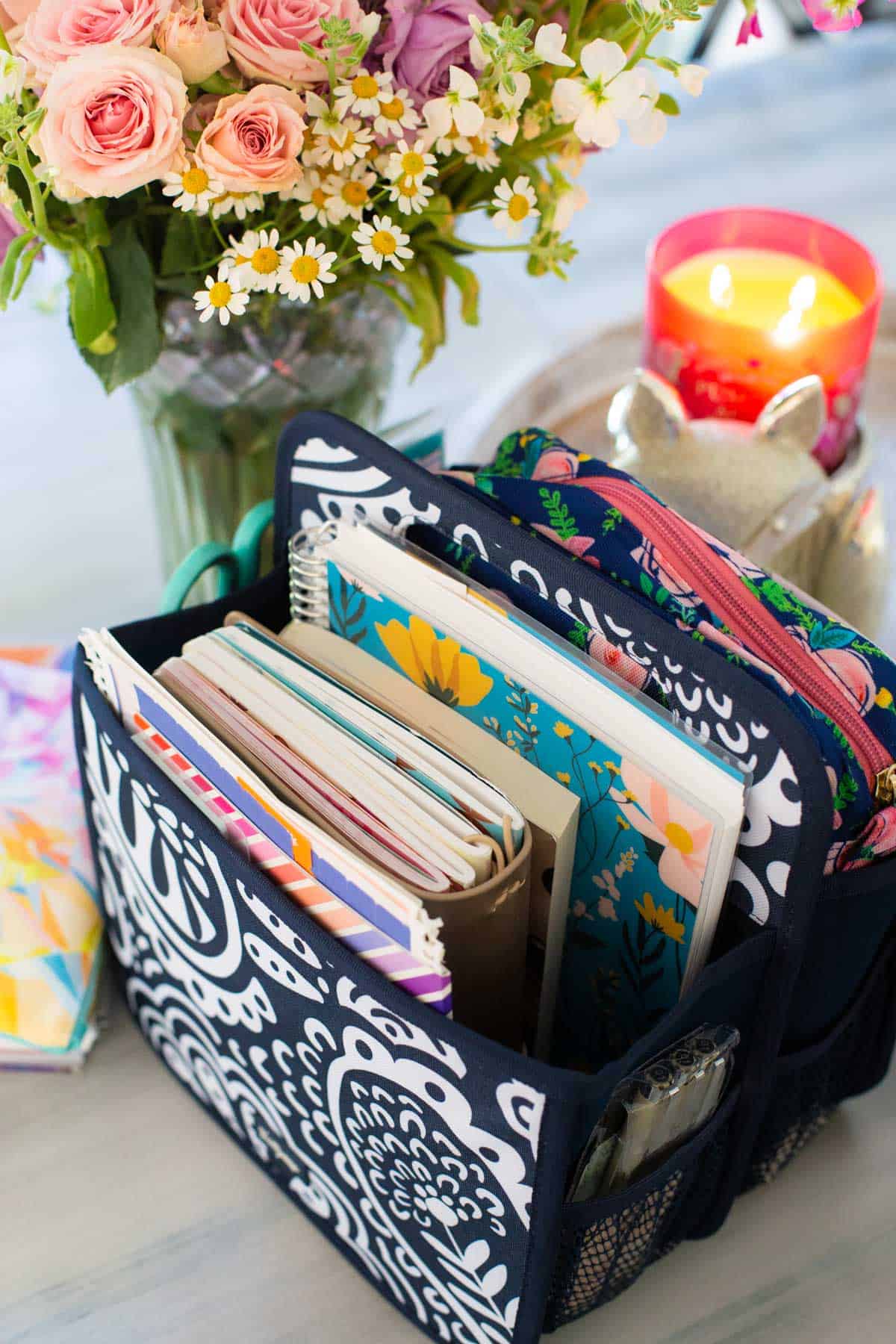 Your morning basket should be filled with things that will help encourage and inspire you in the nitty gritty of your every day life.
What that might look like varies from person to person but to help get you started I'll share what's inside my own basket.
Be sure to find variations that work best for you!
Spiritual Inspiration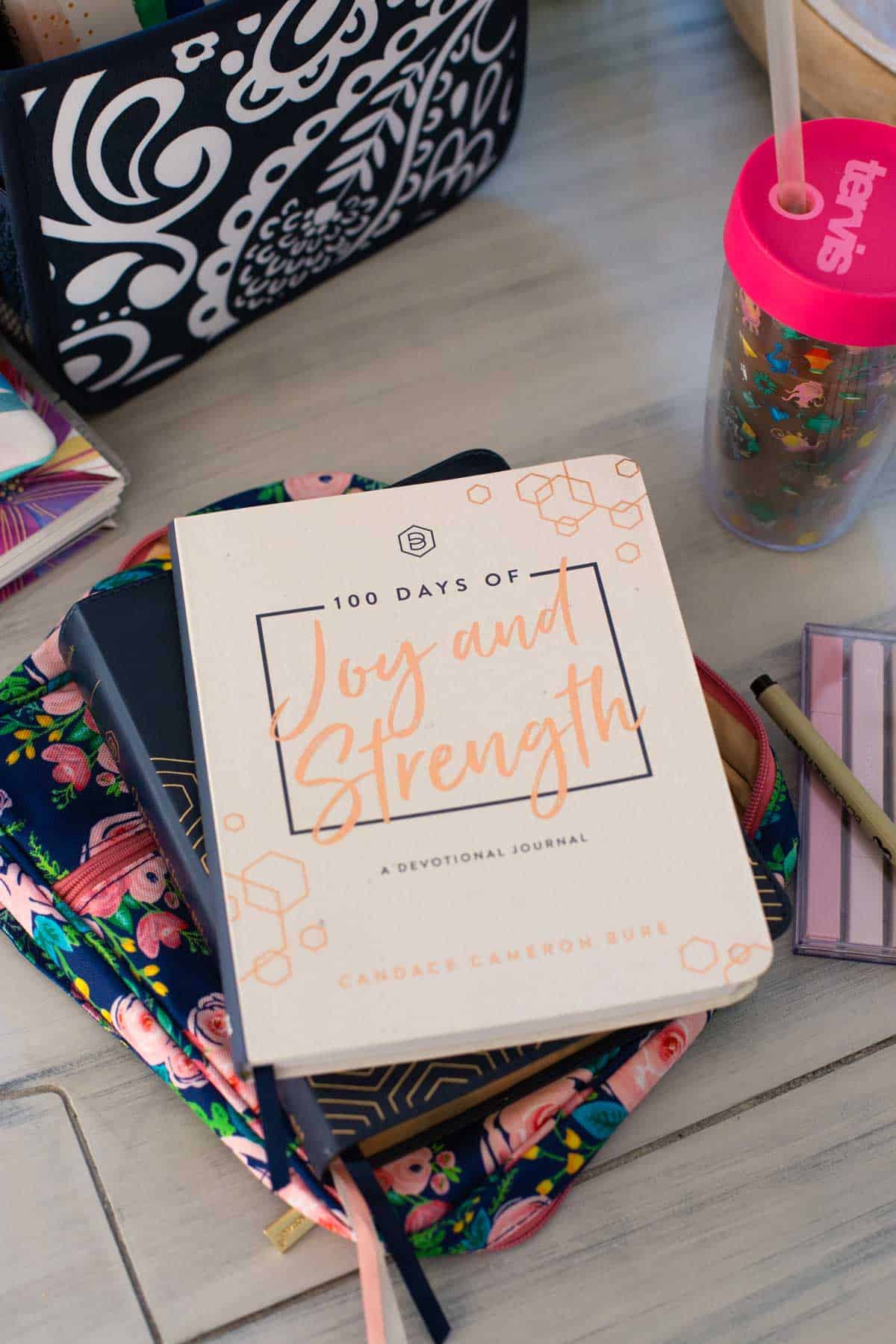 Over the last few years, the world has started to feel more like a dark and scary place to be raising kids.
Parenting my girls is the biggest challenge of my life and the job is too big for anyone to do alone. Even with my husband by my side, I need a greater sense of hope, encouragement, and reassurance.
I start my morning basket time by reading a daily devotional page, looking up the daily passages in my Bible, and copying down by hand any quotes that especially resonate with me.
Your spiritual inspiration could come in the form of:
music you play in the background
a book of poetry or philosophy
any spiritual text that meets your needs
Daily or Weekly Planner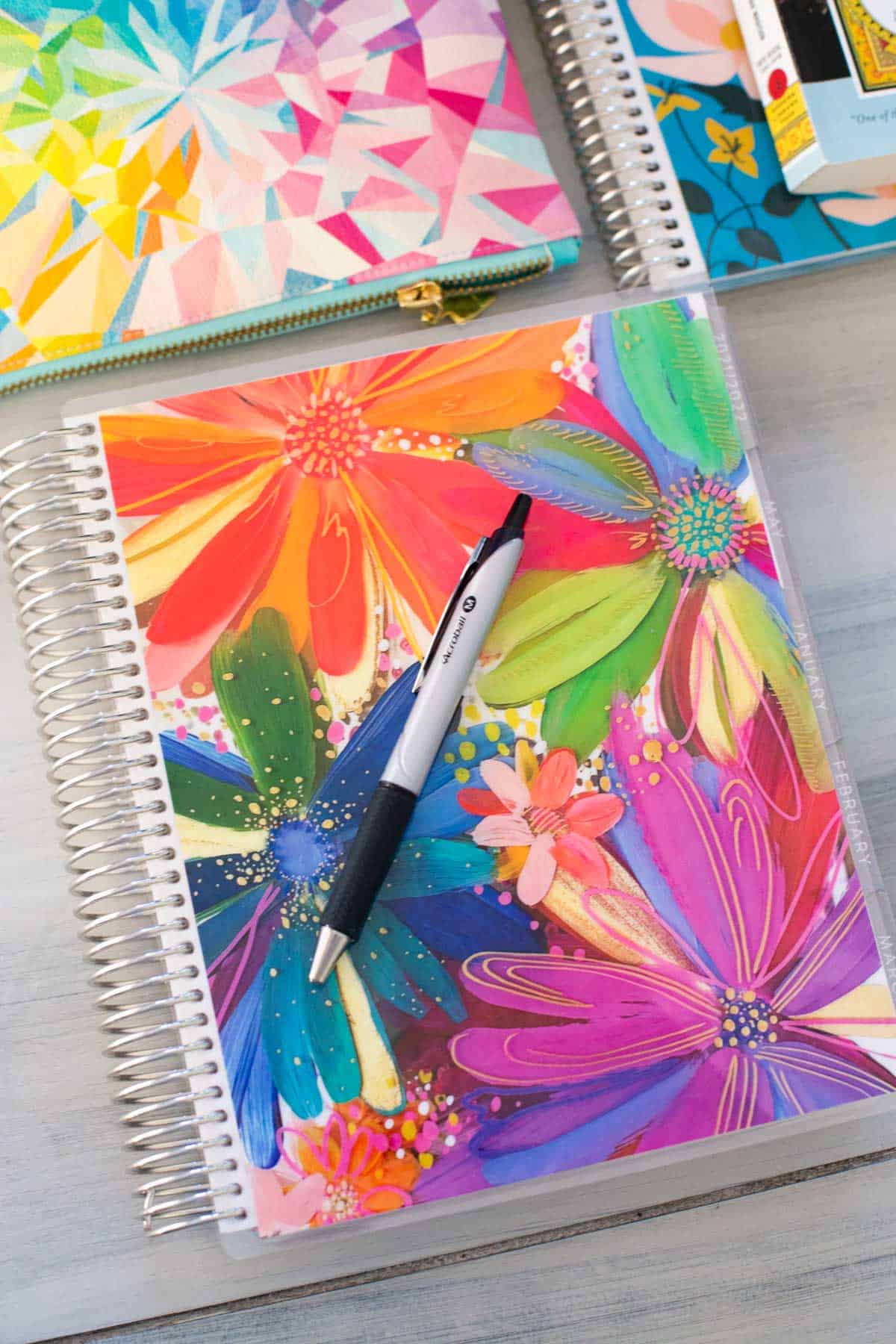 The next thing I do after my bible reading of the day is to open my planner and take a look at the week ahead.
I use my planner for meal planning, scheduling, and marking off time where I want to plan something special for us to do as a family.
Taking the 2 - 3 minutes to refresh my memory on the week at a glance helps me prioritize how I need to spend today.
The biggest change I made to how I use my planner this year is to use the far left column for my "Weekly Wins" list.
Every morning I think about things that went well yesterday and keep track in my left column. It is easy to feel like life is stressful and overwhelming but when you look for the wins, it helps to focus on the positive.
You can save $10 off your first order if you want to try the same planner I've been loving for over a decade.
Gratitude Journal
In addition to my Weekly Wins tracking in my planner, I take 1 minute to write a 1 - 2 sentence entry into a daily gratitude journal.
Studies have shown again and again that people who start their days with gratitude are happier and healthier.
I like keeping a separate gratitude journal, but you could easily find space in your planner to do this habit, too.
I keep my gratitude journal tucked inside the On the Go Folio you see in my basket (the soft tan binder with the little notebooks tucked inside.)
You can see all the petite notebooks that fit in that folio right here.
Meaningful Literature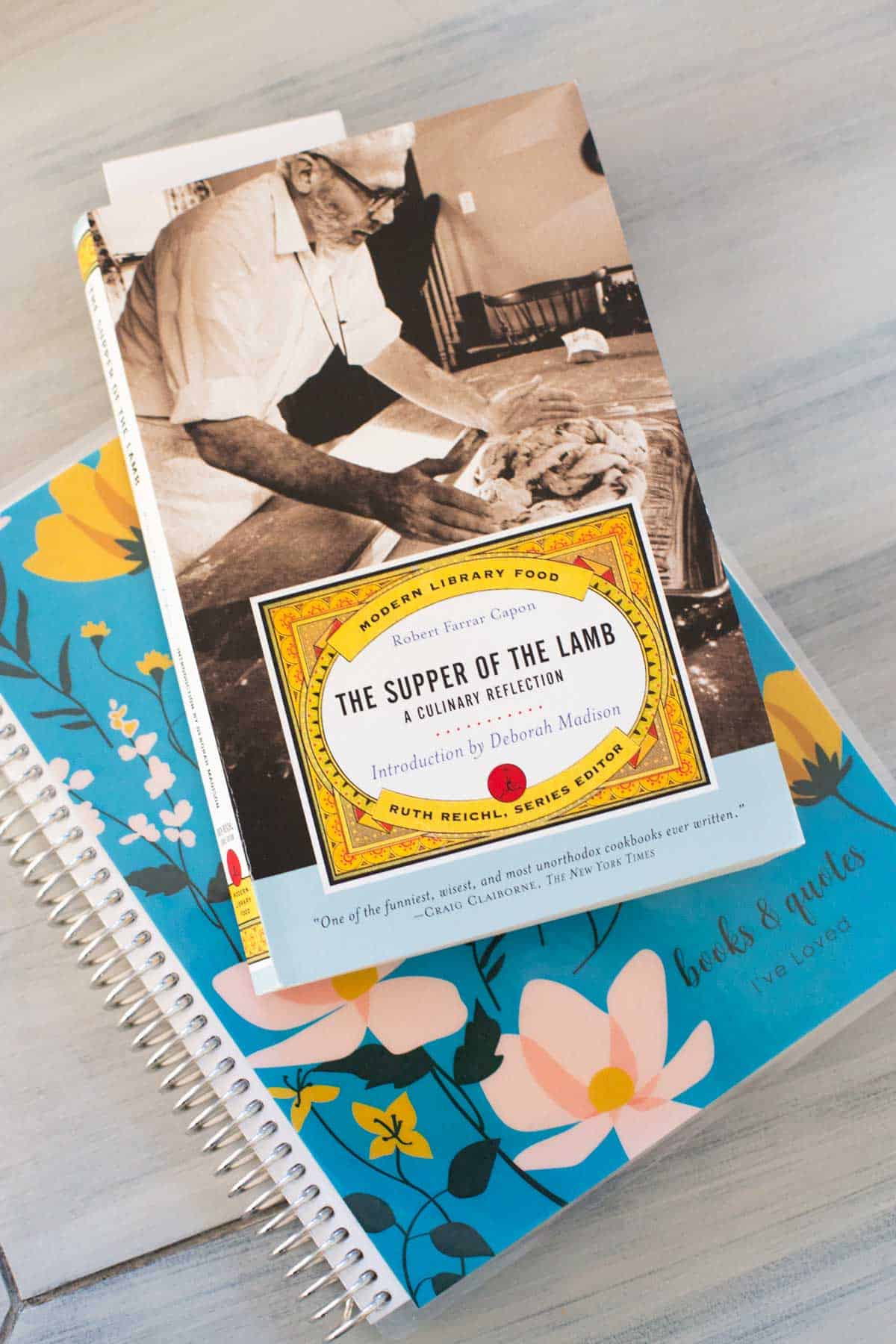 I am the Queen of Lighthearted Fiction. It's not a coincidence that I run the best online book club ever.
At night, I turn to all the fluffy books on my Kindle, but mornings mean I have space for a little bit more.
There is something to be said for spending time with a book that encourages deeper thinking and challenges your brain to hold attention to something for longer than 30 seconds.
I keep a meaningful book in my morning basket along with a commonplace notebook for copying down quotes and passages that stand out as special to me.
I've been working my way through The Supper of the Lamb for months.
I may only have time for a few pages each day because I read slowly and absorb his thoughts rather than speed read or skim.
When I'm done, The Hobbit will likely be my next pick. Any classic novel for adults or even a classic book for kids would be wonderful exposure to beautiful writing.
How to Find the Time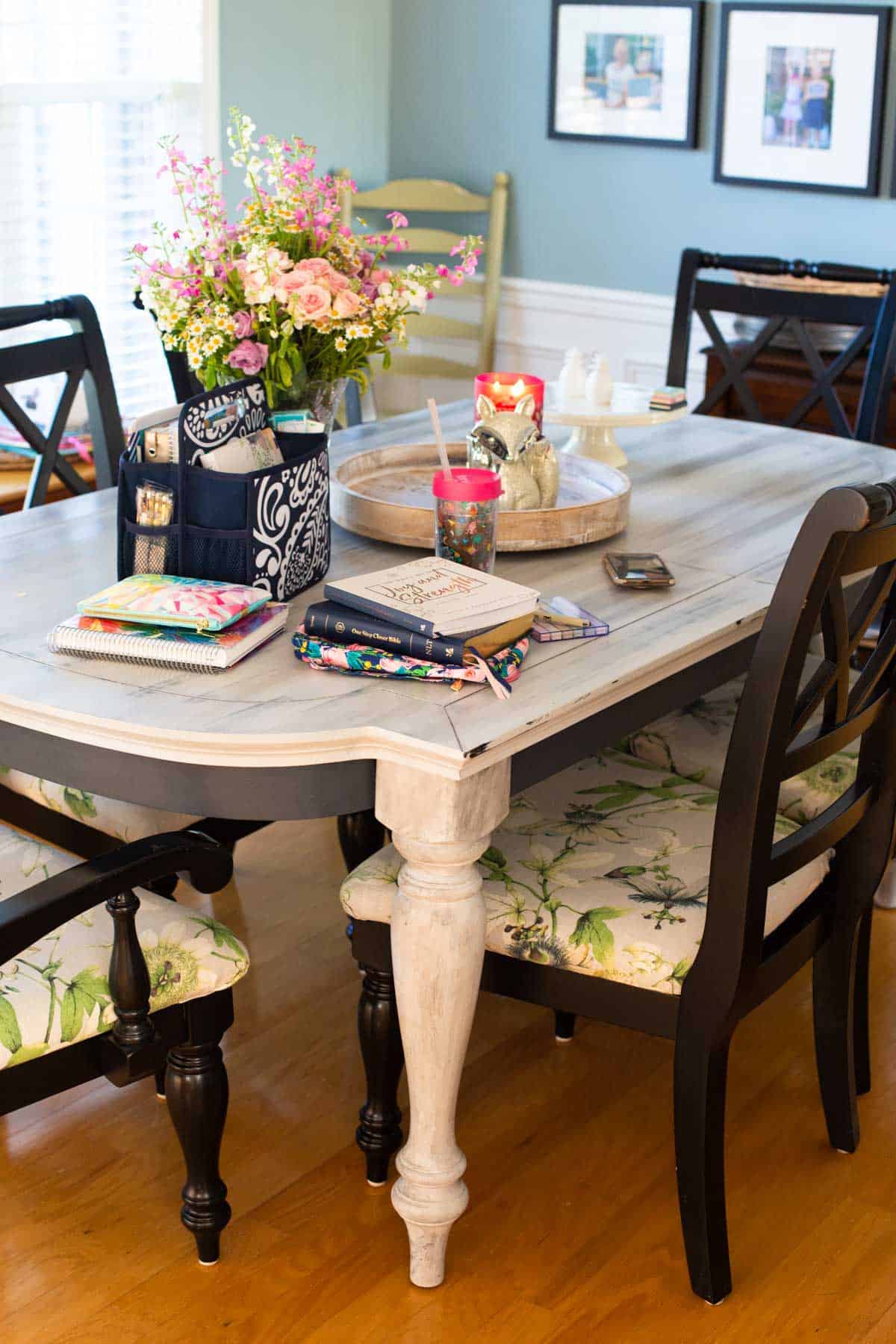 Spending time with my morning basket would have been a lot more challenging when my girls were little.
But now that they are older, during the school year, as soon as they are on the bus I'm ready to sit down for anywhere from 5 - 15 minutes with my morning basket.
Here are my biggest tips for carving out the time you need:
Keep Everything Collected Together: Having a basket or container makes it fast and easy to grab everything I need and jump right in. There's no wasted time in hunting down lost materials.
Stash the Basket in the Same Spot: Don't lose your basket! Pick your spot where you want to spend the time each day and store the basket there. I selfishly chose the prettiest room in the house.
Don't Feel Pressure to Spend a Long Time:
In the 6 months I've been doing this morning ritual, I've discovered one really important thing:
I feel better all day long even when I can only spend FIVE MINUTES with my basket at the start of my day.
That may mean I need to pick and choose which things I do (maybe just a quick Bible passage, a glance at the planner, and 1 line in my gratitude journal.)
But other mornings I have time to sit and relax a little longer and do all the things more slowly.
Fast or slow, the habit helps me feel better for the rest of my day.