Read these classic books for kids with your children and keep them in your home library for your family to be surrounded by amazing children's literature. These kids books make an excellent gift idea.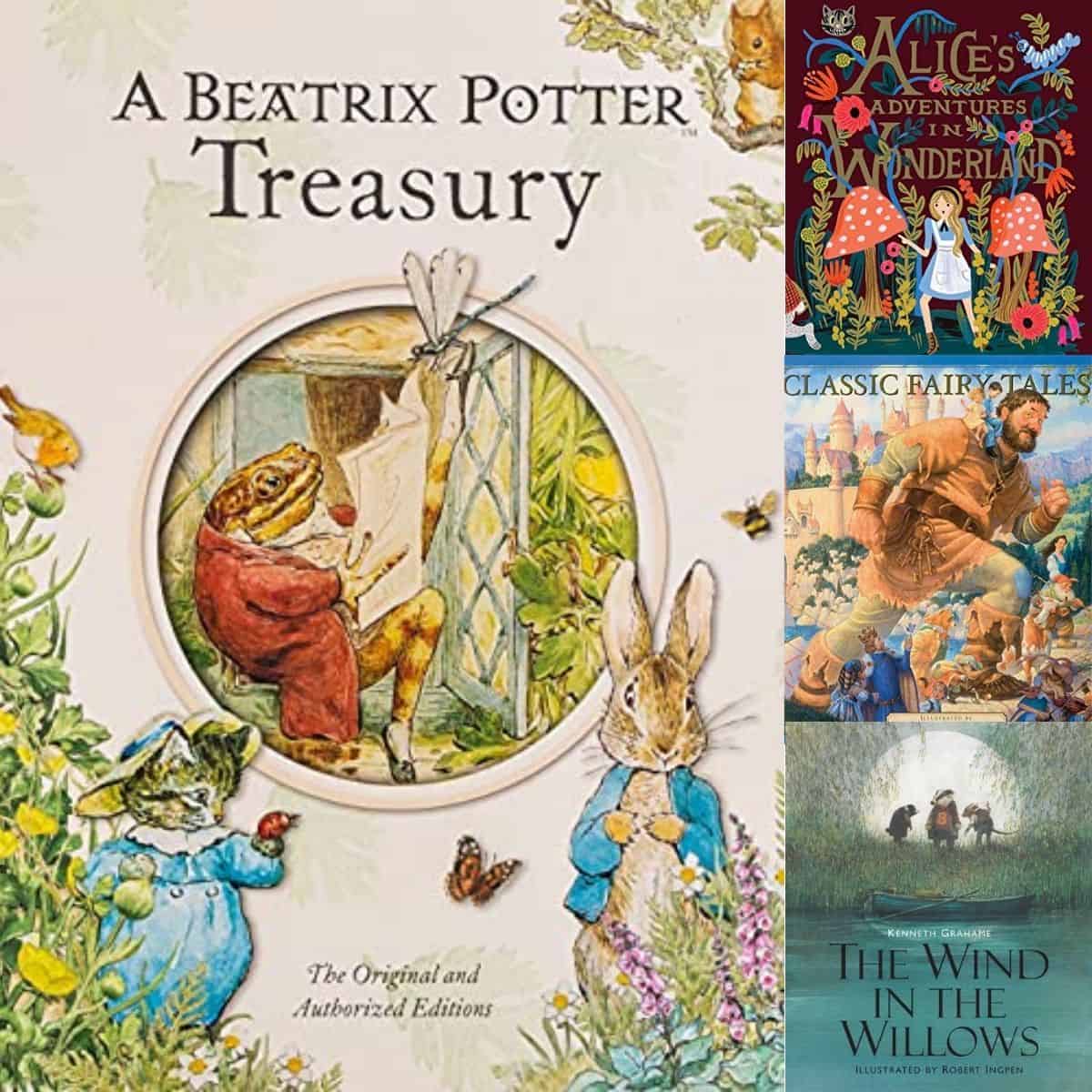 As soon as I knew we were expecting our first baby, my first shopping trip was not to the big box baby store to browse bassinets.
I didn't head to a baby clothing boutique to stock up on booties and bonnets.
I beelined it straight to the local book store to pick up "baby's first book," a copy of Where the Sidewalk Ends by Shel Silverstein.
I knew before we got to the classic children's literature I simply couldn't wait to read with my new baby there'd be years and years of board books and picture books first.
But that didn't stop me.
I knew that the children's home library I wanted to provide for my kids was going to take years of collecting and I wasn't going to waste one single second more.
Jump to:
Why Classic Books Matter
"If you want your children to be intelligent, read them fairy tales. If you want them to be more intelligent, read them more fairy tales." - Albert Einstein
The stories we read as children shape the people we become as adults.
While there are hundreds of amazing modern books for kids sold at school book fairs and book shops, I wanted to expose my kids to the classic children's literature that continues to influence modern pop culture today.
Mary Poppins is not just a Disney musical, it started as a book.
Curious George isn't just a movie, it started as a book.
Harry Potter isn't just a theme park, it started as a book.
In these older classic books, the vocabulary used goes deep and wide and will introduce your kids to hundreds and hundreds of words that will be absorbed into their growing young brains when they are most impressionable.
Why Parents Should Read Classics, Too
"When I was ten, I read fairy tales in secret and would have been ashamed if I had been found doing so. Now that I am fifty, I read them openly. When I became a man I put away childish things, including the fear of childishness and the desire to be very grown up." - C.S. Lewis
Reading these classic books with your kids is a chance for you to relive your own childhood and share your memories with your kids.
Maybe you missed out on some of these books and now get the amazing chance to enjoy them for the first time right alongside your kids.
Either way, I can't think of a better way for parents to bond with young children than reading an amazing book all cuddled up and cozy.
In fact, reading these classic books for kids may actually inspire you to revisit these amazing classics for adults to read again, too.
How to Pick the Perfect Edition
When you're building a children's library of classic books for your home, it is important to remember quality over quantity.
Even if you just have a small handful of these books, take the time to choose editions that are worthy of enjoying again and again and will look lovely on your bookshelf.
I specifically chose these particular editions of the classics to share because:
Beautiful Illustrations: A great way to keep kids engaged with more challenging vocabulary and text is to make sure they have a lovely illustration to absorb as they listen.
Sturdy Build: Kids need to be taught how to tenderly hold a book so that it lasts. Until that lesson is learned, look for books with sturdy covers and heavy papers whenever possible.
Attractive Covers: While we want to teach kids not to judge a book by the cover, the truth is we often still do it even as adults. The covers of each of these classics have been redesigned for modern audiences but retain that element of old world charm.
Classic Books for Kids to Collect
Whether you want to start adding just one book at a time years before your kids are ready to read them or you just want to stock your home library in one fell swoop, these are my favorite children's books from our home library.
I bought copies of these books for every gift giving holiday from birthdays to Christmas for years.
Though my kids are older now, these books aren't going anywhere. I am saving them to give to them when they have kids of their own, or I may just keep them as a "Grandma's library" for when they come visit me!
More Book Gift Ideas