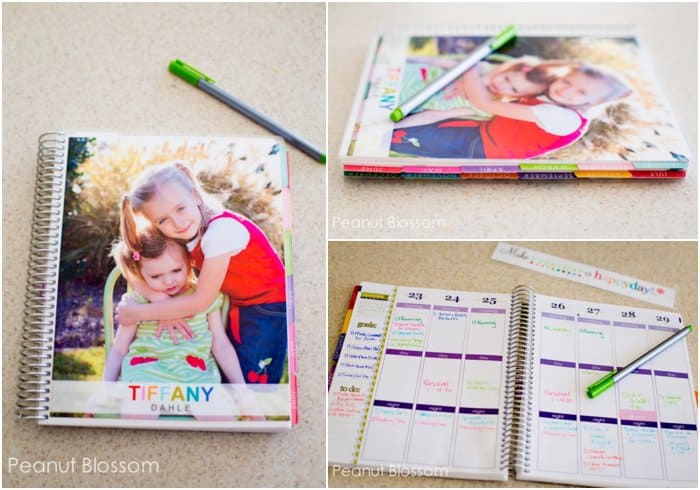 For 2 whole years I have been tracking our daily schedule on what I truly believe is the best day planner available. I was introduced to the Erin Condren planners just as I was finishing up my photography workshop on natural light at the end of 2011. I had a bunch of pretty photos of the girls I loved and when I saw that big fat photo on the cover of the planner I was immediately intrigued.
But after using it day in and out for two years, I can honestly say the photo out front is merely icing on the cake. It's what's in between the covers that really counts!
What you should know about me:
1. I used to be a project manager in my before-kids career. Organization Is MY THING. (Though you'd never know it by looking at my desk.)
2. I am a Franklin-Covey trained office supply addict. I was lucky enough to be sent to an entire workshop on how to use the Franklin Covey system at my first real job out of college. (Thanks American Girl!) Yes, it sounds crazy that there is a day-long workshop out there on how to use a planner, but I can honestly say that was a groundwork building day that has positively affected the rest of my career.
3. I have tried every phone app possible trying to take my planning digital. I'm a paper girl at heart. There is just something amazing about the hand-brain connection and I remember things better if I've written it down. I also love being able to scan the pages as needed. And checkmarks. Oh gosh the satisfaction of physically crossing something off your list, am I right??
So back to the Erin Condren planner. There are a few key details that make this stand out heads above the competition:
1. The Goals and Notes column: Look at the weekly spread on the right. Do you see that long column running down the left side of the page? EEEK! This is a list maker's DREAM. For all those to-do's you want to accomplish in the week but don't have a time-specific need around them, there is a neat and clean space right there!!
This is a new feature of her planner for the coming year. My current version has that split into 2 sections "goals" vs. "to do." I love love love that it is combined into one list. I know I will likely break mine into chunks Mommy vs. Blogger to keep my personal and business separate, but I can do it on an as-needed basis now. Some weeks are more heavily skewed one direction or the other!
There is a similar column on the monthly view tabs which is simply perfect for those longer term to-dos! At the end of each month, I look at that column for the next month and immediately schedule those to-do's to the appropriate week where I think I can manage them.
2. The day is broken into parts: These planners are not time specific. As a mom, I don't have appointments and meetings filling each half hour of the day to record. I love that the page is simply broken into morning, afternoon, evening. I love the big chunks of visual white space.
3. The daily record lines: Eeeek! Another new feature for the new planners. When I found out she had redesigned the planners to include a few lines at the bottom of each day for recording your own personal goal I swear I almost ordered a new planner in July. I have been waiting with baited breath to get my hands on my 2014 planner.
This space will be perfect for your own personal need whether it be fitness, meal planning, a hobby, or you need extra dedicated space for planning a particular project or event. My half-marathon training and meal plan will definitely be going there!!!
4. The personalization and color options: As a photographer and a mom I adore having my girls front and center on the cover of my planner. We have a dedicated photo session each fall for this goal specifically. I like to have their little faces close together because it fits the space better.
But, if you're not a photographer or don't want a photo on the cover, they have several adorable and fashionable options with or without your name. If I didn't want a photo, there are adorable graphic covers to pick from.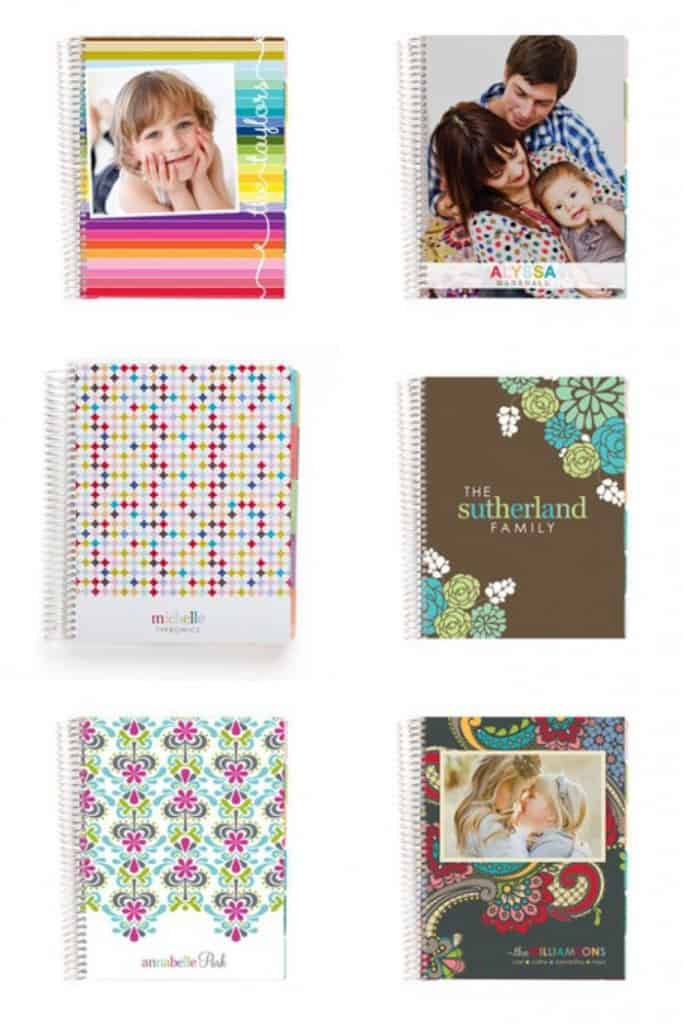 5. The sturdiness: These things are crazy powerhouses. The cover is thickly laminated, the coil is wire that doesn't unravel or hook, the tabs are laminated and hold up fantastically. You see photos of my well used planner at the top of this post and it still looks pristine after 9 months of use.
6. Awesome extras: This post is getting crazy long as it is, but I could probably talk to you all day about how much I have loved my planner. Extra features I'll just mention quickly: blank lined pages at the back for general note taking; a sturdy pocket folder for holding notes, receipts, cards, etc.; a plastic zip close pouch for odds & ends; several sheets of stickers for things like birthdays, date night, game day, doctor appointments and more; and the overall color theme which changes monthly and gives you a sense of season.
And though I'm a Sharpie lover, nothing but these pens will do when writing in my planner. I love that they are brightly colored but don't bleed through the page to the other side!
For mid-year calendar purchases, you are best going directly to the Erin Condren web site but did you know that you can snag your own Erin Condren planner over on Tiny Prints during the fall planner season? Tiny Prints usually has a free shipping offer on orders over $49. So it pays to price hunt between the two sites.
But if you're going to shop directly, you can save yourself $10 by shopping via this link:
GET $10 OFF AT ERIN CONDREN
Which style appeals most to you?

This post contains affiliate links. I was not compensated for this post, Erin Condren has no idea who I am. I just wanted to share a product that I have purchased myself and truly loved for the last 2 years. Can't wait to get my 2014 planner! You may view my full disclosure here.
Liked this post?