Want to do a DIY Bible study for the first time? Not sure where to start? Get all the tips you need for meaningful prayer time as part of a daily reading habit.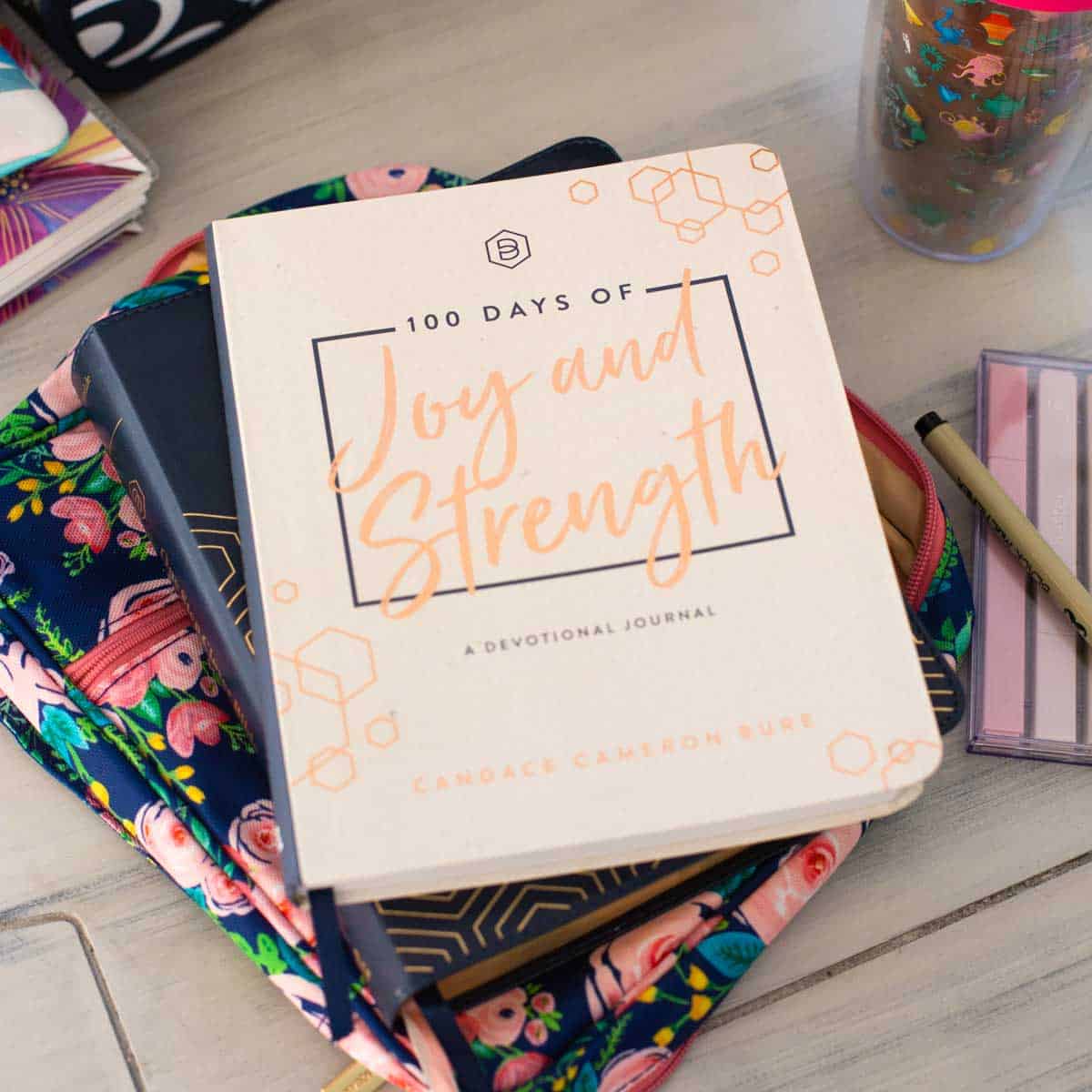 One of the best choices I made last year was to explore the world of Bible study and devotional reading for myself.
Life had started to feel overwhelmingly dark and stressful and my worries over the state of the world were more than I wanted to handle on my own.
I needed a source of encouragement, hope, and peace. Something greater than myself.
As a lifelong Catholic, naturally I turned to the comfort of God and the Bible, but a daily Bible study was not something I had ever tried before.
After gathering the tools I needed and spending nearly a year with this new habit, I'm pleased to report that it has made an overwhelmingly positive impact on my life.
If you're looking for hope and encouragement and aren't sure where to start, this guide is written just for you.
Jump to:
Supplies You Need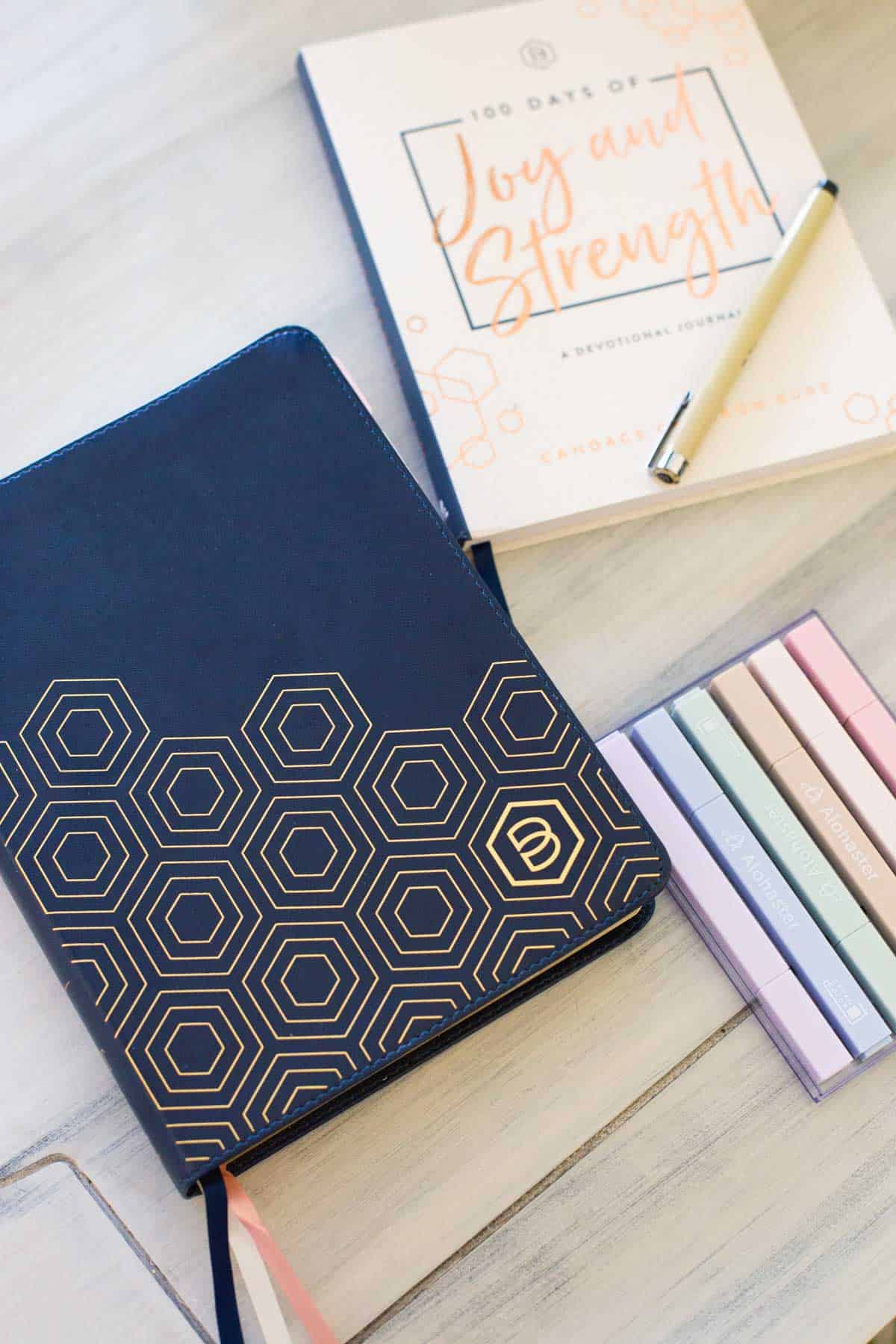 Buy the right Bible for you: There are several editions and translations available, find the one that matches your faith. Need a good place to start? Check out my supply list at the bottom of this post.
Buy Bible tabs: These simple tabs are added like stickers to the actual Bible chapter opener pages so you can easily navigate through the books of the Bible to find the quote you need.
Get highlighters & fine line pen: I love to highlight the entire passage I'm reading for the day but then use a fine line pen to mark the specific word or phrase that speaks to me most.
Get a special notebook or mini journal: When a Bible quote really speaks to my heart, I like to copy the passage over into my daily journal or quote journal. This lets me take advantage of that hand-to-brain connection and really remember the quote for myself.
Buy a devotional guide on a theme that speaks to you: You could just read the Bible all on your own, but this ancient text is best understood with just a little help. Find a devotional on a theme you are interested in and use it to narrow down the relevant passages for what you're trying to study.
See the full shopping list at the bottom of this post if you'd like to see the items I purchased for myself.
Set Up Your Bible for Easy Reading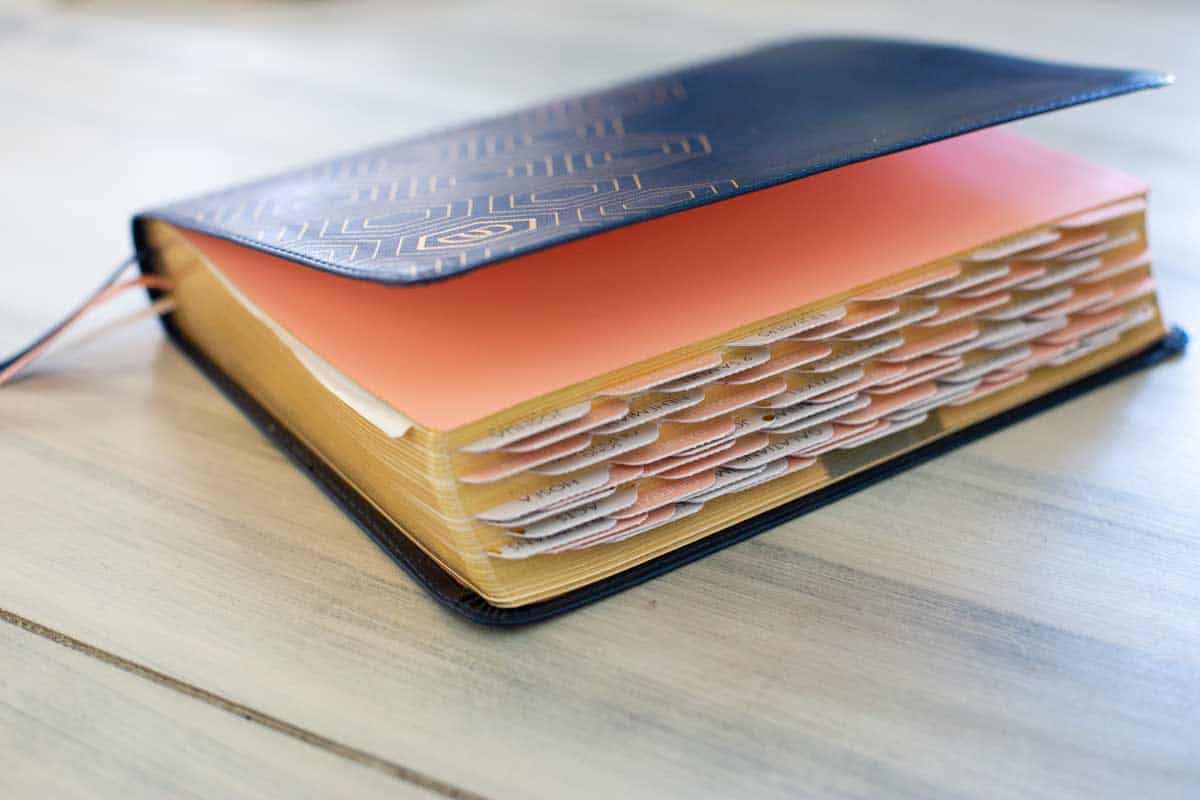 The Bible tab stickers make my daily reading so much easier.
Yes, you could just flip through the pages or use ribbons to mark certain books, but the tabs really help when I'm jumping between the Old and New Testaments to find the quotes my devotional has me studying for the day.
The tabs are super easy to install but you'll definitely want to watch this short tutorial before you begin:
Tips for Daily Bible Reading
Now that you have everything set up and your Bible and devotional ready to go, the actual bible study is a simple way to incorporate prayer time into your everyday schedule.
Each morning, I take time to:
Read the Daily Devotional Introduction: This is usually just a short few paragraphs but some devotionals have longer, more thoughtful intros.
Look up the Quote in the Original Source in the Bible: The Bible quotes are often printed in full in the devotional, but I enjoy looking it up at the source so I can read it within context.
Read the Book Intro: If you haven't read anything from this particular book of the Bible yet, read the introduction so you have context on the author or history.
Highlight and Underline: Highlight the entire quote of the day, underline the part that speaks most to you with a finepoint pen.
Read the Call-outs: If your Bible edition features call-out boxes on the page, take a moment to read them. Especially ones that may be on topic from the passage.
Copy the Quote By Hand: For truly meaningful passages, copy them by hand into a special notebook. Source the book and chapter and possibly the date you read it. This would be a great spot to journal your thoughts about the passage if you don't feel comfortable writing directly in your Bible.
Say the Final Prayer: Most devotionals end with a short and simple prayer. You can speak it out loud or just in your head.
How to Enjoy Your Bible Reading
Spending time with the Word is not meant to feel like a chore. In fact, it can be the nicest way to spend your morning.
Before I sit down to read, I take a few minutes to get things in order:
Light a Candle: I keep a favorite candle near my morning basket and enjoy the glow for the 10 minutes I sit each day.
Play Music: I personally prefer quiet, but music is a wonderful way to worship. Play whatever you enjoy and can read to.
Find a Sunny Window Spot or a Quiet Room: I love my dining room table for this because our front window lets the sunshine stream in.
Bring Your Breakfast and Coffee: I always have my favorite iced coffee and sometimes a light breakfast.
Wear Noise Cancelling Headphones: Got a busy household filled with distracting noise?? Pop on a pair of noise cancelling headphones and find your calm in the chaos.
If You Can't Beat Them, Join Them: It's a well known fact that as soon as a busy mom tries to do something for herself, she becomes an instant magnet to her children. Be prepared with a Children's Bible or picture books for the kids to use while you do your own reading and make it a side-by-side event.