These are the best devotionals for moms who are busy raising their families and running their households. Use them for daily encouragement, even if just for a few minutes at a time.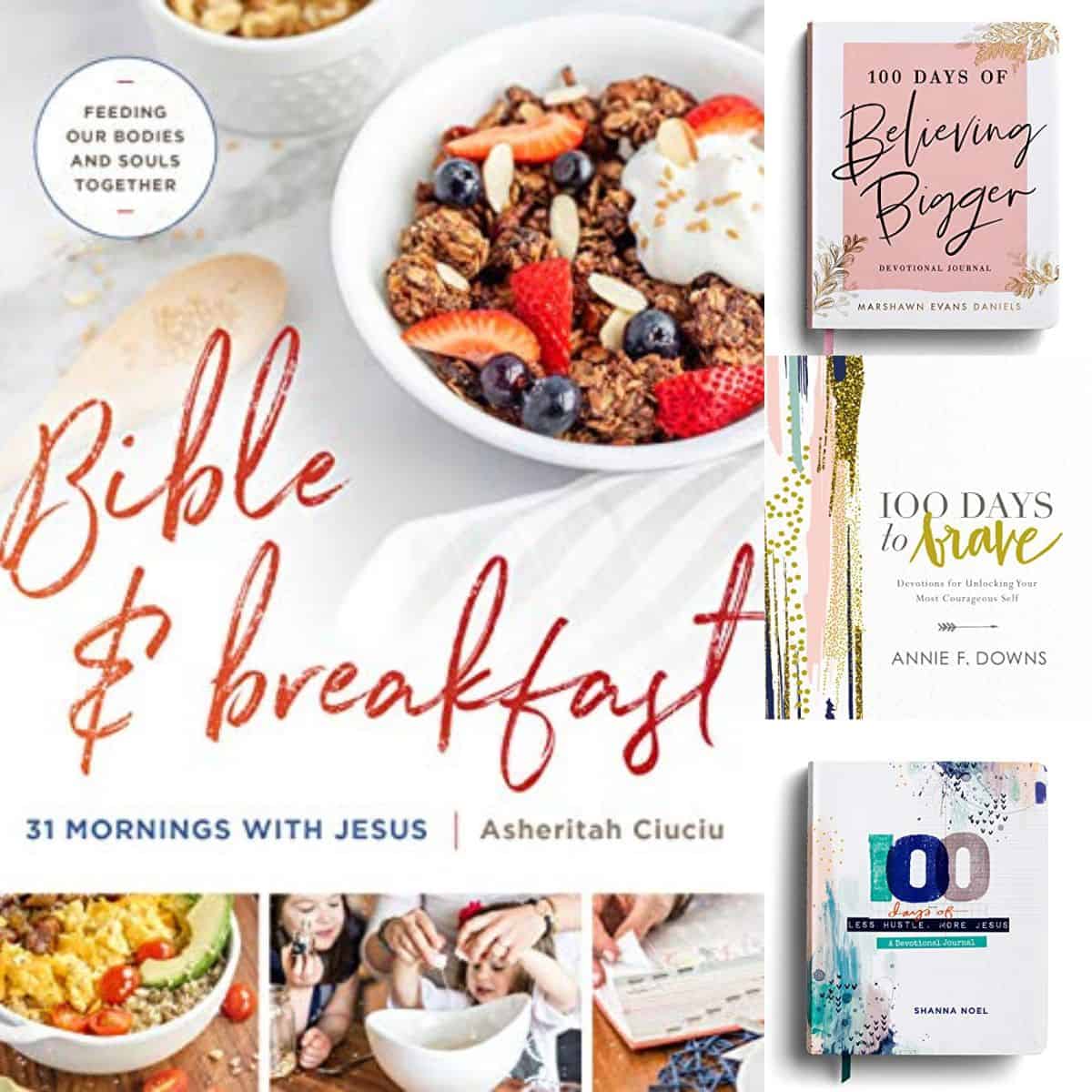 One of the best decisions I made last year was to explore the world of Bible reading and using a devotional as a guide for my own personal Bible study.
This wasn't a personal habit that was every truly encouraged as I grew up, but now as a grown-up, the world had started to feel darker and more stressful.
I longed for a source of hope and encouragement.
So I went hunting for a tool to help me dig in on my first-ever Bible study and in the process unearthed a treasure trove of resources that have completely changed my daily morning habits for the better.
After almost a year of this practice, I feel lighter, happier, and stronger to face the challenges this world throws at families.
What is a Devotional or Devotional Journal?
Having never used one before, I wasn't quite sure what to expect from my first devotional journal.
A devotional is a daily prayer tool that helps make reading the Bible a more personalized experience.
You can find devotionals on practically every subject under the sun.
Within the book, you'll find daily passages that incorporate an introduction to the day's theme along with 1 - 5 Bible passages that relate to that theme.
Some devotionals include journaling sections, some have longer introductions than others, most end the daily passage with a short prayer.
How to Choose a Good Devotional for Moms
One quick little search for "bible study" on the internet and I quickly became overwhelmed with the deeply academic studies that are available.
That wasn't what I was looking for and it was definitely not what I needed.
Rather, I wanted someone to hold my hand through my first Bible study and help make the holy text more relatable to my own life and needs.
I wanted a good devotional written for moms that fit this description:
Easy Going Voice: I wanted the author to be relatable and talk to me like a friend.
Not Condescending: As a first-timer, I desperately wanted to be encouraged to make this a daily habit and not be made to feel guilty for being new.
Short and Digestible: Mom life is BUSY. I didn't have time for long chapters every day. I wanted quick to read passages with targeted messages that I could think about during the day. If I wanted a deeply thought out sermon, I'd attend Mass.
Relatable: I wanted to understand the Bible's messages and how they applied to the season of life I'm currently in as a busy wife and mom of teen girls.
Positive, Encouraging, and Hopeful: I wanted particularly to focus on messages of love, patience, kindness, and hope. If I am going to be the change I want to see in the world, I wanted the encouragement and teachings to help me on that path.
How to Use a Daily Devotional
I use my devotional as part of my daily morning basket habit.
I keep my current devotional along with my Bible and some simple writing tools all gathered together in a pretty spot I can grab every day.
You could also use it as an evening devotional and keep it near bed so it is the last thing you do at night before sleeping.
You can get all my tips for doing your first DIY Bible study here.
Fun Alternatives to Traditional Devotionals
But if you're looking for a way to incorporate more spirituality into your every day life, you may also enjoy reading books from these lists: