These Catholic cookbooks are just the thing for finding the perfect recipe for your next family feast or for feeding your friends and neighbors. Give one as a thoughtful wedding shower or Christmas gift.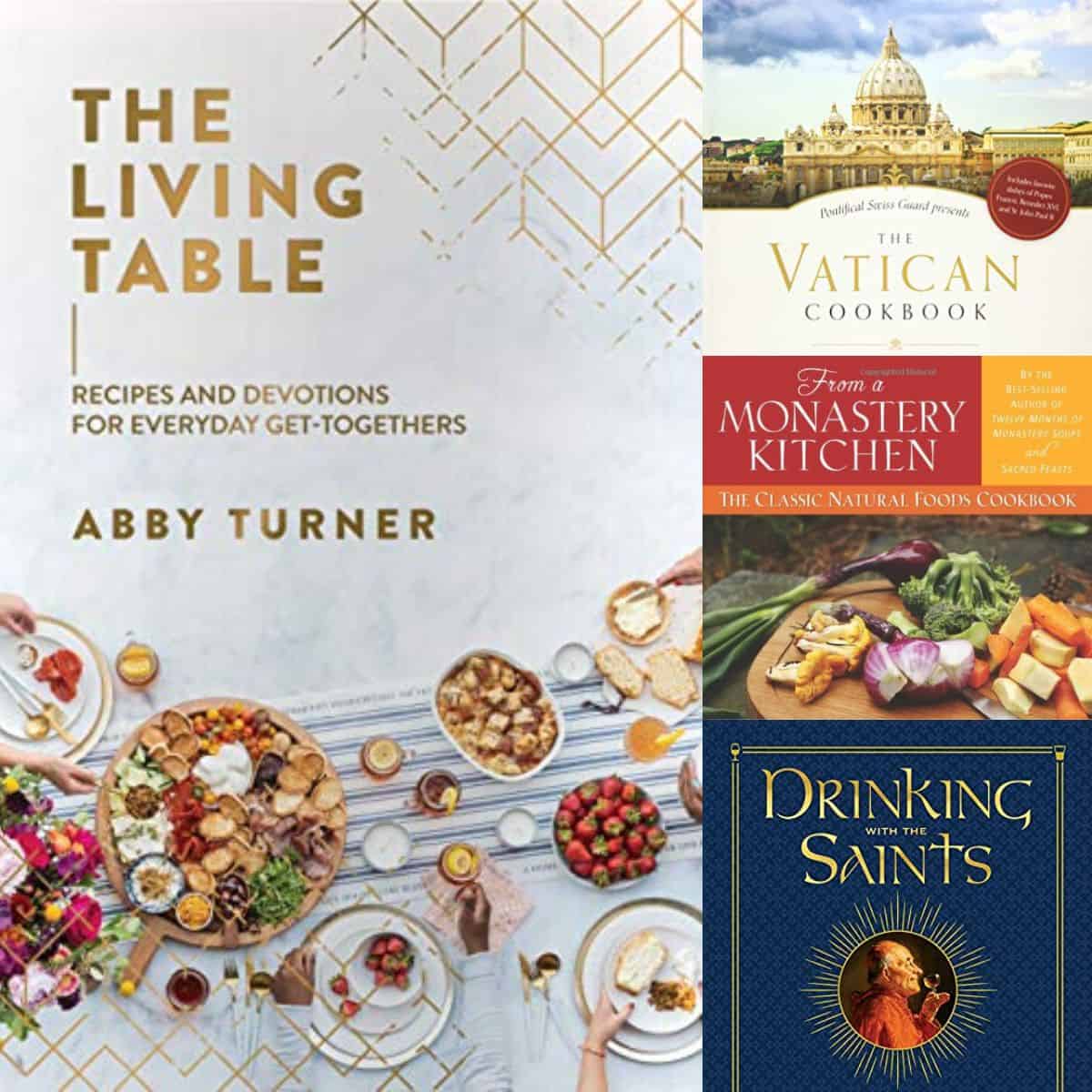 I'm a huge cookbook fan. I should be, I wrote three cookbooks myself.
The joy of reading through a cleverly themed cookbook never gets old for me and I'm always on the hunt for fresh inspiration.
I stumbled across a cookbook called "Cooking with the Saints" when browsing at a book store the other day and discovered an entirely new category of cookbooks I hadn't seen before.
The idea of a Catholic cookbook is so intriguing to me because traditions involving food are so integral to how our family celebrates our faith.
I think these creative and clever cookbooks for Catholics would make an amazing wedding shower gift along with a set of pretty wine glasses.
They'd also make a lovely Christmas gift or even a Mother's Day or Father's Day gift if you're looking for something unique.
Why Buy a Catholic Cookbook?
Generally speaking, outside of choosing meatless meals for Lent and periods of fasting, Catholics don't have specific dietary restrictions.
So why choose a cookbook specifically for a Catholic audience?
Because these cookbooks are filled with more than just recipes. You will find fun bits of inspiration that includes:
Pictures of the Vatican
Stories of the Saints
Tips for Holiday Entertaining
Fasting Tips for Lent
Biblical Inspiration for Taking Joy in the Feast
These cookbooks will help if you want more inspiration for:
Honoring Sunday Dinner
The big family Sunday dinner is a tradition that feels like it is fading in our busy modern world.
Whether you gather together with your extended family or a chosen family of your making, what a wonderful way to honor Sunday buy focusing on what matters most: your faith and your family.
Love Your Neighbor
My heart was so happy to discover so many Catholic books about entertaining friends and neighbors.
We are all called to serve in different ways, but showing my love through food is one of my particular callings. These cookbooks are wonderful encouragement that this is a God-approved way to share my talents.
Cooking for Feast Days
There are so many opportunities throughout the Catholic calendar year for us to celebrate a feast day.
Want to have a little more fun in the coming year? Pick a new feast day to celebrate as a family or throw a little impromptu dinner party with friends.
Inviting someone to your table is such a meaningful way to be an example of God's love.
More Favorite Cookbooks