Need an easy dinner idea that uses pantry staples during an emergency quarantine? These easy pasta recipes are perfect because you likely have everything need in your pantry right now.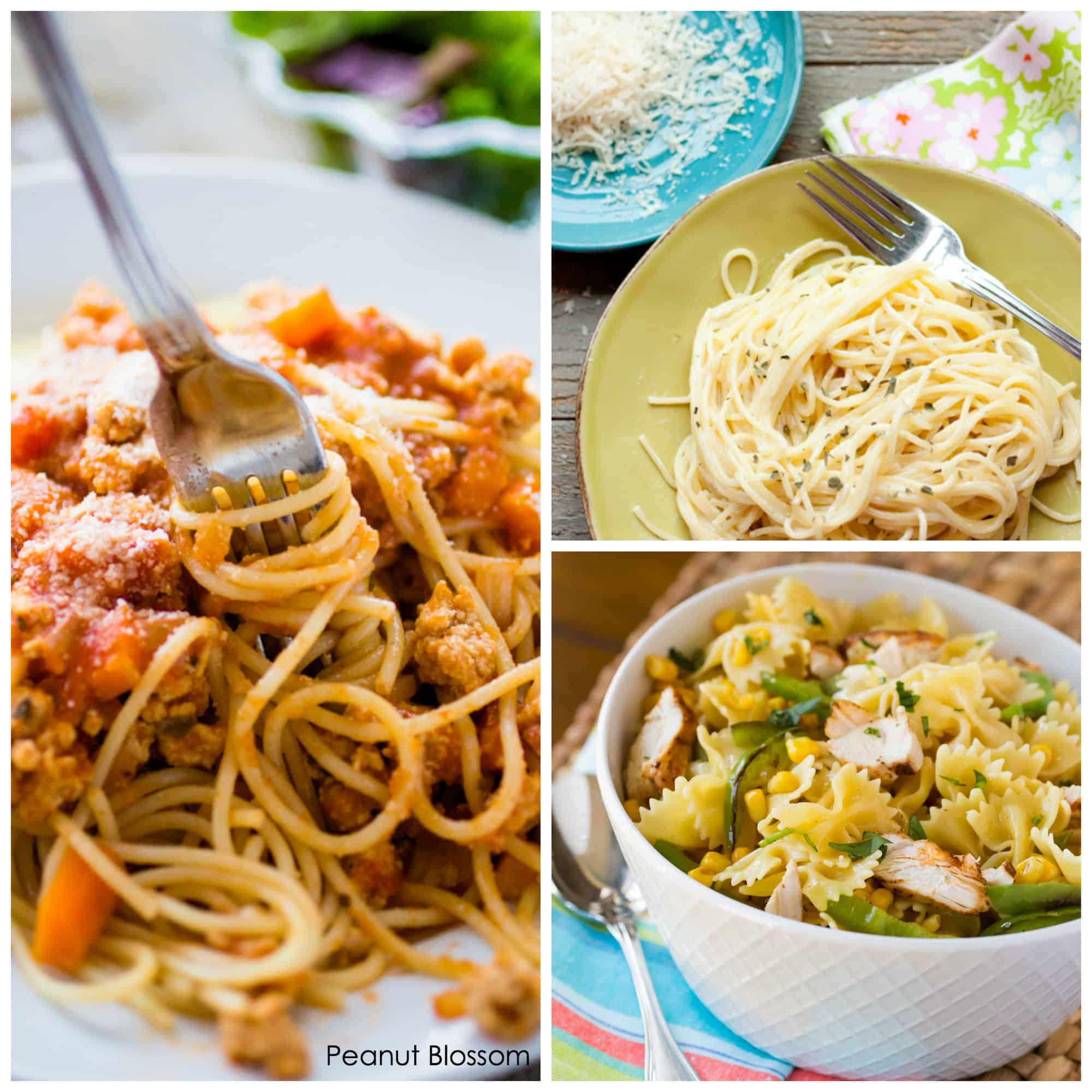 My kids, and probably every other kid on the planet, could likely survive on buttered noodles for dinner every single night.
Unfortunately, that isn't the healthiest approach to meal planning. Right??
Pasta is wonderful for an emergency pantry dinner because it lasts so long. If you need an easy pasta recipe to help you get a main meal or side dish on the table, these are our favorite ways to prepare pasta using pantry ingredients you likely already have on hand.
As you restock your pantry, always be sure to grab a variety of pasta shapes. It's an easy way to add a new twist to a recipe you've made countless times.
My girls are especially fond of:
farfalle
penne
medium shells
linguine
Pasta is easy enough for the kids to cook, too. Get them in the kitchen with you!
Until then, be sure to bookmark this post to help get you through the next few months.

Easy pasta recipes using pantry ingredients you have on hand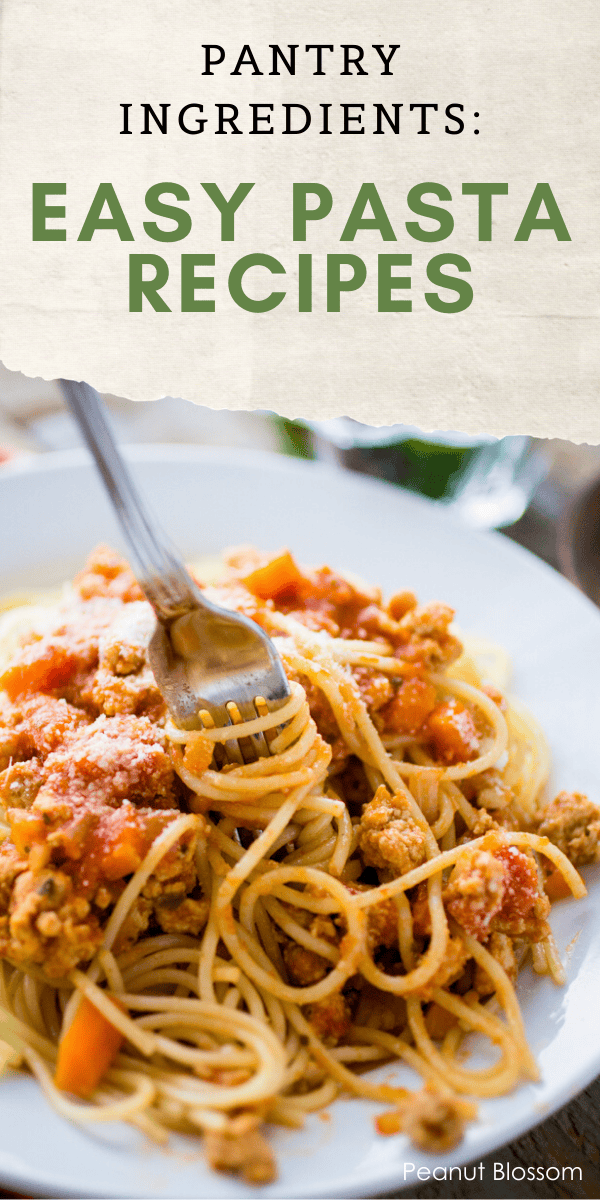 1. Buttered noodles:
This kid-friendly classic is likely the easiest to make. Add butter and a sprinkle of garlic salt for a super-simple dish. If you're out of butter, you can substitute olive oil for a heart-healthier option.
You can step it up a notch by adding chicken or veggies right to the dish or keep it simple as a side.
2. Lemon butter with chives or dried herbs:
If you have a lemon and/or a bottle of grated parmesan, you can make my favorite spin on buttered noodles. Ideally, you'd add fresh chives, but if you're out of those a simple sprinkle of whatever dried herbs you love would work. Basil, thyme, or parsley would be perfect.
You can read about how I use my favorite butter sauce over Costco ravioli here.
3. Pasta with jarred tomato sauce:
If you have a jar of prepared tomato sauce, you're in business. If you don't, you can use a can of plain tomato sauce and dress it up with garlic salt and a sprinkle of an Italian seasoning blend (or basil, oregano, and parsley if you need to mix your own.)
You can add:
frozen meatballs
smoked sausage
ground meat (turkey, beef, pork, or sausage)
whatever extra veggies you might have (zucchini, peppers, onions, etc.)
Once the farmer's markets start to open, you can also roast your own tomatoes and puree them into a homemade tomato sauce that freezes really well. Get my favorite roasted tomato sauce recipe here.
4. Olive oil with roasted veggies:
Similar to buttered noodles, you can just mix up some olive oil and seasonings from your pantry. Roast your favorite veggies in a drizzle of olive oil and pile them up on top.
5. Pesto pasta:
We love the prepared pesto from Costco, but you can use whatever you can find or make your own from scratch if you have a lot of fresh basil handy.
After I cook the pasta, I drain it and then:
Add a few tablespoons of olive oil to the pot.
Add the pasta and toss to coat in the oil.
Add a heaping spoonful of pesto and stir it around.
This prevents the pesto from burning on the bottom of the pot before you get a chance to toss it with the pasta.
We love to serve it with roasted cherry tomatoes and shredded chicken.
6. Alfredo pasta:
We absolutely love this homemade Alfredo sauce made with cream cheese and milk. You can eat the Alfredo pasta on it's own or:
add ham and peas
add shredded chicken and broccoli
Get the Alfredo recipe here.
7. Mac & cheese:
Homemade macaroni and cheese is so much easier to make than you think. You can keep a few boxes of Kraft or Annie's in the pantry, but if you have a box of shells you can make your own with shredded cheese, Velveeta, and some butter & milk.
Our favorite recipe is in The Ultimate Kids' Cookbook and is easy enough for your kids to make on their own.
8. Sweet and spicy peanut butter noodles:
If you've got soy sauce and peanut butter in the pantry, you should be able to make this fun Chinese food version of noodles. It is a nice break from the Italian-flavored pasta dishes and is perfect for when you're craving take-out.
You can serve it as a side dish or top it with cooked chicken or shrimp for an easy dinner.
Get the peanut butter noodles recipe here.
Looking for more easy dinner recipes to get you through an emergency quarantine?