These easy shrimp recipes are perfect for getting dinner done quickly on a busy night. Learn how to cook shrimp in just minutes and then use it in dozens of easy shrimp dinner ideas you can whip together in no time.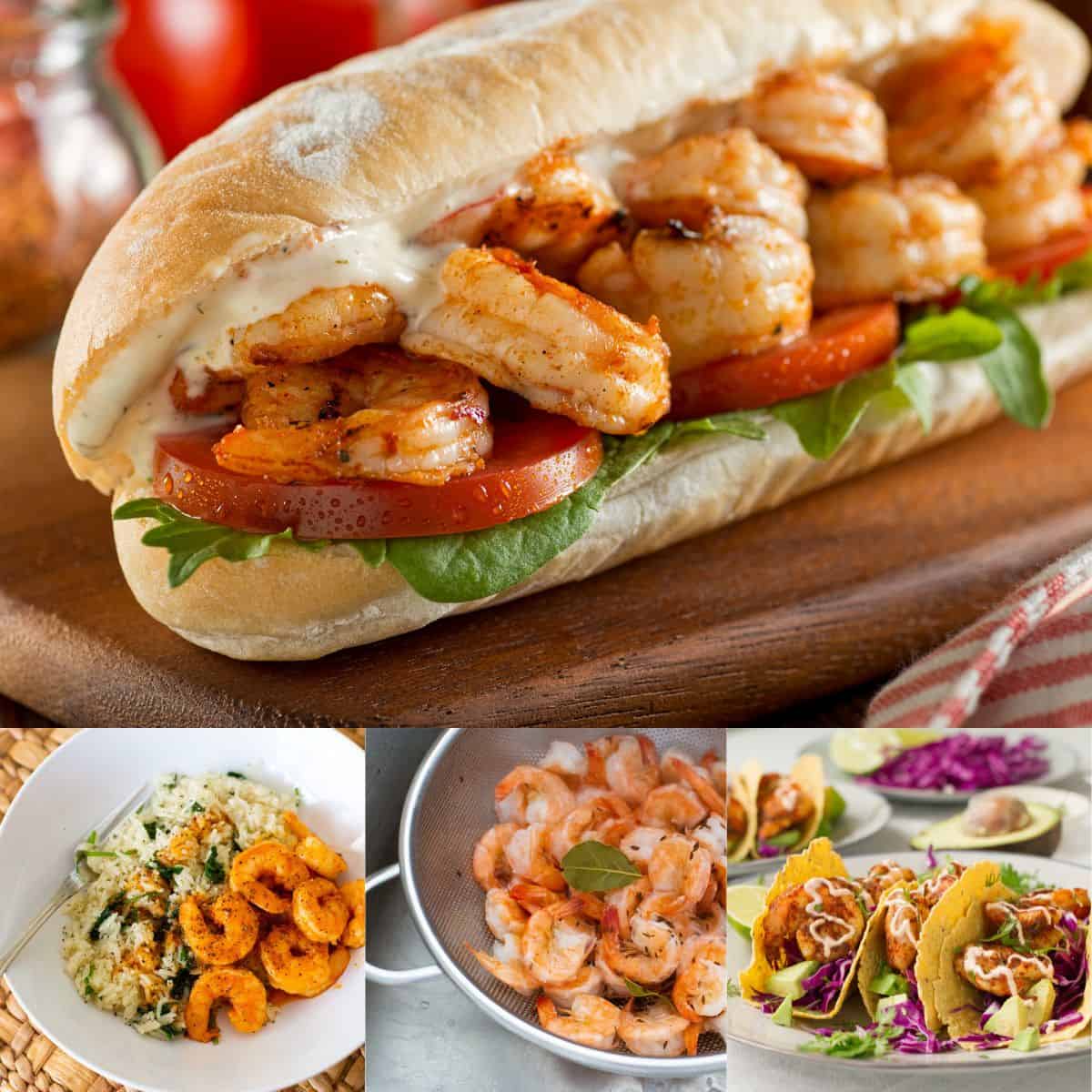 Whether you're trying to incorporate more seafood and less meat, stick to a budget-friendly dinner, or you need a meatless dinner for Lent, these easy shrimp recipes are perfect for keeping in your back pocket for a busy night.
In this post I'm going to teach you how to cook frozen shrimp properly so that you can mix and match the seasonings and turn it into one of the dozen dinner ideas I've outlined below.
If you have a little more time or interest, I'm also sharing a handful of shrimp recipes that use fresh, raw shrimp for a dinner that is so delicious you will be proud to serve it to your family or for guests when you're entertaining.
Jump to:
Why Shrimp is So Easy
When you need a fast and easy dinner, shrimp is the perfect protein to use for your entree because it cooks in practically no time at all!
If you cook shrimp in a skillet on the stove top, it will be done in just 3 minutes or so.
Roast it in the oven, and you only need 7 - 10 minutes depending on the size of the shrimp.
With a tender sweet flavor, shrimp takes on any seasoning you pair with it and is the perfect mild seafood to add to dozens of pasta, rice, and salad dinner ideas.
Learn how to cook frozen shrimp well and you almost don't even need a shrimp recipe. You can just prep the shrimp and add it to any dish you love.
How Do I Make Frozen Shrimp Better?
Frozen shrimp is the busy parent's shortcut to a super easy dinner.
The only trick is making sure you thaw frozen shrimp properly or it can get water logged and rubbery.
You can thaw the shrimp in the morning before you head to work, when you get home it will be ready for cooking in minutes.
Once it is thawed, the trick to making frozen shrimp taste as fresh as possible is to not overcook it and to season it well.
Frozen shrimp can work in any of the 30 recipes listed below as long as you buy raw frozen shrimp instead of the pre-cooked shrimp.
You don't want to use pre-cooked shrimp if you plan to use it in a heated recipe or it will quickly become tough and overdone.
The Best Shrimp Seasoning
Shrimp will easily take on any seasoning you want to pair with it but some seasoning blends taste better with shrimp than others.
My personal favorite flavors to add to shrimp include:
Lemon
Garlic
White Wine
Spicy Seasoning Blends with Kick
If you're looking for a premixed seasoning blend, pick up a jar of one of these at the grocery store for keeping in your pantry for a quick dinner shortcut:
Cajun seasoning
Jerk seasoning
Lemon Pepper seasoning with or without Garlic Salt
Fajita seasoning: especially if you can add fresh lime juice
Creole seasoning
Blackening seasoning
Mediterranean or Italian herbs: basil, oregano, and dill especially
What Goes Best with Shrimp?
Shrimp is perfectly delicious eaten on it's own or with a dip like shrimp cocktail.
It also pairs really well with pasta dishes made with delicate longer pasta shapes like linguine, thin spaghetti, or angel hair.
If you prefer to pair rice with shrimp, I love it with white jasmine rice but other grains like brown rice and quinoa are great matches, too.
Normally you'll see shrimp paired with vegetables like bell peppers, onions, broccoli, pea pods, and cherry tomatoes but it is a perfect salad topping, too.
Easy Ideas for Using Cooked Shrimp
First, choose whether you want to cook frozen shrimp in the oven or cook your frozen shrimp in the air fryer.
Then it is so easy to mix and match the seasonings and pair it with another easy element to make a dinner you'll love.
2. Shrimp Tacos or Fajitas
You could season your shrimp with your favorite spicy blend or prepared fajita seasoning and roast them.
Add them to a warmed tortilla with fun salsa variation like my pineapple salsa or creamy cilantro lime ranch dressing drizzled over the top.
3. Shrimp Rice Bowls
Add your seasoned roasted shrimp to a warm bowl of rice and top it with veggies for a quick and easy shrimp rice bowl:
4. Shrimp Cocktail
Roast your shrimp and serve it with shrimp cocktail sauce or one of these delicious and easy shrimp dipping sauces for a light dinner.
5. Shrimp Fried Rice
Season your shrimp with black pepper and garlic and add it to my favorite fried rice recipe in place of the chicken.
7. Shrimp Salad Recipes
Cooked shrimp is the perfect dinner salad protein.
Mix and match your favorite seasoning, add your favorite salad greens and veggies, and then choose one of these salad dressings that pair well with shrimp:
You could also serve cooked shrimp on the side with this delicious citrus salad or my favorite crispy wild rice salad.
Skip the chicken and add shrimp to this chilled Asian pasta salad or use it as a spicy topping for a Caesar salad.
8. Shrimp Po'Boy Sandwich
I love to order shrimp po'boys when I'm out at restaurants.
You could make your own homemade version with blackened seasoning shrimp on a toasted bun. Just add a prepared remoulade sauce from the grocery store.
9. More Shrimp Recipes
If you're looking for shrimp skillet recipes or how to cook shrimp in an Instant Pot or slowcooker, you'll love some of my family's delicious ways to use shrimp here: