Plan one of these easy Mardi Gras recipes for a family-friendly dinner on Fat Tuesday and turn up the jazz music! You're just minutes away from a fun and festive family meal even on the busy weeknight.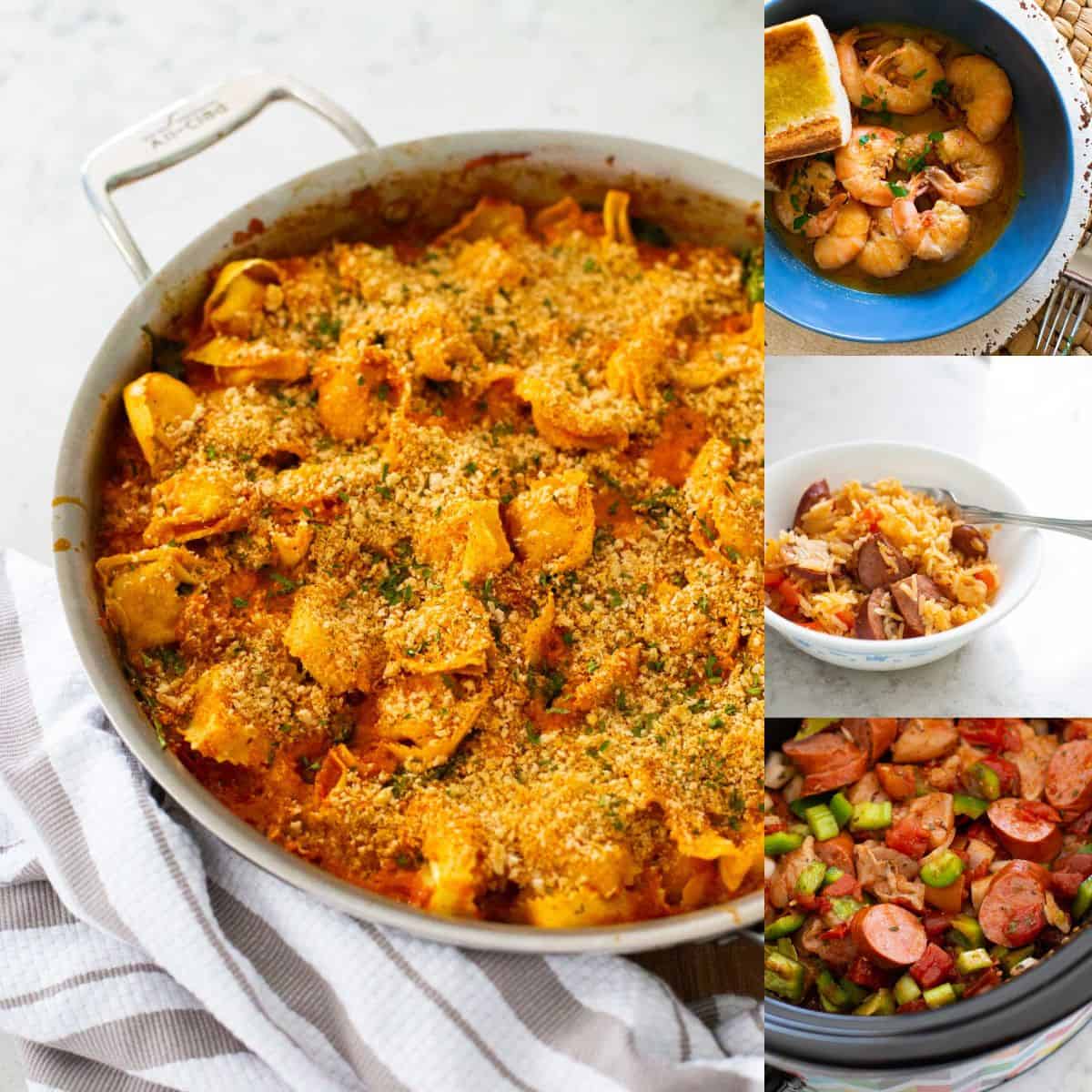 When you want to "laissez les bons temps rouler" or "let the good times roll" for Mardi Gras but you're a busy parent and it's a school night, what are you supposed to do??
The answer? Turn to one of these easy Mardi Gras recipes for a simple family dinner to enjoy the holiday.
The Crockpot and Instant Pot recipes will help you get a festive meal on the table quickly and let you have a taste of New Orleans with your kids.
What is Mardi Gras?
Mardi Gras is also known as "Fat Tuesday" and is the last day before Ash Wednesday and the season of Lent begins.
As a Catholic family, we observe the traditional fasting during Lent and abstain for meat every Friday until Easter. You can read about our favorite meatless meals for Lent here.
But on Fat Tuesday, it is the last day we get to enjoy a little bit of overindulging with all the meat and butter and sweets!
Mardi Gras Dinner Ideas for Families
Since Mardi Gras naturally falls on a Tuesday, we have to manage family dinner on a busy weeknight.
I love to plan ahead a few extra things to make the meal fun and festive for the kids even when we're super busy:
Stream Some Jazz: This fun New Orleans Brass playlist by Spotify would make perfect dinner music for the evening.
Declare the King or Queen: Hide a plastic baby inside your dessert and the person who finds it in their slice is declared king or queen of the rest of the night. (HINT: Tuck it into the dessert AFTER you bake it so the plastic doesn't melt!) We bought this hysterical plastic crown for my husband to wear instead of a party hat on his birthday and it comes out for Mardi Gras each year, too.
Watch Disney's Princess and the Frog: If you have time after dinner, bring dessert into the living room and enjoy a viewing of this Disney classic! You can stream it on Amazon or Disney+.