Easy Cajun sausage and rice is a one pot Instant Pot or stovetop meal you can make on a busy weeknight in just minutes.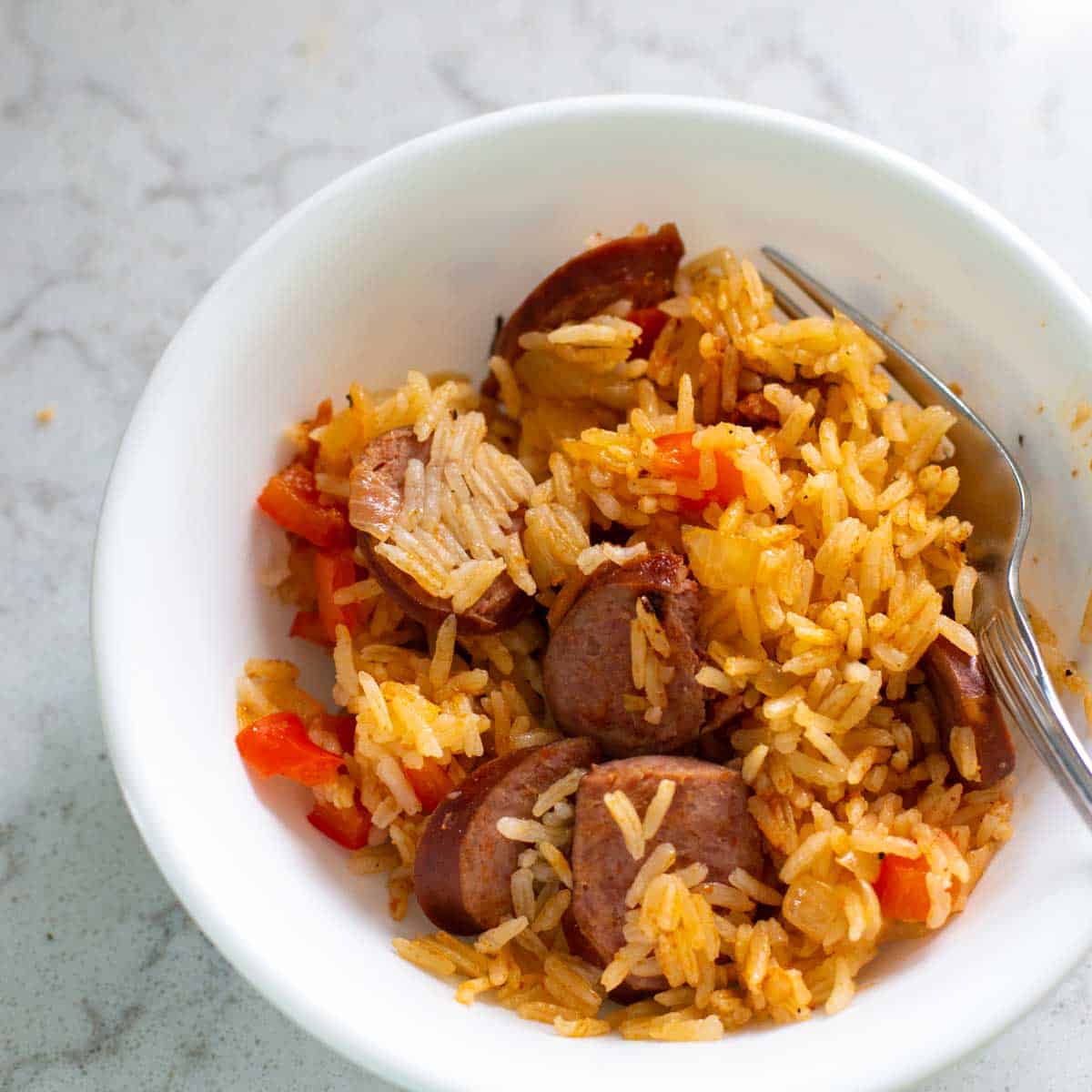 One of my favorite spice blends in my pantry is the Cajun seasoning blend and I'm always looking for new ways to use it.
This super easy Cajun sausage and rice can be made in the Instant Pot or on the stovetop for a quick and easy weeknight dinner.
Savory sausage, tender rice, and sweet bell peppers and onions mixed with a Cajun seasoned tomato sauce is a comforting dinner that would also be fun to serve for a casual Mardi Gras dinner!
Jump to:
Why This is the Best Recipe
This Cajun sausage and rice is such a quick and easy recipe and one of my favorites to cook because:
Budget-Friendly: I keep an eye on the sausages and when they go on sale I'll snag them and keep them in the freezer. This is a fantastic way to use whatever sausage is on sale.
Flexible: I love the sausage but you could swap chicken or shrimp if you wanted to mix things up.
Not Too Spicy: Cajun seasoning is not spicy hot, it is just a very flavorful spice blend. If you want extra heat, add a pinch of cayenne.
Instant Pot or Stovetop: I definitely make ours in the Instant Pot because it is a hands-off dinner, but if you don't have one I've included stovetop instructions in the recipe, card, too.
Ingredients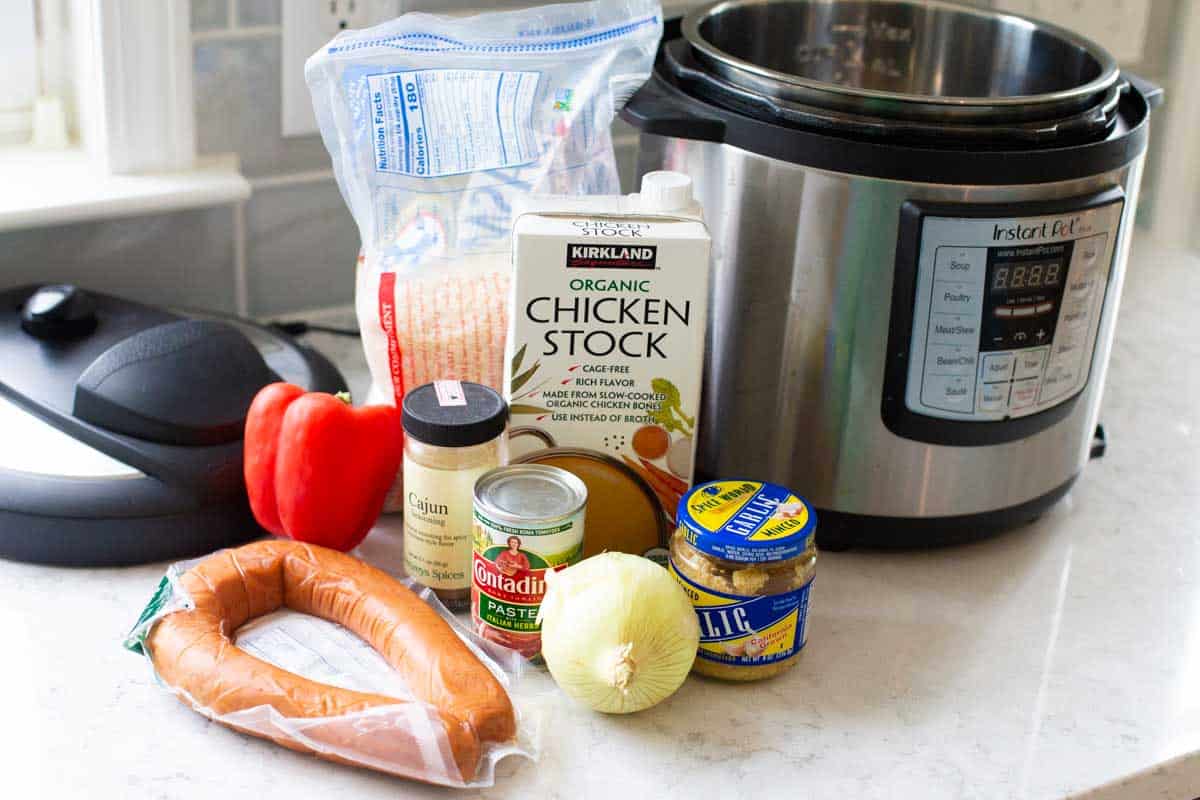 This affordable family dinner includes a very short list of ingredients:
Sausage: I use an inexpensive turkey kielbasa, especially when I can grab them on sale. You could use andouille sausage, chorizo, or a regular beef kielbasa, too.
Rice
Chicken Stock: You could also use water and chicken bouillon if you prefer.
Bell Pepper
Onion
Minced Garlic
Tomato Paste
Olive Oil
Instant Pot Instructions
I love to use my Instant Pot for this Cajun sausage and rice because I can do everything right in the pot.
Turn the Instant Pot on to the SAUTE function and add the olive oil to the pot.
Add the diced onions and peppers and stir in the olive oil for 3 minutes or until the onions are translucent.
Add the garlic and Cajun seasoning and stir until fragrant, about 30 seconds.
Slice the sausage into "coins" and add them to the pot. Saute for a minute to brown them slightly.
Add the tomato paste and stir until it is mixed in.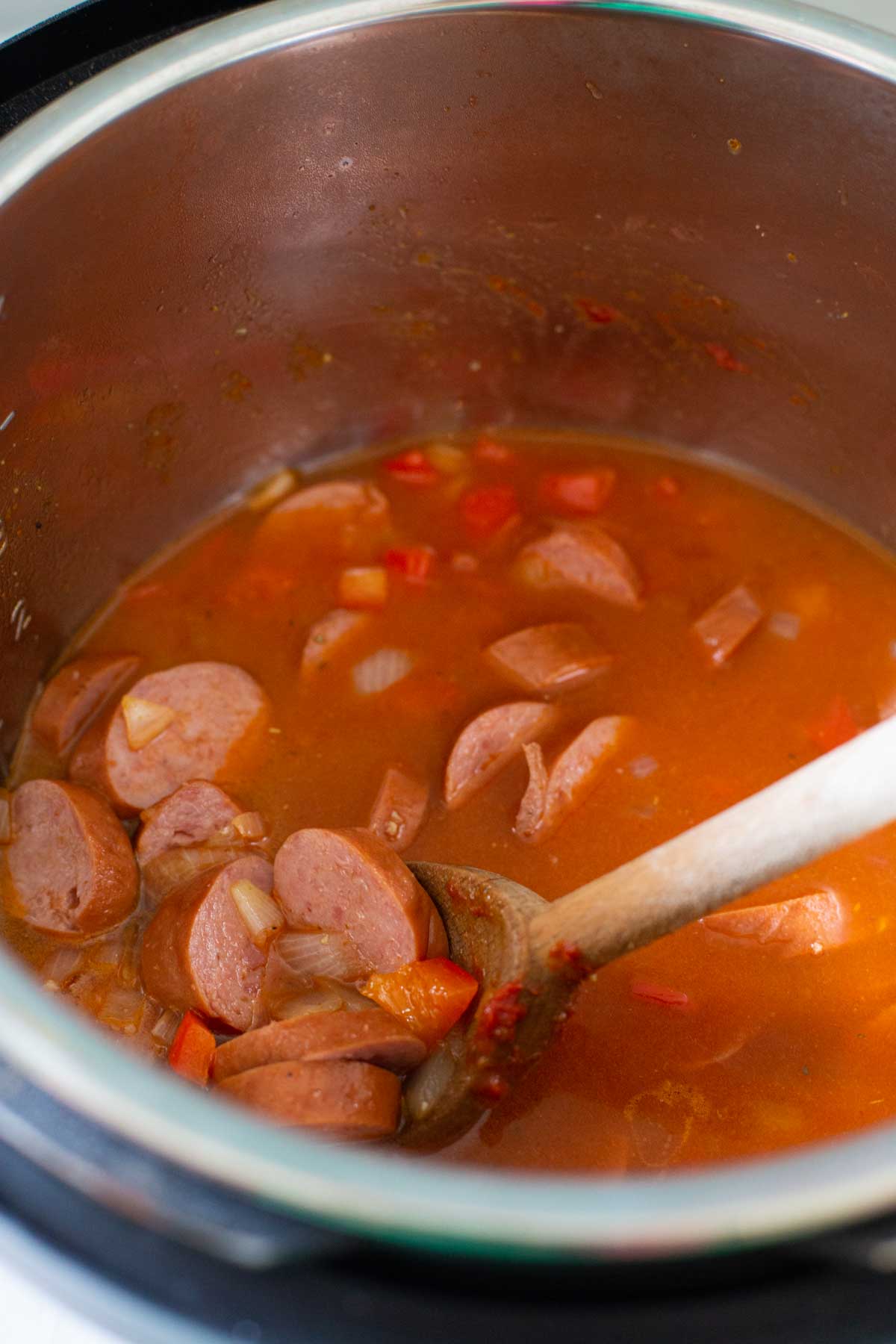 Add the chicken stock and rice and stir to thoroughly combine everything.
Turn off the SAUTE feature and place the lid on the Instant Pot.
Set it to SEAL and cook on HIGH pressure for 3 minutes.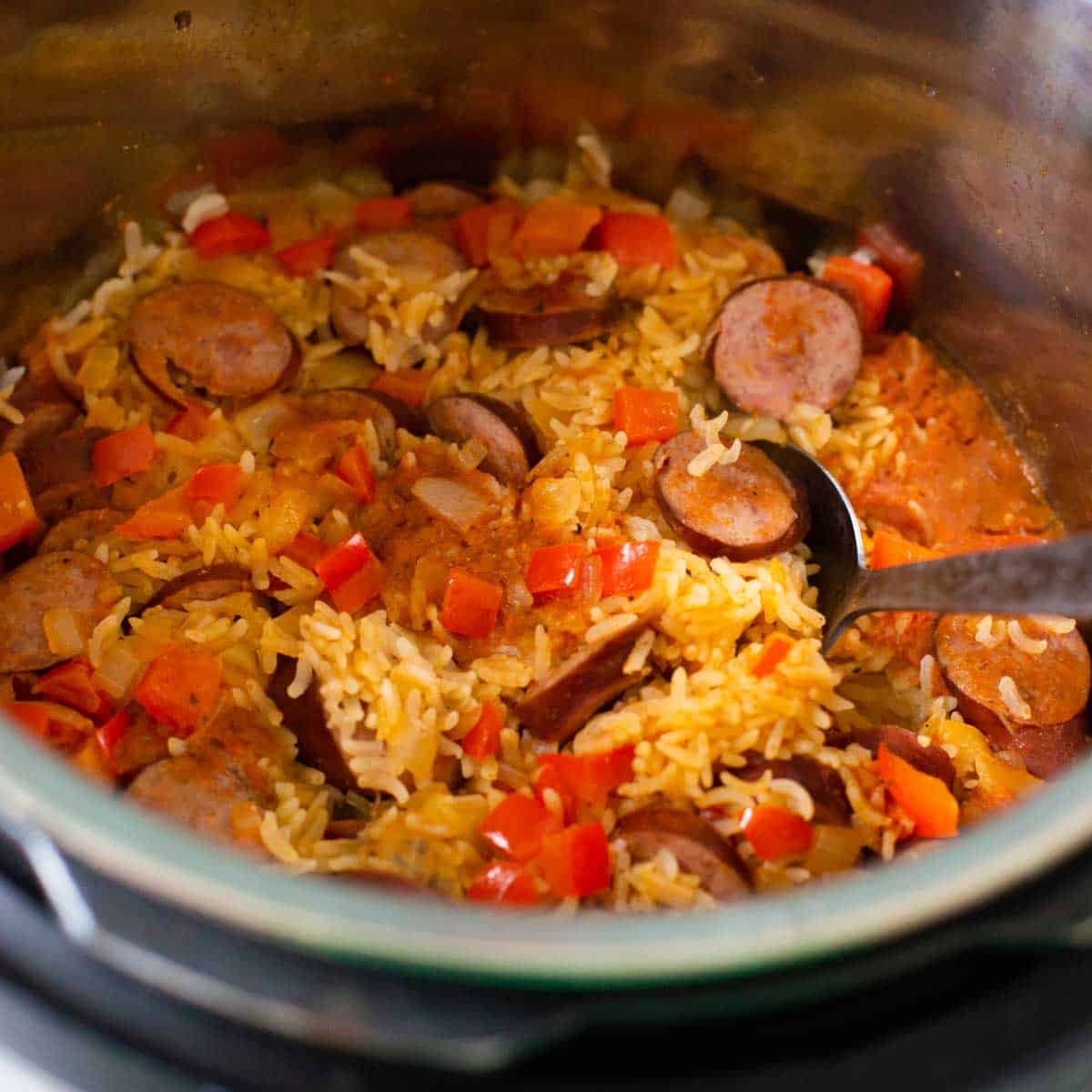 You can quick release or natural release this meal and let it keep warm while you finish up any side dishes you want to make.
Always fluff the rice with a fork or spoon before serving.
Variations
If you wanted to mix things up, you could consider the following variations:
Cajun Chicken and Rice: Substitute chopped chicken breasts for the sausage. You'll want them to be a similar size to the sausage chunks in order for the cooking time to be the same. Depending on your chicken size, you may consider increasing the time to 5 minutes.
Cajun Vegetables and Rice: Skip the meat altogether and add carrots, summer squash, zucchini, or green beans to the rice mixture.
Cajun Shrimp and Rice: You could toss defrosted shrimp in Cajun seasoning and stir them into the rice mixture.
Stovetop Instructions
If you don't have an Instant Pot and prefer to make this on your stovetop, just follow these easy directions:
Add the olive oil to a medium pot with a lid.
Cook the onion and peppers until softened. Add the garlic and Cajun seasoning and stir until fragrant.
Add the sausage and saute for one minute. Add the tomato paste and stir until mixed in.
Add the chicken broth and stir to combine. Add the rice and stir.
Cover the pot with the lid and cook according to the time suggested on your rice package, usually 10 - 20 minutes.
NOTE: If using shrimp instead of sausage on the stovetop, add the shrimp for 5 minutes at the end of the cooking time so they are not overdone.
More Cajun Recipes
Once you have Cajun seasoning in your kitchen, there are other delicious recipes it works well in.
I love to sprinkle it over chicken before roasting but it is also delicious in my slowcooker jambalaya with rice or this spicy shrimp stew.
Cajun seasoning is the surprise ingredient in my baked cheese tortellini skillet, it just gives it a flavor boost.
And Cajun seasoning works really great with grilled tilapia and other delicate white fishes.