30 days of kids school lunch ideas: No repeats. Kindergarten kids will love these easy to pack school lunches. Choose from a variety of sandwiches, salads, soups, wraps, pizza or pasta for your kid's school lunch. These kid-friendly meals are happy lunches.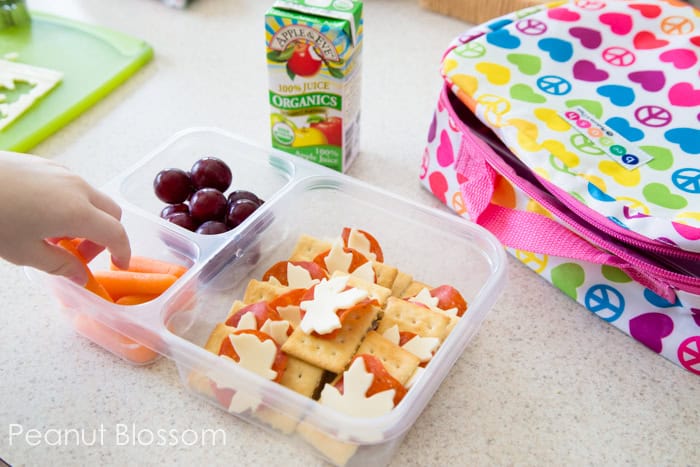 Back to School. Did that phrase just leave you in a cold sweat or fill you with glee?
Packing lunches is not my favorite part of school. Day in and day out this task must be done and it is so easy to fall into a 'sandwich, chips, fruit, done!' rut. That is not the most healthful approach and it makes eating lunch a chore for everyone.
So this year I'm heading in with a plan! I've made a list of all the popular combinations of kids' school lunch ideas I can think of and am sharing them with you!
And if you have a new kindergartener, make sure to read our kindergarten lunch ideas for more inspiration.
So what's your favorite lunch combo for the kids?
Share your ideas in the comments below!
Jump to:
What to Pack for School Lunch
Each of my lunch packing suggestions has been tested on the Peanut and are as kid-friendly as I can get.
But there is a very specific set of criteria I used before any lunch suggestion made the final cut:
Fairly Light on Veggies:
I know the more veggies that get packed in that bag, the less that gets eaten and I hate throwing away food. We work on our veggie tasting skills together at dinnertime and I push the fruit for lunch instead.
The few veggies I do mention are on the Peanut's approved list. Feel free to substitute what your kid loves instead.
Easy Packed Lunches:
If you have the time and energy to be crafting animals and characters out of produce at 6 a.m. before your coffee more power to you.
I don't.
These lunch combos take minutes to toss in the bag. That said, I find a simple cookie cutter and a handwritten note on a napkin works wonders!
Non-Sandwich Lunch Ideas:
Well, "almost" no. My girls get crazy tired of sandwiches and several times last year the Peanut would come home with a lunch bag full of bread. She'd eat the filling and leave the rest!
I have several methods of getting that same filling presented besides putting it in between 2 slices of bread.
Nut-free Lunch Ideas:
Probably the most important factor here. The Peanut's school is peanut-free, so no peanut butter or nuts appear in these suggestions.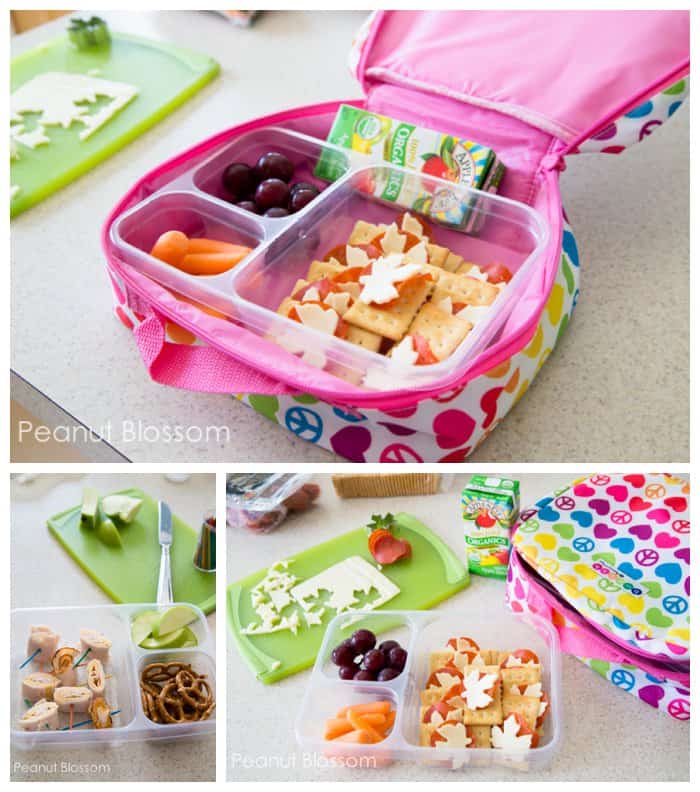 School Lunch Presentation Ideas
I like to keep everything about packing lunch simple to remember.
Rather than worrying about what to pack, I just remember how to present it.
I rotate these presentation ideas depending on the ingredients and food I have in the fridge.
You can easily take one of these ideas and turn just about any leftovers in your fridge into an easy school lunch, no recipe required!
1. Lunch Box Roll-ups & Pinwheels:
This is my Peanut's favorite. Take the meat and/or cheese, lay it flat. Roll it up like a burrito. Slice it into chunks, hold in place with toothpicks. This can be done with or without a tortilla.
2. Meat & Cheese Stackers:
I call this the "make your own Lunchables" method. Meat, cheese, crackers, and assorted toppings are presented for the kids to mix and match their own bites.
3. Nibble Plates:
Also known as "What on earth do I have in the fridge?!" day! Random bits and pieces that have some seemingly cohesive theme are presented in their own containers to nibble on. Bits of leftover chicken, fruits, veggies, etc.
4. Sandwich Cut-outs:
There are a precious few sandwiches on this list. When they hit rotation, I use a larger cookie cutter to remove the crusts. My favorite is a scalloped heart shape that uses almost every ounce of food with little wasted edges.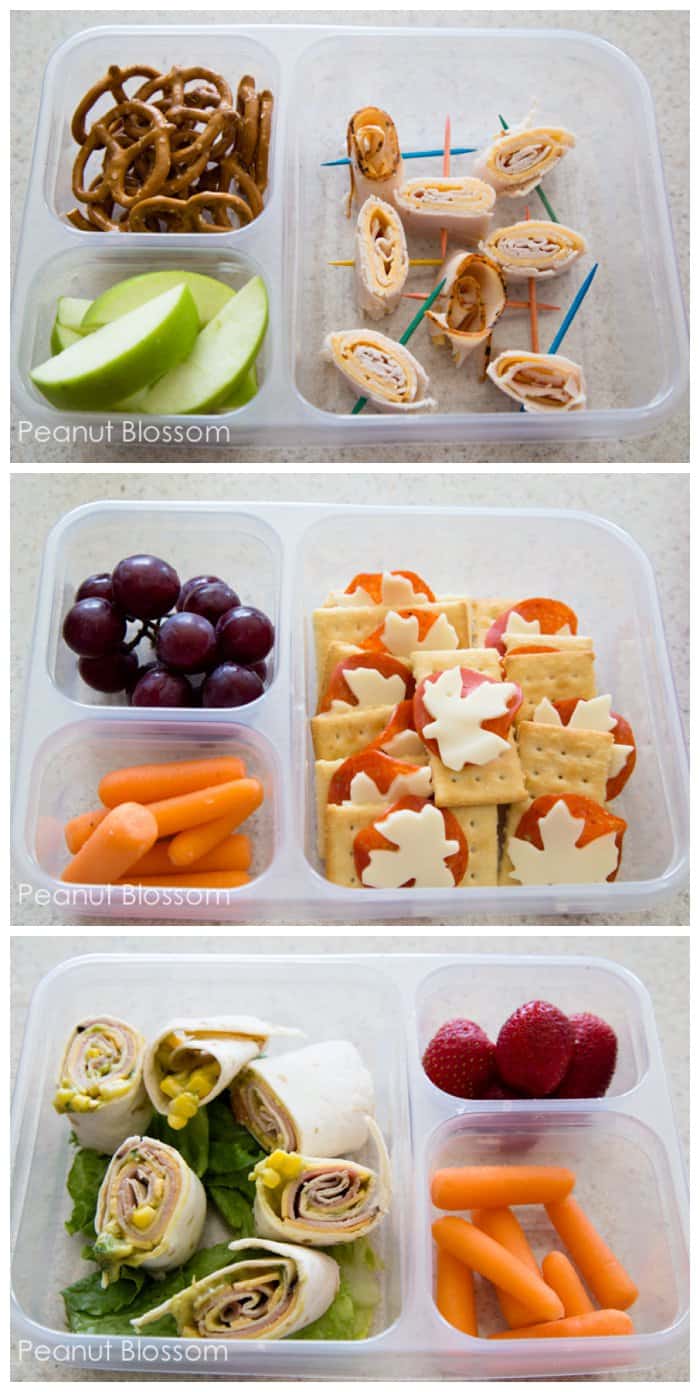 30 Kids School Lunch Recipes
Here are some of my kids favorite suggestions for lunches.
If you want more inspiration than my presentation methods described above, these lunches will inspire you for easy packing!
Easy Pinwheel Roll-Ups
Perfect for kids who want food served in smaller, easier to bite portions.
Turkey + Cheddar rolled in a tortilla. Add pretzels and apple wedges.
Rotisserie chicken + Cream cheese sprinkled with taco seasoning rolled in a tortilla. Add cherry tomatoes and an applesauce.
Deli ham + American cheese rolled in a tortilla. Add strawberries and carrots.
Roast beef + Cheddar rolled in a tortilla. Add carrots and apple wedges.
Bacon + Tomato + Shredded lettuce + Cream cheese rolled into a tortilla. Add berries.
Easy Homemade Lunchables Nibble Platters
Perfect for kids who don't want their food to touch until they mix it themselves. Add each of these ingredients to a bento style lunchbox.
Turkey pepperoni + Chunks of Swiss cheese + Butter crackers with red grapes and carrots.
Whole wheat pita wedges + A generous dollop of cream cheese spread + Raisins. Add celery sticks and carrots.
Nut-free homemade granola (that recipe has nuts but you can easily leave them out) + yogurt + strawberries + Nilla wafers
Ham + chunks of havarti or Swiss cheese + pear slices + rye toasts
Breadsticks + marinara sauce + mozzarella cheese stick cut into cubes + pepperoni slices
Asian marinated chicken bits leftover from dinner + pea pods + a scoop of rice + grapes
Rotisserie chicken + peas + carrots + butter crackers + applesauce
Goldfish crackers + raisins + cheese stick + apple cut into chunks
Ham + cantaloupe + mozzarella cheese + tomatoes
Easy Sandwich Variations
For kids who are tired of the same old sandwich and want something a little different.
Graham crackers "sandwich": spread with cookie butter and layered into a sandwich. Add strawberries and yogurt.
Strawberry jam and cream cheese sandwich cut-out with a cute cookie cutter. Add a banana and some pretzels.
Microwaved quesadilla: Top a tortilla with a sprinkle of shredded cheese and shredded rotisserie chicken and heat for 30 seconds, fold in half and cut into triangles. Add salsa and tortilla chips.
Mini sliders: Fill a small Hawaiian bun with ham and American cheese. Add in apple slices and carrots.
Uncrusted finger sandwiches: THINLY sliced cucumbers with a spread of cream cheese on small quarters of white bread with a sprinkle of dill. Add grapes.
Non-Sandwich Lunch Ideas
For kids who don't want to see bread with fillings in the middle, try one of these fun lunch twists:
Pasta tossed with olive oil or salad dressing. Add pea pods, rotisserie chicken, and grapes.
Noodles tossed with pesto. Add in parmesan cheese chunks and cherry tomatoes.
English muffin with marinara sauce and shredded mozzarella. Package each ingredient separately and let the children build their own pizzas. Add in grapes.
Pumpkin bread with whipped cream cheese spread. Add raisins and plain ham slices rolled up and sliced.
Banana zucchini bread with whipped cream cheese spread. Add yogurt and raisins.
Pancakes cut into strips with yogurt, fresh berries and bacon strips.
Dinner Leftovers Made Into Lunch
Make these easy dinner recipes and double them for lunch leftovers. Each one is easy enough to make just for lunches on a Sunday afternoon, too.
Yesterday's Dinner - Today's Lunch
More School Days Tips for Busy Parents
The days are long but the years are short. Here are some great tips for making the most out of your child's school year: