These easy Mother's Day breakfast ideas your kids can make are things you will actually want to eat.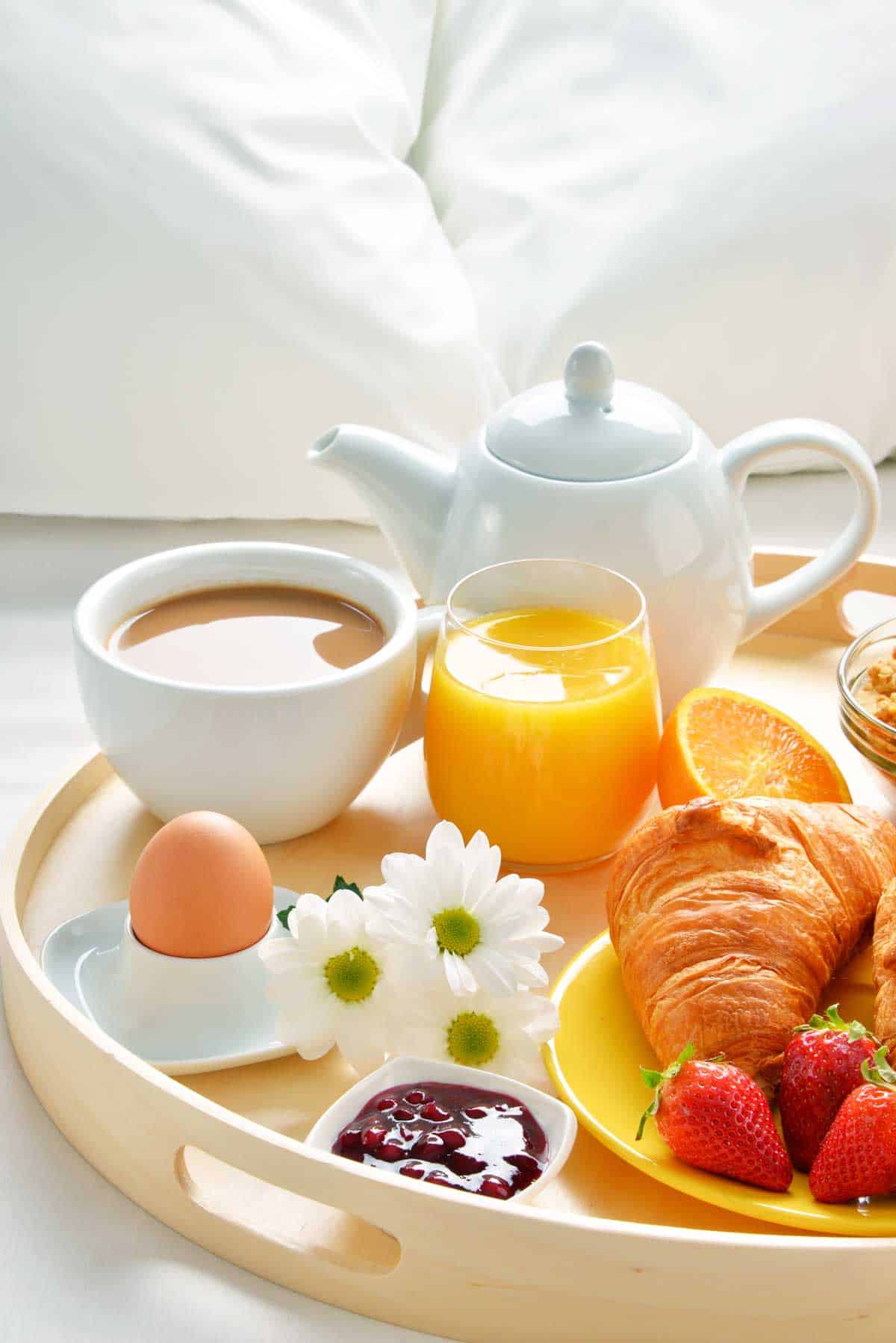 How do you show your love for your kids? If you're like most moms I know, it means plenty of self-sacrifice and loving acts of service. You cook for them, you bathe them, you do their laundry, you run them to countless activities and special social events. And though it makes you exhausted, you do it because You're the Mom. This is the natural order of things, right?
We do the work, They are the kids.
But wait a minute. Someday, our precious little wee ones are going to grow up and have families of their own. Let's take a minute and imagine them living in their own homes for just a moment. . .
At the end of a long day, your child comes home hungry from work. What happens next? Do you imagine that they will sit back on the couch while their partner makes the dinner and washes all the dishes after?
How about when their partner's birthday approaches. . . do you picture them at the bakery picking up their own birthday cake while your child watches tv at home?
Of course, you don't. You imagine that they'll know how to help with the work that goes into both every day and celebratory milestones in their world.
But where do they learn how to do that?
Your kids love you. They want to show you just how much.
They may make cards for you, maybe a teacher helped them make a small craft at school BUT . . .
They don't automatically KNOW what you want for Mother's Day.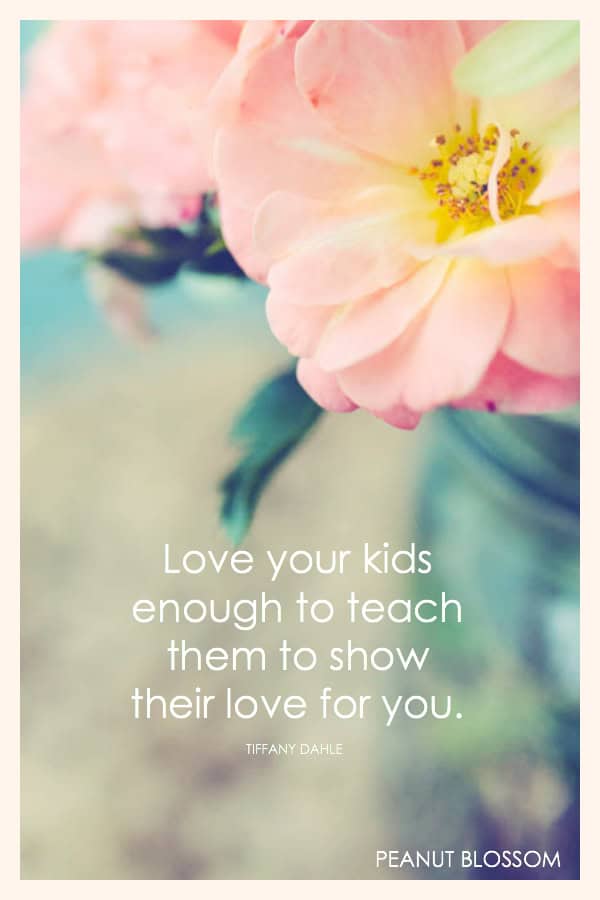 "Love your kids enough to teach them to show their love for you."
Notice the 'YOU' in there? Not just "how to love", but how to show their love to one of the most important persons in their world.
They want to make you feel like a queen, but they aren't mind-readers. Take a few minutes on Saturday and give them the missing pieces of the puzzle!
And because I know that moms are selfless, don't do this for yourself. Do it for your child's future family. Raise a child that knows exactly how to spoil their spouse and do loving acts of service for their kids.
Raise them to love others the way that you love them.
Things To Tell Your Family First
You assume they know these things, they most likely do not.
How do you like your morning beverage?
What's your favorite breakfast?
Do you want a magazine to read or total control over the remote?
Do you want to enjoy your meal at the table or do you prefer it delivered bedside?
Imagine your perfect Sunday morning, describe it to them in detail and watch as they make that magic happen!
It Can Be Easy
We are thoughtful moms. Though eggs benedict may be your favorite breakfast ever, let your kids feel like superheroes by requesting simple dishes you know they are capable of making.
Just because it's easy doesn't mean it can't be delicious. If you're stumped, I've made an awesome list to get you started.
I even designed the sweetest little printable menu for you to check off which items you want. My girls LOVE playing restaurant, give this gift to your own kids and let them spoil you!
10 EASY Mother's Day breakfast ideas for kids: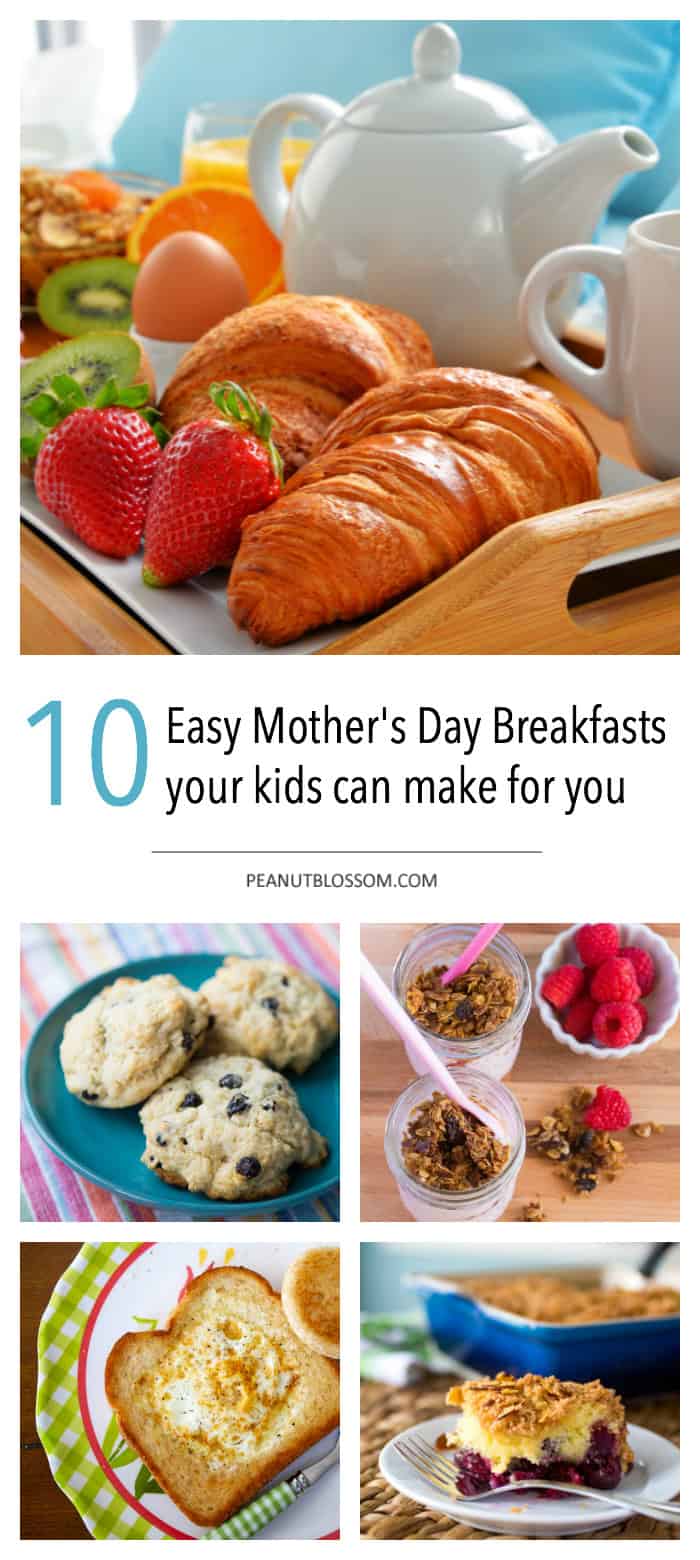 Get the FREE Mother's Day Menu printable here.
I've listed the Mother's Day breakfast ideas from the easiest to a few that require just a little bit more work. There is plenty of space on the printable menu to mark your own personal preferences:
1. Fruit Kabobs with Pina Colada Dip:
The kids could cut melon into heart shapes using a small cookie cutter. Check out this adorable idea!
2. Easy Granola Parfait
A bowl of yogurt sprinkled with this easy homemade granola and topped with your favorite fresh berries tastes like heaven.
3. Quick Breads with Fruit
For little ones, you could have a fun Mommy-Kid baking session the day before to help them bake it but then no one gets to eat it till they bring you your slice in bed the next morning.
4. Pastry or Coffee Cake
They could pick up your favorite pastry from a local bakery or if you love to bake together, make this cherry almond coffee cake together on Saturday and they can just serve it to you on Sunday.
5. Homemade Blueberry Scones:
I swear, my daughter makes these all by herself! Get the recipe here.
6. Eggs in a Basket:
My daughter created a tutorial to teach your kids just how to do it. Check it out here.
7. Breakfast Burritos:
You could make these with them ahead of time and stock them in the freezer, they just have to heat them up on Mother's Day morning. Get the recipe here.
8. Buttermilk Waffles:
They can use gourmet toaster waffles from the bakery or make them from scratch with our easy waffles recipe.
9. Chocolate Croissant Puffs:
Just three easy ingredients and only a few minutes to bake them. My girls love making these warm chocolate puffs!
10. Even More Easy Recipes
Still not loving any of these suggestions?
How would you feel if your kids made you:
Orange Blueberry Pancakes
Classic French Toast
Scrambled Eggs and Toast
Mock Huevos Rancheros
Homemade Biscuits and Strawberry Jam
Hummingbird Cake with Cream Cheese Frosting
Get a copy of The Ultimate Kids' Cookbook and The Ultimate Kids' Baking Book and your kids can learn to make all those dishes PLUS MORE.
Those children's cookbooks are your greatest investment towards a Mother's Day breakfast you will LOVE.
Since I really want you to have the happiest Mother's Day breakfast ever, I even left space on the printable menu for you to suggest a delivery time (so they don't wake you up too early!) and a place for the Happy Chef to fill in their name.
Get the FREE Mother's Day Menu printable here.
More Mother's Day Ideas