Easy pantry dinner recipes you can make quickly using shelf-stable items you can keep on hand for weeks in the pantry and fridge or even months in the freezer.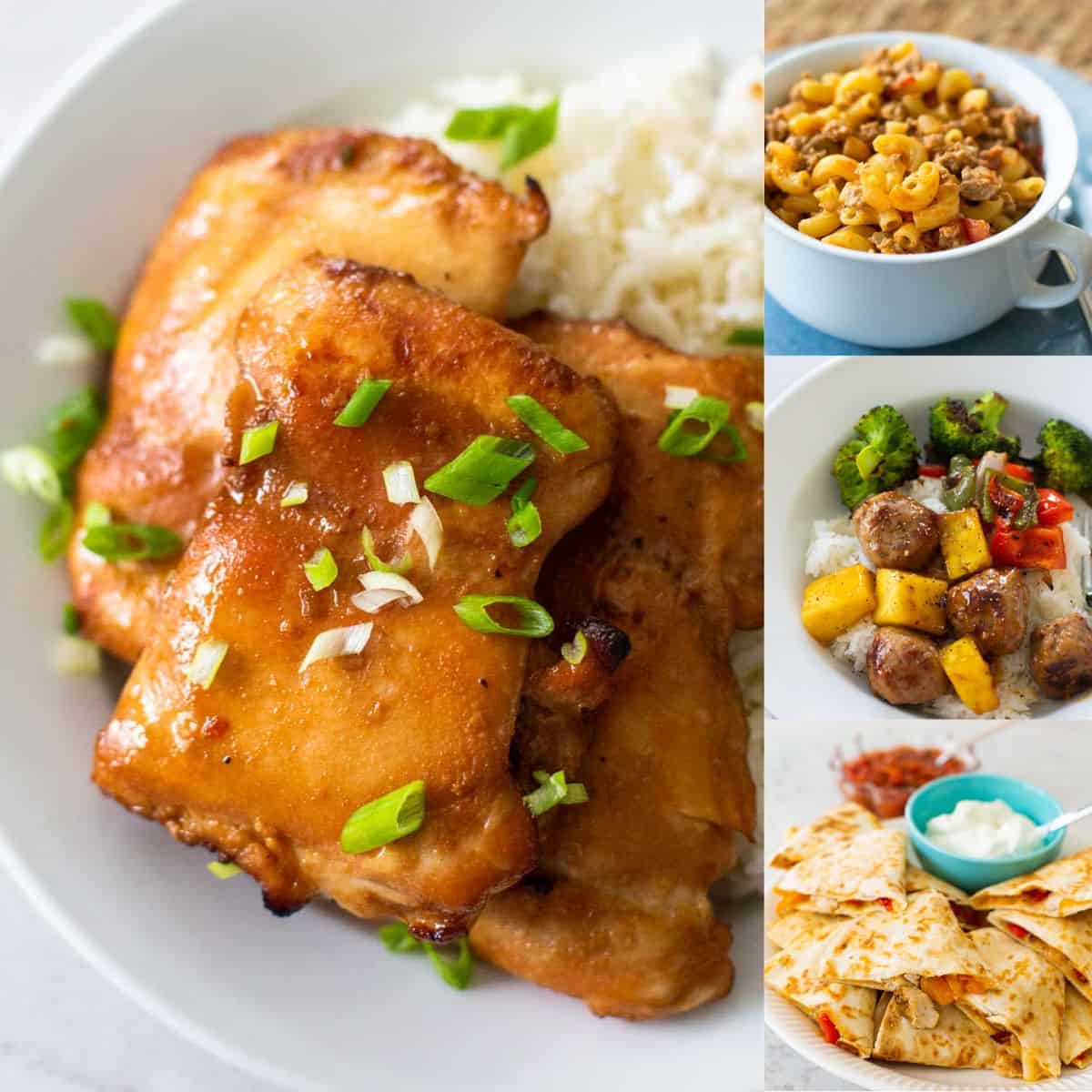 Busy nights need easy dinners. When you walk in the door after a long day, these easy pantry dinner recipes can be waiting for you if you can just plan ahead enough to have the ingredients on hand.
These are the easy family recipes I turn to again and again when I haven't had a chance to get to the store or we've run out of a key ingredient for something else I wanted to make.
Family friendly, quick to cook, and totally tasty. Everything you need for a quick family dinner on a busy night.
Jump to:
What is a "Pantry Dinner"?
The term "pantry dinner" means different things to different chefs.
In my kitchen, I refer to a pantry dinner as one that meets the following requirements:
Long Shelf Life: The entire recipe can be made with items I can keep on hand for a long time. They might be in my pantry, fridge, or freezer, but they keep for at least a couple weeks or more.
Short List of Ingredients: The whole meal only needs a few items to be made.
Flexible: The recipe can be easily tweaked to use a different ingredient in case I'm missing something, like shredded chicken vs. browned ground beef.
Quick to Make: The point is to get dinner on the table quickly, not spend a relaxing evening cooking. The dish will be tasty but very practical.
Last Minute Cooking: There are no crockpot recipes on the list because my pantry meals are meant to be made at the last minute.
Easy Pantry Dinner Recipes
Here are a some of the best pantry dinner recipes you'll find on my site:
Saucy Pork and Noodle Bake
You can prep this entire casserole and freeze it, but it actually makes a perfect pantry meal if you keep a few things in your pantry.
Chop up leftover pork and keep it in the freezer, the rest of the main ingredients are shelf stable for your pantry.
Add fresh milk and shredded cheese from the fridge.
Pineapple Teriyaki Meatballs Stir Fry
Keep a package of frozen meatballs in your freezer, a can of pineapple in your pantry, and serve the dish with easy white rice.
The homemade teriyaki sauce takes just a minute to make and uses easy pantry ingredients you probably have on hand right now.
Alfredo Pasta with Peas
Chop up leftover ham from your holiday meal and freeze it for this recipe later!
In a pinch, you could use some deli ham or skip the meat altogether.
You'll need milk, butter, and cream cheese from the fridge.
Keep dried pasta in the pantry and a bag of frozen peas in the freezer.
Chicken Quesadillas
You can prep and freeze this yummy jerk chicken with peppers mixture or simply shred a rotisserie chicken for the freezer.
Keep shredded cheese in the fridge and tortillas in the pantry. Even the condiments are shelf-stable: salsa in a jar and sour cream lasts for weeks.
Cheese Tortelloni with Pesto
Pasta is the perfect pantry ingredient.
The cheese tortelloni keep for weeks in the fridge and even longer in your freezer.
The pesto lasts for at least a month in the fridge and longer in the freezer.
This 3-ingredient pesto pasta is great with or without the tomatoes. You could even toss in some shredded rotisserie chicken if you have some in the freezer.
Chicken Pot Pie
This is one of my kids' favorites!
Keep shredded rotisserie chicken and a bag of frozen mixed vegetables in your freezer.
You'll need milk and a little butter from the fridge.
We serve the pot pie without a crust with a side of fresh baked refrigerator biscuits. The canned dough lasts for several weeks in the fridge.
Get the chicken pot pie recipe here.
Chicken Fried Rice
This fancy-looking dish is so much tastier than take-out and is super-easy to make as a pantry meal.
Keep shredded rotisserie chicken and a bag of frozen vegetables in your freezer.
Add white rice from your pantry.
The egg is very yummy but you could skip it if you need. The remaining ingredients are likely in your pantry right now.
Easy Chicken Bolognese
This easy chicken bolognese does have a few extra ingredients beyond just a jar of tomato sauce but they all have a very long shelf life.
You can keep ground chicken in the freezer. You'll need a few fresh carrots and onions, but you could plan ahead and chop them and freeze them if you wanted.
Add pasta, chicken stock, a jar of sauce, and a pound of pasta from the pantry and you're good to go!
Get the easy chicken bolognese sauce here.
Roasted Sausages with Potatoes and Apples
Keep a package of sausages in your freezer. The potatoes and apples have such a long shelf life as far as produce goes.
This is one of my all-time favorite pantry meals for fall!
Creamy Taco Pasta Skillet
This has been a family favorite since before my kids were born!
Keep ground turkey in your freezer. (You could substitute ground beef, ground chicken, or even ground pork if you prefer.)
Then just add canned tomatoes, taco seasoning, and a box of pasta from your pantry.
You'll need cream cheese and sour cream, but both of them have a very long shelf life.
Honey Garlic Chicken Thighs
My family loves these sweet and sticky honey garlic chicken thighs with either a simplified peanut butter pasta dish or plain jasmine rice.
The 5-ingredient chicken marinade comes completely from the pantry and both sides are 100% pantry-friendly, too.
Add your favorite frozen green vegetable and you're set.
Baked Meatball Subs
Keep a bag of frozen meatballs in the freezer and a jar of tomato sauce in the pantry.
All you need to finish things off is the sub sandwich bun and maybe some provolone cheese. Both of those items can last at least a week, longer if you freeze them.
Get the baked meatball subs recipe here.
How to Round Out the Menu
Many of my easy pantry meals can be enjoyed on their own, but if you want to bulk them up for your family, you can always add:
a simple bagged salad
a bag of frozen veggies or a can of veggies
whatever fruit you have on hand
Easy Pantry Side Dishes
If you want an easy side dish to go with your pantry meal, here are a few of my favorites:
More Family Dinner Tips
Even when you're making something quick and easy from the pantry, you're doing an amazing thing for your family.
I believe that family dinner will save the world and that you are a true superhero.
Dinner doesn't have to be complicated to be delicious and is truly just a chance to spend time with the ones you love.