This summer my family is On the Go with Melissa & Doug. I'm sharing some of my favorite travel tips as part of their ongoing weekly series along with Marnie from Carrots Are Orange and Zina from Let's Lasso the Moon.
This week I've got a fantastic solution to trimming your dining budget for a trip with 2 awesome recipes for you to make far in advance. My girls can't keep their hands off of these, I hope your family enjoys them too!
Do you have any great road trip tips to share? Leave me a comment, I'd love to hear it!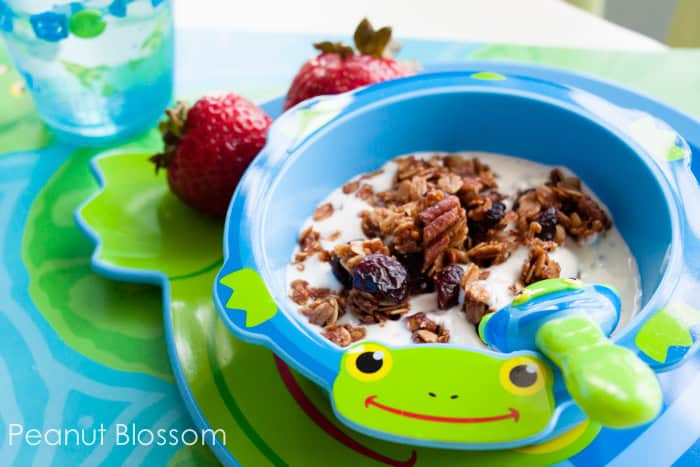 Our family loves to travel using reward points for hotels, frequent flier points for plane tickets, and any other membership or discount plan we can think of to save money on everything else. The one area that we really seem to struggle with, however, is the dining portion of the travel budget.
Tim and I both really enjoy having a nice sit-down meal at least once a day. Fast food & quick service are nice easy fixes once in a while, but without at least one "dignified" meal a day, we get cranky. When you're traveling for several days or a week, that can really add up quickly!
I know that all bets are off once we leave the hotel room so the best way for me to keep the family budget in check is to save money on breakfast by eating things I've brought from home. At the same time, it is still a vacation. I look for special treat type breakfasts so we still feel like we're doing something fun and different than our routines at home.
To sell this idea to the children who may be disappointed they don't get to the hotel's pancake buffet, I dub these "Hotel Picnics." We camp out on towels on the floor and make it memorable.
What to bring from home for your own Hotel Picnics:
It's just breakfast so you don't need a kitchen arsenal but these items do come in handy!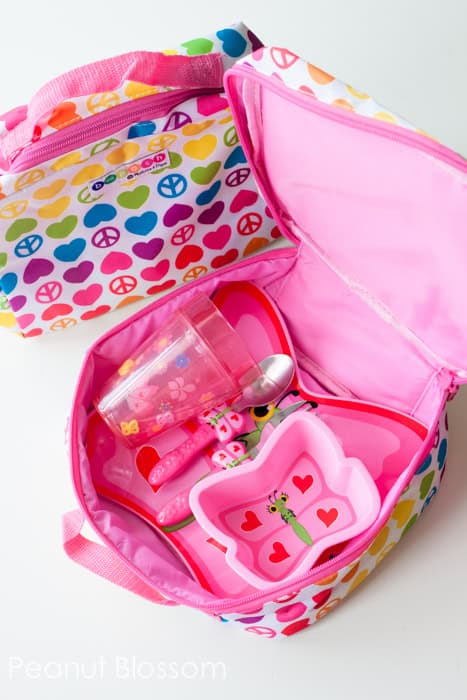 1. Dishware: Lightweight, small bowl, plate, utensils & cup for each person. I packed a Melissa & Doug Sunny Patch meal set right into a Beeposh lunch bag, 1 for each girl. It was the perfect meal kit for our hotel picnics.
2. Travel sized bottle of dish soap and a travel toothbrush to use as scrubby. Washing these dishes is no big deal, they mostly just need a quick rinse! Forget the towel and let them air dry. You're on vacation too!
3. One or both of the following recipes:
Chocolate covered cherry granola parfaits
Peanut butter chocolate granola bars
These breakfast suggestions are filling, portable, and low mess. Best of all, you can make them far in advance of your trip and they will keep well. You don't need to feel pressure to make them the day before you go when your hands are going to be full with packing.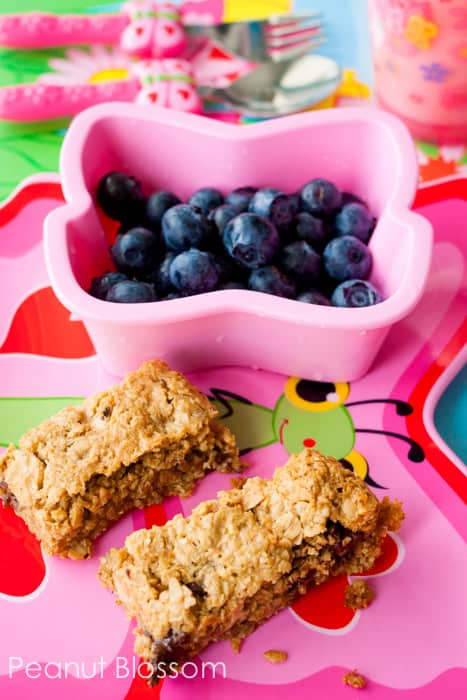 4. Your easy peasy grocery list for your destination (if you don't want to bring a cooler for the car):
Large container of yogurt
Milk
Fresh fruit of choice
For less than the price of one hotel breakfast for a family of 4, you'll have breakfasts for your entire trip!
Are you looking for other great travel friendly recipes? How about these?:
Sweet Chex Mix: Perfect for the car!
My favorite apple snack: Great punch of protein for long car rides.
Indulge in gas station potato chips but bring this dip along in single serve plastic containers!
And if your destination will have an oven, consider bringing the world's easiest blueberry scones.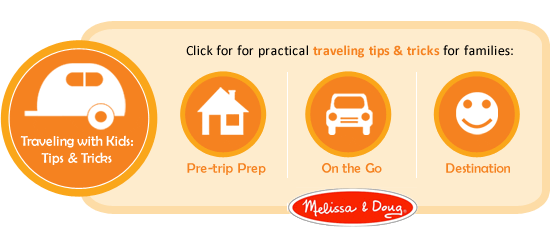 Did you enjoy these tips? Looking for more great information on traveling with your family? Be sure to check out the Melissa & Doug On the Go hub and the awesome Pinterest boards we're keeping:

_________________________________________________
This post was sponsored by Melissa & Doug. I was compensated for my time and provided products to review. All thoughts and opinions are my own. You may view my full disclosure here.