Grab your free printable Thanksgiving meal plan page here and you will enjoy a simpler, less stressful holiday feast.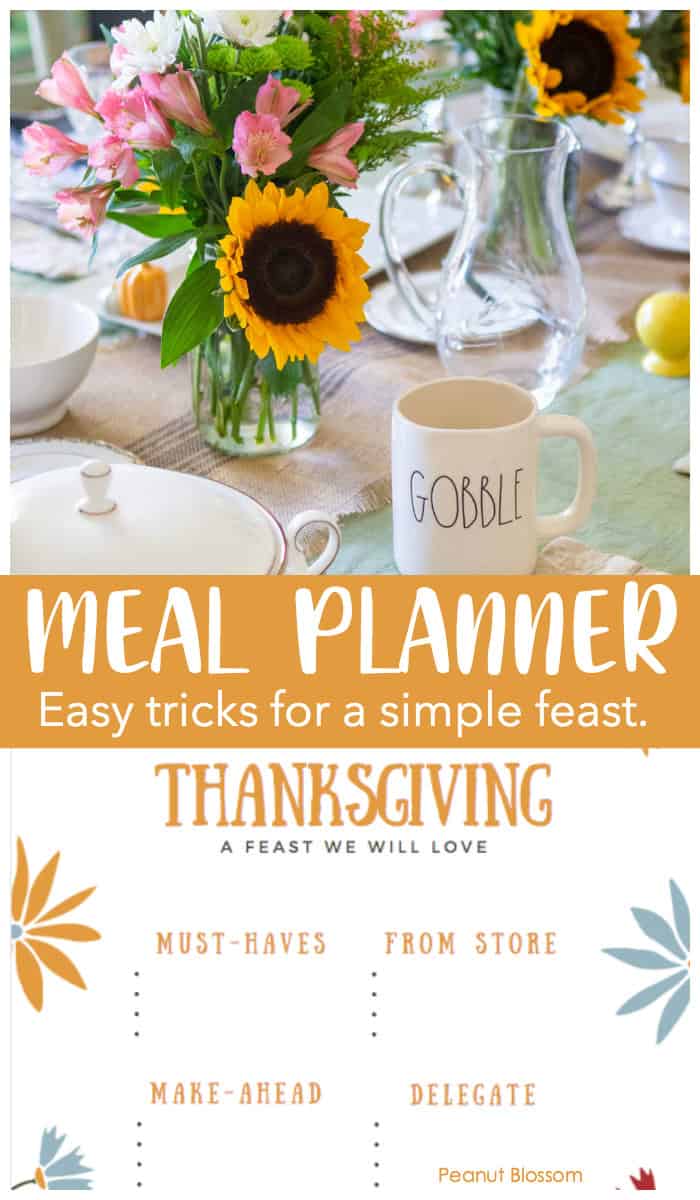 Right about now you are likely being absolutely inundated with Thanksgiving recipe ideas everywhere: cooking shows, magazines, bloggers on social media . . . It seems like everyone is upping the ante with drool-worthy dishes for families to make for the biggest feast of the year.
If you're hosting Thanksgiving dinner this year, chances are you've already got some thoughts on what you'd like to make. But whether this is your first Thanksgiving rodeo or you're a hosting pro, I'd love to chime in with some thoughts on how to make an easy Thanksgiving dinner that you're whole family will love.
The key??
Make a Thanksgiving Meal Plan for REAL People:
You are only human. You cannot possibly cook all the things from scratch all by yourself and retain your sanity.
This year, let's all just agree we need help and accept it graciously.
Before we get started with meal planning, grab your FREE printable. You'll notice it works right in tandem with all the steps towards this easy, stress-free meal plan strategy. Get yours here:
DOWNLOAD THE MEAL PLAN PRINTABLE HERE
Print out a copy and then grab a pen. Let's meal plan!
STEP 1: Choose your favorite recipes
Decide which Thanksgiving recipes matter the very most to YOU. Maybe it's the turkey you've made every year since you got married. Maybe it's grandma's pecan pie. There is likely one or two very special recipes your whole family loves, don't cut corners on those dishes.
STEP 2: Take some help from the pros
Think about what you make for the holiday, which items can you pick up pre-made from the store? Stop clutching your pearls, we want this feast to be fun.
Go read my favorite list of grocery store shortcuts for Thanksgiving here. We love Trader Joe's but many of those items can be found at your local grocery store, too. If you're not used to buy store-bought for the holiday, it's a great place to start.

STEP 3: Cook early with strategic make-ahead Thanksgiving recipes
For those recipes you really want to make yourself, mentally take note of all the ways you can prep them early or make them completely ahead.
Need some inspiration? Check out this great list of 5 Thanksgiving recipes you can make right NOW or this incredible list of make-ahead Thanksgiving side dishes.
STEP 4: Delegate, my friend
Guests want to be useful. Share the cooking fun with anyone who asks! Be prepared with the right answer to "What can I bring?" The easiest items for a guest to bring to Thanksgiving include:
Any of the side dishes that travel well in a casserole (sweet potato casserole, stuffing, green bean casserole, etc.)
Cranberry sauce
Desserts, can you ever really have too many on Thanksgiving?? NO. Cheesecakes, pies, tarts, let them have fun picking whatever floats their boat!
Cocktail fixings or jugs of apple cider for the kids
STEP 5: Don't forget the drinks!
We spend SO much time planning side dishes and turkey and desserts, the beverages really can slip through the cracks. Remember to grab any adult beverages or punch ingredients you need -- then put someone else in charge of setting up the beverage station!
STEP 6: Garnishes turn store-bought into homemade
Now take one last look over your list. What kind of garnishes can you keep on hand for a final sprinkle over the top? You'd be amazed how far these items will go in turning your feast fancy.

How to make store bought side dishes and desserts taste fresh:
fresh parsley, chopped (leave it in a big bowl on the counter and sprinkle it over just about anything.)
sprigs of fresh herbs and sliced citrus both make amazing platter garnishes
chopped toasted pecans are perfect for sweet potatoes, veggies, or desserts
several canisters of whipped cream, or a big bowl of the real stuff waiting in the fridge (it truly just takes a few minutes!)
a jar of caramel sauce for drizzling over any store-bought dessert
I really think you should take a moment to go read even more great ways to to not lose your sanity this Thanksgiving. There are so many strategies for keeping your head and actually enjoying your Thanksgiving feast.
Now, go and grab your free printable Thanksgiving meal plan page right here:
DOWNLOAD THE MEAL PLAN PRINTABLE HERE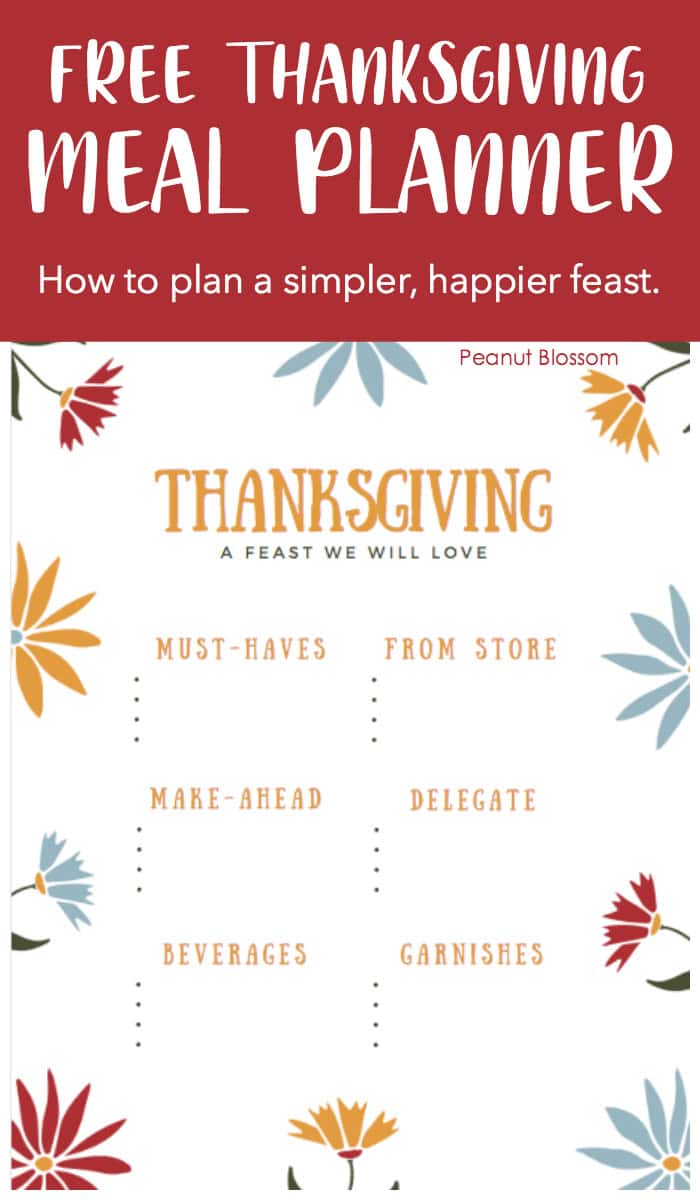 Need more Thanksgiving dinner hosting tips??
Do not miss these essential Thanksgiving planning articles: