An easy Thanksgiving meal plan is within your reach. Just follow these 6 easy steps to picking the best Thanksgiving dishes to make for your family.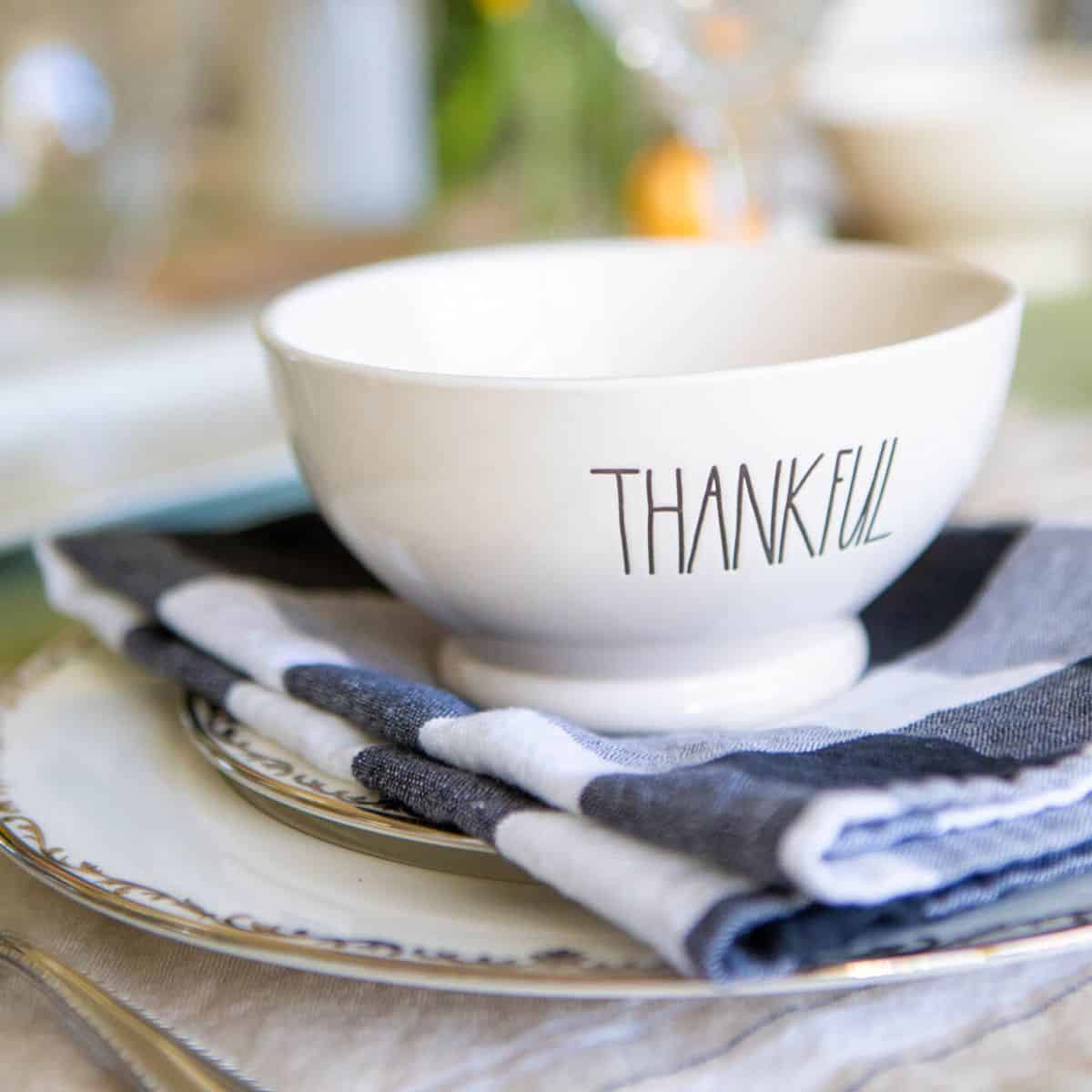 It can be difficult to make an easy Thanksgiving meal plan when you are inundated with fancy Thanksgiving recipe ideas everywhere: cooking shows, magazines, bloggers on social media . . .
It seems like everyone tries to out do each other with drool-worthy dishes for families to make for the biggest feast of the year.
BUT if you're hosting Thanksgiving dinner this year, it can actually be so much easier than you imagine.
This year, make an easy Thanksgiving meal plan filled with your family's favorite dishes and a few strategic shortcuts that will help you manage your time and keep your sanity.
Sound good? Let's dig in.
Jump to:
Start Here: FREE Meal Plan Printable
Let's start off with a very important reminder . . .
You are human! You cannot possibly cook all the things from scratch, all by yourself, and retain your sanity.
This year, let's all agree we need help and accept it graciously.
Before we get started with your Thanksgiving meal planning, grab your FREE meal plan printable.
Once you've got it in hand, you'll notice it works in tandem with all the steps below towards making an easy, stress-free meal plan strategy.
Get your printable right here:
DOWNLOAD THE MEAL PLAN PRINTABLE HERE
Print out a copy and then grab a pen. Let's get meal planning!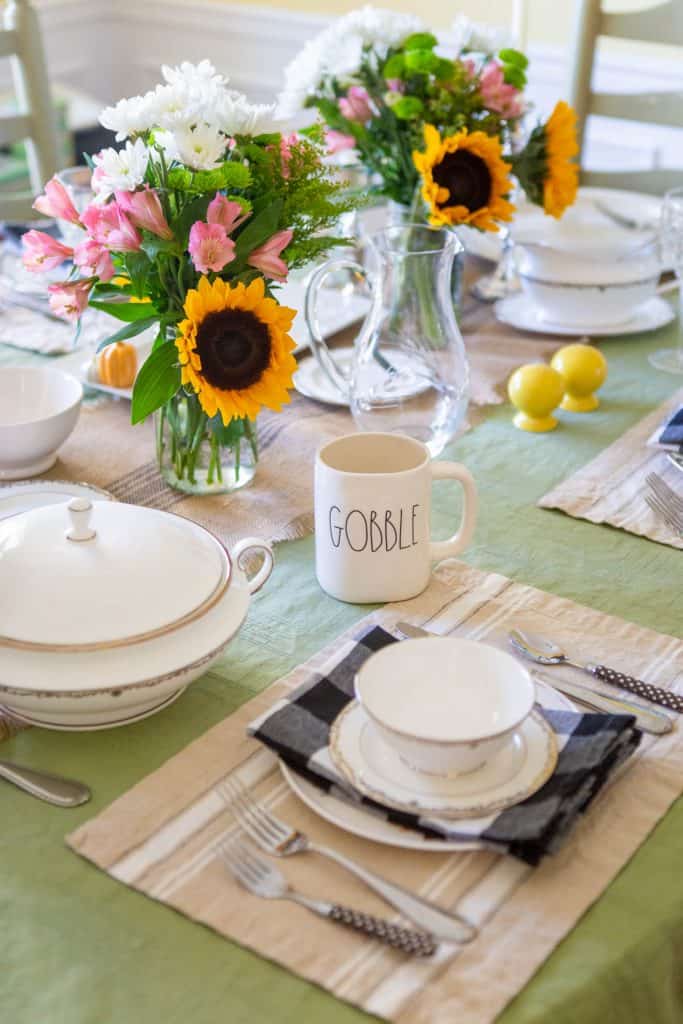 Fill in Your Meal Plan
Got the printable?
Now just follow each of these simple steps and fill in the sheet as you go:
1. Start with 3 - 4 Favorite Recipes
As the one responsible for planning Thanksgiving dinner, your first step is to decide which Thanksgiving recipes matter the very most to YOU.
Yep, you. If you're going to do this work, you absolutely deserve to have your favorites on the table.
Maybe it's the turkey you've made every year since you got married. Maybe it's grandma's pecan pie.
There is likely one or two very special recipes your whole family loves, don't take shortcuts on those dishes.
Plan to make them from scratch or exactly as your family recipe is written. These are the dishes that deserve your time, effort, energy, and refrigerator space.
They are the recipes that make this whole dinner memorable.
Need some inspiration? These are the Thanksgiving recipes I absolutely have to make from scratch every year:
But you could also check out these top 10 traditional Thanksgiving dinner recipes, too.
2. Use Grocery Store Short Cuts
Once you have your main favorites for the menu, think about what you could add to the menu by picking up something pre-made from the store.
Can't think of anything good you could just use store bought? You're missing out!
Go and read my favorite list of grocery store shortcuts for Thanksgiving here.
We love Trader Joe's but many of those items can be found at your local grocery store, too. If you're not used to buying store-bought items for the holiday, it's a great list of inspiration to start with.
4. Graciously Accept Help
Guests want to be useful. Share the cooking fun with anyone who asks to help in the kitchen!
You could announce that this year everyone should bring a side dish for a Thanksgiving potluck!
At the very least, keep a list of prep tasks on the fridge so that they can glance at what needs to be done and dig right in.
Even better, be prepared with an answer to the question: "What can I bring?"
Guests love the chance to show off their own special recipes or they might be willing to pick up something easy from the store.
Easy Things for Guests to Bring for Thanksgiving:
Any of the side dishes that travel well in a casserole dish (sweet potato casserole, stuffing, green bean casserole, etc.)
Easy Thanksgiving vegetables to fill out your menu
Dinner rolls or Thanksgiving breads of any kind
Thanksgiving Desserts, can you ever really have too many on Thanksgiving?? NO. Cheesecakes, pies, tarts, let them have fun picking whatever floats their boat!
Cocktail fixings or jugs of apple cider for the kids
5. Don't Forget the Drinks
We spend SO much time planning side dishes and turkey and desserts, the beverages really can slip through the cracks.
Remember to grab any adult beverages or punch ingredients you need -- then put someone else in charge of setting up the beverage station!
6. Sprinkle Something Fresh Over Everything
Now take one last look over your list. What kind of garnishes can you keep on hand for a final sprinkle over the top?
You'd be amazed how far these items will go in turning your feast fancy.
How to Make Store Bought Taste Fresh:
Fresh Parsley: chop some fresh parsley and keep it in a big bowl on the counter. Sprinkle it over just about any savory dish for a pop of fresh color.
Fresh Rosemary: pretty sprigs of this herb make a gorgeous accent to any platter for the holiday.
Toasted Pecans: chopped nuts are perfect for adding to sweet potatoes, on top of veggies for crunch and a special touch, or adding to desserts for a garnish.
Whipped Cream: either a big bowl of homemade whipped cream or several bottles of prepared canisters, a dollop will elevate any treat on the table.
Caramel Sauce: store-bought or homemade caramel sauce made in advance can be drizzled over almost any Thanksgiving dessert from the store to make it feel special
Now, go and grab your free printable Thanksgiving meal plan page right here.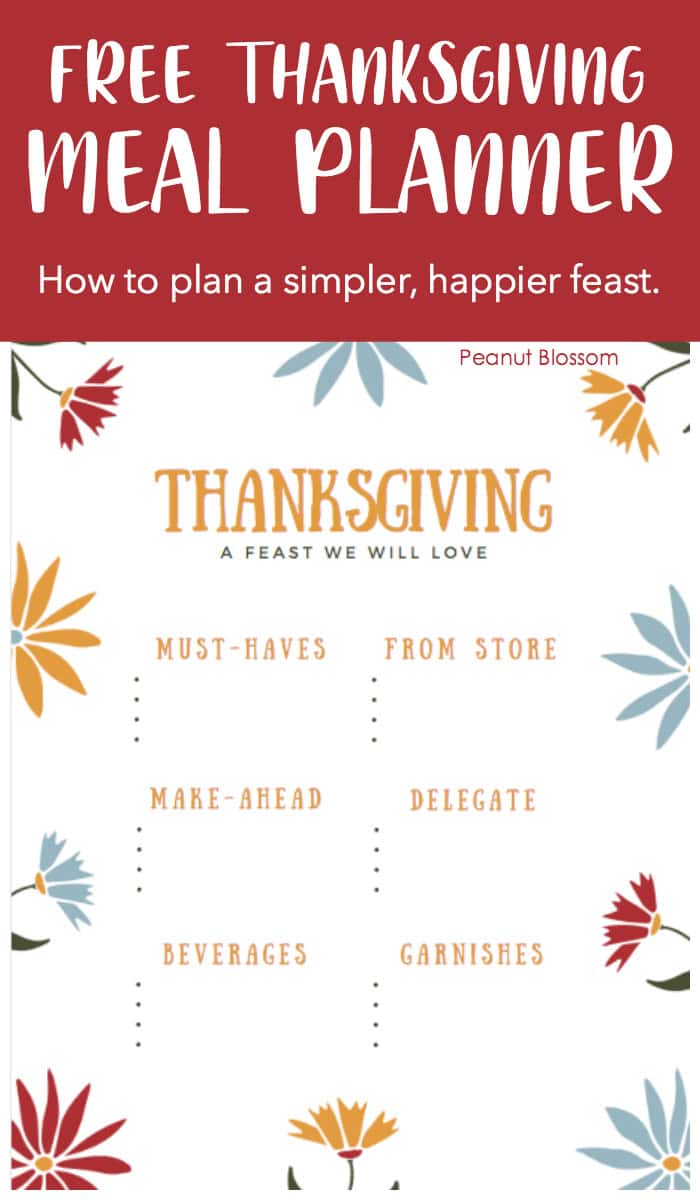 More Thanksgiving Ideas
Now that you've got your easy Thanksgiving side dishes all picked out, what about the rest of your meal plan?
Don't miss my other easy Thanksgiving recipes for your family feast: