What's good at Trader Joe's for Thanksgiving? Get all the best Thanksgiving recipe shortcuts here.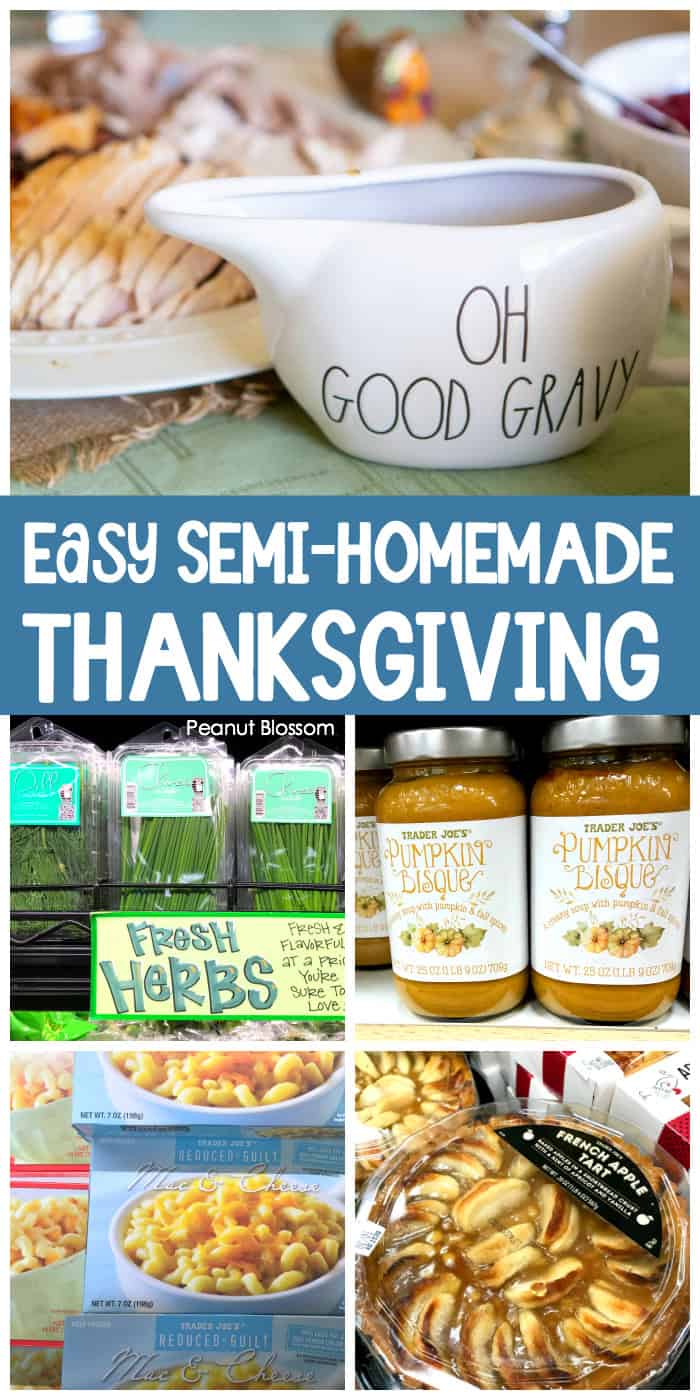 Thanksgiving dinner is the biggest beast of a meal we cook all year long. So many dishes, the crazy timing of getting everything baked at the right temperature, getting it all to the table hot at the same time. It's no wonder the holiday causes so much stress!
This year, I want to help you make it a more peaceful holiday. I've got all the tips and tricks you need for a simpler Thanksgiving dinner thanks to some store-bought shortcuts. One of my favorite places to grab these things is at our Trader Joe's but you can likely find many items at your local grocery store, too.
I did the pre-shopping for you. I ran over to Trader Joe's last weekend and snapped a ton of pictures with my phone so I could pull together this inspiration list for you. I hope this helps!

RELATED: Don't miss our 10-minute Trader Joe's Dinners for a Busy Weeknight.
What's good at Trader Joe's for Thanksgiving?

Your family knows you love them. They don't need a 10-course meal to prove it. This year, give yourself permission to cut just a few corners and have a semi-homemade holiday meal that lets you actually enjoy the special day with the ones you love the most.
To help you navigate the holiday cooking, here are our tips for a successfully simple meal:
1. Pick the ONE thing that matters:
Decide what's the ONE most important thing you need to bake from scratch. Maybe it's the turkey you've made every year since you got married. Maybe it's grandma's pecan pie. There is likely one special recipe you all love, don't cut the corner on that dish.
2. Make a list of everything else you want on the menu, then CUT IT:
I always plan way too much food. Do we really need two kinds of potatoes AND stuffing?? Look hard at your list and try to cut back on just one or two things and leave them off your list completely.
If you really, really can't? I totally get it. Then list the items in descending order of importance. Decisions are about to be made . . .
3. The freezer is your friend:
Look at the bottom of your new list. Put a star next to each item that you could buy pre-made or frozen. Then compare that list to my ideas below. Keep adding stars to as many items as you can.
Anything that is left on the list is your new cook-from-scratch game plan. Look hard at those items and really think hard about whether they've earned their place. It's ok if they did.
Now you know which items actually matter to you and your family and you can peacefully forgive the rest.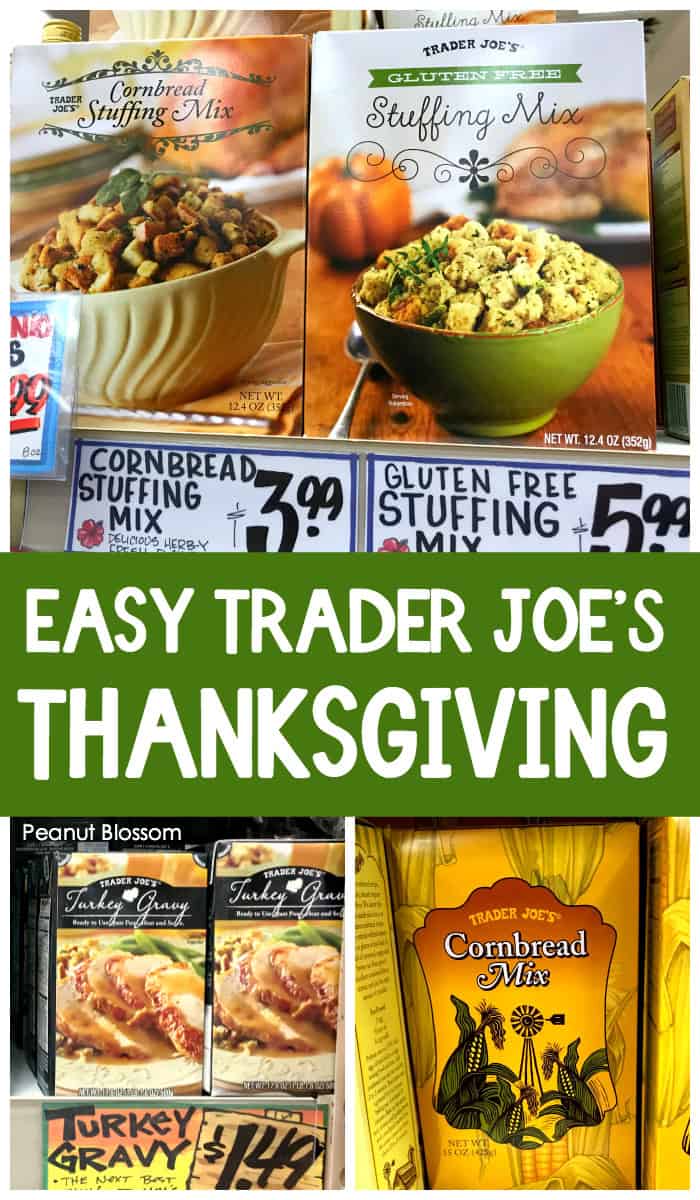 How to Make Trader Joe's Items Taste Fresh:
I hope I haven't lost you yet. If suggesting that you take some shortcuts with store-bought food for the holiday made you clutch your pearls, hang in there with me. With just a few handy tricks, you can level up your store-bought treats so they are worthy of their place on the table.
Fresh herbs: Sprinkle them with abandon over all the savory things. Box mixes and frozen sides all will taste so much better with a pinch of something fresh over the top.
Fresh whipped cream: Any store-bought dessert will taste amazing with fresh whipped cream. Trader Joe's sells whipping cream by the shelf-stable box. Just pop it in your fridge and whip it up in a minute.
Sprinkle chopped nuts: If you really want to be fancy, toast them first. But a sprinkle of fresh salted nuts can make frozen veggies or desserts really awesome.
Mix & Match condiments: Add jars of special toppings to mix and match the flavor. A regular apple pie topped with a special sauce and something crunchy is suddenly a whole new dessert!
RELATED: Check out how to decorate your Thanksgiving table with the prettiest Trader Joe's flowers for under $20.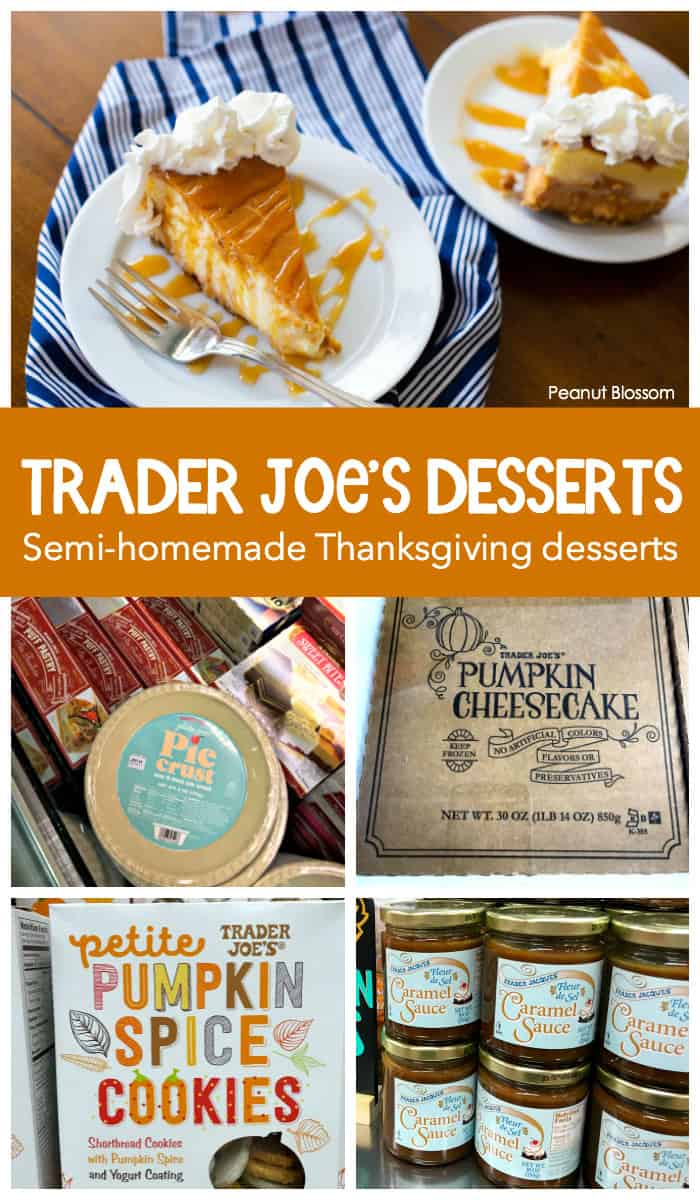 Easy Trader Joe's Thanksgiving Desserts:
Don't worry, you can likely find similar products at your store to mix and match your own semi-homemade Thanksgiving desserts. Here are some of our favorite Trader Joe's finds:
Pumpkin Cheesecake with a drizzle of Fleur de Sel Caramel Sauce or a handful of Trader Joe's Butter Toffee coated Virginia Peanuts
Maple Pecan bread mix turned into crinkle cookies with powdered sugar (recipe on the box!)
French Apple Tart with a sprinkle of dried cranberries and chopped pecans
Mini Apple Cranberry Tarts with a dollop of French Vanilla ice cream
Mini Pumpkin Spice Cookies served with heated up Spiced Apple Cider and a swirl of caramel sauce
Pumpkin Biscotti to serve alongside your after-dinner coffee for those that don't want a heavy dessert
Fresh goodies from the bakery section: Trader Joe's always has pecan pies, pumpkin pies, pumpkin whoopie pies, and sometimes our favorite Pumpkin Kringle which are always tasty.
RELATED: Grab a package of frozen puff pastry and a copy of this cookbook and watch your kids make a 3-ingredient cookie straight out of a French bakery. So fancy but so ridiculously easy.
Easy Trader Joe's Appetizers for Thanksgiving:
Mini Party Meatballs or Turkey Meatballs from the frozen section, heated up with a jar of BBQ sauce and half a jar of Pumpkin Butter
Baked Brie with a jar of Pumpkin Butter or Cranberry Sauce, sprinkled with pecans and dried cranberries served with a box of Pita Bite Crackers or Raisin Rosemary Crisps
Triple Ginger Cookie Thins and a jar of Cinnamon Bun Spread or Pumpkin Butter
Pumpkin Bisque with a swirl of Creme Fraiche, a sprinkle of salted pumpkin seeds, and a pinch of chopped green onions or fresh chives
Tarte d Alsace (Frozen French-style flatbread with ham, caramelized onions, & gruyere cheese): Cut this totally delicious flatbread into small appetizer bites and serve on a platter.
5 Cheese Greek Spiral: These cheesy puff pastry frozen dish is totally delicious, slice it up into smaller bits and serve with fresh pears and dried cranberries.
Frozen Pastry Bites: There are several bake-and-serve options in the freezer section that are totally delicious. We love the ones with Feta Cheese & Caramelized Onions.

Easy Trader Joe's Thanksgiving side dishes:
If you're looking to save some time and effort, Thanksgiving side dishes are a great place to use the help from the grocery store. Look for pre-chopped butternut squash, broccoli, and pre-washed green beans in the refrigerated section.
Boxed stuffing mix: Trader Joe's has both a regular herbed stuffing and a cornbread stuffing variety for you to choose from. They even have a gluten-free option! Just add chopped fresh celery and onions and then bake as directed.
Frozen mashed potatoes: Trader Joe's has both white and sweet potatoes frozen in mashed form. You can find mini-marshmallows and use the frozen sweet potatoes as the base for the traditional casserole vs. trying to cook and mash them from scratch. Or you can use their Mashed Sweet Potatoes with Pecans as the base if you like a little more crunch.
Frozen Mac & Cheese: If you're a good southern family, mac & cheese is likely part of your holiday menu. We love the regular frozen Mac & Cheese from Trader Joe's but you could always spice things up with their Hatch Chili version, too.
Broccoli & Cauliflower Gratin: gratin can be a very tricky dish to get right, this is a perfect frozen food shortcut.
Cauliflower Tot Casserole: also found in the frozen section, an easy cheesy side dish.
Mashed Cauliflower or Riced Cauliflower: For gluten-free side dishes, Trader Joe's offers both the mashed version or the riced cauliflower to use in place of traditional stuffing.
Sweet Potato Gnocchi with Butter & Sage: For a non-traditional Thanksgiving side dish twist, this frozen side dish is one of my personal favorites.
Roasted Vegetables: Don't want to mess with trying to roast veggies with the turkey in the oven? Grab the frozen Roasted Vegetables and you're all set.
Boxed Turkey Gravy: If you don't want to mess with making this from scratch, grab the no-lump version right off the shelf!