Everyone needs a cut out sugar cookie recipe that bakes perfect buttery sugar cookies that hold their shape and don't spread when you bake them. This is the best cookie for decorating and is easy enough for a beginner baker.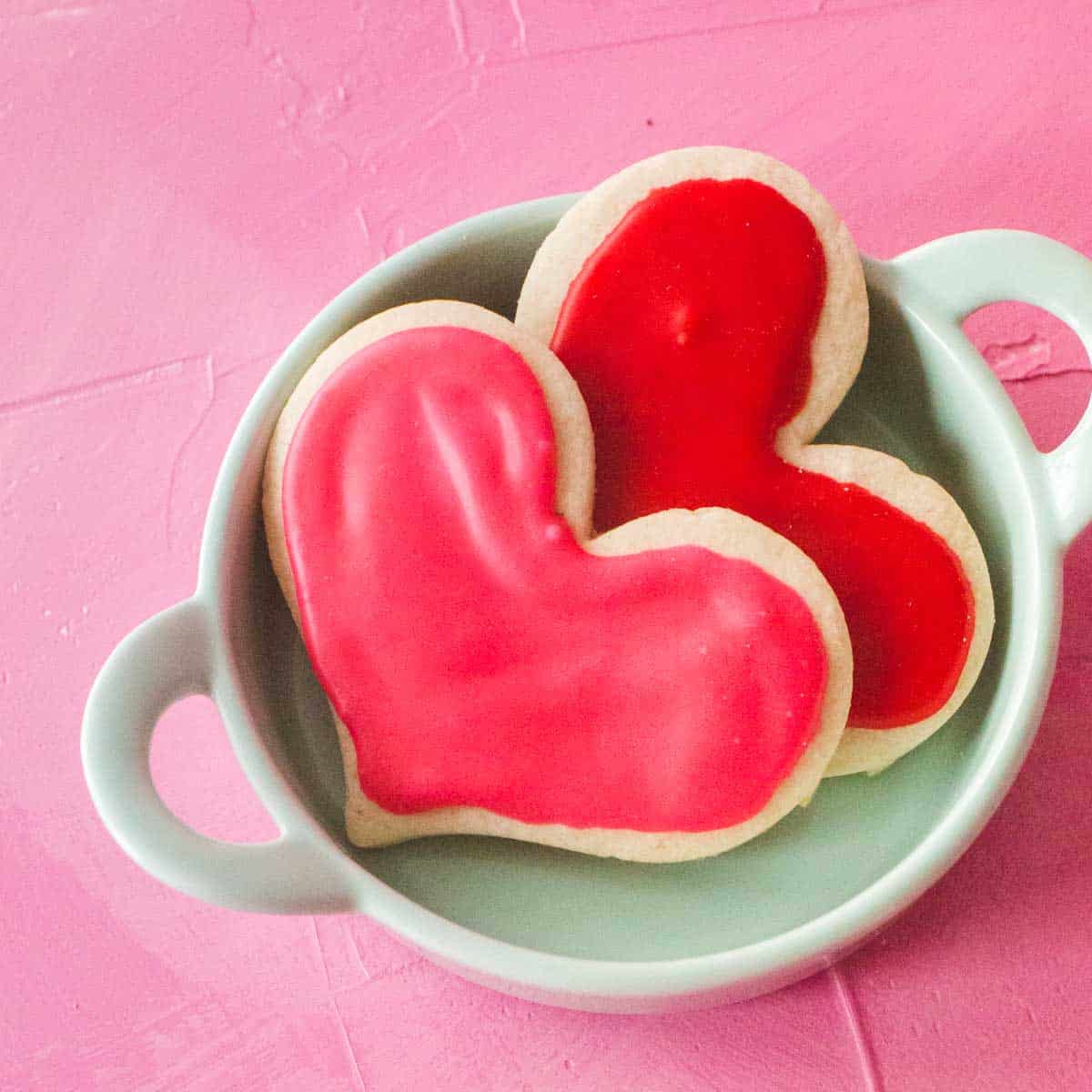 If your kids (or you) are going to get into sugar cookie decorating, then you absolutely need to start with the best cut out sugar cookies recipe!
Whether you plan to decorate them with a beautiful royal icing design or simply want to frost the cookies and sprinkle candies over the top, a crispy, buttery sugar cookie base is the essential first step.
This not-too-sweet sugar cookie recipe is so amazing, I included it in The Ultimate Kids' Baking Book.
Sugar cookies are a perfect treat all year round because you can simply change the shape and the colorful decoration on top and they're ready to match whatever holiday you're in the mood to bake for.
Pair this with my favorite royal icing recipe for stunning cookies you'll be so proud to share with family.
Jump to:
Why This Is the Best Recipe
I spent countless hours in the kitchen baking and perfecting cookie recipes during my time spent writing The Ultimate Kids' Baking Book.
I firmly believe that this is the best cut out sugar cookies recipe for beginner bakers because:
All Butter, NO Shortening: I don't keep shortening in the house, so I need just a basic butter recipe.
Easy to Roll Out: The dough rolls out perfectly and is easy to cut with our favorite cookie cutters.
Cookies Hold Their Shape: Nothing's worse than a puddled shape you don't recognize after baking! This dough holds your cookie cutter shape perfectly.
Crispy Outside, Chewy Inside: I feel crispy cookies hold up better to decorating far better than an overly soft sugar cookie but this recipe has a lovely soft chewy middle.
Bakes Evenly: Some recipes tend to brown around the edges before the cookie is baked, this recipe bakes perfectly evenly.
Easy for Kids: I've tested this recipe on both my girls and we always have a great time with it.
Ingredients
The wholesome ingredients that go into this sugar cookie dough are absolutely delicious.
Once you see how easy it is to make, you'll never buy refrigerated cookie dough again!
All you need are these easy things:
Butter: I always use salted butter for my baking, if you prefer to use unsalted butter you might want to add a pinch more salt to this recipe.
Sugar
Egg
Flour
Baking Powder
Vanilla Extract
Almond Extract: This is our 'secret ingredient' to making the most delicious sugar cookies you've ever had. It gives them a hint of something no one will quite be able to name but makes it taste like they came from a fancy bakery.
Kosher Salt
Make the Sugar Cookie Dough
You can prep the cookie dough in a stand mixer like a Kitchenaid or in a large mixing bowl with a hand mixer.
I've tried it both ways and though both methods work well, I think I prefer how the paddle attachment on the stand mixer beats the dough together.
In either case, you'll start by adding room temperature butter and sugar to the mixing bowl.
Beat them together on medium-high speed until well combined and fluffy. Be sure to scrape the sides of the bowl down after.
Add the egg, vanilla extract, and almond extract to the bowl and beat them in until just combined.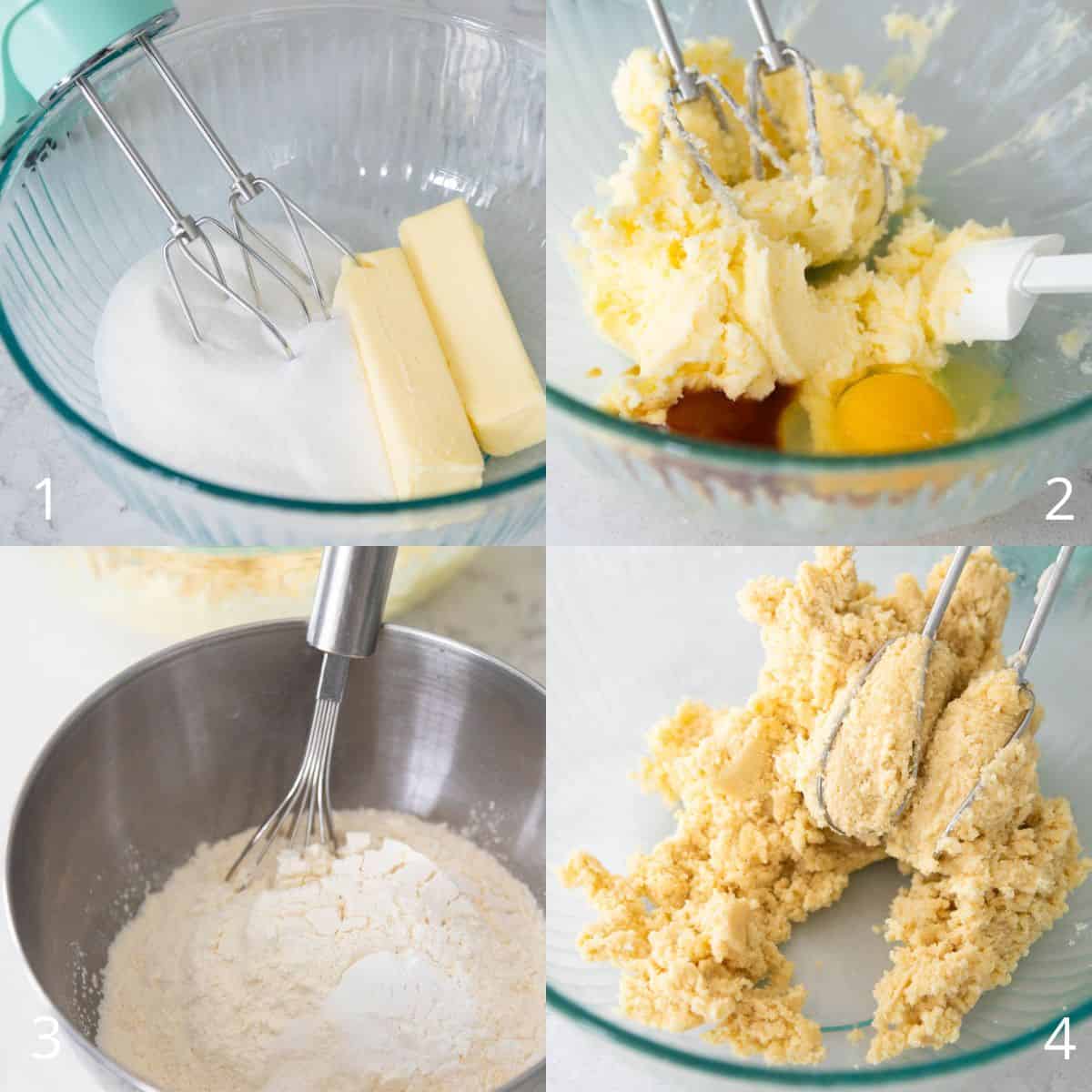 It is very important to whisk together the dry ingredients in a separate mixing bowl before adding them to the butter mixture.
Add the flour, baking powder, and salt to a bowl and give it a quick whisk. This ensures the baking powder will be evenly distributed throughout the dough and helps make a perfect rise in the cookie.
Add the flour mixture and beat it into the butter mixture until a dough forms.
NOTE FOR HAND MIXERS: If you are using a hand mixer, please note that the cookie dough will be very thick.
You need to continue to beat the dough until it starts to come together as shown in Photo #4 in the collage above.
Use a scraper to remove the dough from the beaters. Then gently stir it together by hand to collect the shaggy bits of dough in the bowl.
Pat the cookie dough into a ball, you may to gently knead it with your hands for a few moments to get it to smooth out just a bit like this:
Chill the Cookie Dough
For the easiest rolling and cutting of your cut out cookies, it is a good idea to chill your sugar cookie dough for 15 minutes before rolling it out.
At this point you could also store it for baking later in the fridge or freezer. Be sure to see my storage tips below.
Roll the Cookie Dough for Cutting
Once the cookie dough has chilled for a bit, it is time to make the cut out cookies and bake them.
I like to work with smaller portions of dough at a time so they are easier to roll evenly.
Divide the dough in half or even in quarters.
Choose one portion and roll the dough out to a ¼ inch thickness.
TIP: It helps to sprinkle a little flour on your baking mat before you begin.
Tips for Making Clean Cut Outs
Be sure to have your baking pan nearby before you begin to cut out the cookies. You'll need a spot to store them as you work.
My favorite cookie cutters slice right through the dough with no problem and they very rarely stick.
However, if you're using metal cookie cutters, you may want to keep a small bowl of flour near your work space. You can dip the cutter into the flour for easy cookie cutting.
This is especially important if the cutter has small delicate edges.
Place the cut out sugar cookies on the baking pan with at least an inch between each cookie edge. The number of cookies per pan will depend on the size of your cutters.
Baking Instructions
Preheat the oven to 350°F.
Bake each baking sheet filled with cookies for about 6 - 8 minutes.
The cookies should not brown around the edges but they should be firm.
Let the cookies cool directly on the hot baking pan for 3 - 5 minutes before attempting to transfer them to a wire rack for cooling.
Be sure to cool them completely before decorating.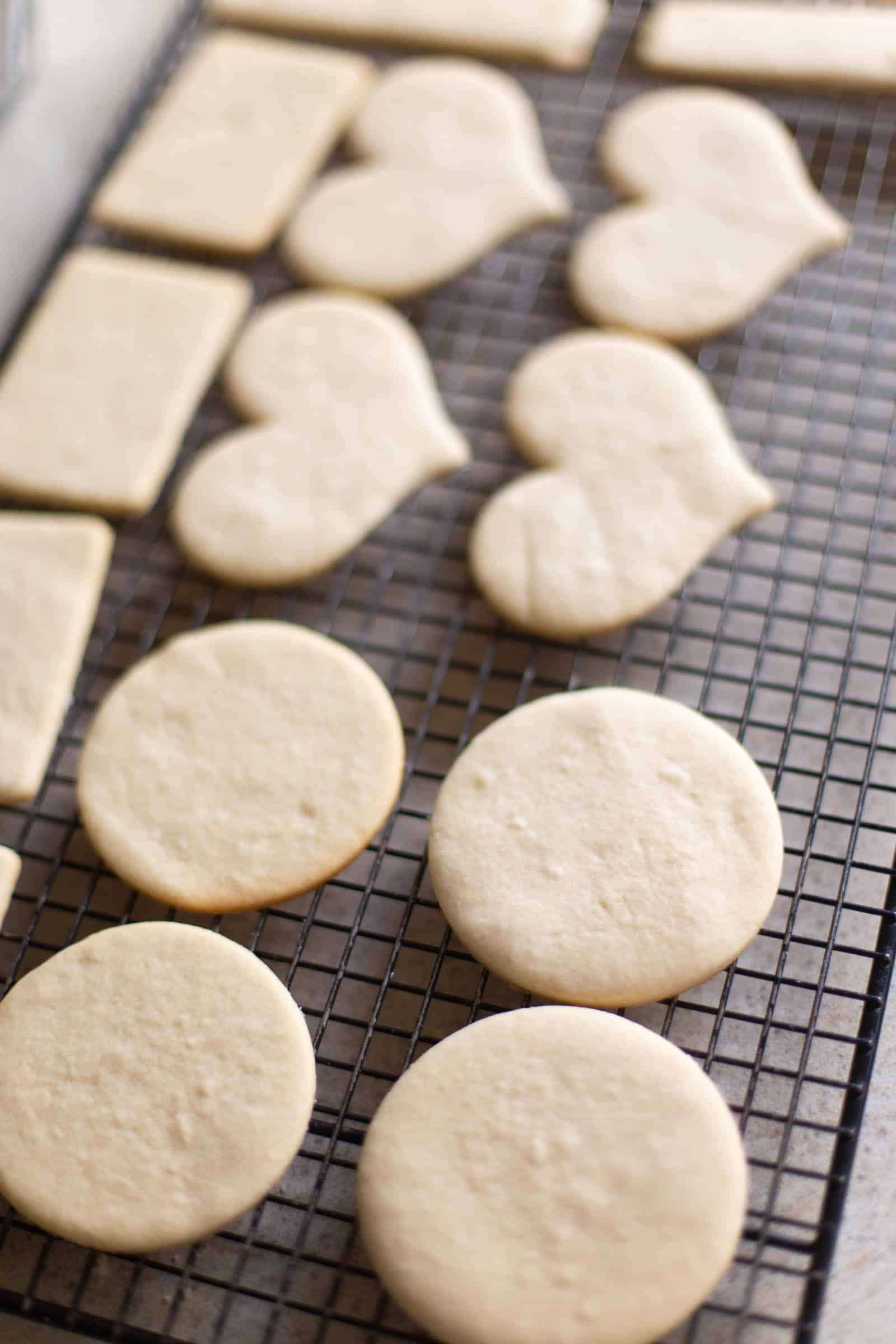 How to Decorate Cut Out Sugar Cookies
Once the cookies have been baked and completely cooled, you can decorate them with cookie glaze, royal icing, or your favorite frosting.
If you're decorating cookies with kids, I suggest that you prepare your favorite cookie frosting and set out sprinkles for the finishing touch. This is the easiest way to decorate sugar cookies with your family.
Cut Out Cookie Decorating Ideas and Tips
One of my best tips for decorating cookies with kids is to stick to an easy 2-color design.
You'd be amazed at how many adorable cookie designs you can come up with even when you have a limited color range.
For some of my favorite holiday-specific cookie designs, you'll want to check out these inspiration lists:
Make Ahead Tips
One of my very favorite things about baking sugar cookies is the fact that you can easily make them ahead.
When I'm baking with my kids, I often prepare the cookie dough the day before so we can have fun just cutting out the cookies and baking them together.
Sometimes I even cut out and bake the cookies in advance so the kids can just have fun with the decorating part.
The unbaked sugar cookie dough will keep in the fridge for 3 - 5 days and in the freezer for up to 6 months.
Baked cookies will keep in an airtight container on the counter for up to 1 week or in the freezer for up to 6 months.
How to Freeze Sugar Cookies
There are so many clever tips for how to freeze sugar cookies, I have a separate article for you coming soon.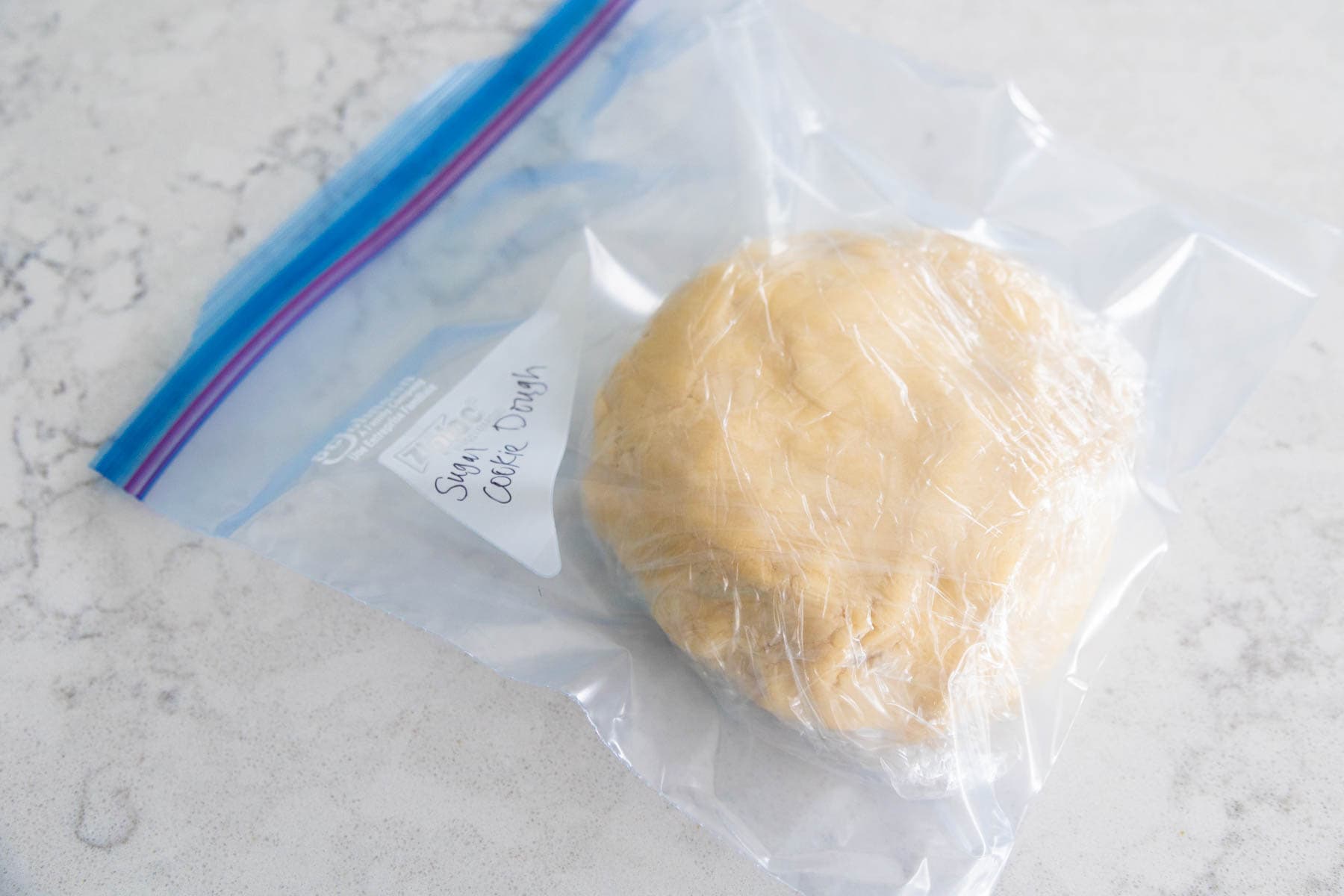 Sugar Cookie FAQ
The cookies look under-baked. Can I bake them longer?
Properly cooked sugar cookies are very pale, they never really get a golden brown color on the top or edges. It can be tricky to determine if they are fully baked the first time you make them. Use a spatula to peek underneath a cookie. If it is golden brown under there, the cookie is perfect.
Should sugar cookies be soft or hard?
If you want to decorate sugar cookies with royal icing, they should be firm and crispy. Softer cookies don't have as smooth of a surface for royal icing.
If you plan to use frosting, you can bake soft or crispy sugar cookies, whatever your personal preference is!
What to add to cookie mix to make it taste better?
If you don't want to bake sugar cookies from scratch and plan to use a cookie mix, try adding a half a teaspoon of almond extract and/or up to one teaspoon of vanilla extract to help them taste better.
Easy Cookie Recipes for Kids
Don't miss some of our other favorite easy cookie recipes to bake with your kids:
📖 Recipe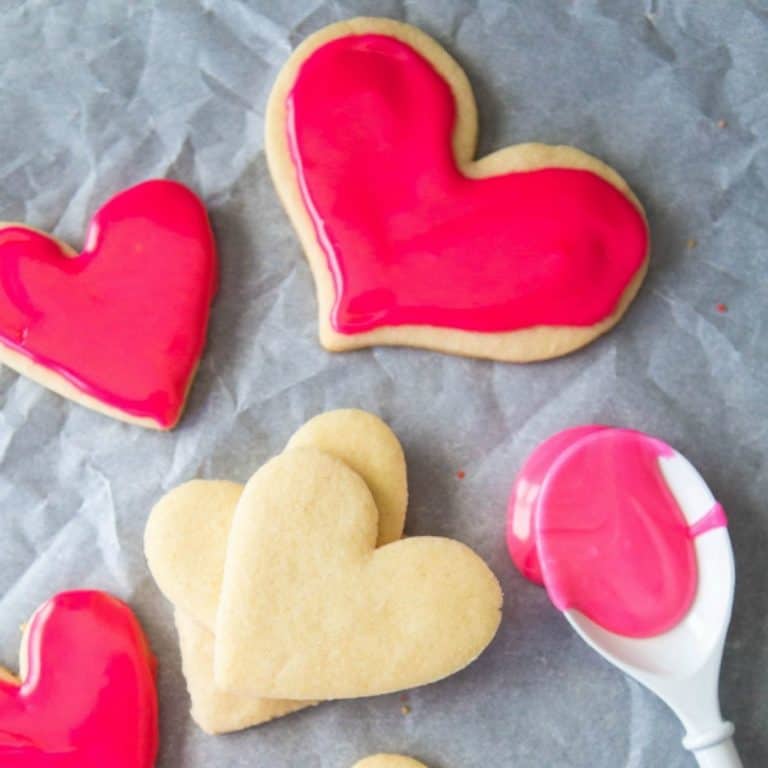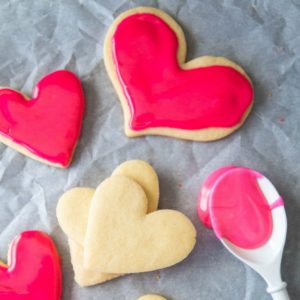 Cut Out Sugar Cookies
This is the best cut out sugar cookies recipe because they make the perfect blank canvas for your creative designs. You can decorate them to match any season or celebration during the year. Try them with a simple cookie glaze or spread your favorite frosting over them and top with sprinkles for a special treat your family will love.
Ingredients
1

cup

(2 sticks) salted butter

softened

1

cup

sugar

1

large egg

1

teaspoon

vanilla extract

½

teaspoon

almond extract

3

cups

all-purpose flour

plus more for dusting

2

teaspoon

baking powder

½

teaspoon

salt
Instructions
Make the Sugar Cookie Dough
In a large mixing bowl, combine the butter and sugar and beat with an electric mixer on medium-high speed until light and fluffy.

Crack the egg into a small bowl to check for shells. Add the egg and extracts to the butter mixture and beat to combine.

In a medium bowl, combine the flour, baking powder and salt and whisk them together. Add the flour mixture to the butter and beat on medium-low speed until the dough comes together.

If the dough is too thick for your mixer to work, scrape everything off the beaters onto a floured work surface. Rub some flour on your clean hands and knead the dough into one solid portion.
Chill the Dough
Pat the dough into a flat disk and cover it with plastic wrap. Chill it in the fridge for 15 minutes before rolling.
Bake the Cookies
Preheat the oven to 350°F. Set out two cookie pans and line them with parchment paper; set aside.

Use a rolling pin to roll out the cookie dough so that it is evenly ¼ inch thick. You may find it easiest to work with smaller portions of dough. I like to cut my dough in half and work with just part of it at a time.

Dip your cookie cutters in flour and cut out your shapes. Knead the remaining dough scraps back into a disk and repeat the rolling and cutting until you've made as many cookies as you can. Place the cookies on the baking pans with a little bit of space between them so you don't overcrowd your pan. 

Bake the cookies for 6 to 8 minutes. The cookies should not brown around the edges. Remove from the oven and let the cookies cool on the pans for 3 to 5 minutes before transferring to a wire rack.

Once cool, frost the cookies with cookie glaze, your favorite frosting, or a batch of royal icing.
Recipe Notes
The yield will change depending on the size of the cookie cutter you use.
Save This Recipe to Your Recipe Box
Find this delicious recipe next time you visit by saving it to your very own recipe box on my site. All your favorites stored in one easy place!