This baby shower gift basket is a unique baby shower gift that is especially perfect for book club members to give friends who are expecting.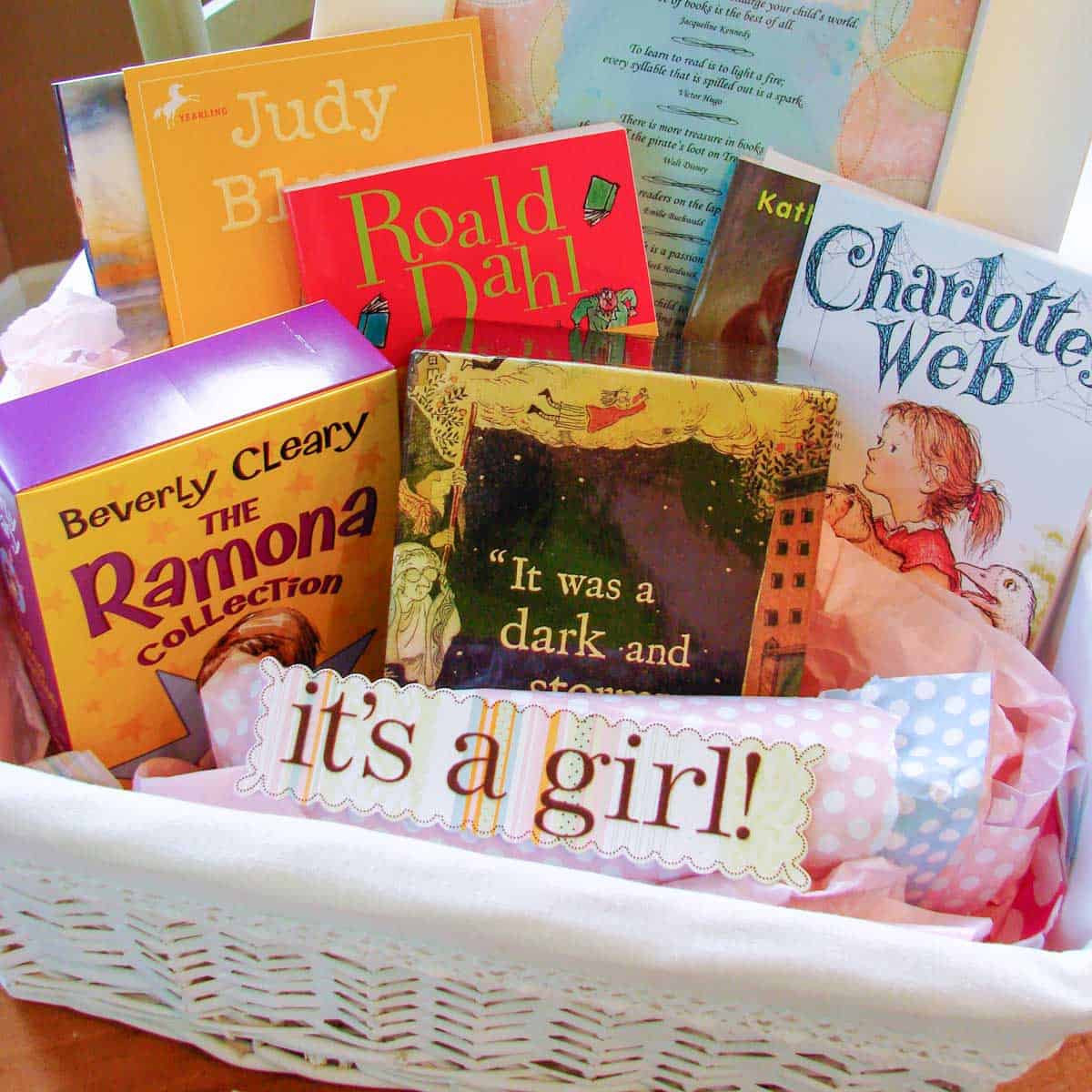 My completely fantastic book club ladies surprised me with the best baby shower gift basket for Little Pea at our last book club meeting before my daughter arrived.
I can't think of a gift more appropriate from them than the one that they chose--a starter library for Little Pea.
Each woman from the club chose the chapter book that inspired her love of reading as a young girl and they filled a basket with copies of their choices.
I was thrilled to see several titles I remember loving myself mixed in with a few I hadn't heard of before. Isn't that just the best part about being in a book club??
It just so happens that as soon as I knew I was pregnant, I had already started to set aside my childhood favorites for the girls and this wisely chosen gift was the perfect fit.
Jump to:
Why This is the Best Baby Shower Gift
Let me give you a piece of advice as a parent who is further down the road on the childhood journey . . .
At a baby shower, new moms will receive countless adorable onesies and things that their precious newborn is going to outgrow within just a few months.
Baby shower gifts that recognize that sweet little baby is going to grow into a bigger child and provides things that parents can enjoy and use later are the true gifts.
I tucked this gift basket away for safe keeping in my daughter's nursery. In just a blink of an eye it seemed she was suddenly big enough to start pulling the books down off the shelf to read.
With each title we enjoyed together or she read on her own, I smiled as I remembered the sweet book club friends who knew these days would come.
Materials You Need
To make your own baby shower gift basket like mine, all you need is:
A practical basket that can double as a diaper holder or storage in a nursery.
Everyone supporting the gift should add one or two books to the pile.
A decorative picture frame
A sweet printable with book quotes to fill the frame
Reading-themed onesies with matching tees for any older siblings
How to Wrap the Books
This is the best part of a gift basket! No wrapping required.
My friends used colorful tissue paper to fill the bottom of the basket and hold the books in a nice presentation.
They tucked in the picture frame and onesies to help fill in the open spaces between books.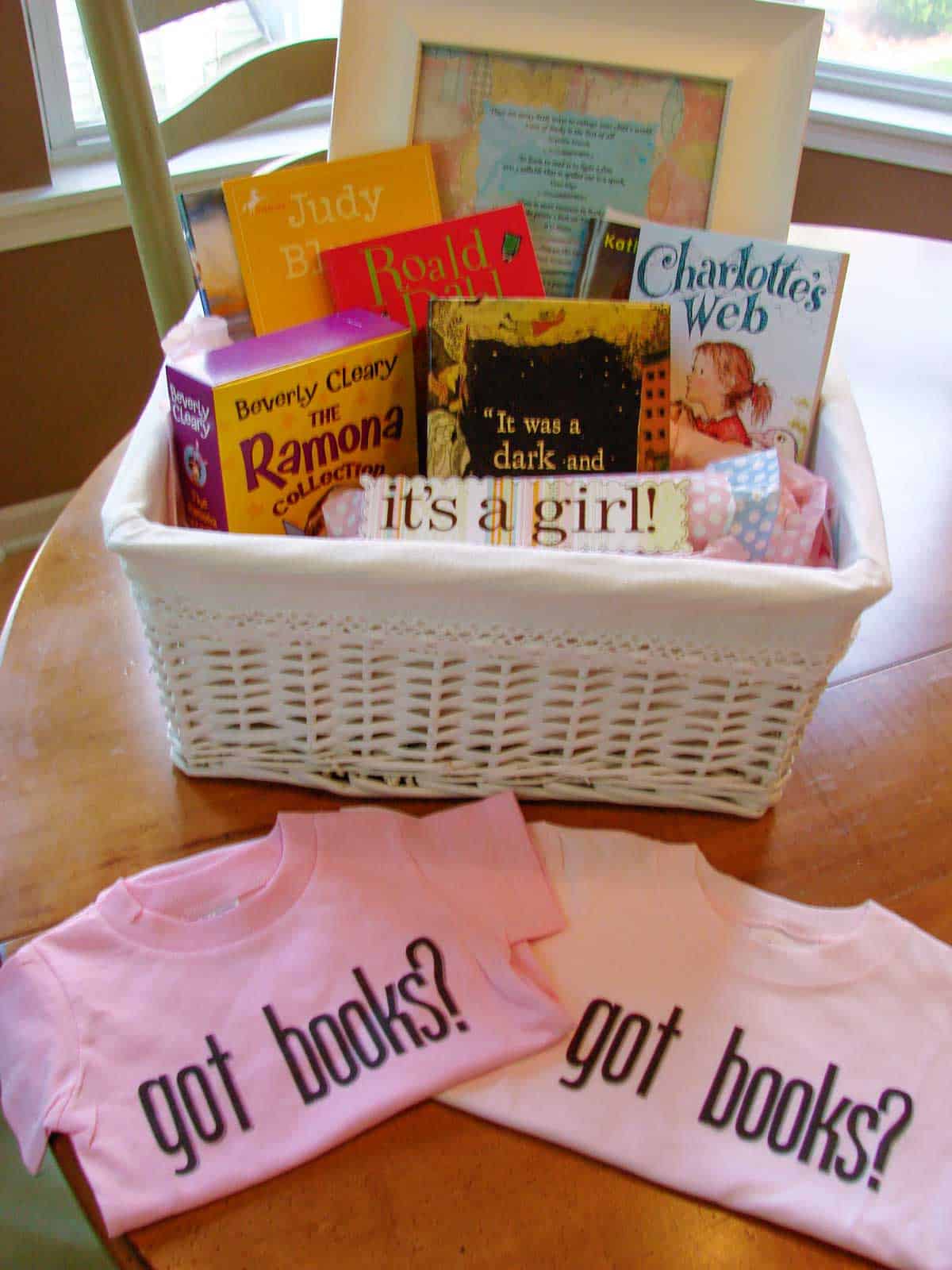 You could try to find a large gift bag or wrap the entire basket in clear cellophane, but honestly just stick a pretty bow on the front and you can call it good!
How to Choose the Books
Each book inside the basket was carefully chosen by one of the members in my book club as the book that sparked her love of reading.
I loved that they were personally recommended and cherished titles each member remembered from her girlhood days. You can see the list of the books for girls they chose right here.
You could also ask that every gift basket contributor choose one book on this theme:
A classic children's literature gift basket: Examples could include Winnie the Pooh, Alice in Wonderland, etc.
A modern best seller gift basket: Ask guests to stalk the current best sellers in various late elementary/middle grade genres.
A read aloud gift basket: Books that are specifically meant to be enjoyed together with the child.
A picture book gift basket: Start the family library off right with plenty of picture books.
Books to Give as Gifts
Whether the baby shower is for a baby boy or a baby girl, I've pulled together three great book lists to help get you started:
If you prefer to start a Read Aloud Books Gift basket, you may also enjoy these excellent book lists:
Holiday Themed Gift Basket
If your baby shower or the baby's due date falls closely around a holiday, consider making an extra-special themed holiday book basket:
Baptism Gift Basket
A book gift basket would also make an amazing baptism gift for a baby. Any of the themes above would be special, but these would be especially appropriate:
Book Quotes to Use for the Gift Card
My book club friends printed these quotes on a sweet 8 x 10 decorative page and framed it for me to keep in the nursery.
Any of the quotes would also make a lovely addition to your card to help explain the gift:
There are many little ways to enlarge your child's world.
Love of books is the best of all.
-Jacqueline Kennedy
To learn to read is to light a fire;
every syllable that is spilled out is a spark.
- Victor Hugo
There is more treasure in books than
in all the pirates' loot on Treasure Island.
-Walt Disney
Children are made readers on the laps of their parents.
-Emilie Buchwald
The greatest gift is a passion for reading.
-Elizabeth Hardwick
Any book that helps a child to form a habit of reading,
to make reading one of her deep and continuing needs, is good for her.
- Maya Angelou
The more you read, the more things you will know.
The more you learn, the more places you'll go.
- Dr. Seuss
Book Themed Baby Onesies
Since Little Pea was my second baby, my book club friends also included a matching onesie for the baby along with a t-shirt for my older daughter.
It was such a thoughtful way to include both kids.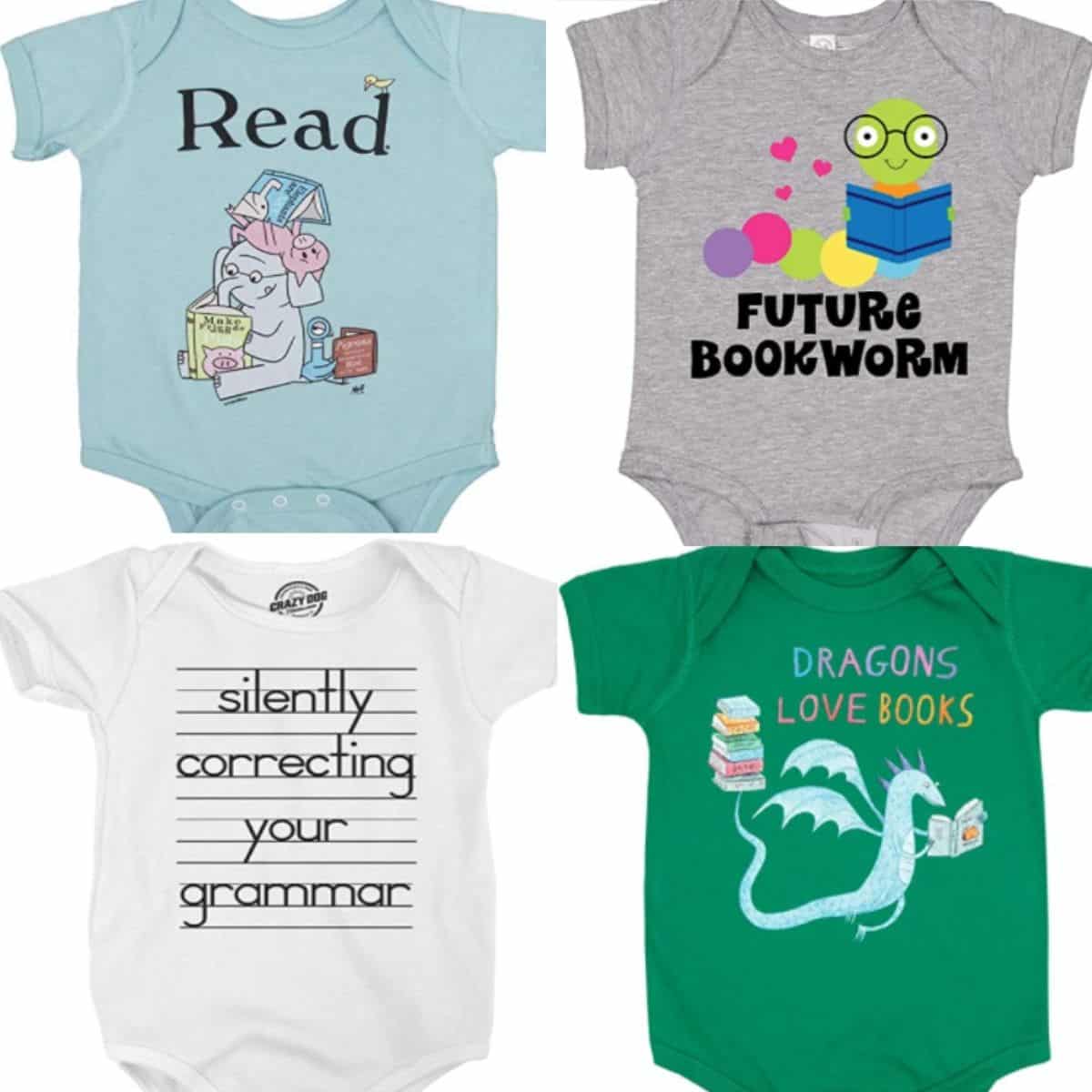 Each of these designs comes in over a dozen different onesie colors in all shades of pink, blue, green, grey, and black as well as various sizes from newborn to 24 months.
I recommend choosing a size the baby can grow into so they can enjoy it as long as possible!
Baby Shower Tips
If you're hosting a baby shower, this is a great gift idea to wrap the entire theme of the party around. But, to keep the guests happy you might also want to plan for a few of these super fun baby shower games!