Kids Easter books about bunnies make an amazing Easter basket gift. Many of these bunny books can be enjoyed all year long and not just on the holiday.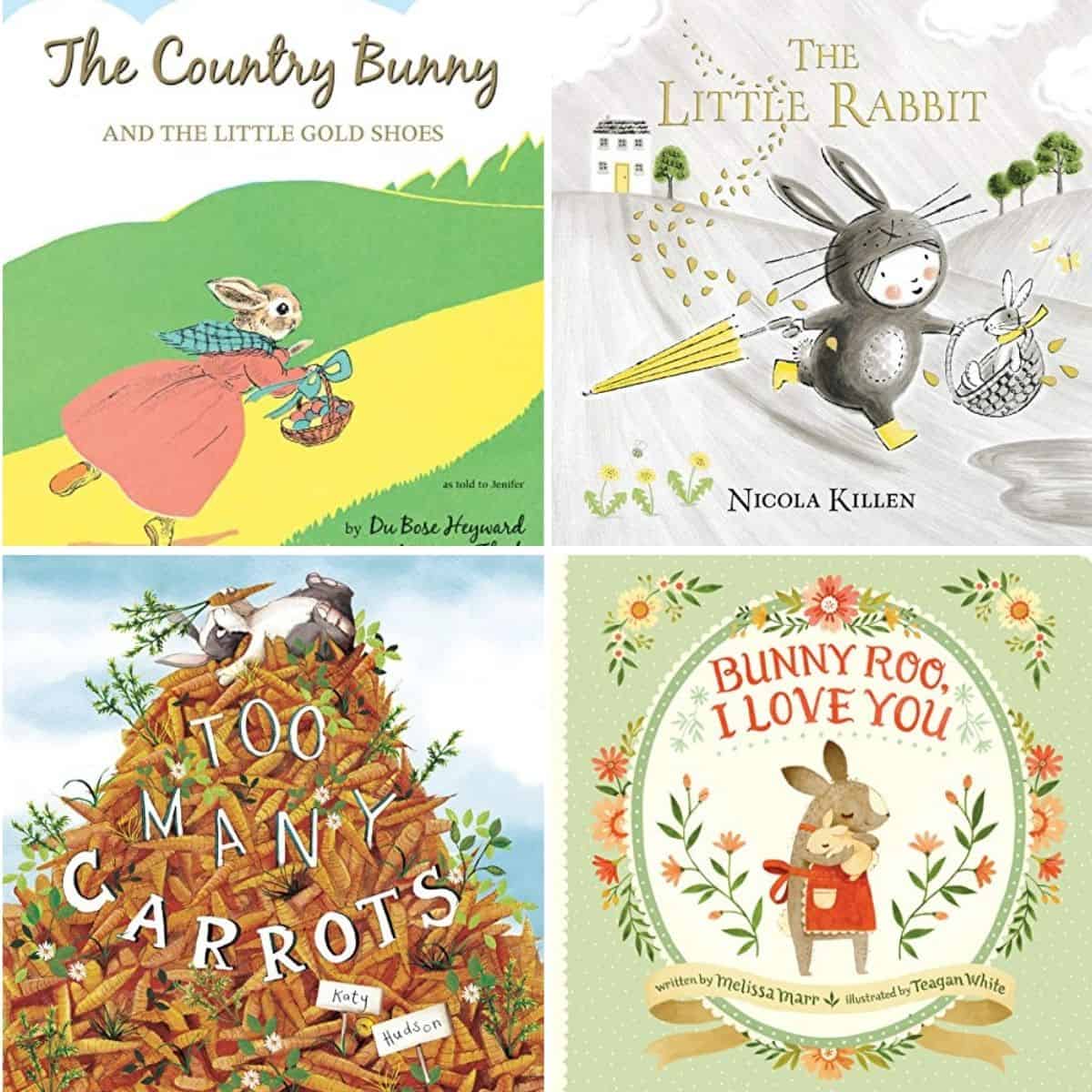 Looking for a clever Easter gift for your kids? I love giving books as gifts for special occasions all year long.
Every Spring, my girls would open cheerful picture books on Easter morning. I looked for books about bunnies, gardens, or nature that could be enjoyed for the entire season and not just books specifically about Easter itself.
The Easter books on this list have lovely illustrations and feature a bunny as one of the characters in the story.
Some feature Easter-specific themes like egg hunts and egg trees, but many are just sweet books about bunnies your kids can enjoy all year long.
Kids Easter Books with Bunnies
Rabbit has too many carrots, which overtake his house. When he tries to move in with friends, more chaos ensues. Will Rabbit learn to change his selfish ways?
The country bunny attains the exalted position of Easter Bunny in spite of her responsibilities as the mother of twenty-one children.
Families of all kinds will delight in this sweet tale of new babies, sibling rivalry, bravery, unconditional love...and veggies!The Bunny family has adopted a wolf son, and daughter Dot is the only one who realizes Wolfie can--and might--eat them all up! Dot tries to get through to her parents, but they are too smitten to listen. A new brother takes getting used to, and when (in a twist of fate) it's Wolfie who's threatened, can Dot save the day?
Join Bunny for a top-secret trip to the library in a story that celebrates the love of reading!   Bunny loves to sit outside the library with the kids and listen to summer story time. But when the weather gets cold and everyone moves inside, his daily dose of joy is gone. Desperate, Bunny refuses to miss out on any more reading time and devises a plan to sneak into the library at night . . . through the library's book drop! What follows is an adorable caper that brings an inquisitive, fuzzy bunny and his woodland pals up close and personal with the books they have grown to love. A warm celebration of the power of books, Bunny's Book Club is sure to bring knowing smiles to any child, parent, teacher, bookseller, and librarian who understands the one-of-a-kind magic of reading.
Jan Brett's lovable bunny hero, Hoppi, and her remarkable Easter Rabbit will enchant readers as they pore over illustrations filled with dazzling eggs made by Flora Bunny, Aunt Sassyfrass and others.If Hoppi can make the best Easter egg, he will get to help the Easter Rabbit with his deliveries on Easter morning. But it is not so easy. Discouraged, he goes into the woods to think when a blue robin's egg tumbles out of its nest. Hoppi keeps it safe and warm until the baby bird hatches, and when the Easter Rabbit arrives, he declares the empty blue eggshell the very best one to reward Hoppi for his kindness.Spring is everywhere in gorgeous illustrations framed with pussy willows, flowering vines and flowers. Side borders feature busy rabbits making their unusual eggs and, in a border above, the Robin's family drama unfolds.
The Abbotts, established Easter egg artists, let their son develop a style of his own when he shows an interest in painting
From beloved author/illustrator Nicola Killen comes an enchanting spring story about a magical friendship between a little girl and her stuffed rabbit who comes to life, lovingly told and illustrated in limited color with lovely foil and interactive die cut pages.Ollie and her favorite friend bunny have been waiting for the rain to stop and spring to come, and at long last the sun arrives. Ollie puts on her rain boots, wraps bunny in a warm scarf, and the two set off for exploring. Then a sudden breeze whispers past and bunny's nose twitches and their magical adventure begins…
One Easter morning, Katy and Carl went on an egg hunt through Grandmom's house. Katy couldn't find anything until she went up to the attic. And there she discovered a very special set of eggs...Grandmom had painted them when she was a little girl. And now, she hung them from the branches of a tiny tree—an Egg Tree! So began a very special Easter tradition.This Caldecott Medal-winning story of a Pennsylvania Dutch Easter will surely inspire children to make Egg Trees of their very own.
From the heartwarming text to the adorable illustrations of little kids dressed as animals, there's so much to love about Mary Lundquist's debut picture book, Cat & Bunny. Cat and Bunny. Bunny and Cat.
It's always been just the two of them—daydreaming, having adventures, playing their special game. Until the day someone else asks, "Can I play?"
Mary Lundquist captures all the charm and magic of first friendship in her winning debut picture book.
A warm and tender welcome to the world! In a gorgeous picture book that's playfully sweet and visually captivating, New York Times bestselling author Melissa Marr and talented new illustrator Teagan White celebrate the many ways parents make their new babies feel at home. The world can seem like a big, bewildering place for new babies—fortunately, their mamas know just how to soothe and comfort them. Through enchanting scenes portraying all kinds of mama animals looking out for their little ones, the mother in this story reassures her baby, and young children everywhere, that their caretakers will always love them and keep them safe. This beautiful picture book has the feel of a classic and its heartwarming premise should make it a family favorite.
A loving mama has fun sharing the various animals her growing child resembles, in this delightful companion to Bunny Roo, I Love You.When you touched the water, you squawked and splashed.I thought you'd become a duckling, so I jumped in to play with you.It's hard to keep up with an energetic toddler, and as an adoring mom tries to, she describes all the frisky young animals her little one reminds her of--from a hopping frog and a squirming snake, to her adorable cuddly bunny.
Honeysuckle the little bunny loves to throw a fancy party. Honeysuckle is a sweet, fanciful friend who delights in baking lovely cakes, creating darling invitations, and hosting wondrous parties - all to show her friends how much she loves them. At Pinky Park, at half-past three, the whimsical bunch of friends, including Scottie the puppy, Gracie the kitten, Toot the bird, Bear the hedgehog, and Sinclair the elegant swan, gather for a party and a sprinkle cake; but, a cloud overhead threatens to ruin their day together. As Honeysuckle saddens with the disappearing sunshine, it is her friends who remind her that the reason for the invitations, decorations, and fancy cake, is simply to gather together.
More Gift Books for Kids
I love giving pictures books as a gift for kids at every holiday. Here are some of my favorites: