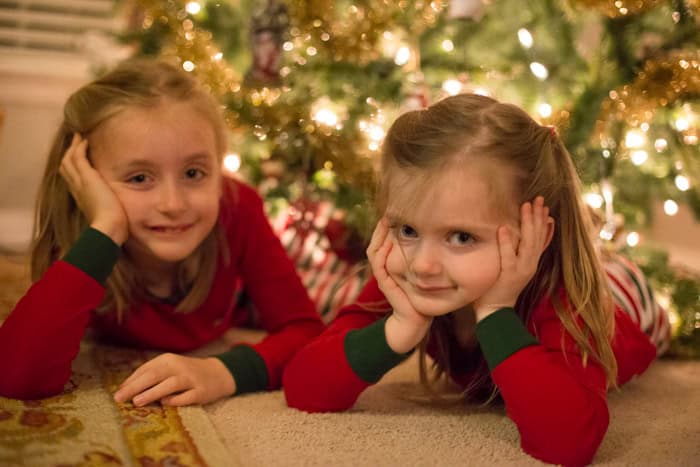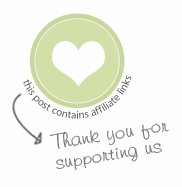 Holiday card photo time! Does this annual tradition stress you out? For many families, this is the time of year to turn to a professional photographer for a whole-family portrait session. It's fantastic that moms are making a point to get in the photos too, but if your holiday budget doesn't include room for a pro, there is tons of fun to be had in DIY-ing your own images.
I've always felt that our family's Christmas greeting is a spot to inject a little playfulness and personality to the holiday card pile. I want our offering to share a tiny story of what our home is like at this time of year so that the recipient feels like they are sharing our fun.
Here are a few tricks to capturing the joy of the season on your own children's faces:
1. Prepare an engaging activity: What are your favorite things to do together this time of year? Schedule a photo session around an activity that will get your kids interacting with one another:
Cookie baking
Gingerbread house decorating
Hot cocoa & story time
Decorating your home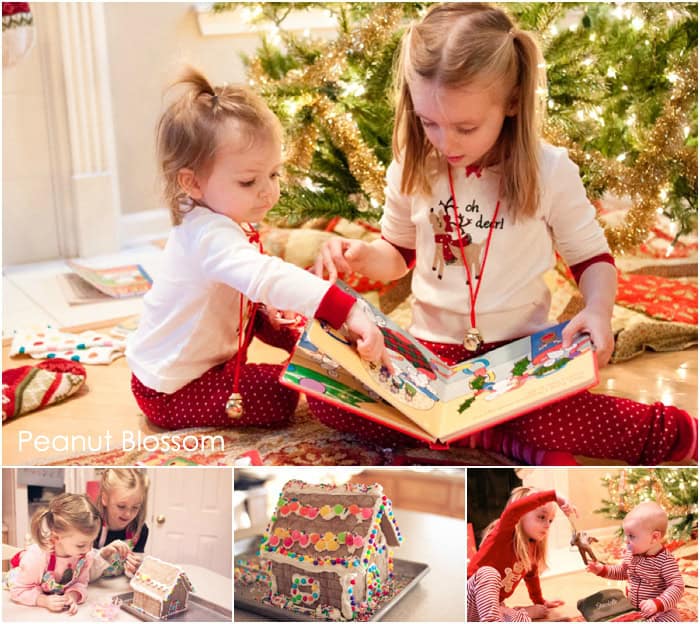 2. Use your personal decor as backdrop: Tree decorating day has been a prime card photo session time for me for several years running. I love capturing my girls playing with the garland like I did with my sister at that age. Added bonus: you can't beat the sparkle once the lights are on and the sun goes down.
Which decorations are meaningful to your family? Feel free to move them to a spot where you'll get good light and use them as props or background.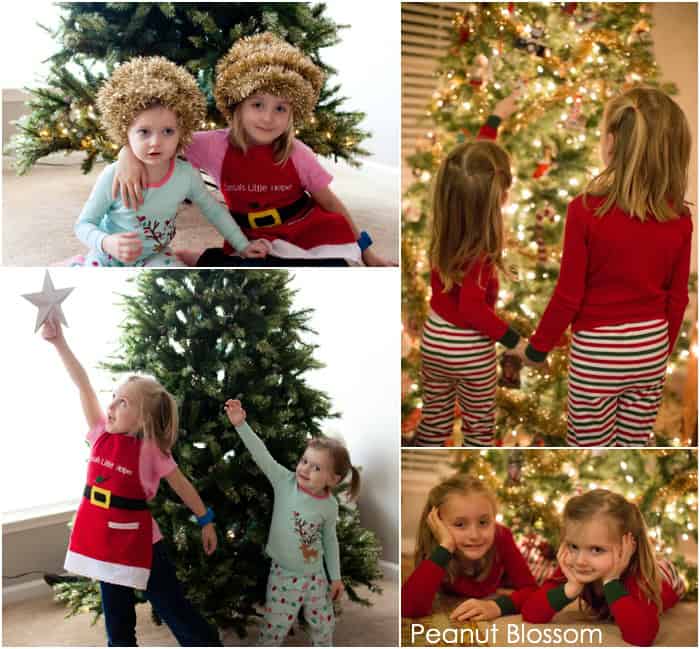 3. Embrace the "outtakes": Several of our recent holiday cards ended up featuring a hysterical outtake from our photo session and those cards ALWAYS get the highest number of compliments. I love the comparison between the girls giving each other a flash of stink eye to the adorable devoted smiles that truly came just a moment later. That is what real sibling love is all about and it is a tiny slice of reality for our loved ones to enjoy and laugh over.
So many of the card templates available today allow for more than one photo so I love sneaking in that unexpected surprise in one of the slots! If you shop at Tiny Prints, they even allow you to sort your template options by the number of photos! Check it out here.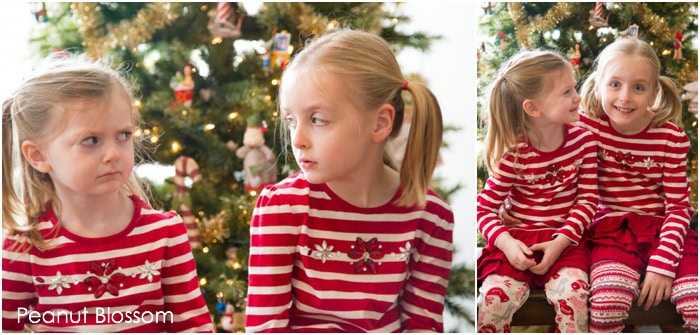 4. "Together we stand" doesn't hold true for portraits: As much as I enjoy images that have our whole family in them together, that can add an extra amount of stress on the photo session. Give yourself permission to take advantage of collages and multiple image templates for cards. One year I just simply could not get a good shot of both girls together, so I took their most personality rich images of each girls separately and included them on the same card. This also works great for including pictures of mom who is usually behind the camera for most shots.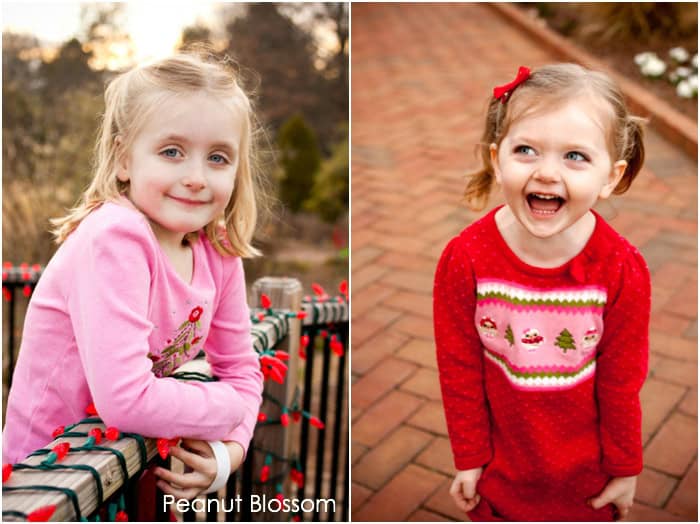 6. Take a deep breath and remember that these images are for YOU: Your card will be enjoyed by the recipient for a while, but you will have the images for a lifetime. While working on these tips, I pulled out our Christmas images for the last 4 years and my heart strings were pulled as I see my girls growing over time. Even though they aren't all "Pinterest Perfect" they trigger so many memories and oodles of smiles.
Remember to relax and have fun with your photo session. If you don't get what you want, you have an excuse to play again which will only mean more holiday fun with the kids! And you'll be much more forgiving of today's outtakes in just another 4 years. Trust me, they'll be good for some excellent reminiscing down the road. . .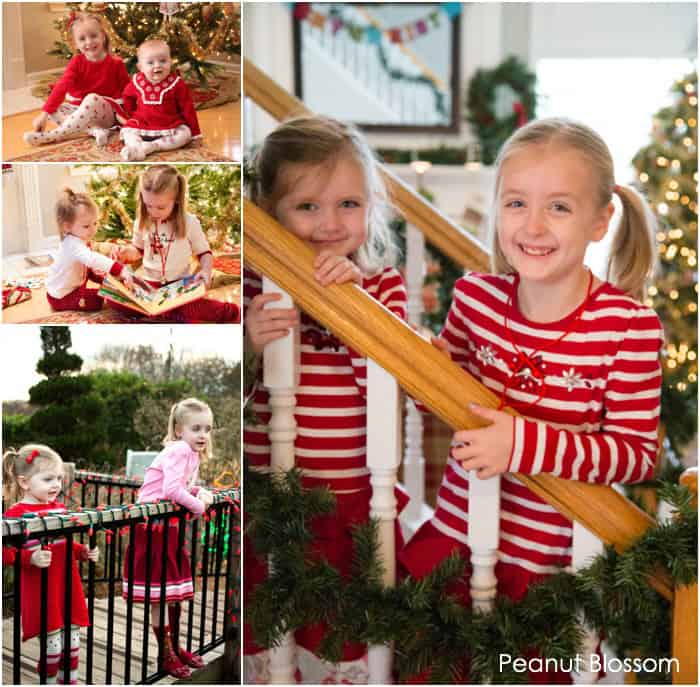 PS: Looking for additional inspiration? I am proud to be sharing holiday card ideas with the blogs Lasso The Moon, The Artful Parent and Simple As That this month. Click below to see some of their photography tips and creative ideas!