Want to capture your family's Christmas with meaningful photos this year? There are so many precious things to remember about our holidays with kids that it can feel overwhelming with where to even begin. Try this daily photo challenge and capture 25 breathtaking Christmas photos you'll love to enjoy year after year.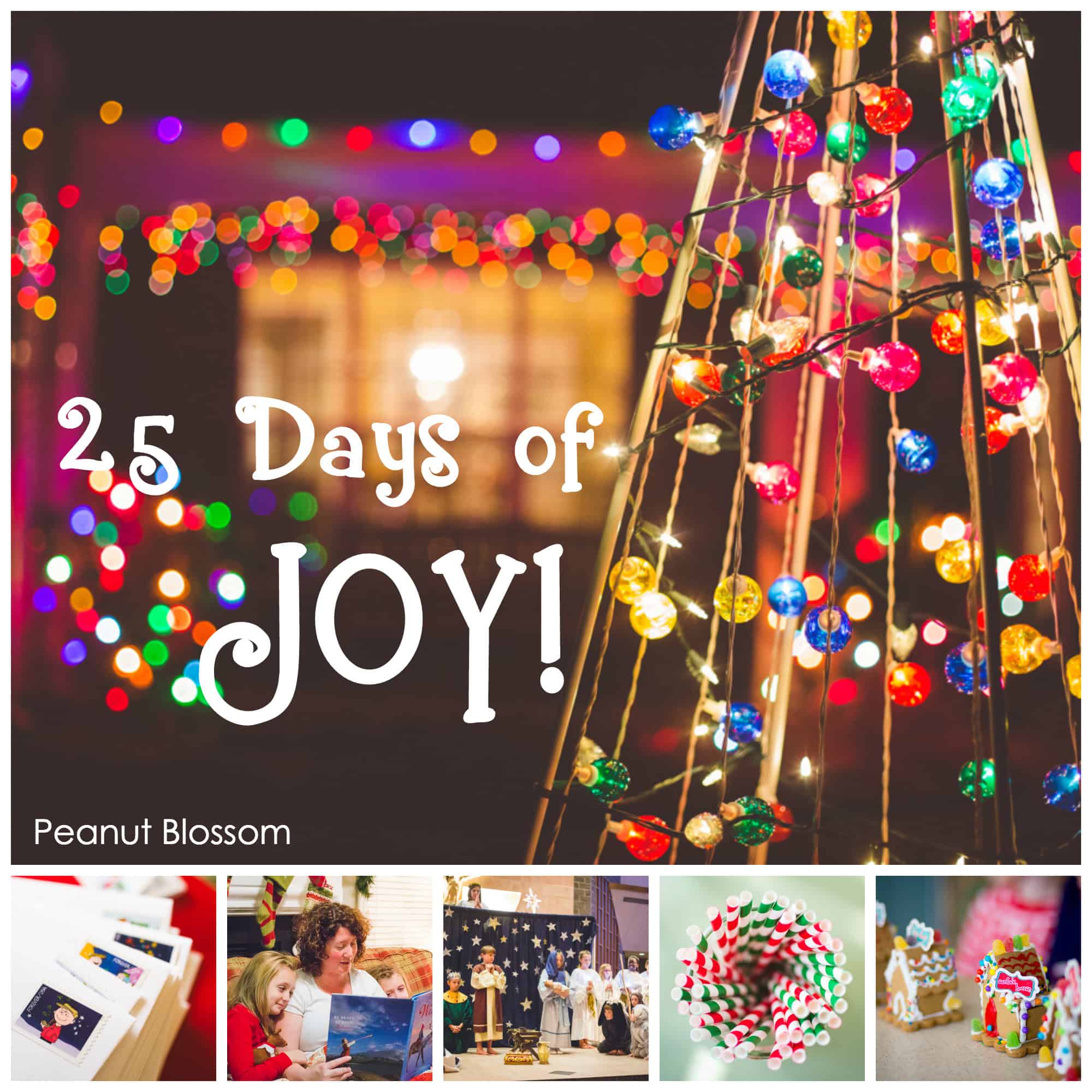 We are up to our ears in holiday preparation already! Are you feeling the pressure of a mile long to-do list?
The last few years have made me a little bit crazy so this year I'm trying something different. I vow to focus on what really matters to me at Christmas: my time with my family.
Last year I set out to capture a photo a day during our holiday season and I love how it helped me to look for the beautiful moments of joy all month long. I want to share this experience with you!
25 Days of Joy photography project

The project couldn't be easier:
Instagram has become my very favorite place to connect with readers like you. The entire project will be taking place over there. I'm going to try to share my pics each day either in my feed or in my Stories with the hashtag: #pb25daysofjoy
Follow me on Instagram right here.
Step 2: Check out the Everyday Eyecandy Christmas Challenge
I'm overwhelmed and so busy this month since I'm in the middle of writing my second cookbook. BUT capturing our family's Christmas is super important to me. This year, I'm so grateful to have found Everyday Eyecandy's Christmas Challenge!
If my prompts aren't inspiring you, be sure to check out LaShawn's even simpler ones that can easily be tweaked for those of you who celebrate things other than Christmas. Get her photo challenge list here.
And don't forget to follow LaShawn from Everyday Eyecandy on Instagram here.
LaShawn is fantastic about commenting and engaging on anything you tag for her challenge--something I won't be as good about this year! I'll do my best to keep up and will be tagging my pictures with BOTH #pb25daysofjoy AND LaShawn's #eyecandyholidaychallenge
Step 3: Grab your camera
We have participants using everything from cell phones to point and shots, to professional level DSLRs. Rock whatever it is you've got! No particular gear is required.
Step 4: Capture your precious family holiday memories
Look for what brings you joy. It might be hard to see it but that's exactly why we are doing this project. Look for the beauty in the season. Focus on that, not the stress of your to do list. We are going to mindfully choose JOY all month long.
There are NO RULES or requirements for your images. But to help you from getting into a creative rut, I came up with 25 photo prompts to get you going!
25 Christmas Photo Prompts:
Feeling overwhelmed and not sure what to capture first? Work your way through these easy and inspiring holiday photo prompts:
1. Advent calendar door
2. Stocking hung on the mantle
3. A sentimental ornament
4. Kids eating candy canes
5. Gingerbread house decorating
6. Pile of favorite Christmas picture books
7. Kids watching a holiday movie
8. Visit with Santa
9. Your outdoor decorations
10. Child playing with Nativity scene pieces
11. Kids in Christmas jammies
12. Holiday concert or event at school
13. Cookie baking session
14. Your favorite decorated space
15. Tree lights twinkling in the evening
16. Your favorite holiday recipe
17. Your holiday card display
18. Candles lit on a table
19. Mugs of steaming hot cocoa
20. Your favorite way to relax at night
21. A crazy festive mess in progress
22. Your elf's favorite hiding spot
23. A cluster of kid art from school
24. A new detail from a tradition you do each year
25. A selfie with YOU and the kids
PLEASE NOTE: No "Christmas" required!
Our family tradition is to celebrate Christmas so my prompts reflect that experience. If your family celebrates something else, I would absolutely love to help brainstorm photos for you that will help you capture what is meaningful to your family. There is plenty of joy to go around all month long!
I'm so excited to get started with my picture today. Pulling together the images from last year in order to share this post got me in the holiday mood for sure.
See you there. . .