Capture everyday life photography with a Day in the Life photography project. Get all the best tips for how to capture your day, the photo prompts to find the shot, and what to do with your family pictures after the project is done.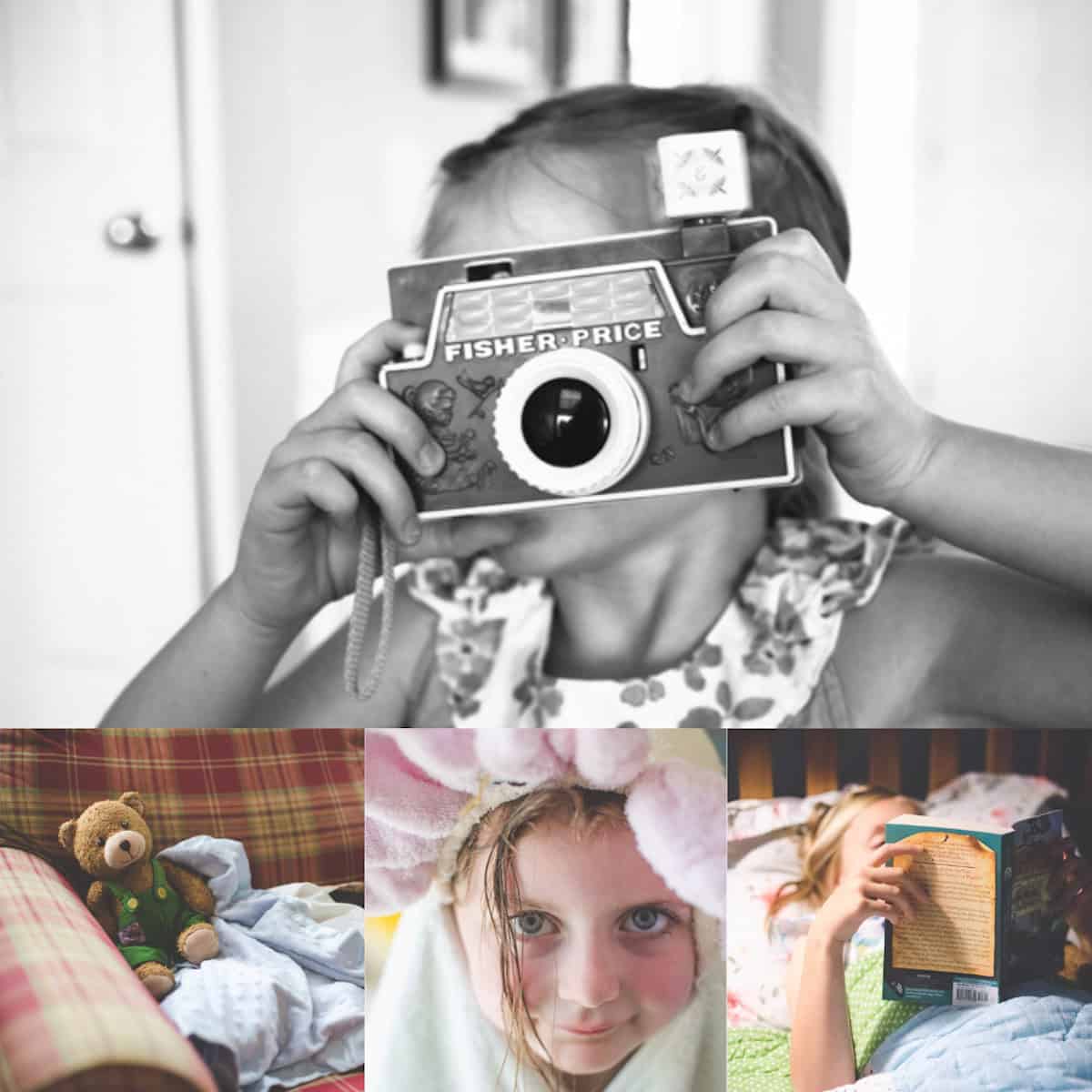 One day out of every May since 2009 I have participated in a "Day in Our Life Photography Challenge."
I spend one day capturing our average everyday routine and captured a Day in the Life of our family.
Over the years, I've captured everything from baby bottles in the sink to backpacks at the front door.
I snapped good morning smiles over the breakfast table and goodnight kisses at tuck-in time.
I took snapshots of the everyday life of our family and even captured:
Piles of laundry
Stacks of clean diapers
Mountains of shoes
Countless cluttered toy-scapes in the living room
It also caught our beloved doggy Gino's last days before we had to say goodbye, though we didn't know it then.
This photo project is a gift to myself.
When we look through the images, these photos help us to remember and serve as a time capsule of my girls' childhood.
I love this project because the pressure to do all the work of photographing every day life lasts for just One Single Day.
I charge up the camera and burn through memory cards capturing everything I can think of. Then I'm done for a whole year.
If you want to start this amazing photo challenge for your family, here's everything you need to know to get started.
Jump to:
Tips for Capturing Day in the Life Photography
After doing this project for almost 15 years, these are my best tips for a successful photo challenge:
1. Pick a Weekday
This is crucial.
On the weekends, we do special things we'd think to document anyway.
By picking a normal, average, working day you'll be capturing what it's like in your family on a hum drum normal day of your life.
School, work, errands, chores, the little things that make up 90% of your life but almost never get photographed.
2. Prep Your Gear
I love my iPhone for everyday photography, but once a year for my Day in the Life Photo Challenge, I carry my DSLR with me throughout the entire day.
Which camera you choose to use is up to you, but often the pictures I capture during that day are such precious memories that I want them to have the best chance of printing well for my wall galleries or photo albums.
DSLR Prep:
Charge Your Batteries
Clear a Memory Card or two
Make Sure Your Lens is Clean
Cell Phone Prep:
Charge Your Phone
Carry a Power Brick
Clean Your Lens
Check Your Cloud Storage Space
You will be looking at capturing as many as 100-250 photos over the course of a day.
A lot of them will be filler, but you'll be shocked by the golden nuggets that show up when you look back at the album a year from now.
Don't miss the shot because your camera died or you didn't have room on the card.
3. Start the Day Right
Before you go to bed at night, place your prepared camera or cell phone right on your nightstand.
Then post a reminder post-it note or cell phone alarm label so that you remember about your project as soon as you wake up.
I can't tell you how many times I got half way through my morning before remembering it was the Day in Our Life Photo Day and had to try again the next day because I missed so many morning moments.
Be sure to check out the morning photo prompts below to see what I mean!
4. Look for Details that Change
I love this project because it forces an awareness of the slippery changes that happen within a family.
The changes that happen so slowly we don't think about it till it's gone.
Kids get bigger and outgrow favorite toys and foods.
Pets come and go.
Favorite pieces of clothing disappear, dishes get broken and replaced, houses get moved away from, trees grow in the backyard.
The last year in our old house I made sure to document every single room in the house knowing we wouldn't be there next year.
5. Warn Your Family
You will be taking an insane amount of photos for one day.
My family knows to expect random moments will be captured in a way they normally aren't.
It's funny how some of the pictures from the project have turned into our very favorites but in the moment, it is easy for your family to be annoyed that the camera is in their face so frequently throughout the day.
6. Don't Let the Photos Go to Waste
When the day is over, you'll be tired and may not want to go through and edit all those pics.
I encourage you to scan through your photo roll and pick your top 10 favorites.
Edit that smaller set and share on Facebook so they pop up in your memories tab in the coming years. Or print them for display right now.
Tag the photos so you can find them a year from now and then take another peek at your album.
You may discover some new favorites once you've had the time to develop some perspective.
All the Photo Prompts You Need
A day can feel longer than you expect. Keep these photo prompts handy to make sure you are inspired all throughout the day.
How to Capture Your Morning
This is the single hardest portion of the day to capture.
Getting out the door on a busy weekday can be hard enough as it is without adding in taking pictures of everything.
Many people abandon the project here.
I promise it is worth a little extra stress for just one day a year.
I set the camera by my bedside table so that I wake up and walk into our kitchen camera in hand.
I would have completely missed those priceless shots of Tim saying goodbye to the girls before he heads out to work without my camera totally ready to go:
20 Photo Prompts for Busy Mornings
Here are a few things I keep in my mind as I photograph a day in the life during the morning:
What kind of jammies do your kids wear these days?
What do they look like when they first wake up?
Where do you eat breakfast? At a table or is it a bag of snacks on the go?
What does your morning coffee look like? Favorite mug?
Does your child eat the same thing every morning? Next year might be a different favorite.
What morning chores do the kids have?
What are the pets up to in the morning? Do you have a special "greeter" like I do?
What does the morning hygiene look like? Catch kids brushing teeth, combing hair--maybe you have a teen doing makeup?
Are there school folders that need to be signed? Homework projects that need to be packed?
What do the backpacks look like this year? What gets packed into them before leaving for school?
Do you pack lunches? What goes in them today?
Do you work outside the home? What bag do you bring for yourself?
Are the shoes piled by the door? Jackets for a chilly day?
How do your kids get to school? Catch the bus or your car or a picture of your walk.
Capture your goodbye routine. I have a sweet pic of my preschooler holding my hand on the way into school from years ago that is priceless to me. These pics of the hugs with Tim will be equally as special.
Is your kitchen total chaos after the morning routine or neat as a pin? Capture it either way, we are celebrating this stage of life in all it's messy glory. NO ONE has to see this but you might get a chuckle a few years down the road when life is calmer.
Do you exercise in the morning? Where do you do it, what does that look like?
What does the front of your house look like this time of day when you lock up and go?
Is there anything blooming in your yard?
Do you pass something memorable during your commute or drop-off?
How to Capture Your Afternoon
This time of day can often bring the things that we tend to overlook the most.
How you spend your afternoons is likely to be the place where you'll find some of the greatest change from year to year.
Where I used to capture naps and cuddles, I now have rollerblading outside and homework.
Normally I'm too busy managing dinner prep and evening chaos to think of grabbing the camera.
This time of year, the light is at it's prettiest in the afternoon so I can often capture really memorable photos during this time of day.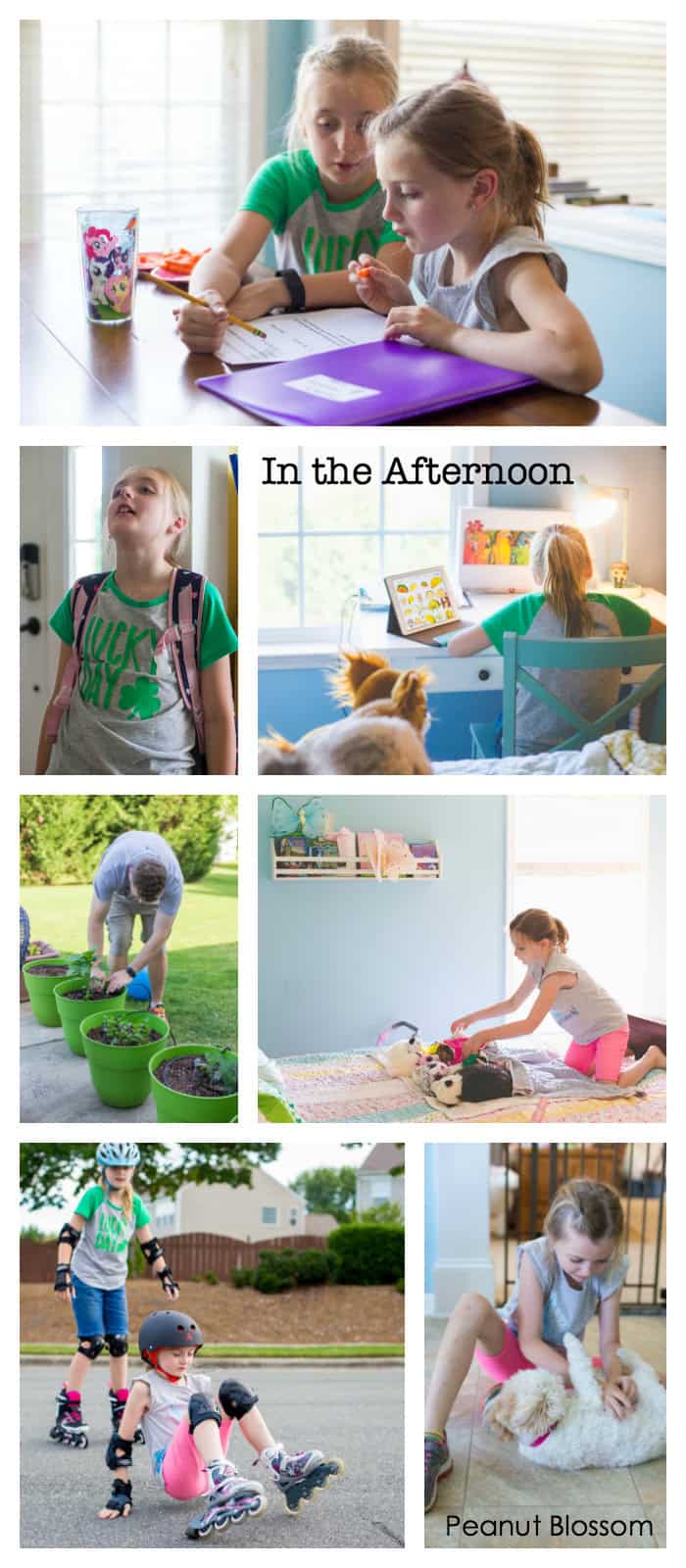 15 Photo Prompts for Afternoon
As you work through the afternoon, here are some great photo prompts to be on the look out for your family:
What does coming home from school look like?
Are the kids disheveled after their busy day?
Do they eat an after school snack? Where and what is it?
Where do they do homework? Catch a close-up of the homework itself with samples of their handwriting.
Do they spend time reading? Where? What are they reading now?
Do they play outside? Slow down your own schedule and go watch them for a while.
What chores do they do in the afternoon? Capture a before and after if they clean a space.
Look for signs of play: capture messy toys, piles of books, scatterings of crayons, an abandoned video game controller, sports equipment, etc.
Who makes dinner? Capture the prep and anyone who helps.
Where do you eat dinner? What's on the menu today?
Are the kids involved in after school activities? Capture the event and the location. What do you do while they are busy?
What happens when everyone gets home from work? Do you change your clothes?
Do you need to run errands? Where do you go?
How do you keep organized? Capture a peek at your family calendar or cell phone.
How do you relax before bedtime?
How to Capture Your Evening
By this time of the day, I'm usually feeling So Done with all the capturing but you're almost there!
Some of the sweetest pictures can be caught during the bedtime routine with children.
These are the everyday moments you'll really want to remember but that are so rarely captured:
Bedtime snuggles
Reading routines
Bubble baths
These are some of the most precious childhood memories.
Make sure to pass off the camera at least once and have your partner capture YOU doing something special with the kids.
I have pictures of myself reading a bedtime story and doing tuck-ins from different years. They're not perfect but they're priceless.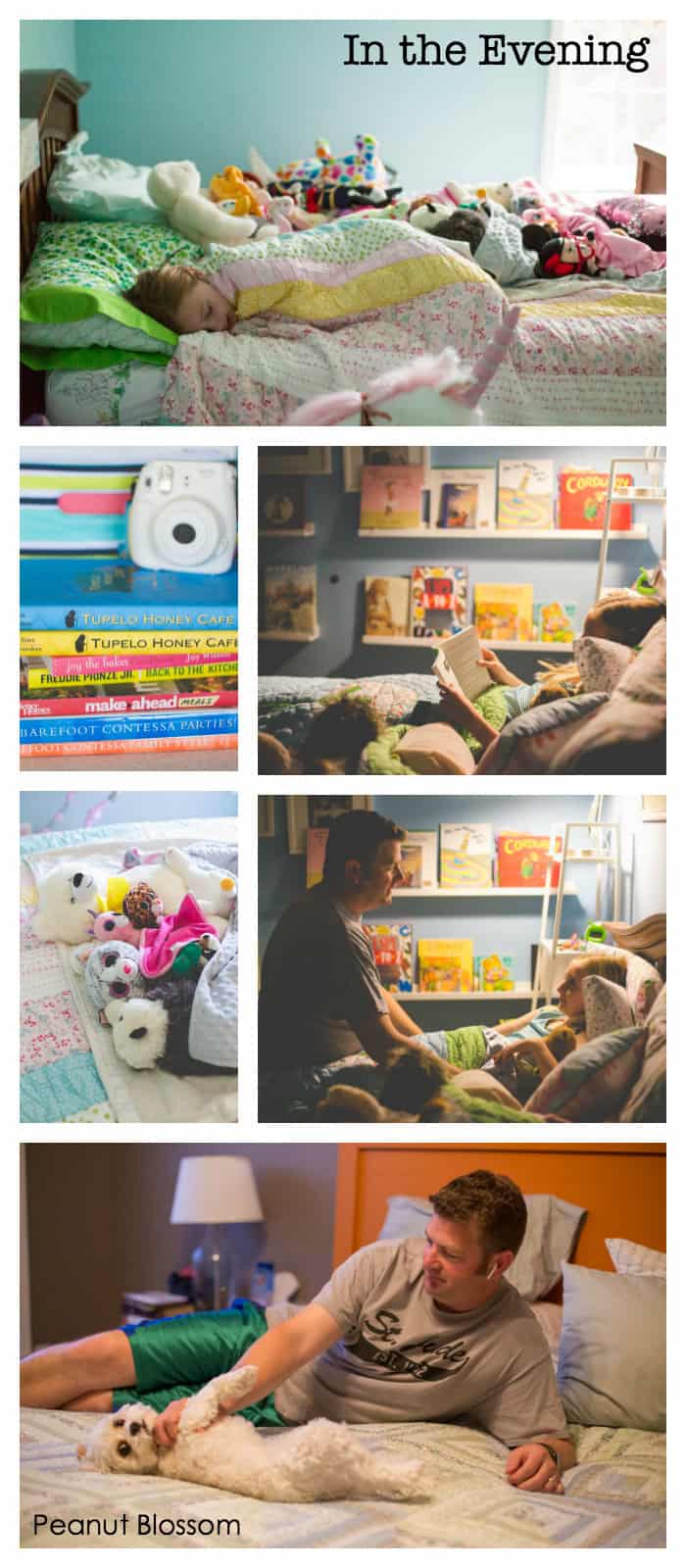 18 Photo Prompts for Evening
You're in the final stretch of the day. As you capture your family at night, here are some photo prompts to help you find the best moments:
Do you read to the kids before bed? Which book is it tonight?
Do you have a special television show you watch together at the end of the day?
Is bath time still a thing? Even if you don't want the actual bath pictures, kids wrapped up in towels or pictures of bath toys are lovely.
Do your kids still use character toothbrushes? Who's on it this year?
What do the kids wear to bed? Do they dress themselves or do you help?
What special traditions are involved with tuck-in?
What does their bed look like? A close up of the sheets?
Do they have a special lovey or blanket?
Do they fall asleep right away or read independently in bed?
Do they set a special alarm clock or listen to music with headphones? What gear/techonology is important to them right now?
What is on the bookshelves or dresser in their room?
Do they hang special posters or pictures someplace? What's on display right now?
What happens once the kids are down for the night?
Do you enjoy a special evening treat or glass of wine or cup of tea?
What tv program do you enjoy in the evenings?
Do you read? What book is on your nightstand now?
Do you cuddle up with pets? Where are they at the end of the day?
Do you have any special evening routines?
What to Do with Your Photos
A Day in the Life photography project can be very exhausting.
By the time it is done, you may not even want to look through the photos right away.
As I mentioned above, you should try to at least do something with your top 10 favorites, but there's nothing wrong with letting the images sit on your computer for a while before doing anything with them.
This project is about history and time, so you'll appreciate the images more in the future anyway.
Once you're ready, I recommend you print your photos or turn them into a photobook or slideshow:
More Photo Challenges
Want to capture more everyday life images of your family? I love these fun photo challenges: