Today's conversation about how to get moms in the picture is sponsored by Animoto. All thoughts and opinions are our own.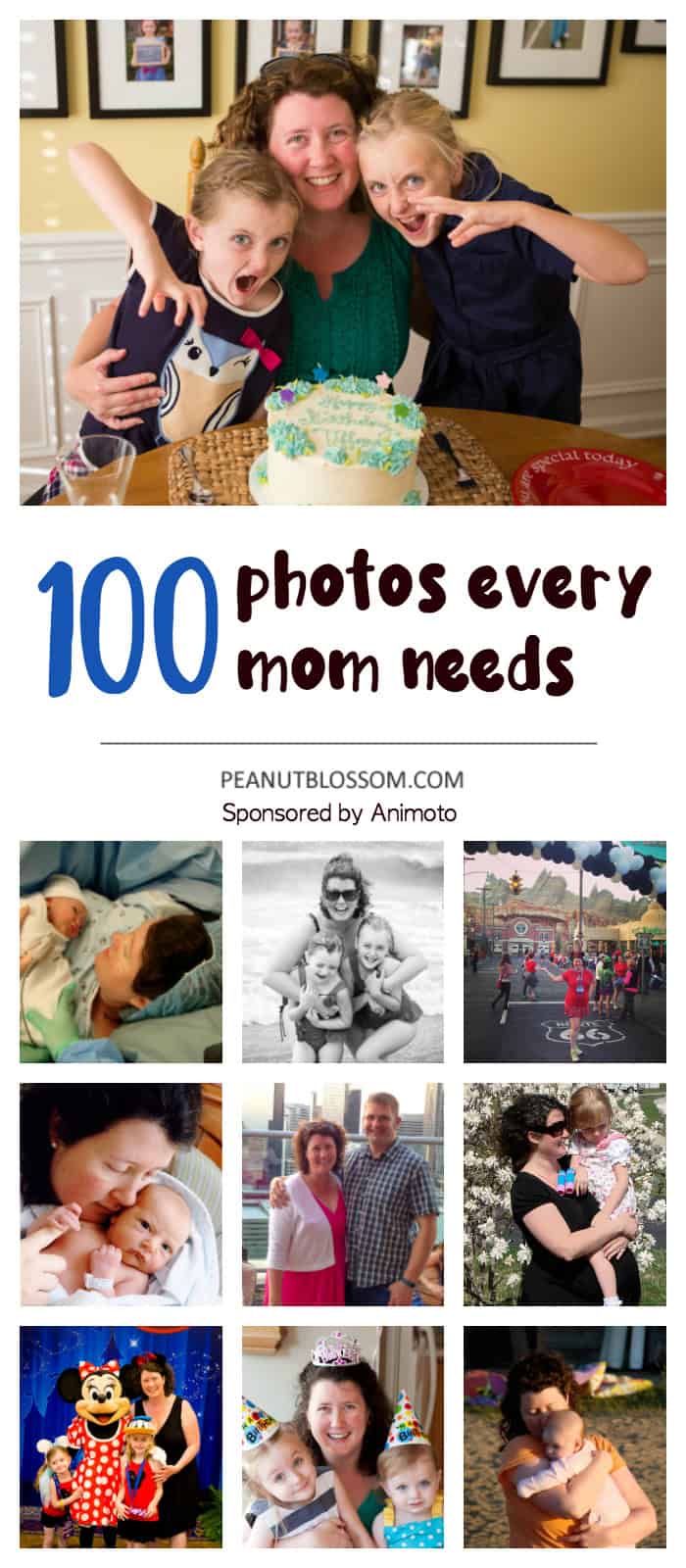 I sat down at my computer to compose a recap of my 40 Before 40 bucket list progress. I wanted to make a slideshow of the pictures I have of me finishing certain tasks mixed with fun family photos from the last few years. I pulled up my photo library and I started digging.
And digging. And then digging some more. Digging realllll deep. Needle in a haystack deep.
It suddenly became a very Eye Opening Exercise to see just how many few photos that *I* appear in within our albums.
Me. The same woman who writes to you time and time again about how important it is to be in the photos.
Me. The same woman who consciously hands over her camera to her husband.
Me. The woman who has learned to rock a selfie with her phone.
If there are this few photos of a woman who is consciously worrying about getting in the picture, how few are in the libraries of the average mom who doesn't consider it often??
I think the reason this is a challenge for many moms, including myself, is that time just flies by so darn quickly. We get so bogged down in the day to day challenges of keeping a family running that we don't realize exactly how long it's been since we've been in a picture. Then when big photo-worthy events happen, we're so busy trying to document everything else it's hard to remember to get in the picture, too.
So after 2 days of wading through the 40,000+ images in my photo library (I'm not kidding on that number!) I found about 40 photos I loved enough to pull into a birthday video for myself. I actually count myself really lucky to have those 40 because they are perfect to me and represent exactly the highlights of my girls' childhoods that I want to remember.
In the midst of turning 40 at the end of August, it never occurred to me to make my own Animoto video. Since discovering how easy it is to create memorable Animoto videos this summer, I've done videos for the kids and for Tim but never for myself. Now that I have my own little birthday video, I realize what a special gift it is and it doesn't matter that I had to do it on my own. I got to pick my favorite of the most flattering pictures and memories that mean the most to me. With just a few minutes of time I pulled the final project together. Check out just how simple it is here.
Despite the fact that my birthday was actually months ago, I had more time to work on the video right now. It was for me anyway, so what does it matter when I do it so long as it got done?? I can't wait to do a new one for Tim for his next birthday. What a fun addition to his party an Animoto video like this would be!
5 ways to use Animoto videos to celebrate a birthday:
Make a milestone birthday party recap video to share with guests who came to celebrate
Make a video for your long distance friend showing your times together
Make a milestone video for baby's first birthday to share with grandparents
Make a family video for a grandparent's milestone birthday
Make a massive family birthday video highlighting everyone's celebrations from the year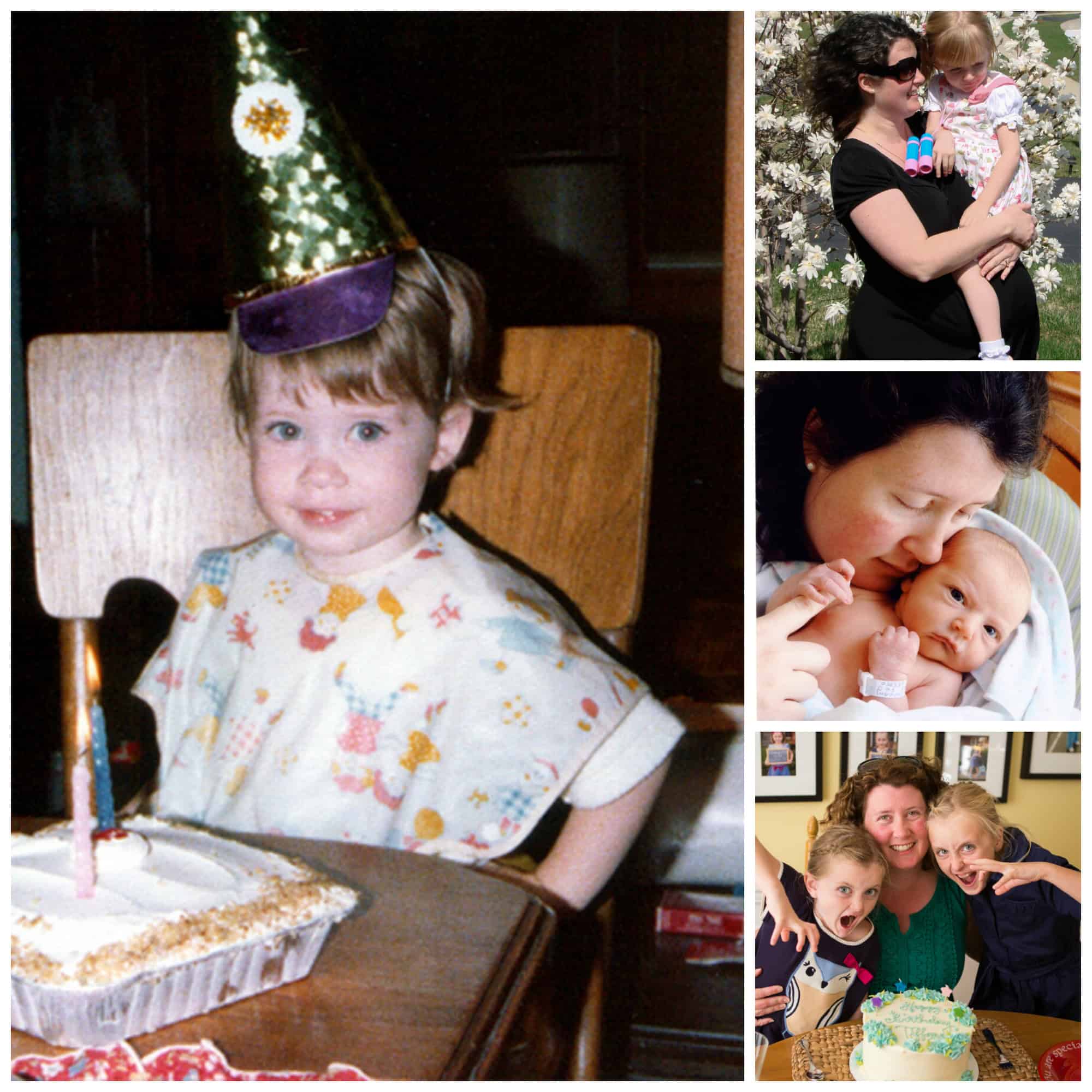 While I was scrolling through all those images to find my gems, I thought of so many more photos I wish I had been a part of during those years. It's hard to think of those moments as "special" when you are going through it. With my 20/20 hindsight, I wanted to take the time to create a checklist for the rest of you! As you're surviving those young baby and toddler years, learn to recognize the everyday moments you'll want to remember later.
Print this list off and share it with your family. Many of these photos you can take yourself, but they can help keep a look-out for the ones you need a little help capturing. If they know how important it is to you, it will be easier for everyone to get in on the job of making sure you are in the photos.
Does the list need to be finished before you are 40? Is it worthless to you if you're already older than that? NO on both counts. I just know that without a deadline, I'd never accomplish anything. If you set yourself a mental marker of when to get these photos, you won't wake up at 53 and realize you don't have any of them.
And if the list feels daunting, know that even if you walked away with half of the images on the list you're probably doing twice as well as you would have otherwise at capturing your presence within the family.
Time is a flyin', friends. Get those cameras snapping!

100 photos every mom needs before her 40th birthday:
You and your beloved, dressed up fancy
You and your beloved, scrubby and real around the house
You and your best friend
Sideways shot of your gorgeous baby belly
Holding your newborn in the hospital
Asleep with a newborn in your arms
Feeding your baby
Bathing your baby
Reading to your kids
Outdoor adventure with your kids (zoo, hiking, park)
On vacation
At your place of work
In the kitchen
Behind the wheel of your car
With your pet
In your workout gear of choice (running, bike, etc.)
With each of your kids individually
With all your kids together
Full family
You and your parents
You and your siblings
Relaxing around the house on a weekend
In your favorite seat
You and your babies on their first day of school
Dressed up for a Girls' Night Out
Cheering for your favorite team
Laughing
Opening a special present
In the hospital being brave, or not so brave
Consoling your children
Helping with homework
Making something you love (crafting, baking, etc.)
Hugging and kissing your kids
Drinking your favorite beverage
Hosting a party
Riding an amusement park ride
With the kids in costumes you made (or acquired!)
At the Thanksgiving table you prepared
With a mountain of wrapping paper and holiday prep stuff
In jammies on Christmas morning
Snuggled on the couch under blankets for a movie
At a concert
At your favorite spot in your city
At lunch with friends
Dancing at a wedding
Playing with your kids
Wearing a costume for Halloween
Blowing out birthday candles on your ckae
In your garden
Dressed for date night
Surrounded by or buried under mountains of laundry
At your house of worship
Getting your hands dirty
With your fitness buddies (running partners, yoga class, etc.)
Jumping for joy
On the sporting sidelines at your kids' games
Behind the scenes at your kids' dance recital
With the team of volunteers you work with at school
Eating a Muffins with Mom treat at preschool
Close-up of your hand holding your child's
Selfie of you driving your kids in the car (while parked!)
Wearing your "mom uniform" on an average day
Playing an instrument
Making a silly face
Trying something new
Dancing in the living room with your kids
All your kids kissing or hugging you at the same time
The moment your kid is tall enough to reach your shoulder (or is taller than you!)
Eating ice cream cones with the kids
Getting ready to spray silly string on your kids on the last day of school
Snuggling a sick kid
Selfie of you home alone
Picking apples at the orchard
Carving pumpkins with the kids
Drinking your morning coffee
Baking with the kids
Reading a book of your own
Wearing a new dress "just because"
Eating your favorite food
Visiting someplace new
Holding a shopping conquest
On the front porch of every place you live
Right after getting a haircut or style
Tucking your kids into bed
With the grocery haul before it's all been unpacked
Having a picnic in the summer
Wearing your favorite cozy weather gear (hat, coat, scarf, etc.)
Throwing a snowball or building a snowman
Completing a challenge
With your playgroup friends
A fabulous profile picture
Holding your famous food dish
Raising a glass to toast
At your favorite restaurant
Decorating for a celebration
Playing a game with your competitive face on
A selfie before you do something that scares you
Another selfie after you did it
Wearing a tiara (or other ridiculously fun accessory)
A photo that makes you feel beautiful when you see it