Do I see any Phineas and Ferb fans out there? Their theme song is sung by every member of our family loud and proud every time we hear it:
There are 104 days of summer vacation, then school comes along just to end it.
Last year I came up with a very last minute idea to take some inspiration from that catchy opening line and capture our family summer with a photo a day project.
I counted out how many days actually were in our summer vacation and found it fell sadly short of 104 so I tweaked the parameters to include Memorial Day through Labor Day instead.
The project was done partly on my phone, partly with my big girl camera. And sadly, I didn't actually complete it. But I did capture dozens more photos of priceless everyday moments than I would have without this goal pushing me along.
Why You Should Do the Daily Photo Project Even if You Fail:
The best post I've ever read about why you should start creative projects you suspect you will fail at completing was written by Courtney over at Click It Up a Notch. She explains:
Because, your not failing. You still have images you would have never taken if not having challenged yourself to pick up your camera everyday.

There is something magical about those ordinary images you capture because you "had" to take a photo for the day. Whether is it the toys left on the floor because you forgot to take the photo until after the kids went to bed or maybe the sleepy photo of your little one sleeping because you know the only time you have to capture a photo was during nap time.

It doesn't matter how far you make it, you will be thankful for the images you take.
You absolutely need to take a peek and read the whole piece: "Why I'm starting a photography project I know I won't finish."
Because seriously. Look at some of these. They are a snapshot of our family life during a time when my girls are home with me. The school year is so crazy busy, summer is the time I can capture lazy lounging and childhood play in a way that September through May just doesn't make easy to do.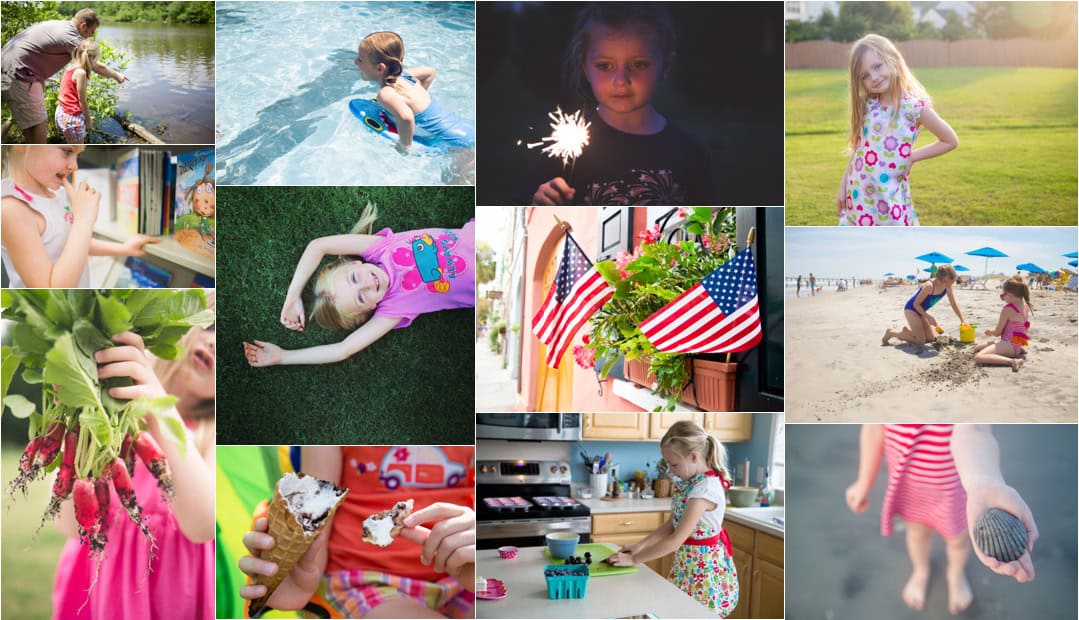 I'll be participating again this year as best I can in the coming weeks. My girls are getting big way too fast and I want to capture some fun family memories.
Join Me in Capturing a Photo a Day:
I'll be sharing favorites on Instagram. You can follow along here.
We can find each other with the hashtag: #PB100DaysofSummer
I'll also share a few over on Facebook along with photo tutorials I find for the project. Be sure to follow along here.
From family adventures to popsicles in the backyard to driveway chalk drawing to jumping in the pool, just think of all the fun memories to capture in the coming weeks!
Which moments do you want to remember?