Homemade bang bang sauce is the perfect partner for dipping shrimp or chicken for an easy appetizer or family-friendly dinner. This Bonefish Grill copycat recipe tastes amazing whether you toss the shrimp to coat in the sauce or use it as a drizzle or dip.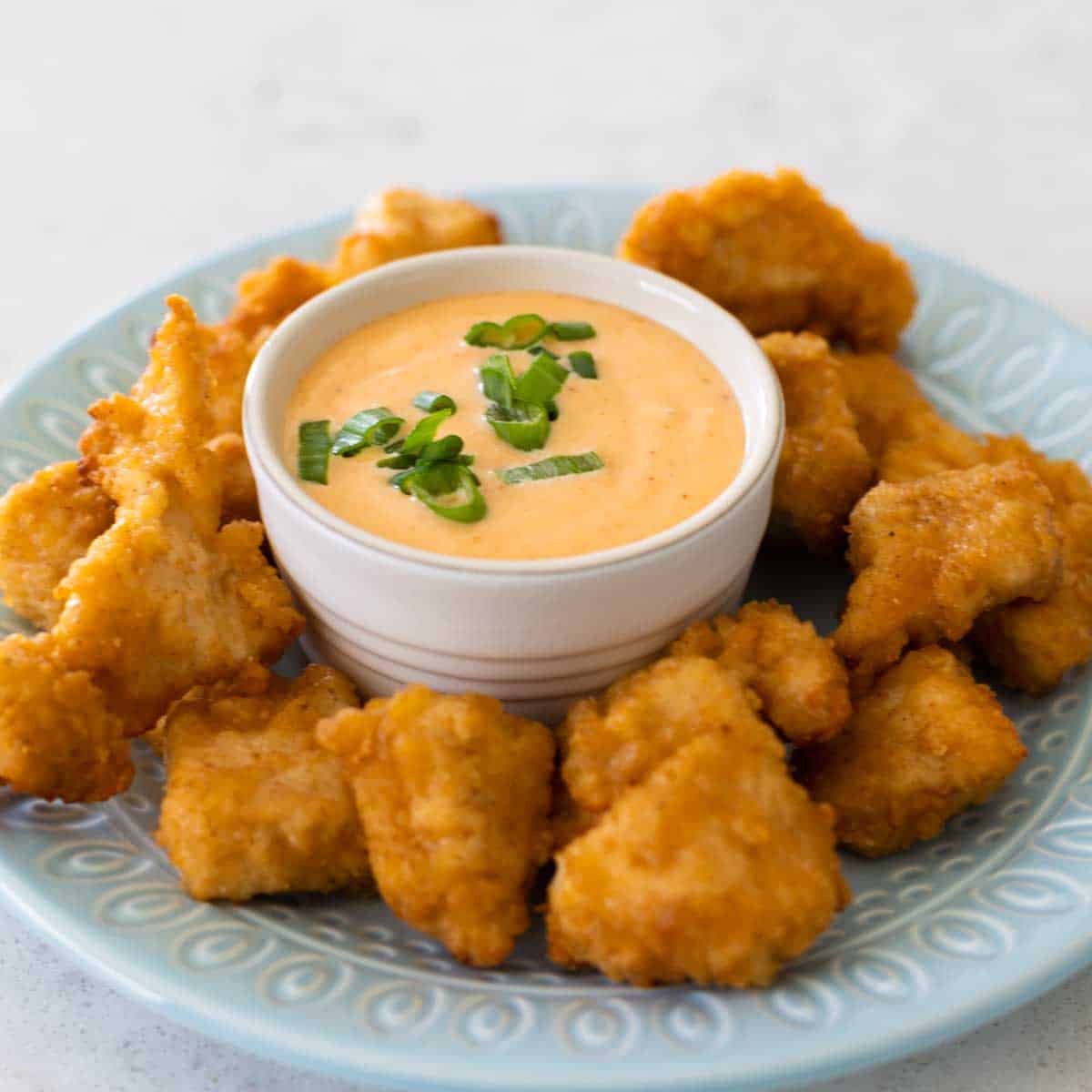 Have you tried Bonefish Grill's bang bang shrimp appetizer? It is a must-have whenever our family dines out at that restaurant.
The creamy and spicy bang bang sauce is the best part of that dish and I just knew it would be easy to make at home for a variety of fun dinner ideas.
I mixed together a batch of bang bang sauce in just minutes for our family to use as a dip for a batch of air fried chicken nuggets one weekend but it absolutely works perfectly with our favorite roasted shrimp.
Don't miss all the fun serving suggestions and ways you can use this easy recipe at the bottom of the post!
Jump to:
What Is Bang Bang Sauce?
Bang bang sauce is a creamy yet spicy sauce that is the perfect partner for crispy shrimp or chicken. It has an Asian influenced flavor to it from the sweet chili sauce, one of the main ingredients.
We originally discovered it at Bonefish Grill and it quickly became our favorite item on the menu.
Their bang bang shrimp appetizer is made of breaded and fried shrimp tossed in bang bang sauce.
Lucky for us, the homemade bang bang sauce recipe only has a few ingredients and takes just a minute to mix together.
Ingredients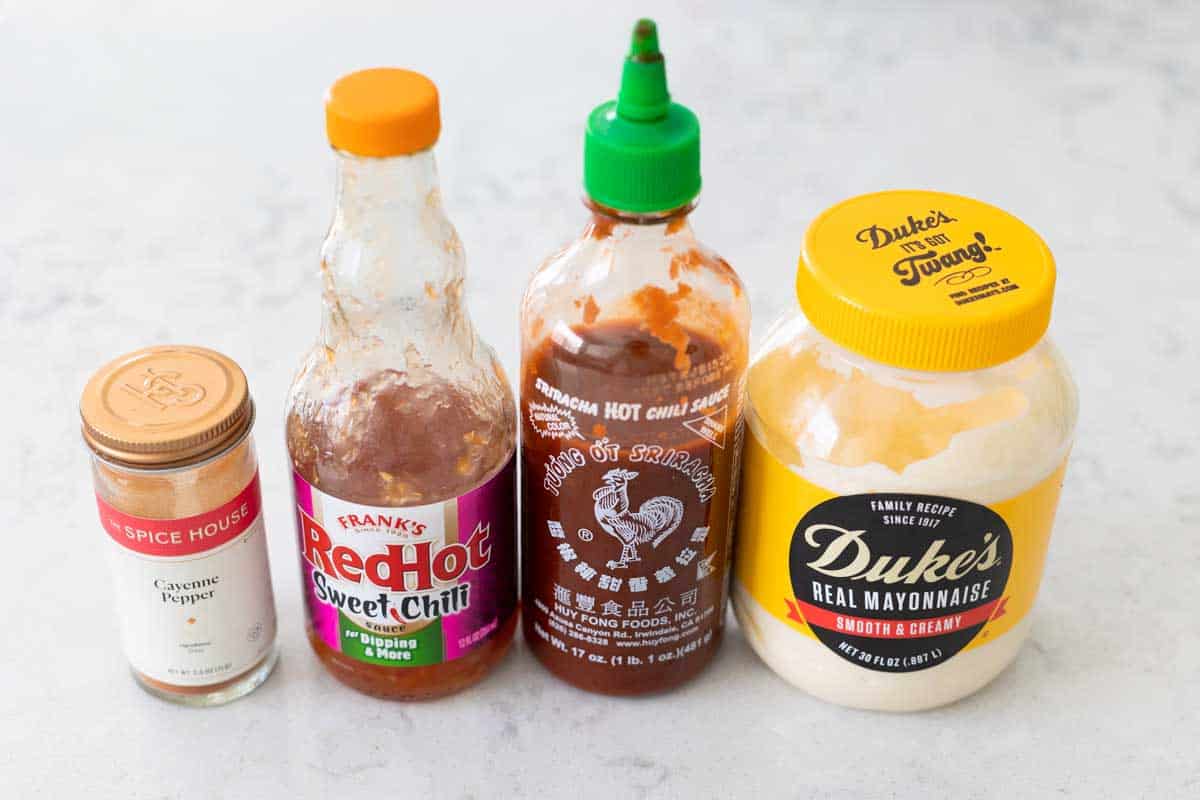 To make this shrimp sauce, all you need to have is:
Mayonnaise: You could use a light mayo made with olive oil if you want a healthy bang bang sauce with less fat. The texture will be thinner but this could be a great option if you plan to toss it with pasta.
Sweet Chili Sauce: I love sweet and spicy foods, the sweet chili sauce is what brings the sweetness to this recipe.
Sriracha Sauce: This ingredient is flavorful but not too spicy. There is some heat, but it wasn't enough to make the bang bang sauce spicy.
Honey: I forgot to add that to the photo above, but it also helps with texture and sweetness. If you like things spicy, Mike's Hot Honey is an awesome choice here.
Cayenne Pepper: This was an essential ingredient in my opinion. Cayenne pepper not only adds a bit more heat to the recipe but it also accentuates all the flavors from the other ingredients as well. You can start with just a pinch and work your way up to the spice level you prefer, but try to add at least a dash for the full flavor.
How to Make the Sauce
Add the mayo, sweet chili sauce, honey, and sriracha to a mixing bowl and whisk them together.
I add the cayenne pepper last because I wanted to reach the perfect amount of heat.
Start with ⅛ teaspoon of cayenne and whisk it in. Taste the sauce and then add ⅛ teaspoon more if you want more heat.
If you like things spicy, feel free to keep adding a dash of cayenne till you reach the level of heat you prefer. Just remember, you can always add more but you can't take it out.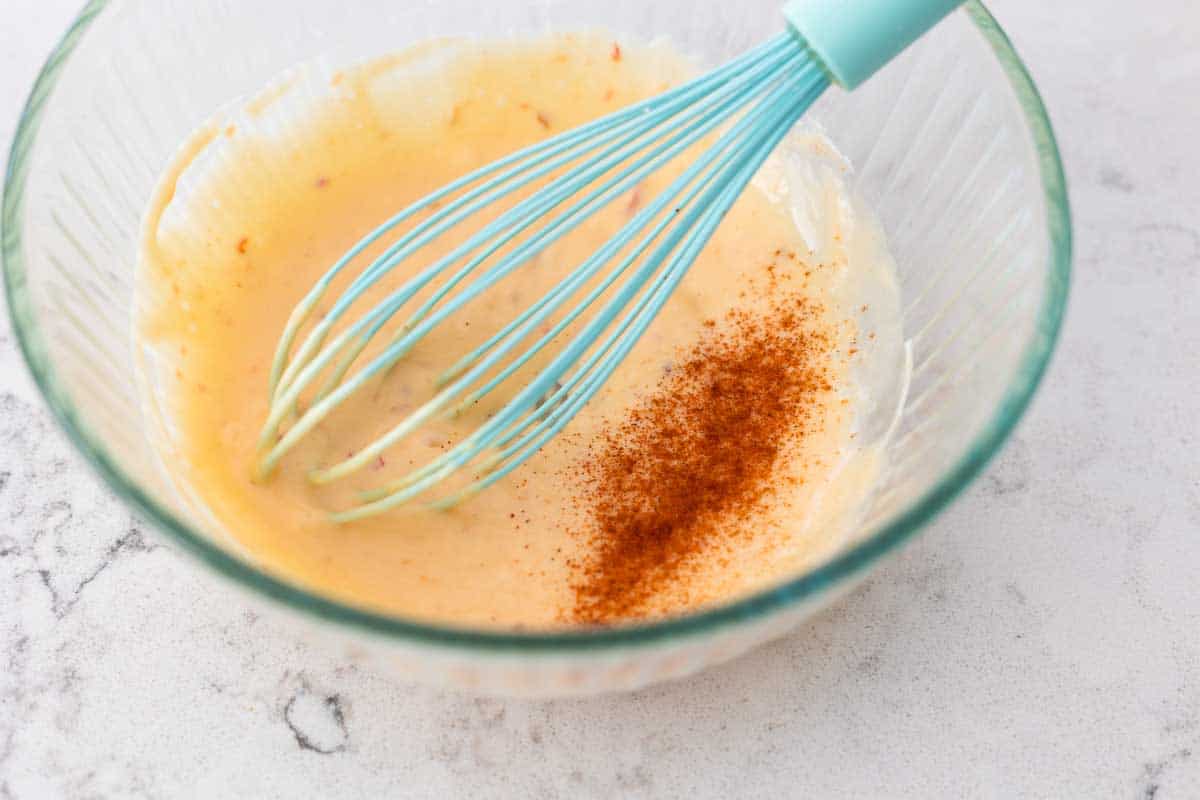 Serving Suggestions
The final sauce will be thick and creamy with a pale orange color that looks like this: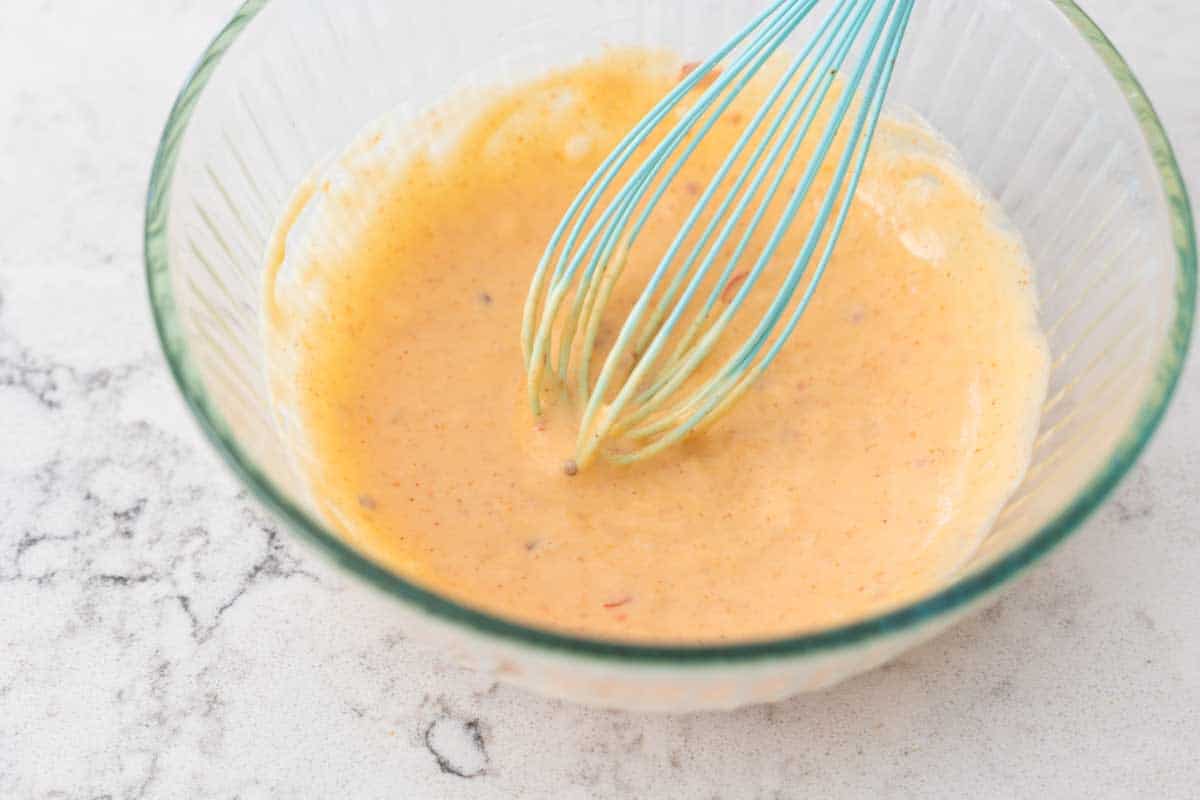 At this point, you have so many delicious options for how to use bang bang sauce for an easy recipe!
Here are some of my favorites:
2. Bang Bang Shrimp Tacos
It would be so easy to make bang bang shrimp tacos at home. Start by cooking frozen shrimp in an air fryer. You could also bake your favorite frozen breaded shrimp or use my roasted shrimp recipe here.
Toss the shrimp in the bang bang sauce and pile them up in a tortilla with shredded lettuce and chopped green onions.
This would also work great with fish sticks or chicken!
3. Bang Bang Shrimp Dip
Want an easy appetizer? Just add the bang bang sauce to a serving bowl and pile up your favorite shrimp on the platter around it.
This is just one of the delicious shrimp dipping sauce ideas I have.
4. Bang Bang Shrimp and Pasta
To make bang bang shrimp and pasta, simply boil your favorite long noodle: either spaghetti, linguine, or fettucine.
Add the bang bang sauce to a large skillet and heat over medium to warm through. Add the drained pasta and shrimp or even chicken and toss to coat.
5. Bang Bang Shrimp Salad
You could use bang bang sauce as a salad dressing for hot or cold shrimp on a bed of your favorite salad greens.
Mix and match these easy and healthy salad toppings to go with it:
Shredded Carrots
Chopped Snow Peas or Sugar Snap Peas
Chopped Bell Peppers
Purple Cabbage Shreds
Chopped Celery
Diced Cucumbers
Cherry Tomatoes
Frozen Corn
Crispy Won Ton Strips: You can find them in the crouton section of your grocery store
6. Bang Bang Chicken
Even though bang bang sauce was originally intended for shrimp, our family absolutely loves it with chicken, too!
You could bake a bag of frozen chicken nuggets or make my healthy air fryer chicken tenderloins and use this as a dipping sauce for dinner.
📖 Recipe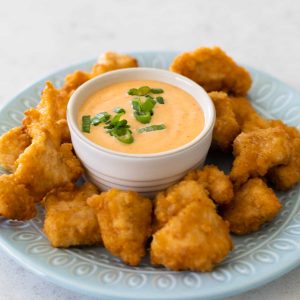 Bang Bang Sauce
Homemade bang bang sauce is an easy Bonefish Grill copycat recipe that tastes amazing with shrimp or chicken. You can use this spicy sauce as a dip for an appetizer or drizzle it over a bang bang shrimp rice bowl or toss it with your favorite pasta and chicken and shrimp!
Ingredients
½

cup

mayonnaise

¼

cup

sweet chili sauce

2

teaspoon

honey

¼

teaspoon

cayenne

2 - 3

teaspoon

Sriracha sauce
Instructions
In a small bowl, whisk together the mayonnaise, sweet chili sauce and honey. Add the cayenne and 2 teaspoon Sriracha sauce and whisk it together.

Taste the sauce. If you like it even spicier, add an additional teaspoon of Sriracha.
Recipe Notes
Serving Suggestions
You can use this bang bang sauce as a dip for shrimp or chicken as an easy appetizer or light dinner.
Make bang bang shrimp rice bowls by layering white rice, baked shrimp tossed in bang bang sauce, and add your favorite roasted veggies and chopped green onions.
Make bang bang shrimp tacos by layering baked shrimp with shredded lettuce and a drizzle of the sauce on a warm tortilla.
Make bang bang shrimp and chicken pasta by using this recipe as a pasta sauce with boiled spaghetti or fettucine. 
Make bang bang shrimp salad by using it as a salad dressing with salad greens, shredded carrots, purple cabbage, celery, and crispy won ton strips.
Save This Recipe to Your Recipe Box
Find this delicious recipe next time you visit by saving it to your very own recipe box on my site. All your favorites stored in one easy place!