Got kids interested in cooking because of the kids cooking competition shows on tv? Harness that interest and get them busy cooking up kid-friendly recipes in the kitchen.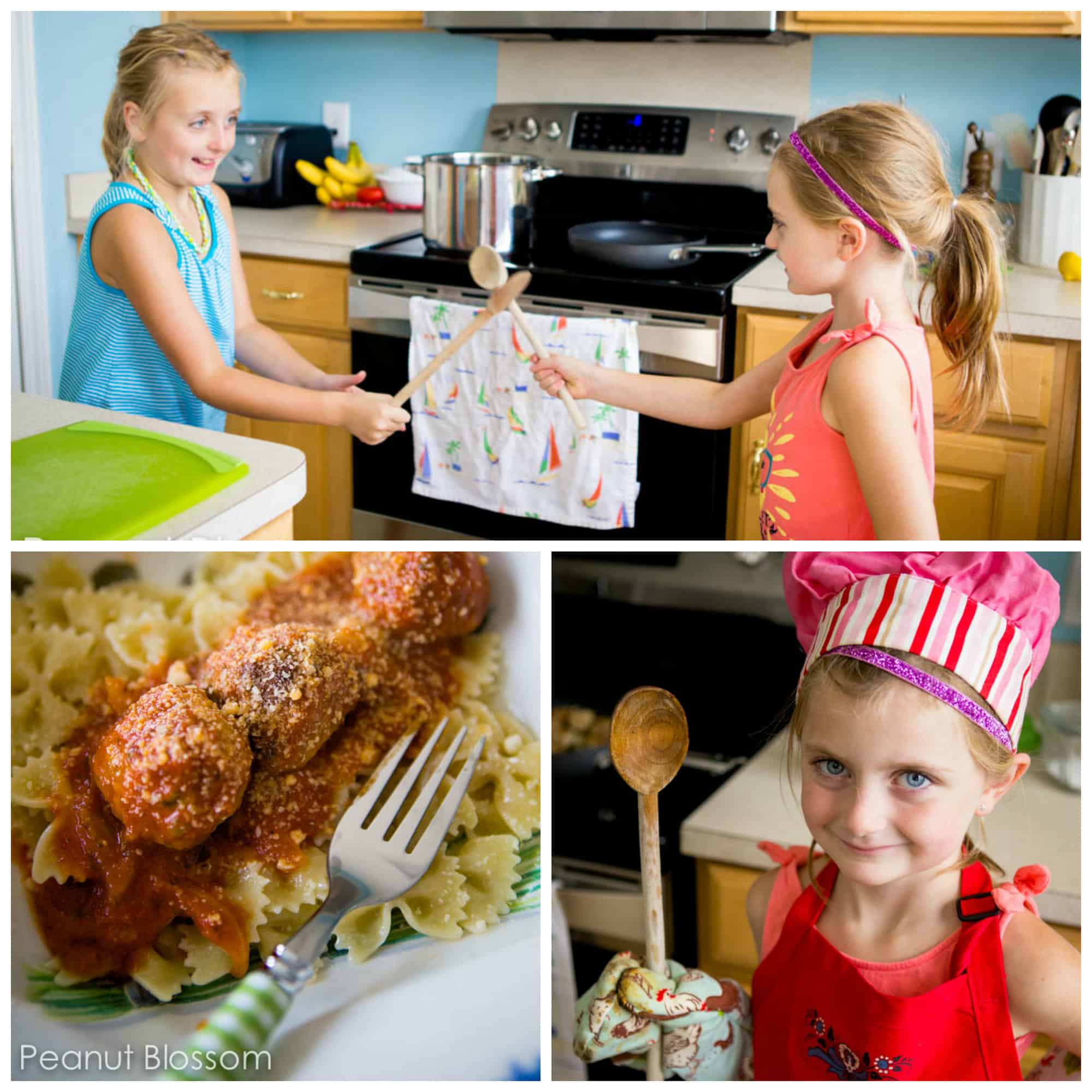 If you've ever watched Master Chef Jr. or the Kids' Baking Championship as a family, your kids might dream about playing their own cooking competition right at home.
Both of my girls love taking on actual food prep tasks using real kitchen tools and I've learned that it is way more fun cooking dinner with them alongside me.
One Sunday we attempted a silly game of "Kitchen Cook-Off" pitting my two girls against each other as my own personal Master Chef helpers. It was so fun, I wanted to share how you can play this cooking game with your kids, too.

Jump to:
?How to Play:
Playing this Kitchen Cook-off Challenge is easy with just a little bit of planning.
Control the options and timeline to best suit your needs for dinner! Pick one recipe per kid player. You can break down an entire meal with main dish, sides, and dessert. Or you can have a little help prepping food for later in the week.
Still need some help deciding? Any recipe from either of my cookbooks for kids would be just perfect:
?Sample Recipe Challenges:
For our turn at playing Kitchen Cook-off, I came up with two different recipe "challenges" for my kids that used the skills I felt comfortable with letting them try.
I gave them the choice between these options:
Make pasta with chicken meatballs and tomato sauce for Sunday dinner.
Prepare homemade tomato salsa for the coming week's after school snack.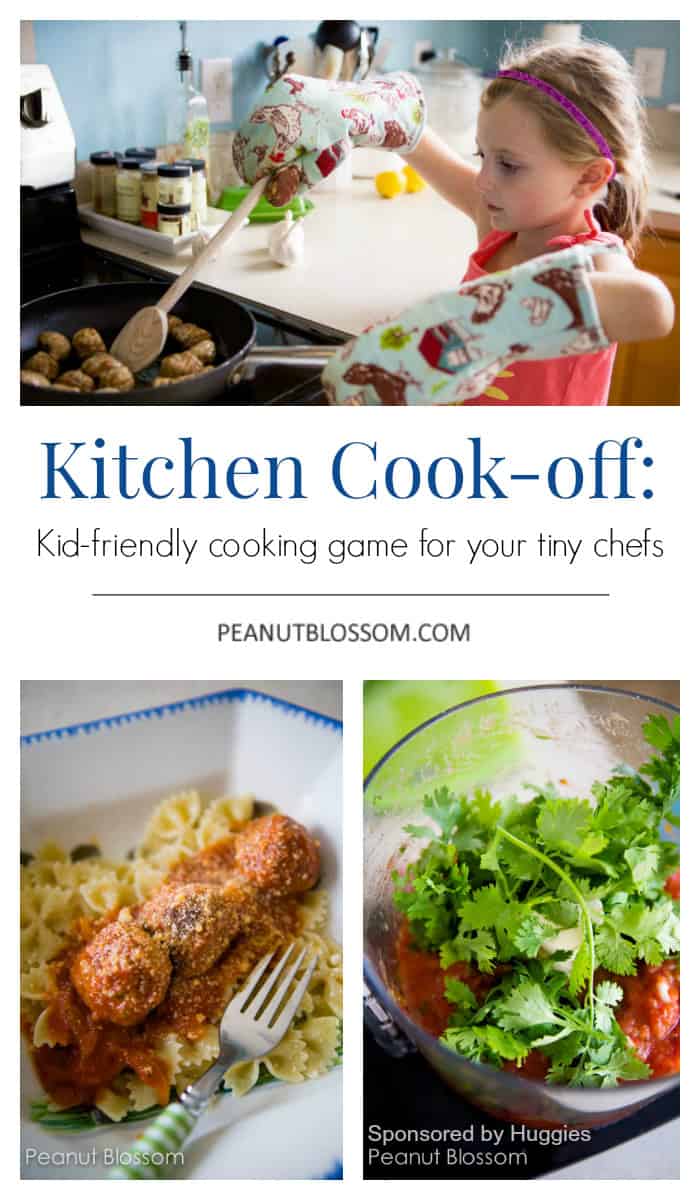 Why I chose these simple recipes:
Beginner cooks need really easy recipes. While I love to cook from scratch, both recipes included packaged items and canned foods to keep it extra easy.
The meatball dish includes:
our favorite prepared chicken meatballs from the refrigerator section
a jar of tomato sauce
a packet of pre-shredded parmesan cheese
To make the recipe "fancy" and to give her something just slightly more advanced to do in the kitchen, we sliced up a fresh onion to sauté with the prepared meatballs in olive oil before adding the tomato sauce to heat through.
In all, it had just the 4 ingredients (meatballs, onion, olive oil, jarred tomato sauce) but it was just enough steps and process for Little Pea at age 6 to manage with my assistance.
The salsa recipe is my tried and true favorite we've used for years. It involves a can of diced tomatoes, a can of Rotel tomatoes and is mixed with some simple fresh ingredients.
The simple ingredients list let my kids focus on learning:
how to use the can opener
pressing the button to process the fresh veggies (onion, jalapeño, cilantro, garlic) in the Cuisinart
With your recipes chosen and ingredients ready on hand, you're ready to play.
?Step 1: Explain Each Recipe
Before your kids choose which recipe they want, you need to sell the idea to them a little bit.
In order to make each option sound super fun, be sure to highlight:
the techniques each recipe will use: is there cutting or chopping or using the stove?
the ingredients involved: is there raw meat or veggies?
the tools you will use: kids LOVE appliances, do you need a mixer or food processor?
how messy they might get: do they get to put their hands in to mix something or roll something up?
Once all the details are presented, let your kids choose the recipe they want to do for the challenge.
If they fight over the options, you have two choices:
Flip a Coin: Easy and classic for a reason. The winner picks first.
Blind Date Challenge: Lay out one unique kitchen tool that will be used for each recipe and let the kids pick the tool. Once they have their tools, the recipe that goes with it is revealed.
For example: You lay out a citrus press and a food grater, the kids pick the tool and then discover one is making lemon chicken and the other carrot cake.
Little Pea was excited to sauté the meatballs on the stove top and the Peanut loves to use my Cuisinart food processor so our decision was easy.
⛑️Step 2: Safety First
I find it easier to work with one child at a time so I can supervise all the safety skills necessary for the cooking task. This also gives each girl special one on one time with me and they get an immense amount of pride presenting the final dish as a surprise at the end.
Your goal is to let your kids do as much of the cooking as possible but naturally you'll want to manage some tasks yourself:
pouring out boiling pasta water
manage the heat level on the stove
supervise any cutting or chopping
remind them to wear gloves or oven mittens
I shared my thoughts here on the best kitchen tools for kids and some special safety notes on why they are the best options if you want more information.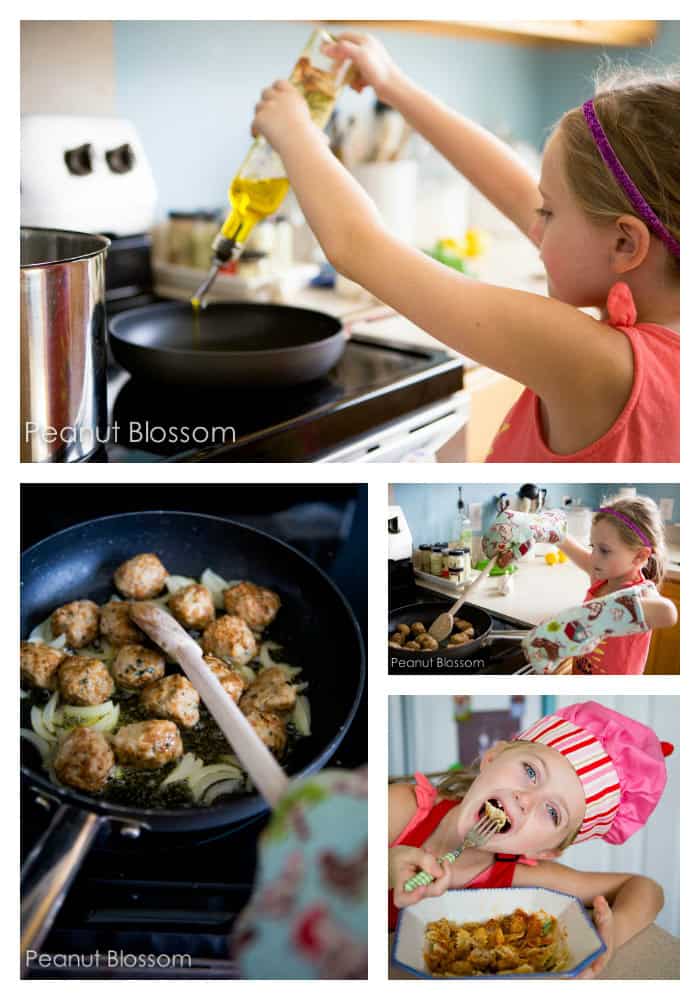 ?Step 3: Break Down the Steps
With your kid helper in the kitchen, there are a few key things to keep in mind to make the experience a positive one:
Read the Recipe First: Whether they read it to you or you read it out loud, get in the habit of reading all the instructions together first so everyone knows what will be involved.
Put Them in Charge: Let them pull out the pots & pans and tools. If they don't know where they are, they can ask.
You Can Demonstrate but Not Do: If the tool is new, you can show them how it is used and supervise them using it, but let them hold the tool and actually finish the task. It's no fun just watching your parent do the work.
Give Them Choices: While it isn't always possible, whenever you can, let them lead. Do they want to chop the onion or open the can of tomatoes first? Does it really matter? If not, let them pick.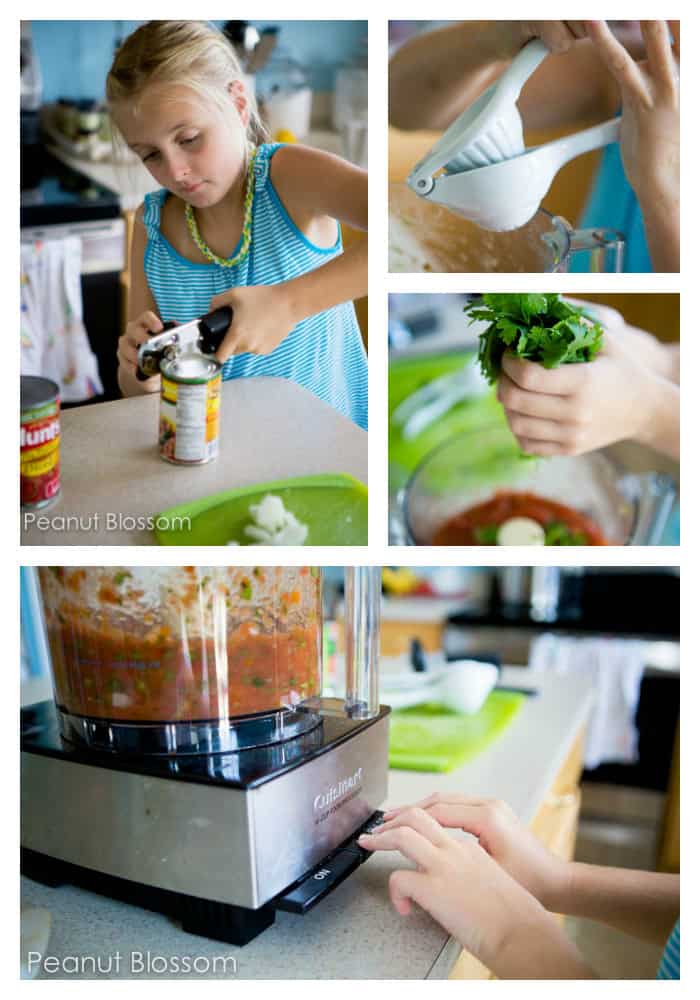 Step by step, work through the recipe together until it is finished.
?Step 4: Taste Test Time
Now it's time for the taste test and plating!
I had each girl sample their recipe before we served it to the family in order to check for seasonings and temperature.
Once they were happy with THEIR dish, we had a very brief lesson in how presentation matters as much as the food.
I brought out our fancy adult pasta bowls for Little Pea and the salsa and chips went in our special chip and dip server.
?Step 5: Clean Up!
I'm a natural disaster in the kitchen myself and it is something I've been trying hard to remedy. I don't want to pass those habits on to my kids.
Teach your children to:
fill a sink with soapy water before you start and clean dirty dishes as you go
keep counters clean when splatters happen, wipe them up right away
dispose of trash as you use it rather than scattering it on the counters
That is a little easier said than done when you're busy trying to keep the kids safe in the kitchen and you don't want to be distracted.
No matter how messy it gets during the process, afterwards the competition isn't done until the kitchen is completely cleaned up.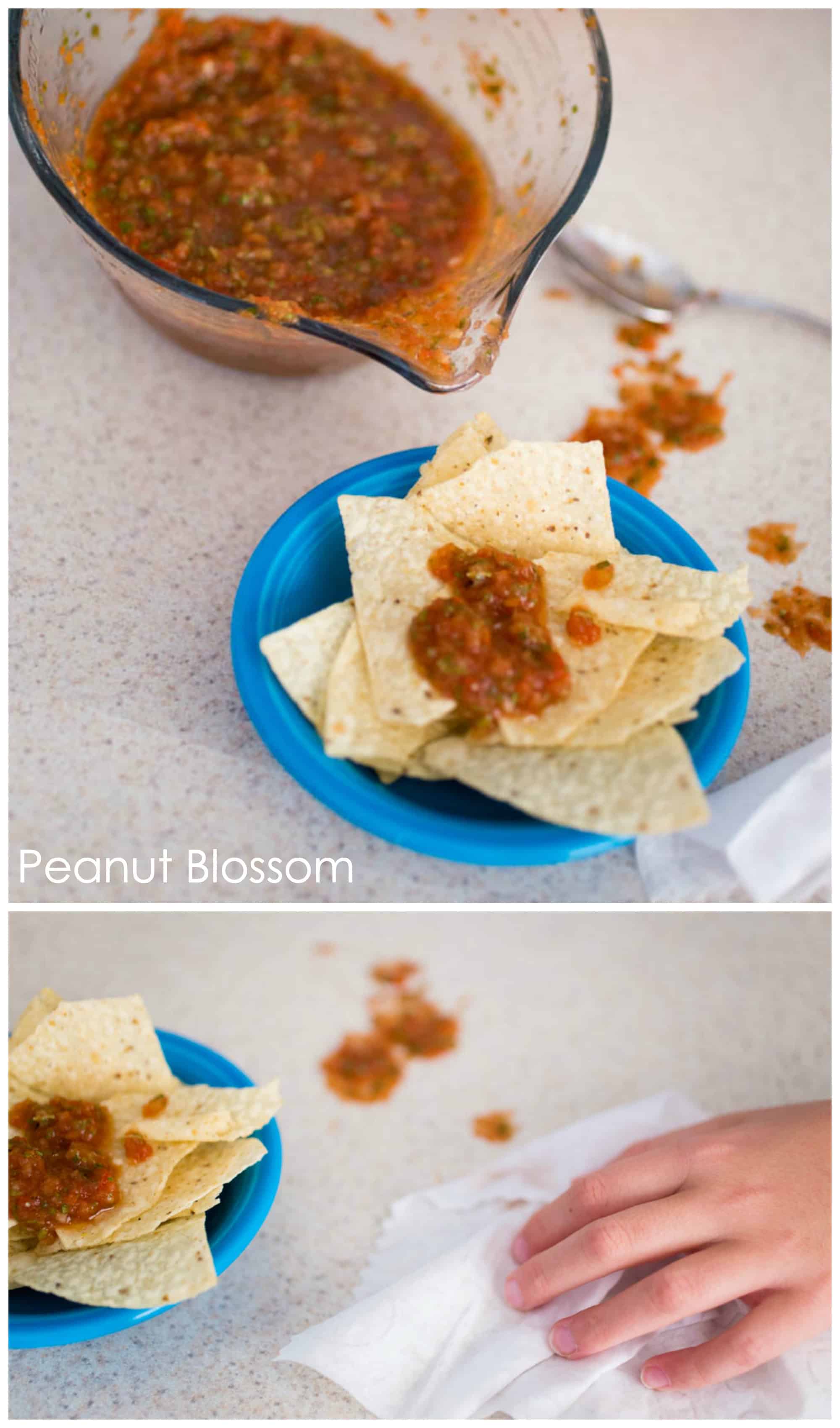 ?Step 6: The Winner
Our first experiment with this game was purely fun and not exactly competitive.
There were no winners vs. losers and the only prize was the enjoyment of spending the time together.
Next time we play, I think it could be fun to do a taste test and have Daddy pick a winner but it is definitely not a required element to play.
Whether or not you choose to play with a final winner is up to you and how competitive your family is. It could be a fun idea to have the kids design a trophy that moves to the bedroom of the current reining champ.
?More Recipes for Kids to Cook: