This post is sponsored by Huggies®. As always, all opinions are our own.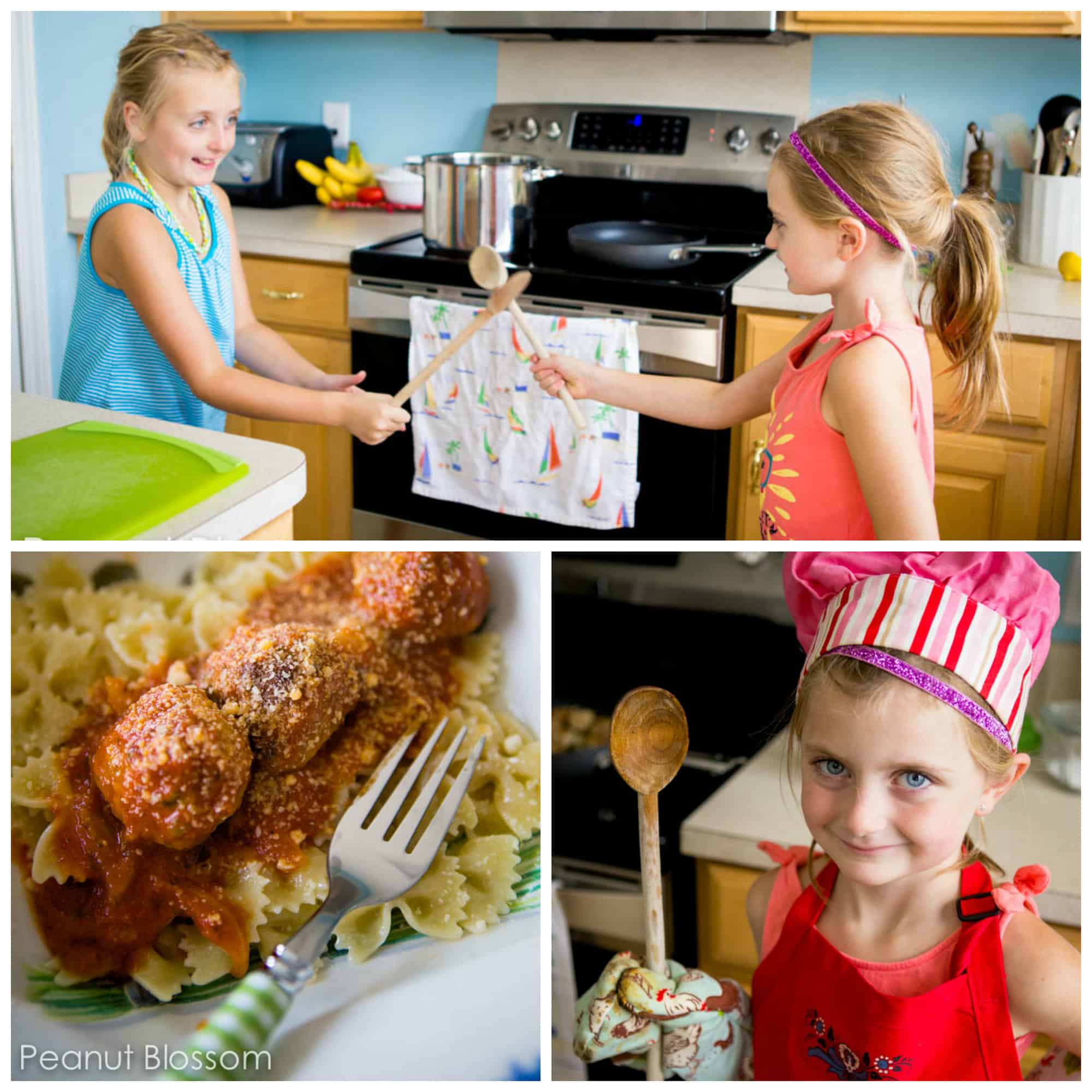 While I've always enjoyed letting the kids cook with me over the years, I realized over the summer that they have finally reached an age where that "help" has turned from glorified playtime with mommy into actual assistance in getting food to the table more easily. Both of my girls love taking on actual food prep tasks using real kitchen tools and I've learned that it is way more fun cooking dinner with them alongside me.
Regular school nights can be more hectic than I like and finding time to slow down enough for supervising safety is more difficult to manage. One Sunday we attempted a silly game of Kitchen Cook-off pitting the Peanut against Little Pea and it was a huge hit with both girls.
The Kitchen Cook-off Recipe Challenges:
Make pasta with chicken meatballs and tomato sauce for Sunday dinner.
Prepare homemade tomato salsa for the coming week's after school snack.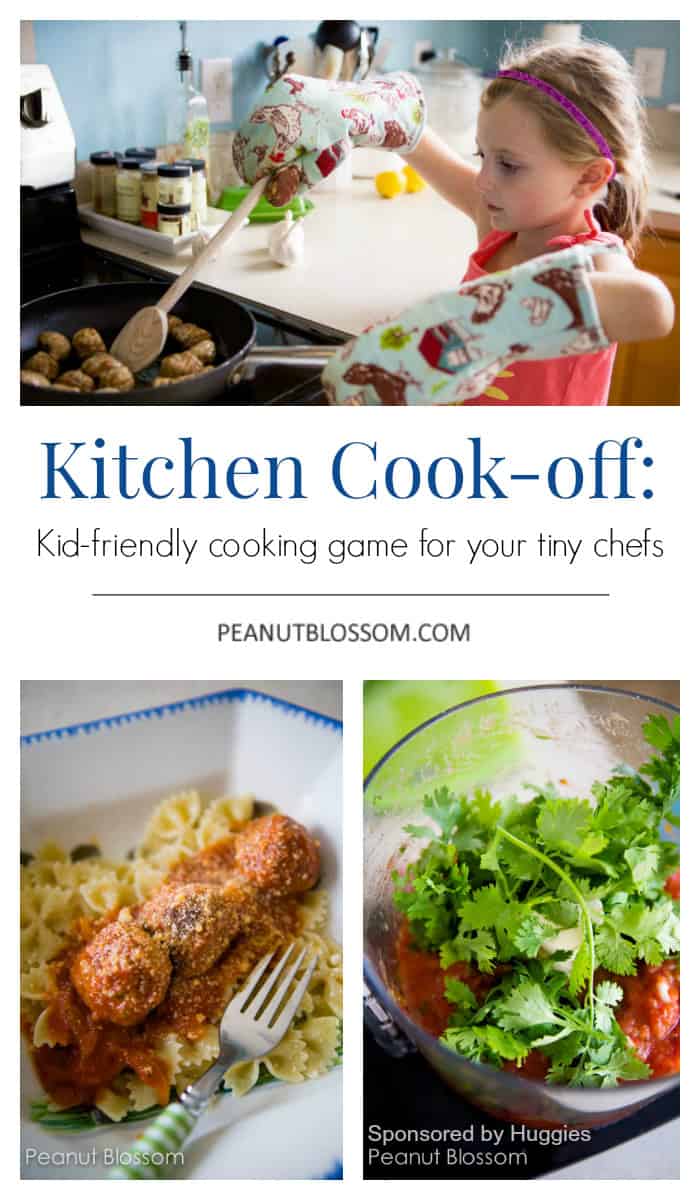 How to play Kitchen Cook-off with kids:
Step 1: 
Briefly explain the techniques each recipe will use and then let the contestants choose which one they want to make. Little Pea was excited to sauté the meatballs on the stove top and the Peanut loves to use my Cuisinart food processor so our decision was easy.
Alternatively, you could lay out the unique kitchen tools that might be used for each recipe and let them blindly pick the food based on the tools in front of them. For example, a citrus press vs. a food grater--kids pick the tool and then the recipe is revealed.
Step 2:
Safety First! I split our challenge into separate stages so I could give each girl special one on one time but more importantly so I could watch them like a hawk and keep them safe. I tried to let them do as much of the cooking as possible but I still did the most dangerous tasks myself: pouring out the boiling pasta water, managing the heat level on the stove, and stepping in at any point where I was worried about cuts or burns.
For Little Pea, I insisted she use both of my oven mitts over her arms once the stove top was turned on. When the oil got too hot, I asked her to step away and wait while I turned it down and let it cool a bit. I also gave her the longest armed wooden spoon so she could keep her body away from the pan while turning the meatballs.
For the Peanut, I trust her around small cutting jobs with my paring knife after many sessions of practice but for the salsa I prepared the jalapeño because I didn't want her getting the spicy hot oils into her eyes by accident. Even at age 9 there are many cooking jobs I wouldn't let her do. The salsa was a perfect choice because her fingers never got close to the chopping blade. She was able to do 99% of the recipe all by herself.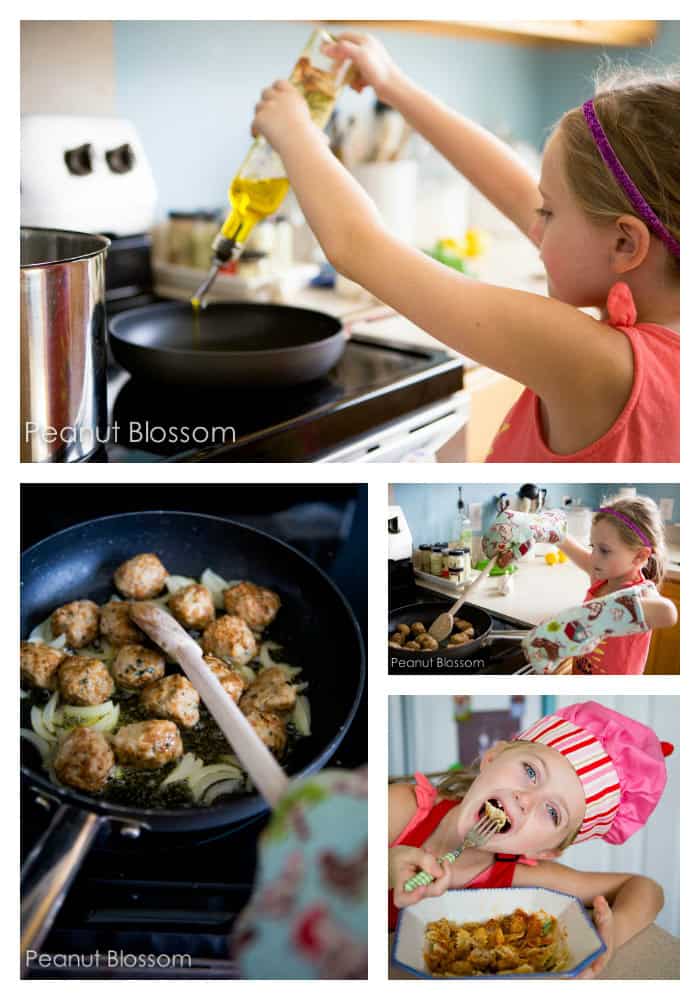 Step 3:
Keep it simple and focus on one or two elements of the recipe. Beginners need easy recipes. I love to cook from scratch, but both of our recipes included packaged items and canned foods.
The meatball dish included our favorite prepared chicken meatballs from the refrigerator section, a jar of tomato sauce, and packaged parmesan cheese. To make it "fancy" we sliced up a fresh onion to sauté with the meatballs in olive oil before adding the tomato sauce to heat through. In all, it had 4 ingredients (meatballs, onion, olive oil, jarred tomato sauce) but it was just enough steps and process for Little Pea at age 6 to manage.
The salsa recipe is my tried and true favorite we've used for years. You can get the full ingredient list and method here but it involves a can of diced tomatoes and a can of Rotel tomatoes mixed with some fresh ingredients. The Peanut loved learning how to use the can opener and watching the fresh veggies (onion, jalapeño, cilantro, garlic) get mixed to smithereens in the Cuisinart.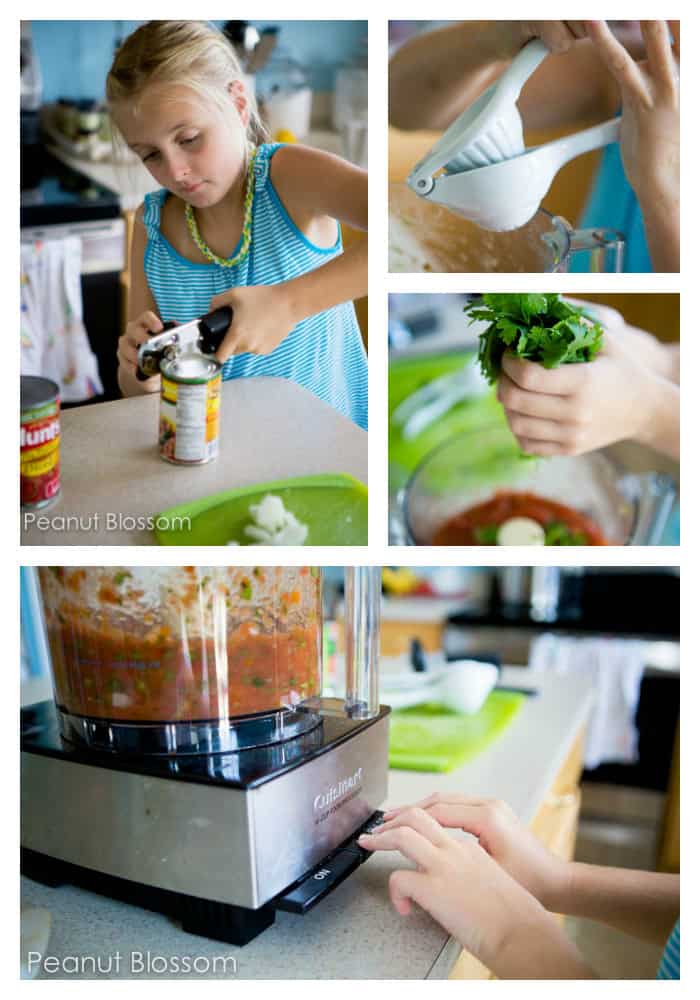 Step 4:
Now it's time for the taste test and plating! I had each girl sample their recipe before we served it to check for seasonings and temperature. Once they were happy with the dish, we had a very brief lesson in how presentation matters as much as the food. I brought out our fancy adult pasta bowls for Little Pea and the salsa and chips go in our special chip and dip server.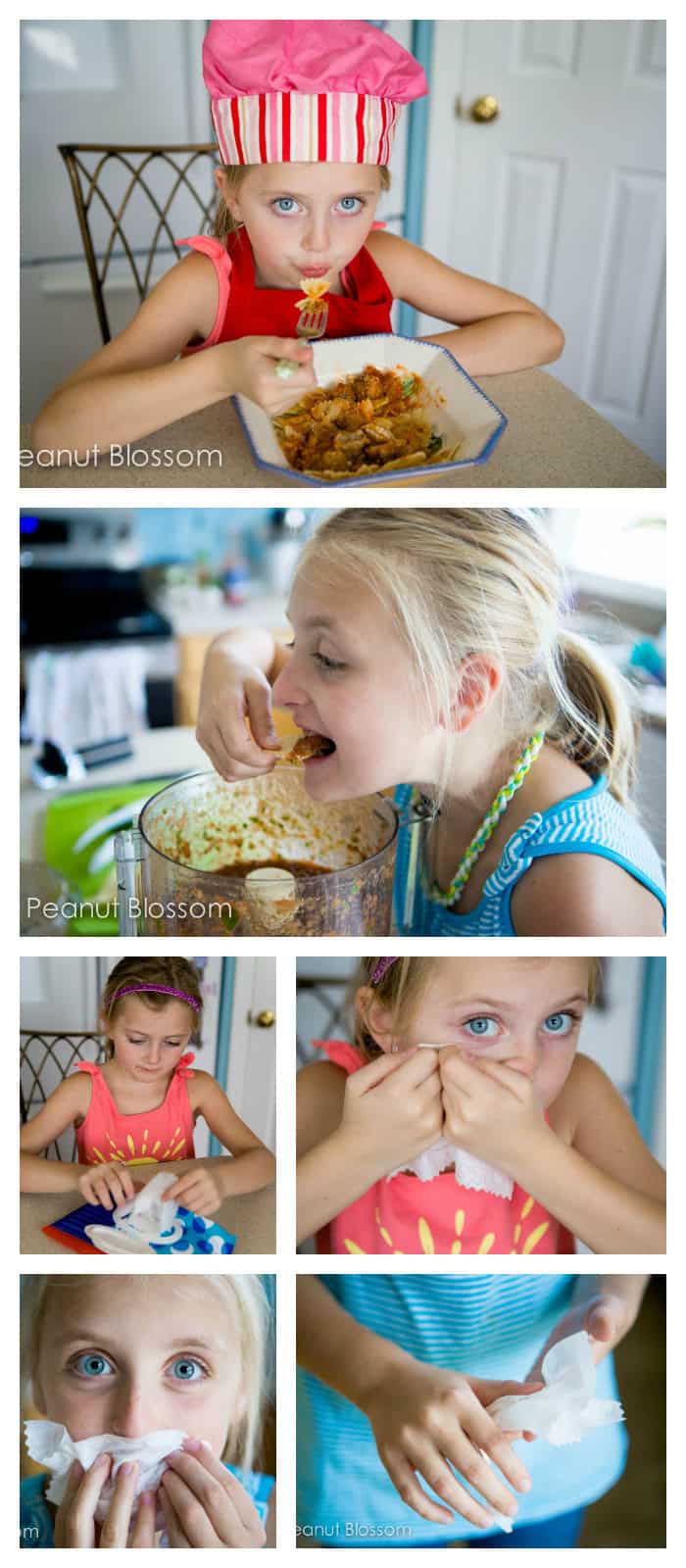 Step 5:
Clean up! I'm a disaster in the kitchen myself and it is something I've been trying hard to remedy over the last few months. I try to keep on top of the dirty dishes as I go and keep my counters clean but it's a little harder to do when my main focus is keeping the kids safe in the kitchen and I don't want to be distracted. No matter how messy it gets during the process, afterwards it is time to wipe our hands and face clean before working together to wash all the dishes and clean up the work space.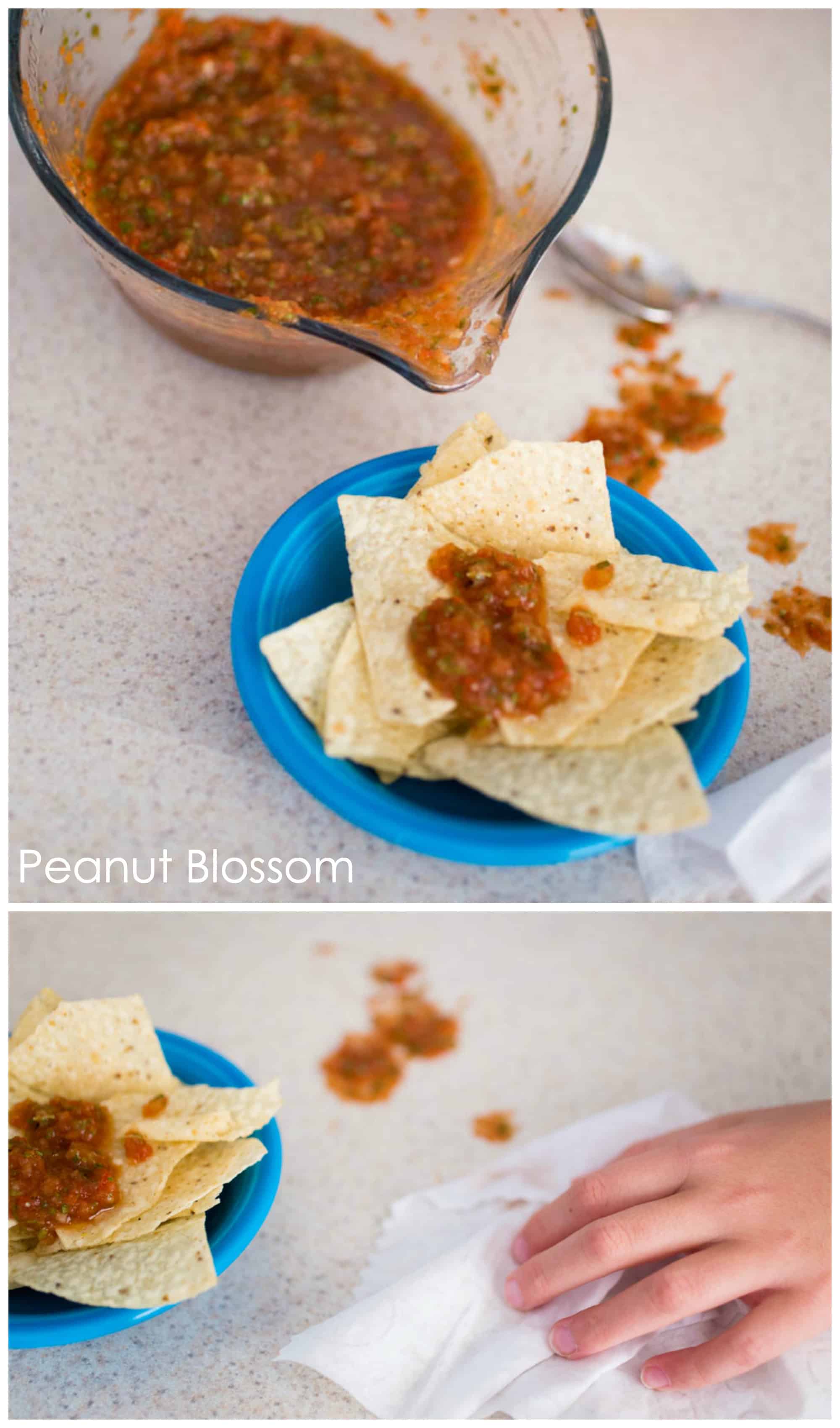 The cleaning tricks I've been trying to implement include:
Keep Huggies® Wipes handy for quick messy clean-ups: We think the Huggies® Wipes are perfect for wiping down hands between messy food prep stages and even better for getting sticky tomato sauce off of Little Pea's cheeks. We even used them for wiping down the counter to pick up spilled dry seasonings and simple splatters. I keep a package ready to go right in our work space so we can grab one as needed.
Before you start cooking  fill the sink with hot soapy water: A few of our tools had to be used for both recipes and needed a quick wash. When I wash as we go, it is so much easier to quickly grab the tool we need knowing it is ready for use.
Close the loop: My sister recently gave me this tip she read about--tidy people "close the loop" and finish all the tasks they encounter before moving on. For example, if the dishwasher is full but hasn't been run, I'll add the tab and run it and then force myself to hand wash everything that's left rather than leave the dirty dish pile-up to the side of the sink. I made sure that after our Kitchen Cook-off Challenge that the girls helped me to close all the loops we found in the kitchen. Dishes were put away, tools returned to their drawers, food placed back in the pantry or fridge.
When they moaned about the less-fun clean up chores, I simply reminded them that when the kitchen is clean and all ready to go I'm much more likely to agree to playing another round of our kitchen competition.
Our first experiment with this game was purely fun and not exactly competitive. There were no winners vs. losers and the only prize was the enjoyment of spending the time together. Next time we play, I think it could be fun to do a taste test and have Daddy pick a winner but it is definitely not a required element to play.

P.S. Have your kids been busy making adorable messes lately? If so, enter the Huggies® #hugthemesssweepstakes on Twitter or Instagram for a chance to win $2500! Imagine how you could stock your kitchen competition arena with that prize! Check out all the details and enter the sweepstakes here.
And don't forget to check out Huggies® on Facebook, Instagram, and Twitter!
Be sure to check out our other messy fun projects here:
Get in the dirt: 5 Earth Day projects for kids
20 Ice cream sundae combinations