Step in where the schools are failing your child and host your own DIY art classes for kids right at home! This wonderfully easy art camp for kids is the perfect way to connect with your children this summer.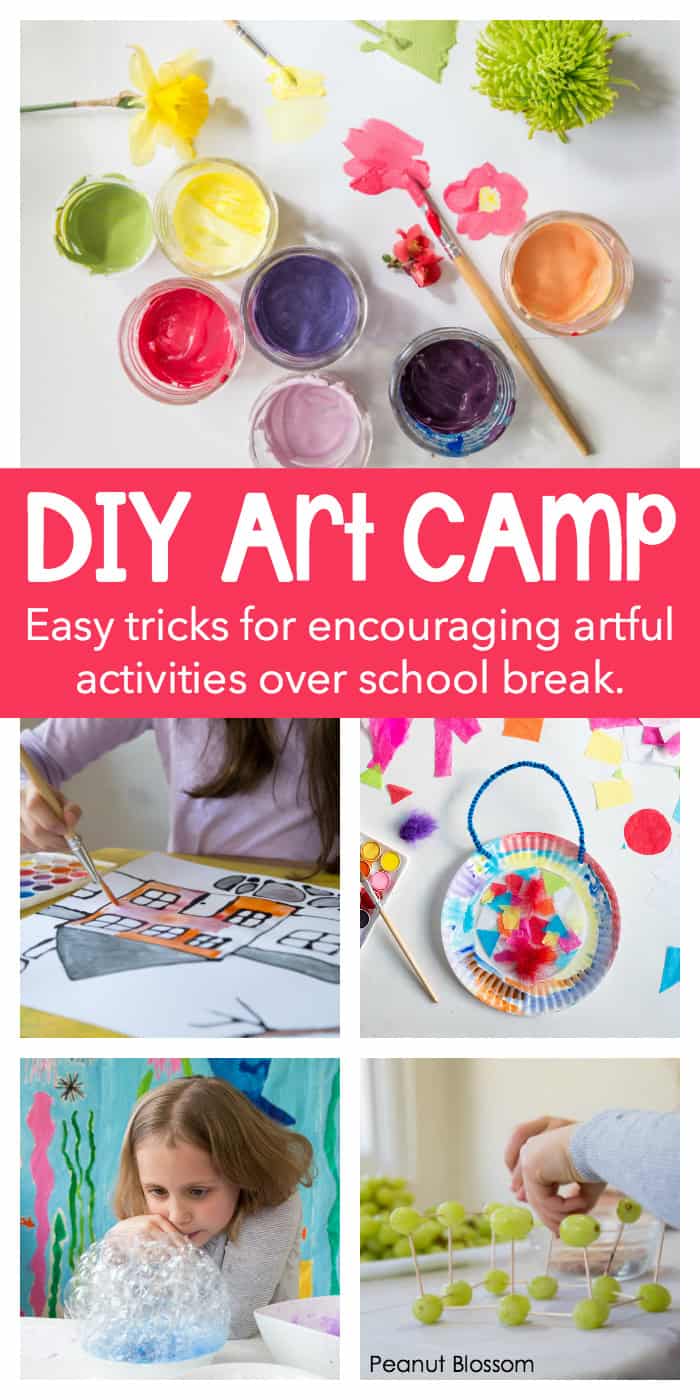 As part of my Choose Your Own Adventure Summer Camp for kids, I want to encourage you to organize your own DIY art classes for kids right at home with your family. Since art is so often a limited time special during the school year, I love being able to offer my kids more opportunity for creativity at home.
I'm here to help you every single step of the way. I want this to be an incredible experience for both you and your kids.
But what if I'm not artistic myself? How can I teach my own kids art?
This was my very first concern as well! I am very creative, but couldn't doodle my way out of a paper bag. To help ensure you have the very best tools you need to run an art class for your kids, I teamed up with my amazing friend Jean from The Artful Parent. She was my sounding board as I wrote this post for you.
Jean has filled her daughter's lives with amazing art opportunities. I've seen how she easily arranges creative experiences for her girls that any parent could perfectly match in their home, too.
So rest assured, your own artistic talent is NOT a prerequisite for ensuring your kids grow into talented and creative artists.
Why should you set up your own art classes for kids right at home?
Kids who spend time in thoughtfully prepared DIY art classes will:
Have fun and be creatively engaged.
Learn to express themselves in a visual medium (so important in this increasingly visual world we live in!)
Gain self confidence from creating something and knowing they can do it again.
Continue to develop their fine and gross motor skills.
Have the opportunity to explore the possibilities of art materials, techniques, tools, their capabilities, and their own ideas.
Once you've organized one creative art camp day for your kids, it's likely you'll all have so much fun you'll want to do it again and again. Before you know it, art will be a regular part of your family's life!
How to set up the best art classes for kids right at home:
The best part of hosting your own art classes for your kids is that you will set up the materials they need once, and they will learn to engage with creative projects when the mood strikes! This will definitely help avoid the "I'm Bored!" summer routine.
Step 1: Start with the best art activities for kids
There are a million art activity ideas on Pinterest and all over the web but how do you know which ones your kids will enjoy the most? Are you getting the most benefit out of them?
Jean wrote The Artful Parent to help families easily incorporate art into their everyday world. She knows all the tips and tricks for making art activities an accessible thing for you and your kids.
She carefully explains how to set up your home to make art projects easy, includes reviews on the best materials to use, and the rest of her book is just oozing with creative inspiration for fun and engaging artful activities for your kids.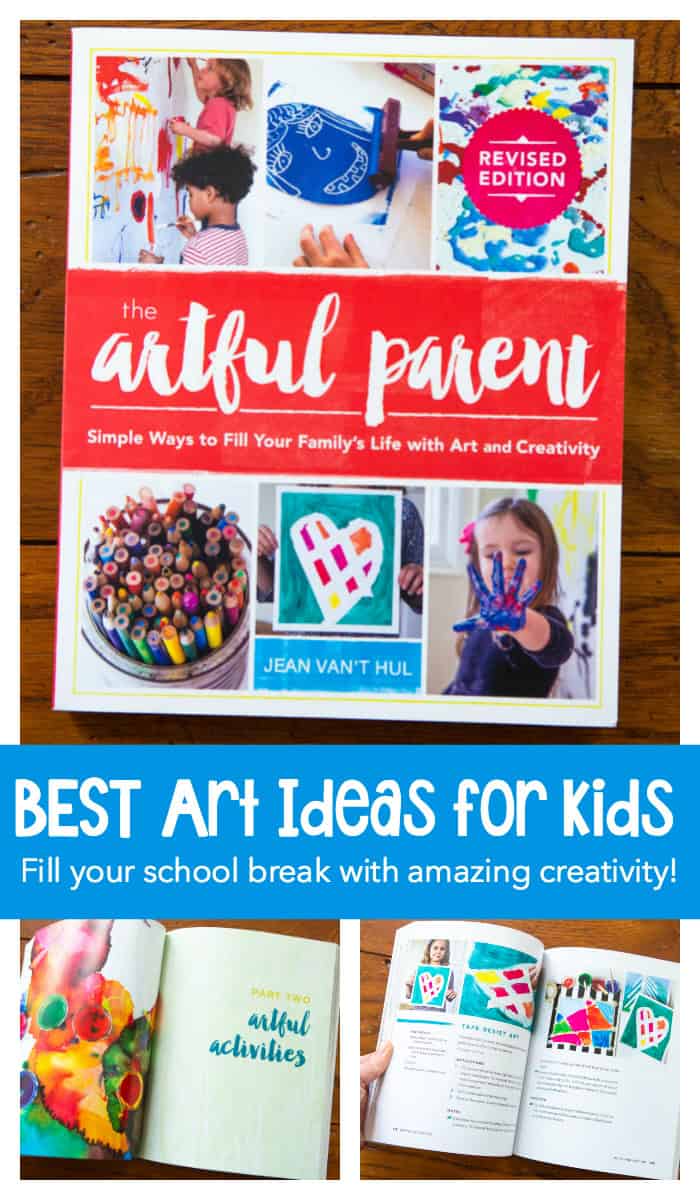 This summer, you can challenge your kids to make amazingly simple creative things like:
Contact paper suncatchers
Double doodle drawings
Symmetry paintings
Toothpick construction projects
Oil pastel paintings (my girls' favorite!)
And if you're willing to put in just a little more time for prep, you can encourage your kids to try:
Raised salt paintings
Bubble printing
Milky fireworks
Marble painting
There is something in this book for everyone!
If you want to get started before your DIY art class manual arrives, Jean has several sample activities right on her site that your kids will love. Be sure to check out some of our favorite art activities for kids:
Step 2: Set up your home with the best art supplies for kids
HINT: You probably have most of what you need already hiding around the house already!
Jean recommends the basic supplies should include:
something to draw with (markers, crayons, pencils, etc)
something to paint with (tempera paint, watercolor paint)
something to draw and paint on (usually paper but also cardboard, canvas, the sidewalk, etc)
some very basic tools such as brushes, scissors, tape and glue.
And that's it! Pretty easy, right?
Some activities from The Artful Parent will call for other materials that you might not already have on hand, such as Contact Paper, but they are usually inexpensive and readily available at your grocery store or Target/Walmart.
A handful of activities call for materials that might be a little bit more expensive or less easy to find, such as liquid watercolors, but you can often substitute something else. For example, Jean recommends watered-down food coloring in place of liquid watercolors.
There are plenty of activities that use just the basics, you can build your art supply stash as your child's interest develops.
Step 3: Set aside devoted pockets of time to get them started with art class introductions
Summer vacation, or any extended school break, will always fly by in a flash. Don't let the time with your kids pass you by.
There are two great ways to make sure you earmark some time for art classes with your kids:
Make an artful bucket list for the break: Have your kids flag the art activities they want to try before the break is over. Put a list up (WITH CHECK BOXES next to each item!) in a public place where everyone can see it. We love to use a kitchen chalkboard for this, but printed out for your fridge works, too. Seeing that checklist every morning will remind you of the fun things you both want to make together and you can work them into your daily plans to check off your list.
Dedicate one special day every single week: Maybe it is Tuesday mornings and you work your way through a planned set of 2 - 3 art projects that use similar supplies. Maybe it is Saturday afternoon so you can enjoy packing up your art supplies and taking them outside. If you build the habit that one special day every single week will be dedicated to artful experiences together, your kids will learn to look forward to that time and eagerly plan what it is they want to create with you. This can be a fantastic habit to establish over any break and then carry through into the busy school year, too!

Step 4: Keep it super simple
If this is all starting to sound like a lot of work for YOU then you're approaching it all wrong.
Our real goal here is to put your kids in control of as many things as possible. You are simply their guide in this DIY children's art class.
Here are some tips to make things go more smoothly. A little prep goes a long way:
Have a few simple art invitations set up ahead of time (see page 27 of The Artful Parent) and tuck them away for when you need them.
Invest in a few art mats and trays. They help to contain the activity and make clean up so much easier! Keep a damp rag or paper towels handy for clean up and make sure to teach your children to help with clean up as part of the activity.
Focus on low-key activities for transition times (see the awesome list on page 190 of The Artful Parent) and for when you need to get stuff done. Keep the messier materials and activities for when you have more time for doing a hands-on activity together or for when you plan to be outside.)
Set up simple art stations around the house. If you have a younger child that needs more constant supervision, they can be creating with interesting magnet shapes on the fridge or collaging at the kitchen table when you need to be working in the kitchen. When you're folding laundry in the living room, your young child could be drawing at the easel that's set up there, if you plan ahead. Jean has wonderful suggestions for finding pockets of your world that could be improved with a little art time for the kids.
If you host a DIY art class for your kids, my hopes for you are:
You will connect with your kids and make precious memories you both will cherish as they grow.
You will expose your kids to creative thinking and visual expression, skills that will serve them well in their future.
Your kids learn that mom and dad will say "YES!" to trying something new.
Your kids learn that mom and dad will allow them creative play because they trust them to be responsible for clean-up as well.
Your kids experience a sense of empowerment and learn to have a wonderful creative outlet that will serve them well through the difficult teen years.
And then be sure to follow my profile over on Pinterest where I am constantly sharing great ideas for connecting with your kids and fun ideas for your family all year long:
GET MORE GREAT EASY KIDS' ACTIVITIES ON PINTEREST
Looking for more DIY Summer Camp ideas for your kids?