The best children's book club party begins with the perfect book. We love these book club discussion questions for The Candymakers by Wendy Mass and this sweet and easy party menu.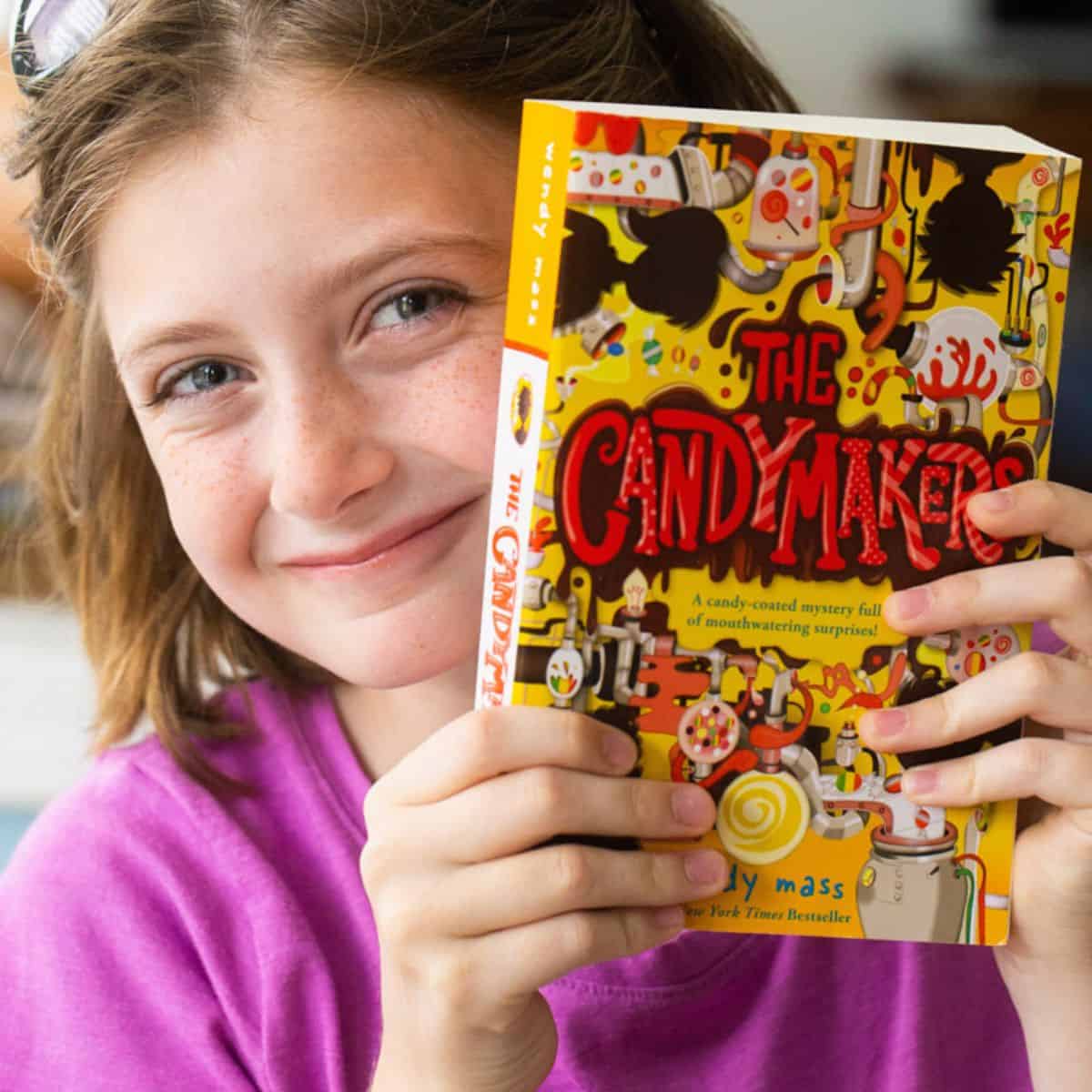 When I devoured The Read-Aloud Family last summer, my favorite tip from Sarah Mackenzie was to develop a book club environment for your kids. Reading is something meant to be enjoyed, if we want our kids to grow into avid readers, we need to celebrate the joy that comes with finishing a good book.
Book club parties are not just for adults. Kids will absolutely love a book club party of their own! If you're looking to start up a children's book club for your family or for a group of your kids' friends, there are just a few easy pieces of advice I have for you.
How to host the BEST children's book club for your kids: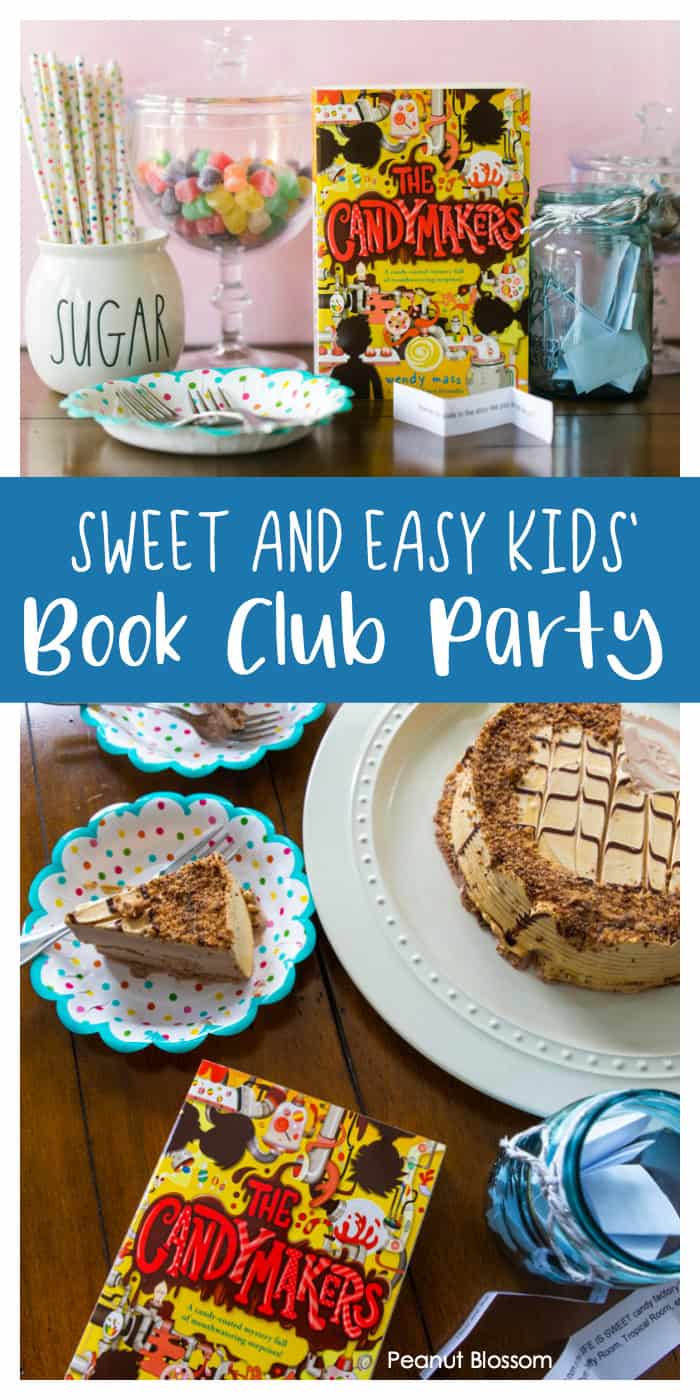 Step 1: Pick from the best children's books and find something everyone will enjoy
I don't think I ever quite grew out of reading children's books or YA fiction. Every once in a while when I need something a little more light hearted or whimsical, I will browse through the latest titles in the kids' section of the book store.
Before I even had kids of my own, I was collecting beautiful hardcover editions of my favorite children's novels. Sharing them with my girls has been one of the best perks of becoming a parent.
So I can definitely say, not all children's books are created equal. If you want your children's book club to be a success, you need to pick something that doesn't just appeal to your kids, but will capture your attention as well.
If you have girls like me, you are sure to find something fun for the two of you in my post 18 books to read with your girls before they turn 18.
But, I know some of you have sons, too. We highly recommend The Candymakers by Wendy Mass for a kids' book club pick that will appeal to any kid you might invite to your book club party.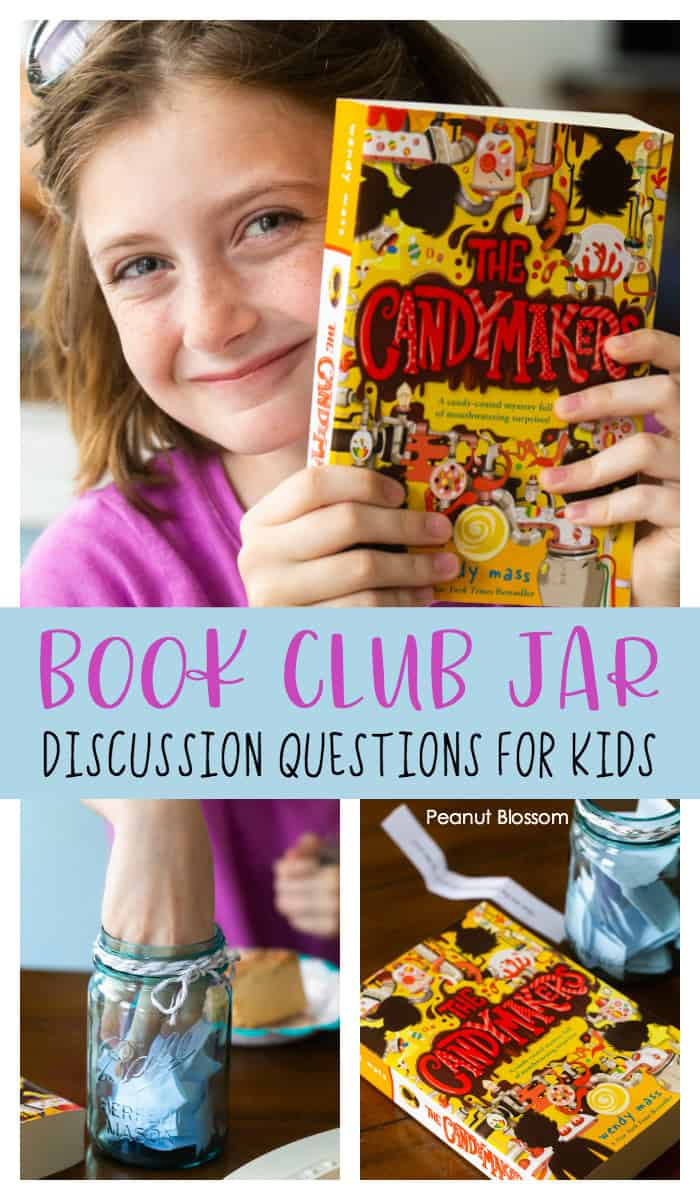 Step 2: Be prepared with the best book discussion questions for kids
So many books come with a reader's guide or discussion questions in the back pages. That is a great place to start but the questions can often be either boring, complicated, or too deep for a good conversation with kids.
To help you and your kids have a great book club discussion, I collected some of my favorite questions for The Candymakers and created this FREE printable PDF for you to grab and use.
Kids really want to feel like an important part of the book club discussion. Rather than just simply reading off the questions yourself, bring your kids into the activity by cutting the questions into strips of paper and folding them up into a book club question jar.
You and your kids can take turns pulling the slips of paper and discussing the questions before moving on to the next one.
You will find simple things like:
"Who is your favorite character?"
And a little bit more complex questions like:
"If nothing ever changed, there'd be no such things as butterflies."What does this quote from The Candymakers mean to you?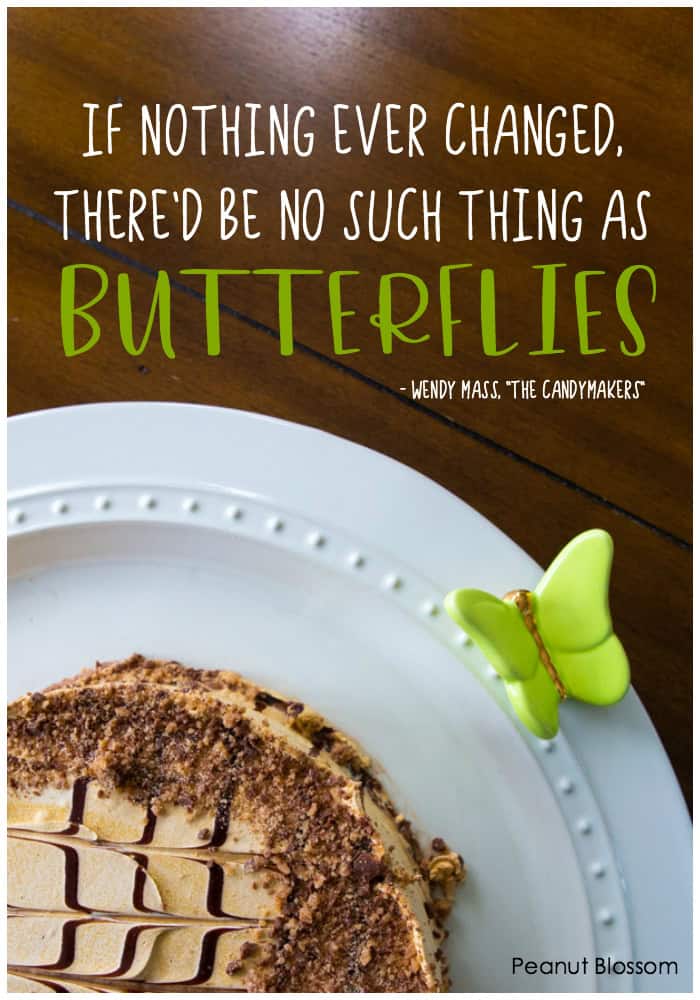 Step 3: Every good book club party has yummy treats
Ok friends, let's be honest. When you're heading to your grown-up book club, what are you looking forward to most?? Even the best book club parties are enhanced by some yummy snacks or treats.
This doesn't mean you have to spend a ton of time or effort to make it special. I love to consider the theme of the book and try to make the snacks match the plot in some easy but clever way.
For The Candymakers, the answer was super obvious: CHOCOLATE!
If you want to host your first children's book club this summer, why not take advantage of National Ice Cream month in July and plan for a super easy, already made Reese's Peanut Butter Ice Cream Cake for your Candymakers-themed dessert?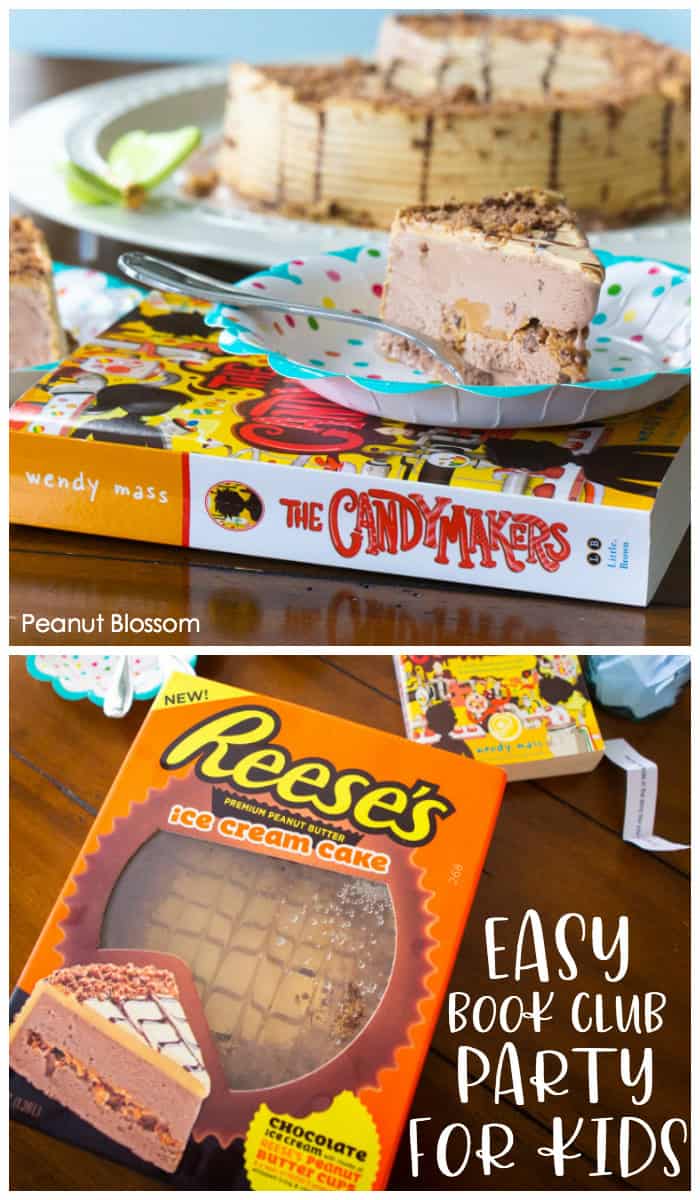 I just grabbed this deliciously easy ice cream cake from the bakery section at Publix during my grocery run. They have a freezer case right next to the regular cakes display. I loved that there were ice cream cakes of all different sizes from I Love Ice Cream Cakes to match the size party we wanted to host, but one glance at their Reese's Ice Cream Cake and I was sold. No worries if you don't have a Publix, you can also find this cake online at Amazon Fresh, as well as ShopRite, Giant Martin's, Giant Landover, Food Lion and more.
Check their product locator right here.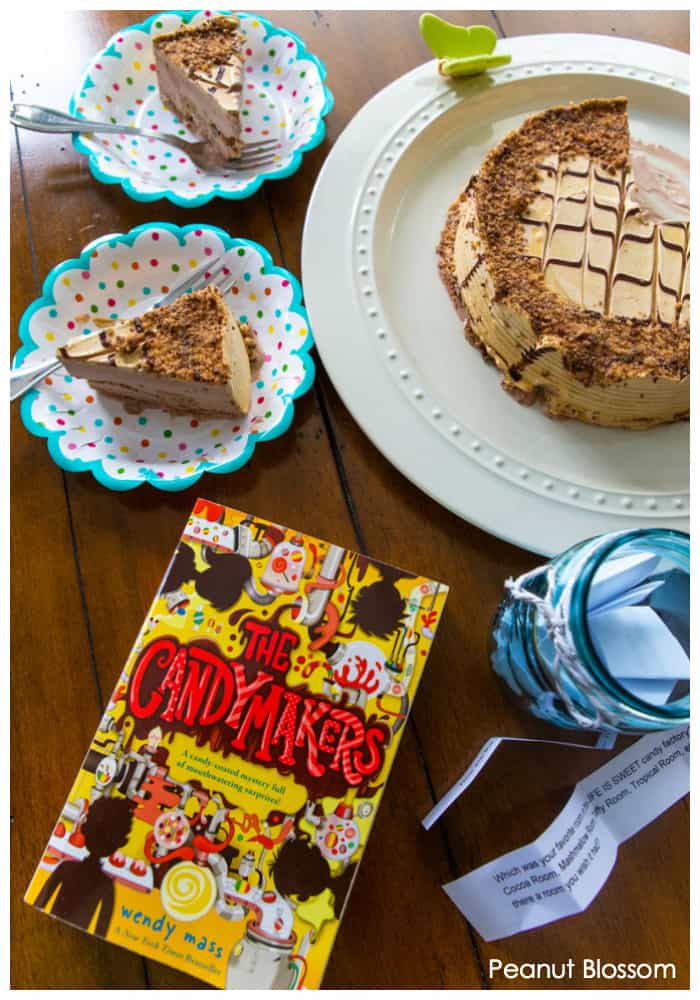 The Reese's Ice Cream Cake is one of I Love Ice Cream Cake's newest flavors and features creamy chocolate ice cream with chunks of real Reese's Peanut Butter Cups, a layer of Reese's peanut butter and whipped icing with a Hershey's chocolate drizzle on top. OMG, it is soooooo good. I'm always stealing the Reese's cups out of the kids Easter baskets, so this was the perfect summery solution.
If you want to save a little money on your book club party desserts, you should join the Crunchie Club where you'll get coupons ($5 off just for joining) and other fun updates from the folks over at I Love Ice Cream Cakes. You can join the club here.
Want more great children's book club ideas?
The Candymakers is just one of our favorite children's books. Check out these great ideas for your next book club for kids: