Want to learn how to watercolor paint while you're safe at home this spring? Have a blast with the kids learning how to paint professional-looking watercolor art together in under an hour.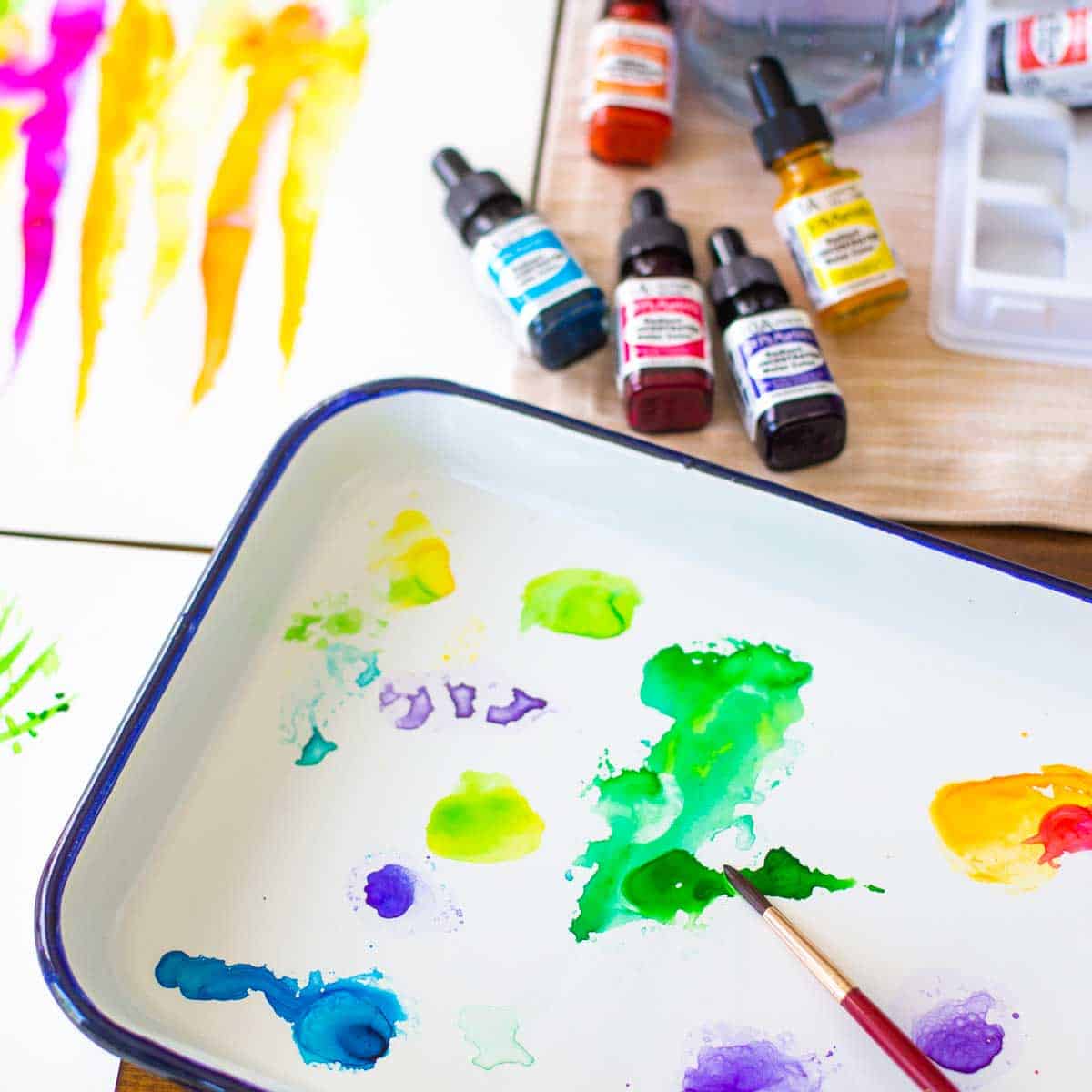 I have adored watercolor paintings forever and ever. They are by far my favorite style of art, I love how the light shows through the color and the swirly play of the water with the paint.
The girls and I dabbled with simple watercolor painting projects when they were smaller but with this long stretch at home, now felt like a perfect time to dig a little deeper and try our hands at something slightly more advanced.
For their Easter gift this year, I pulled together a small set of professional-grade supplies for us to do some homeschool-style art classes centered around watercolor painting.
The key to our amazing results??
I sat down and painted right along with them!
Me, Myself, I = the magic element
Yep. I bought enough of the necessary items so that we'd have supplies for us to all enjoy painting together at the same time.
My girls enjoy projects handed to them to do on their own, but I get the longest stretches of piqued interest if I'm participating in the activity right along with them.
Share your interests with your kids. You'll be amazed at how much longer they are likely to stick around than if you try to hand them things to keep busy on their own.
And if watercolor painting is something that you've long been interested in like I have been, I'm sharing the very short list of things we used to make amazing paintings I can't wait to frame for the house.
Jump to: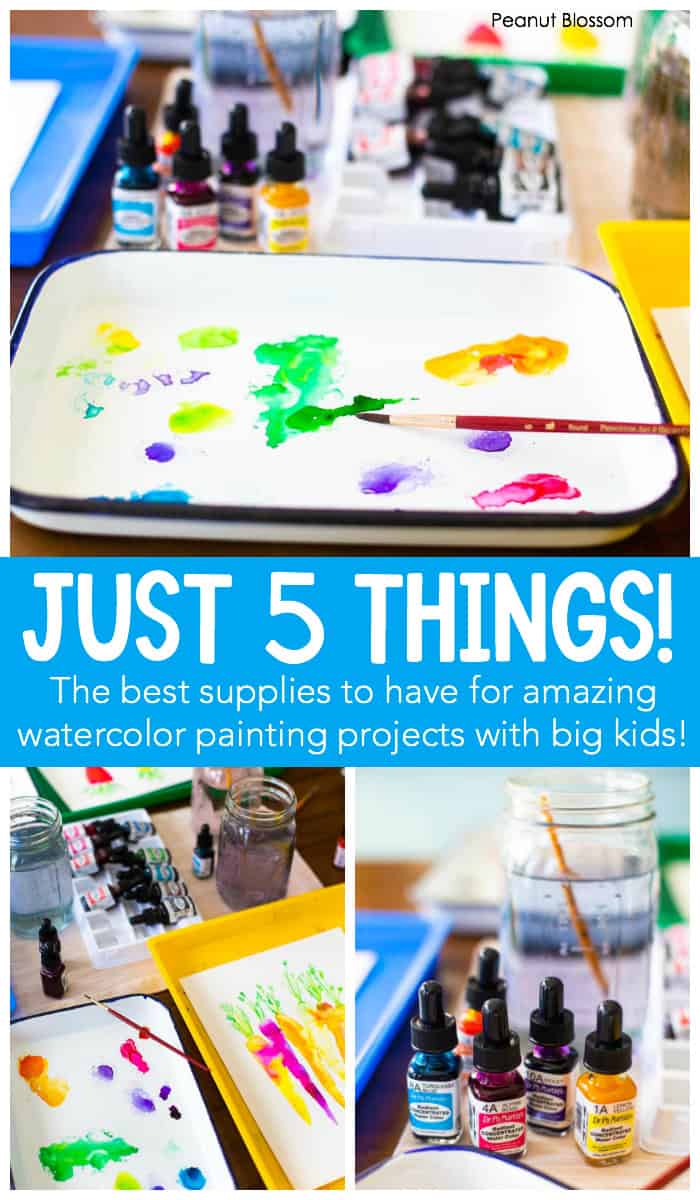 5 Supplies You Need To Get Started
The best advice I ever received when it comes to buying art supplies is that even beginners should try to find professional-grade materials to work with.
The paint colors are way more vibrant, mix better, and use less than cheaper supplies end up using.
In other words: a little goes a very long way.
Your initial set-up costs might look a little higher, but they'll last you longer and you'll be far happier in the end.
1. Professional Liquid Watercolor Paints
After a long research session online, I decided to go with Dr. Ph. Martin's radiant concentrated liquid watercolors for our starter set.
I chose these liquid watercolor paints specifically because they:
Use an eye dropper so you can dole out tiny and precise amounts of paint--one bottle of color will last us forever.
Have highly concentrated pigment--one tiny drop makes so much paint when you add water with your brush.
Produce breathtaking colors on the paper--my girls and I were all squealing at the results.
There are dozens of color options. I went with the basic beginners set of colors, Set A. You can get your own here.
There are 14 colors in the set that mix and match to create a mind-blowing variety of colors. If you want to have a ton of fun, I highly recommend starting there.
For a more budget-friendly option, I can honestly say you could get away with and save a little money by just buying a few individual colors to start instead of the whole set.
I've listed our favorites in order of their importance.
At bare minimum, get the red, yellow and blue so you can mix colors but then add on in order of priority: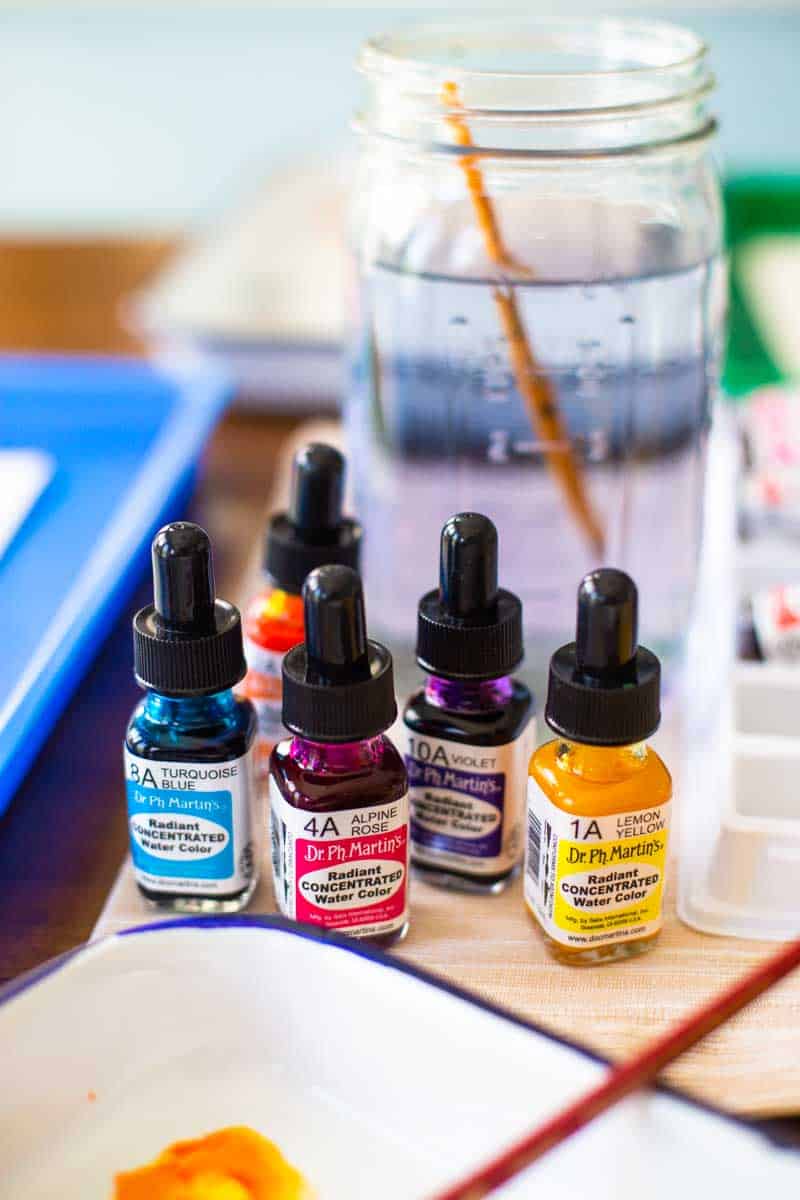 2. Affordable Watercolor Paintbrushes
I knew nothing about sizes when I ordered supplies, but now that we've done a few small projects I think a Round size 2 and Round size 6 are really useful.
You can buy them individually or they come in this set with a few other fun brushes.
3. Butcher Tray Paint Palette
I bought three of these plain metal paint palettes so we could each work with our own. I absolutely love them.
In addition to being totally gorgeous when covered in their paint splotches, the trays have a shallow well that runs around the perimeter. This helps the water from running away. You can dot your paint into the corners and then just pull what you need out for blending in the center.
I chose the smallest (and cheapest) size so we could save on table space and they are absolutely perfect.
The kids and I agree--having your own little paint palette to work with makes the whole experience feel so much more professional and fun.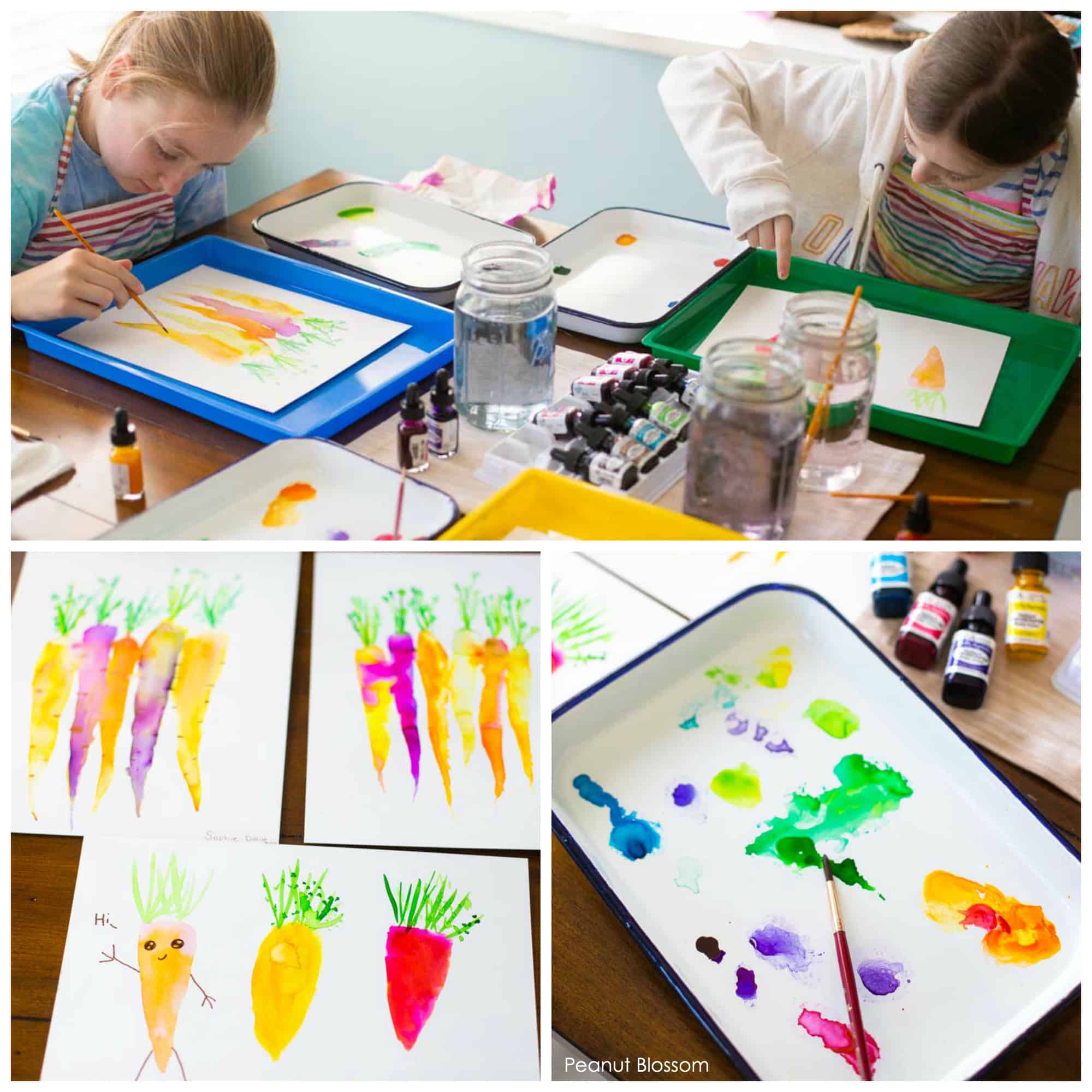 4. High-Quality, Budget-Friendly Watercolor Paper
As you and the kids experiment and play, you're going to go through a fair amount of paper. When you choose the right one, it will be thick enough for you to use BOTH sides to practice on and play with which will save a lot of money and waste.
I bought three thick pads of this 9 x 12-inch watercolor paper for us not realizing how far we would be able to stretch each stack. We've been using both sides of every sheet and they've been thick and sturdy for mixing with TONS of water and paint.
5. Watercolor Painting Tutorials
There are countless numbers of projects on Pinterest and the internet for kid-specific art projects. One little peek and you'll find an incredible list of ideas to get you started.
BUT, that's not always fun for YOU.
Remember when I mentioned at the start that YOU are the magic element here? If you're not having fun with the project, you're not going to want to do this more than once.
I stocked up on a few fun watercolor painting books for us to use for lessons and tutorials.
I also found the BEST video lessons on YouTube. All of the designs are things any adult would enjoy painting with enough room for creating something uniquely yours.
My girls were downright giddy over them so I can safely say they have an universal age appeal.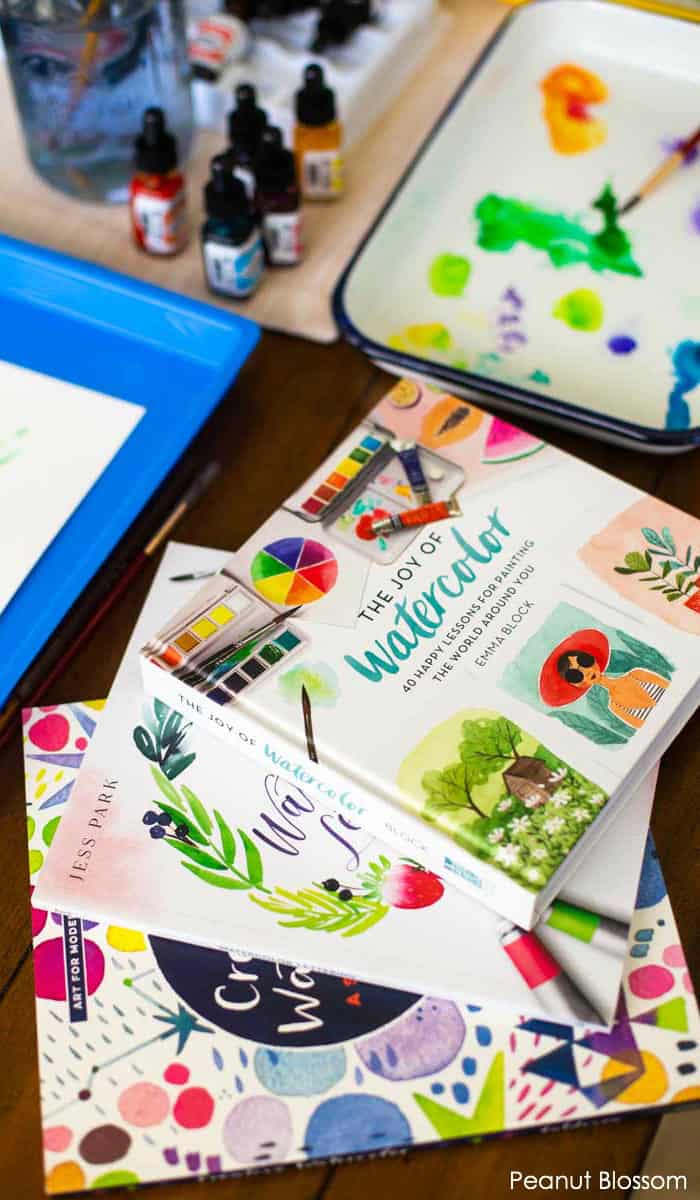 Each of the watercolor books I recommend includes an introduction that discusses color theory and simple brush stroke help to get you started.
The key differences come in the projects included. Pick the one that fits your interests best.
The Best Watercolor Painting Books for Beginners
1. The Joy of Watercolor By Emma Block
This delightful hardcover book is filled with 40 "happy lessons" for small-scale paintings of a variety of subjects: animals, florals, people, landscapes, food, architecture, and more.
My Peanut picked it up and painted an amazing pineapple using the easy-to-follow instructions in her very first session. We are enamored with the animals (birds, dogs, and more) and I can't wait to try the frozen treats and fruits.
Get your copy of The Joy of Watercolor here.
2. Creative Watercolors: A Step-By-Step Guide for Beginners by Ana Victoria Calderon
This simple book is significantly thinner and less overwhelming. I bought it specifically with my 9-year-old in mind because the projects include several geometric designs that anyone could do, strong drawing skills or not.
She was initially unimpressed because she loves to create art that looks like a specific subject. I do think she will come around as she gets more comfortable with the paints, though.
I think the book is perfect for those that want a more relaxing session and hate comparing their work to what it "should" look like in the book. There are plenty of fun, playful designs you could make along with sections on lettering and florals, and fruits.
Get your copy of Creative Watercolors here.
3. Watercolor Lettering by Jess Park
If you've ever wanted to play with those gorgeous Tombow dual-brush lettering pens but hate your handwriting, this book is for you.
Despite its name, this book has lots of tips for using the Tombow pens or watercolor paints to make simple designs for florals and accents to go with your lettering projects.
You can take a peek inside the book in the listing right here to see for yourself.
I'm personally really excited at the idea of TRACING a lettered phrase with graphite paper onto watercolor paper and then using these tips to paint a floral design around it by hand.
Get your copy of Watercolor Lettering here.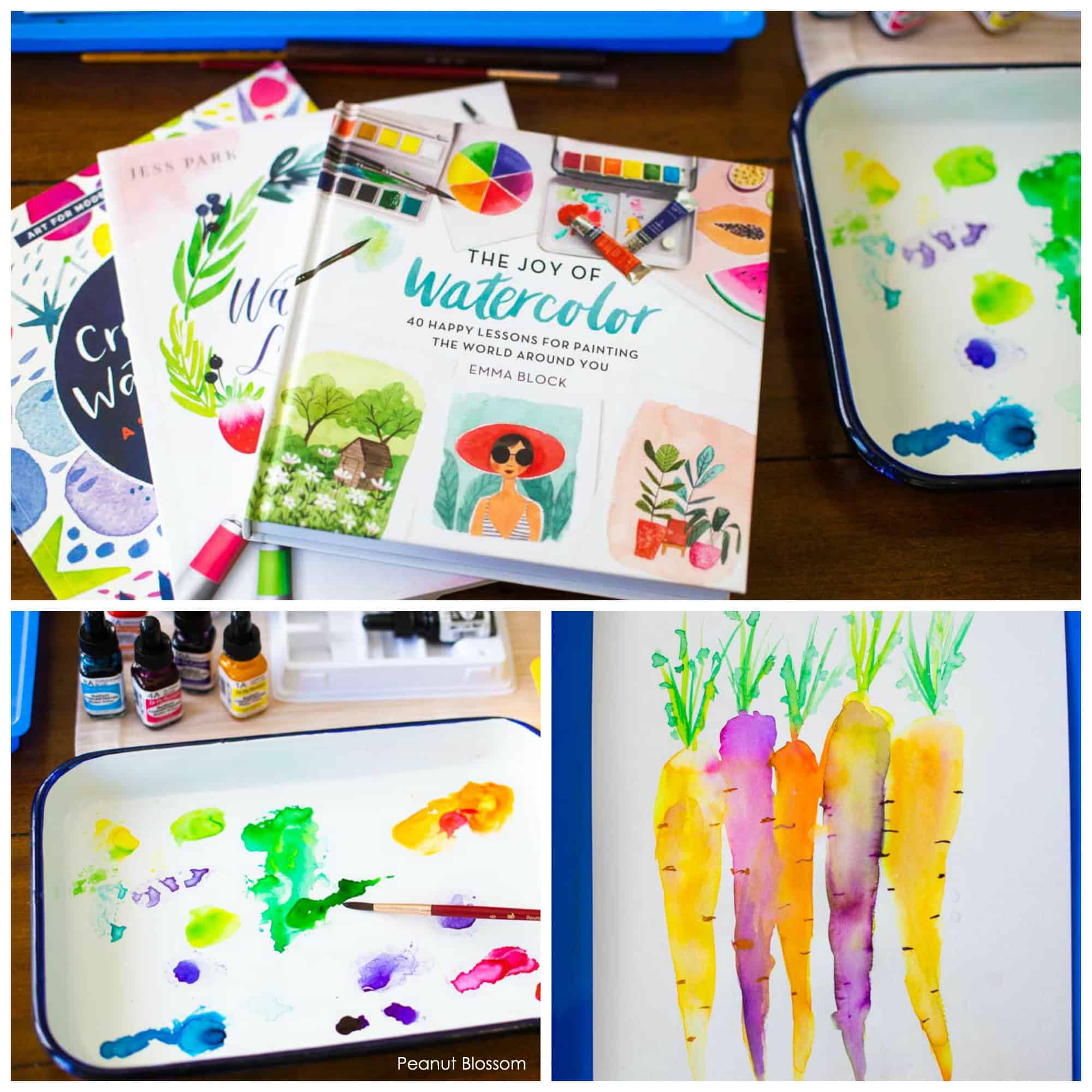 And lastly, if you're the kind of person that learns better with the visuals from a video, we cannot recommend the Let's Make Art watercolor series on YouTube strongly enough.
I opened up the tutorial on how to paint a bunch of carrots on my laptop and set it up at our table. I arranged all the supplies for the three of us to follow along with the lesson. We had the best time and I'm so proud of how our carrots turned out.
The entire video takes less than an hour and the instructor Sarah is absolutely delightful.
I hope you enjoy spending some creative time with your kids in the coming weeks!
Start a New Hobby
Do you love learning new crafty skills? Here are some other fun hobbies to pick up in the new year: