All the DIY Christmas ornaments ideas you need this holiday, right here! We decorated our tree with 100% handmade ornaments for a warm and personal holiday season. This post is sponsored by The Christmas Tree Promotion Board, a partner who inspired us to make magical family memories this year. All thoughts and opinions are our own.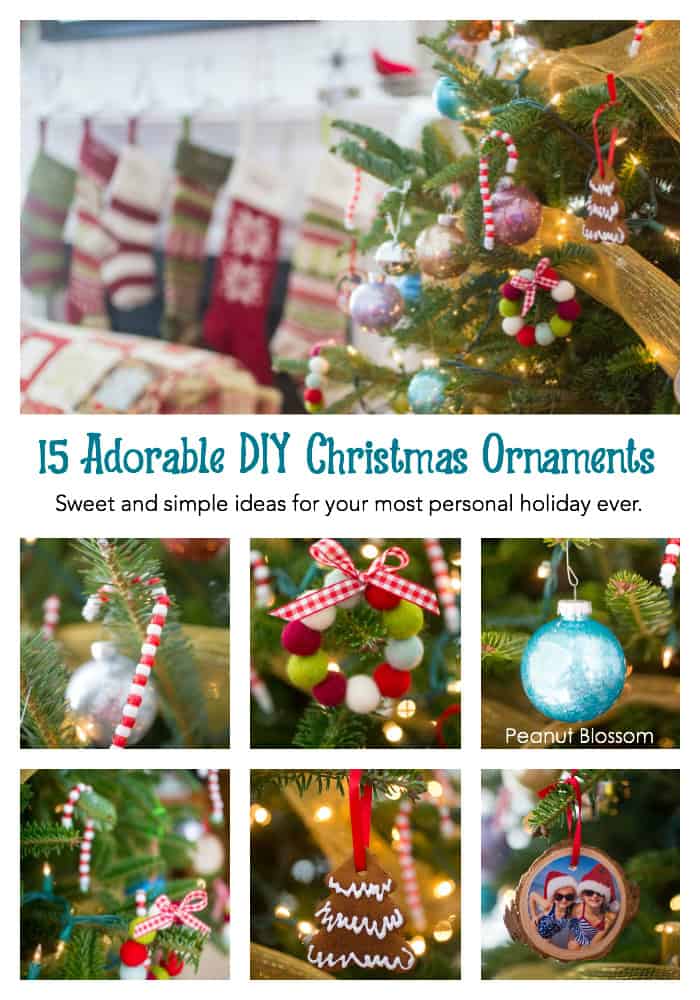 What is your personal Christmas tree style? Is it all Martha Stewart perfectly coordinated or is it a lovely mishmash of kid made creations from school?
Our family was all about our wild, mismatched store-bought ornaments collected over the years hung on a sparkly, perfectly ramrod straight artificial tree.
Until this year.
In September I had the honor of visiting my very first Christmas tree farm in the mountains of North Carolina. I spent the day with Dale and Megan of the Cornett Deal Tree Farm: a farm run by 5 generations of family; one of the coolest operations I've ever seen.
They taught us so much about real trees, too. For example (as you may have read in my post here), did you know real trees are good for the environment? At least one new tree is even planted for everyone harvested.
There was absolutely no way I was putting that artificial tree up in our living room this year. Instead, we bundled the kids up for a 3 hour drive so we could experience the heart of a Good Old Fashioned Family Christmas.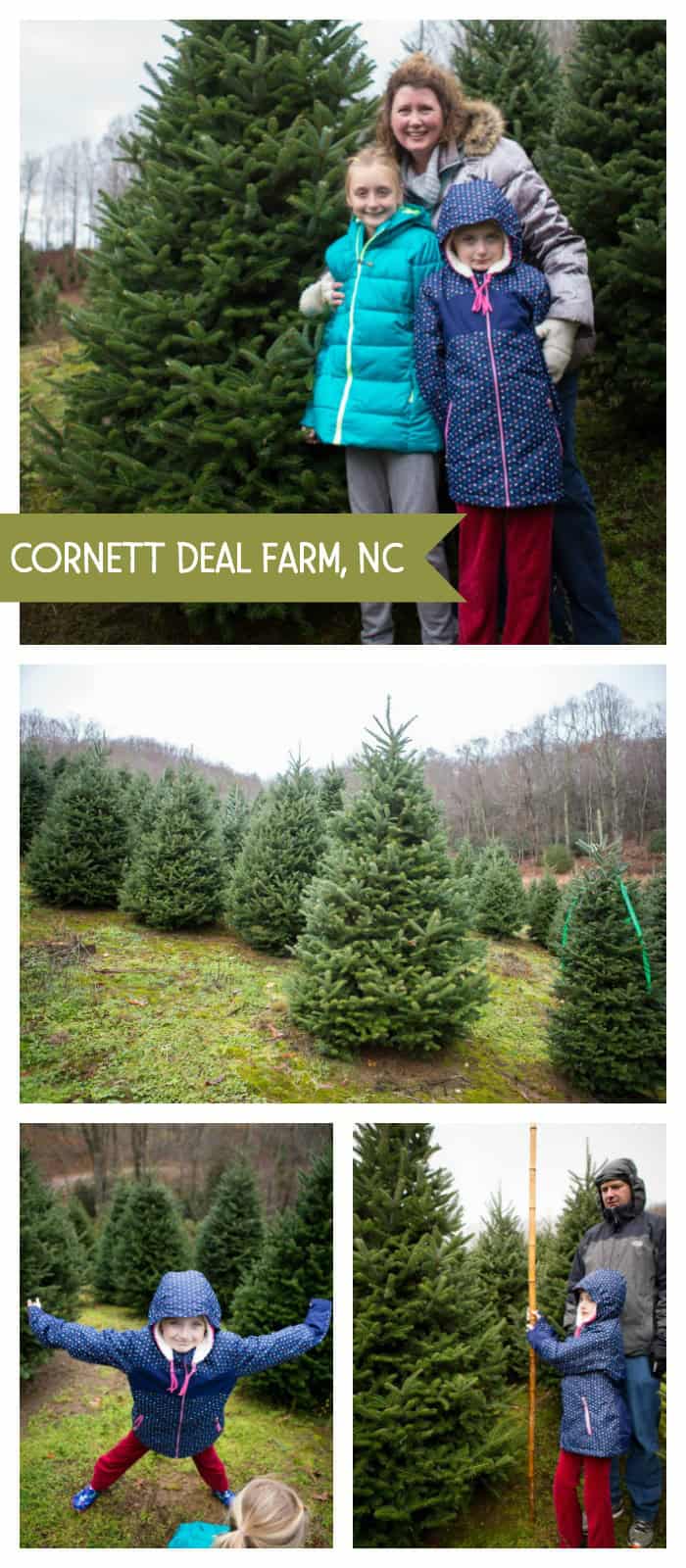 Our special family adventure came right out of a Norman Rockwell painting. Though the trees had barely turned their fall colors near our house, by the time we reached the mountains a gentle flurry of snowflakes was falling from the sky. The cars driving towards us were covered in snow and the trees were sugar coated with frost.
My sweet southern belles were glued to the car windows and kept squealing: "It's actual SNOW!"
When we reached the farm, we discovered we were the lucky first to take our pick from the mountain-side Christmas trees. One of Dale's nephews handed Tim a 12-foot pole for us to use as reference against the trees.
We trucked our way up the hillside to find our perfect tree. While Tim and I circled the options, a friendly small black dog found his way over to us and the kids were immediately smitten. We learned his name is Henry and he belongs to one of the Cornett's neighbors.
Henry followed us all around the Christmas tree patch and stood watch while our perfect tree was cut down and prepped for us.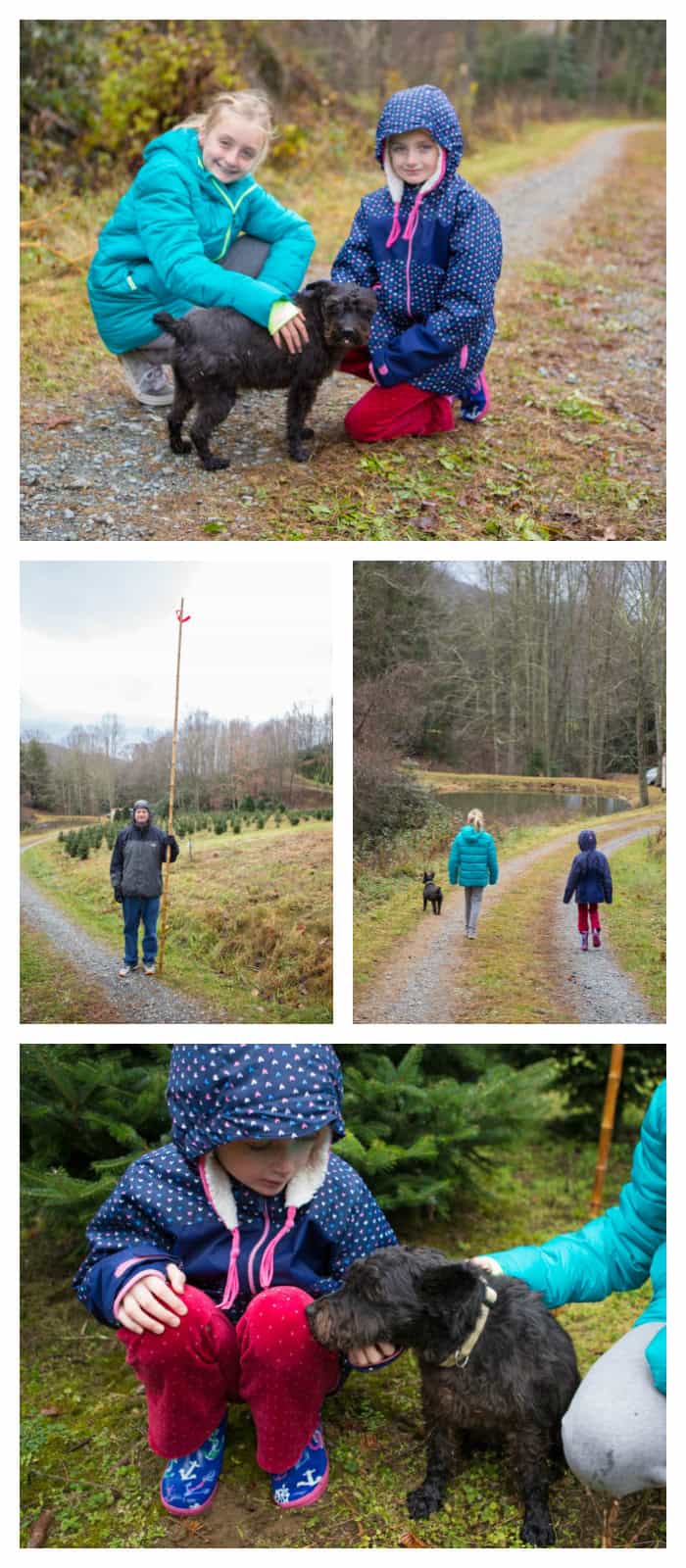 Once the tree was strapped to the roof of our car and we were safely headed home, we decided to name our very first real Christmas tree. It took almost no time to settle on the name "Henry" in honor of our little puppy buddy that helped us find it. It truly was an experience that we only could have gotten from shopping for a real tree. Plus, buying real trees provides real business for real US farmers (like the Cornett's), adding even more to the pride we felt taking "Henry" home.
Since we adopted this new tradition this year, I wanted to decorate our first real tree with something new and special. I thought about how the tree farmers have been planning and caring for our tree for 7 - 12 years (and how they care for each of their trees) before it made it's way to our living room. The care and dedication they put into growing our tree inspired me to try making my first set of handmade Christmas ornaments to go with our "handmade" tree.
I feel like handmade Christmas ornaments can get a bad rap. So many examples out there look like a 2 year old made them. And, while kid-made ornaments have a special place in a Mommy's heart, I wanted ornaments that looked classy and elegant but were still super easy to make.
I scoured the internet for ideas and found 6 styles to make for our own tree and another lovely 9 options I'd be just as proud to hang on my tree. The girls and I have been busy Christmas elves since mid-September and were so excited to finally hang our masterpieces on the gorgeous Christmas tree we brought home.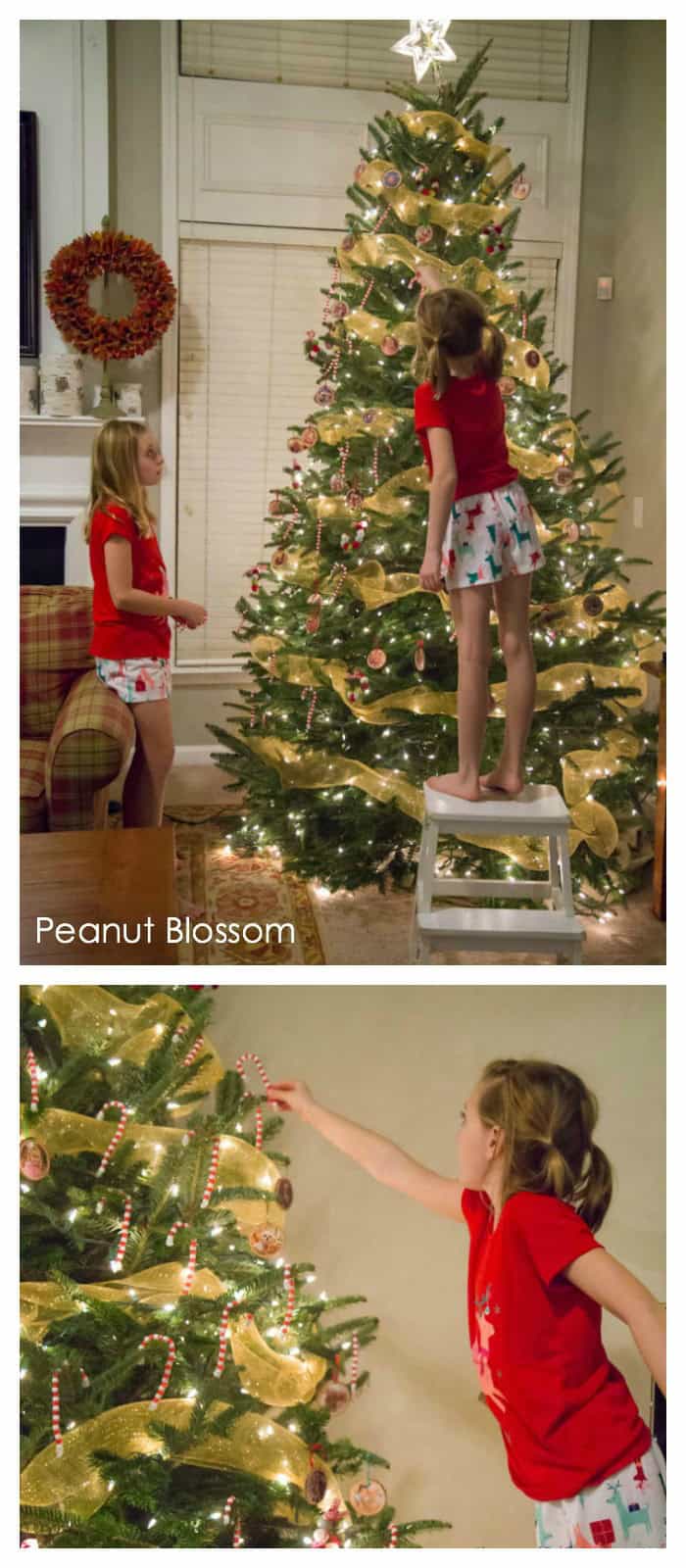 Despite our reference stick measurements, we ended up picking the BIGGEST Christmas Tree we have ever had. We thought we only wanted a 7 - 8 ft tree but "Henry" ended up being 10 feet tall! For the first time, we needed a step stool to hang the star on the top and reach the top limbs for the ornaments.
We decorated the tree in stages over a couple days because we just couldn't wait until the day after Thanksgiving like we normally do. The tree was all pulled together by the end of Turkey Day.

15 DIY Christmas ornaments you'll be PROUD to hang:
Rainbow Glitter Ball Ornaments: a viral sensation! These went crazy over on Facebook.
Wool Felt Wreath Ornaments: a warm and cozy ornament for your holiday. So sweet!
DIY Photo ornaments: We love both these adorable cubes and these sweet discs. Either one makes a fantastic grandparent gift, too!
Beaded candy cane ornaments: my girls had a blast with these and they add just a touch of sparkle. We just used sparkly white pipe cleaners and red and white pony beads.
Frosted "gingerbread" cookie ornaments: a fun spin on a childhood classic. Plan for 3 days for them to dry properly before hanging.
Snowman hat ornaments: popsicle sticks take on a grown-up flair.
Walnut reindeer ornaments: a naturally adorable looking little animal for your tree.
Dried orange slice ornaments: for an all-natural sophisticated look
Mini yarn hat ornaments: Frosty family fun, such sweet little ornaments.
"Let it Snow" Scrabble tile ornaments: Make a few of your favorite sayings!
Easy decoupage map ornaments: How cute for remembering a special location or doing the "Santa's sleigh ride" theme shown here!
Sheet music Christmas tree ornaments: such an elegant looking ornament using just paper and popsicles.
Icicle button garland: what a fun way to give a frosty look to the tree!
Let It Snow metal bucket ornaments: We're still working on these, can't wait to fill them up with the cotton balls I've saved.
Pine cone bow ornaments: So simple but so elegant. You can easily match your decor with these by swapping the ribbons.
Once I got started looking for ideas, I kept finding more and more. If this list isn't long enough, you may want to check out my friend Maggie's amazing Christmas Ornaments Book. It has 30 ideas that are perfect for doing with your kids and all the instructions come in worksheet form.
And if you'd like to take another peek at the Cornett Deal tree farm, you can "meet" Dale & Megan, along with several more US tree farmers, in this awesome video right here:
https://www.facebook.com/ItsChristmasKeepItReal/videos/2044338085853317/