Hosting Christmas guests this holiday season? You want to make your home a happy place for them to stay, even if you have a small bedroom. These easy tips for Christmas hosting will help everyone have a great time.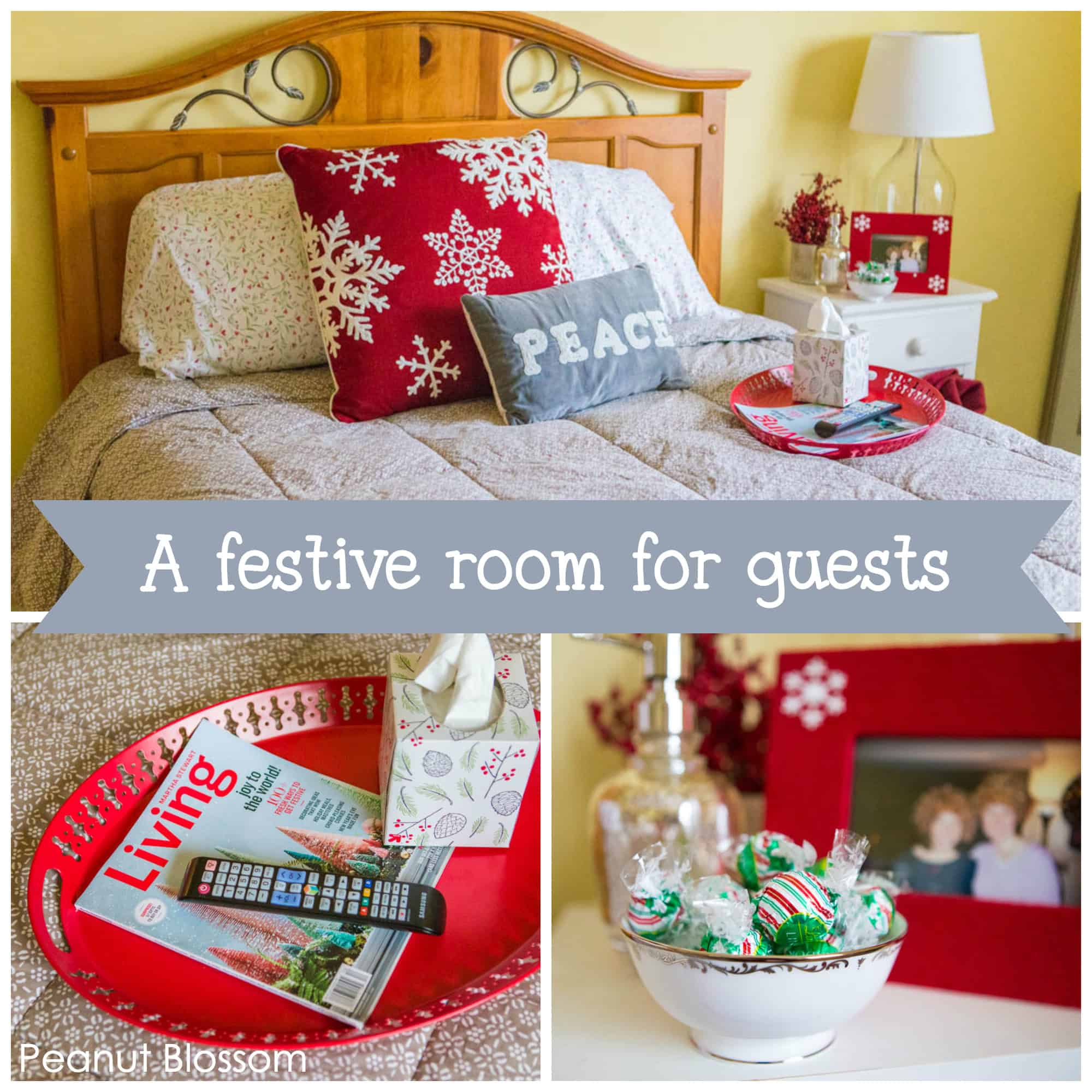 When we moved to North Carolina from the midwest, it was crucial to me that our new house had a guest room.
I knew the warmer temps (and grandkids!) would tempt family to come visit frequently. Our guest room has seen it's fair share of use over the last 4 years. I've learned a thing or two about how to host out of town guests and make them feel at home.
My sister joins us every Christmas but until this year I've never taken the time to spruce up the guest room for the holiday. I thought it would be fun to share some personal guest room ideas to make that space feel extra special for when she comes to visit.
Knowing she will arrive in just a few more weeks, I thought about the past trips my sister has made to visit us before I started to prep the room.
Challenges to Consider
You're used to your own home, think about what a friend or family member would think about these crucial things:
Temp Control: Our guest room is situated above our garage and tends to be the coldest room in the house.
Noise Level: It is also right next to the girls' bedrooms and my young, single sister can get a little overwhelmed by the intensity of action and attention she receives from the kids. I wanted to make sure the guest room would be a safe and cozy haven for her to recharge each evening.
Shared Bathroom: The guest bathroom is the same space as the kids' bathroom. I wanted to carve out a space for just her in a room she'll be sharing with my girls.
With those challenges in mind, I came up with:
20 Festive Guest Room Ideas for Christmas: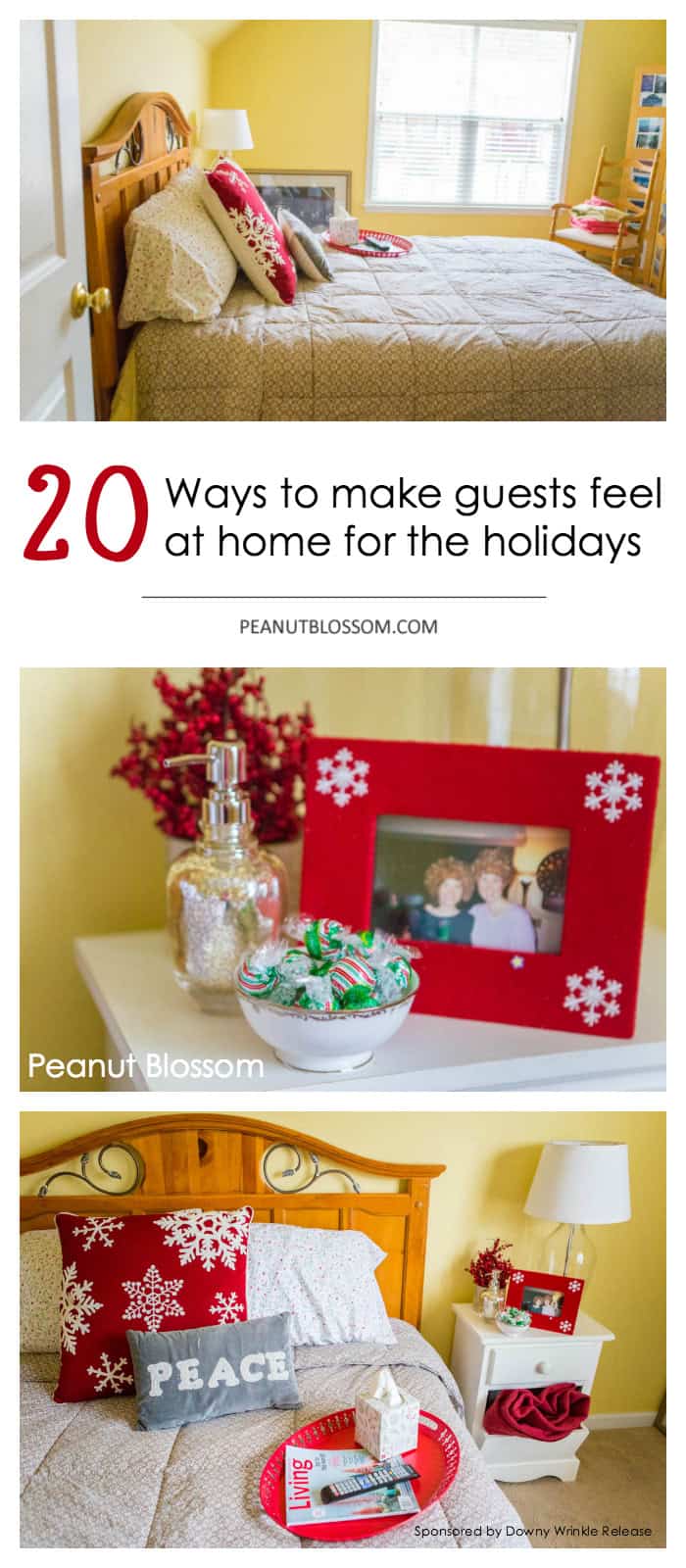 1. Extra bedding:
To help with personal temperature preferences, make sure to stash extra blankets and throws in the guest room. My sister can layer that bright red wool blanket under the comforter if she gets chilly.
2. Pillows, Pillows, Pillows:
I personally love to lay back against several pillows when I read before sleeping. I make sure our guests have plenty of cushion at the head of the bed. To make the room fun for Christmas, I added in a couple of cute throw pillows I picked up at Target.
3. Peppermint chocolates:
We're not a hotel but who doesn't love a little chocolate at night?? I thought it would be fun to fill a small bowl with peppermint chocolate truffles on the nightstand.
4. Framed Family Photo:
I dug up one of my favorite Christmas photos of my sister and me together and placed it on the bedside table. I know she'll get a kick out of it! If you have a minute, dig up a personal memory of your guest and pop it in the frame! Such a special way to make them feel welcome.
5. Evening entertainment:
Don't make your guests hunt for the remote for the tv in their room. Leave it on a tray with your latest book club pick or a current magazine.
6. Pretty lotion:
Our house definitely gets dry in the winter. I placed a sweet holiday smelling hand lotion on the night stand for her to use.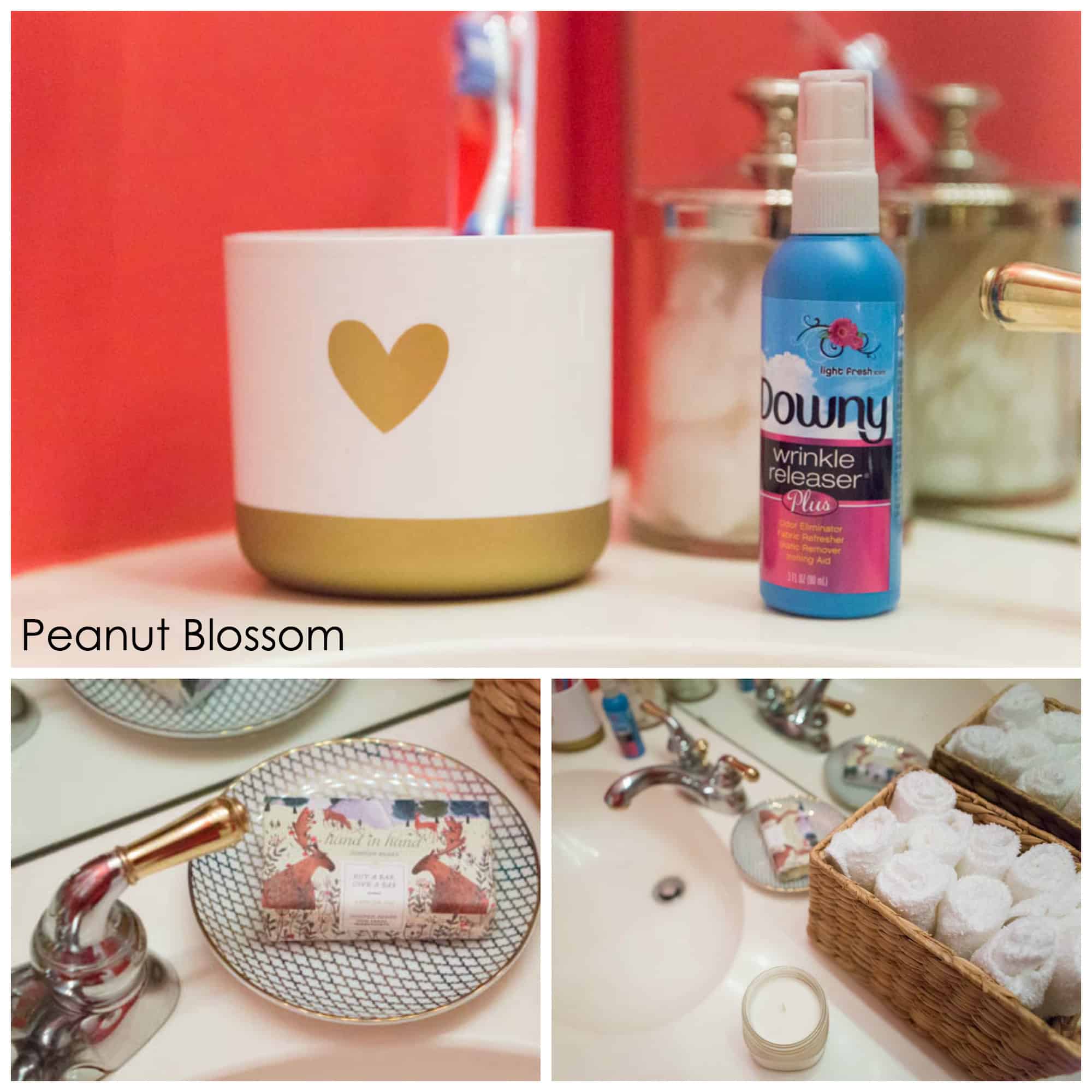 7. Emergency toiletries:
It's inevitable that guests will forget something. I try to keep a new toothbrush on hand along with travel size/sample size toiletries in the guest bathroom for guests to use in a pinch.
8. Charging base:
Especially if your guests have travelled a long way, they'll want to recharge their phones, watches, or tablets. Have a multiple-outlet charging base ready in the guest room and they'll have a neat place to store everything while it charges.
9. Plenty of wash cloths:
I like to leave out a small basket filled to the brim with fresh wash cloths for our guests. That way they always have a fresh one ready for removing makeup at the end of the day or freshening up in the morning.
10. Fresh towels:
I leave the guest bath towels folded neatly on the guest room chair so they don't accidentally get mixed in with the family towels in the bathroom before they are used. This helps prevent our guests from having to ask for them in the busy mornings. Since they sit in our closet for extended periods between guests, I give them a little spritz of the Downy Wrinkle Releaser Plus and their all freshened up for her use.
11. Jar of cotton balls/swabs:
Another handy item that no one enjoys packing! I make sure my sister has access to a whole jar of them to herself in the bathroom.
12. Festive hand soap:
I can't resist the Christmas scents for hand soap. I placed a pretty bar right next to my sister's sink.
13. Holiday candle:
I left a bright orange-scented candle in the bathroom for my sister to use either while she's getting ready or for her to take into the bedroom to make it smell extra sweet.
14. Plenty of TP!:
A guest never wants to ask you where the toilet paper is stashed. I leave plenty of extra rolls in the cabinet in the bathroom!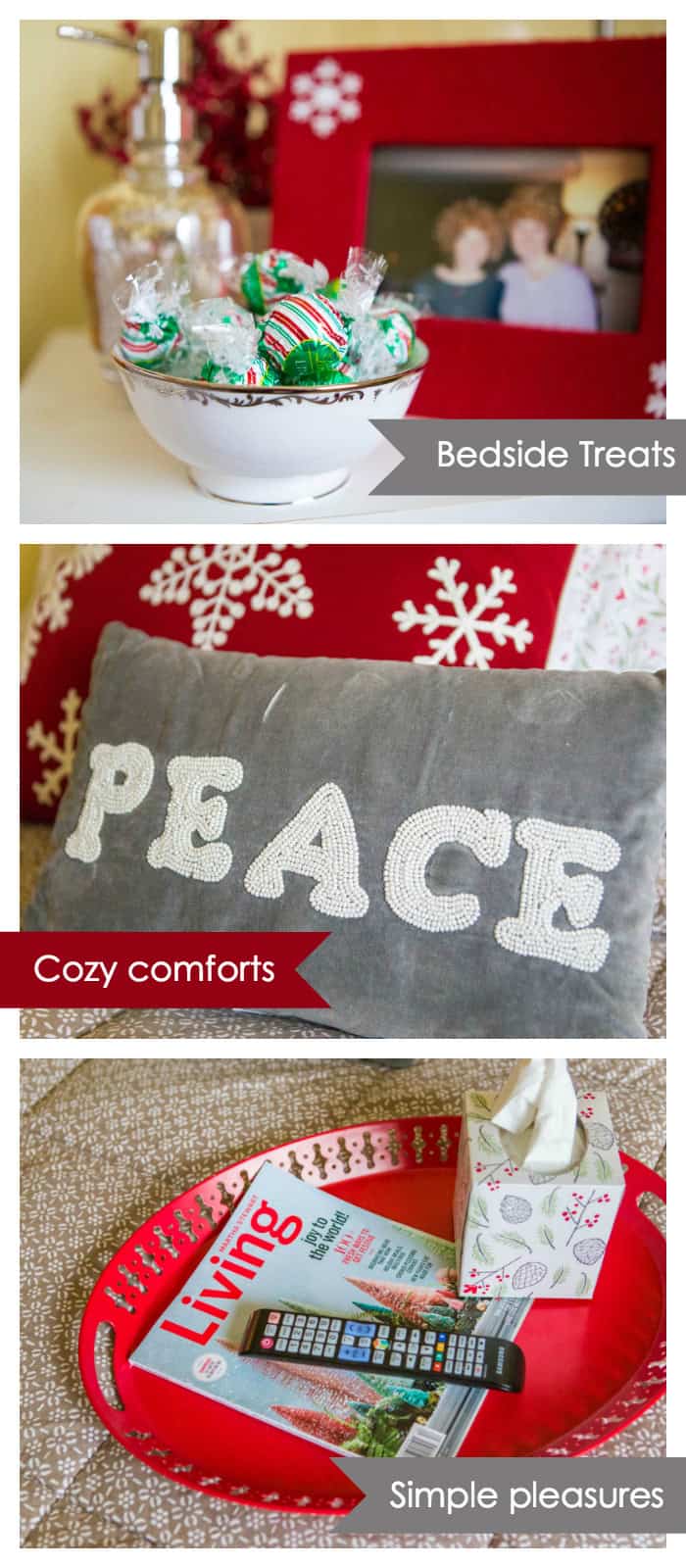 15. Space heater:
I mentioned our guest room gets extra chilly in the winter. Simply turing up the heat in the whole house doesn't help. We finally purchased a freestanding space heater for our guests to use as needed.
16. White noise:
Our whole family enjoys sleeping with a box fan as white noise. We make sure to leave one stashed in the guest room which helps with the noise and temperature control in the summer.
17. Room divider:
The space heater and box fan are not exactly the most attractive items and I've always hated how they clutter up the guest room. I finally had the brilliant idea to hide them behind our wooden room divider. It used to just serve as corner decoration (and is filled with postcards from a backpacking trip through Europe) but now serves a functional clutter hider! If you have to use your guest room for extra storage of things, this would be a perfect solution to keeping it look neater!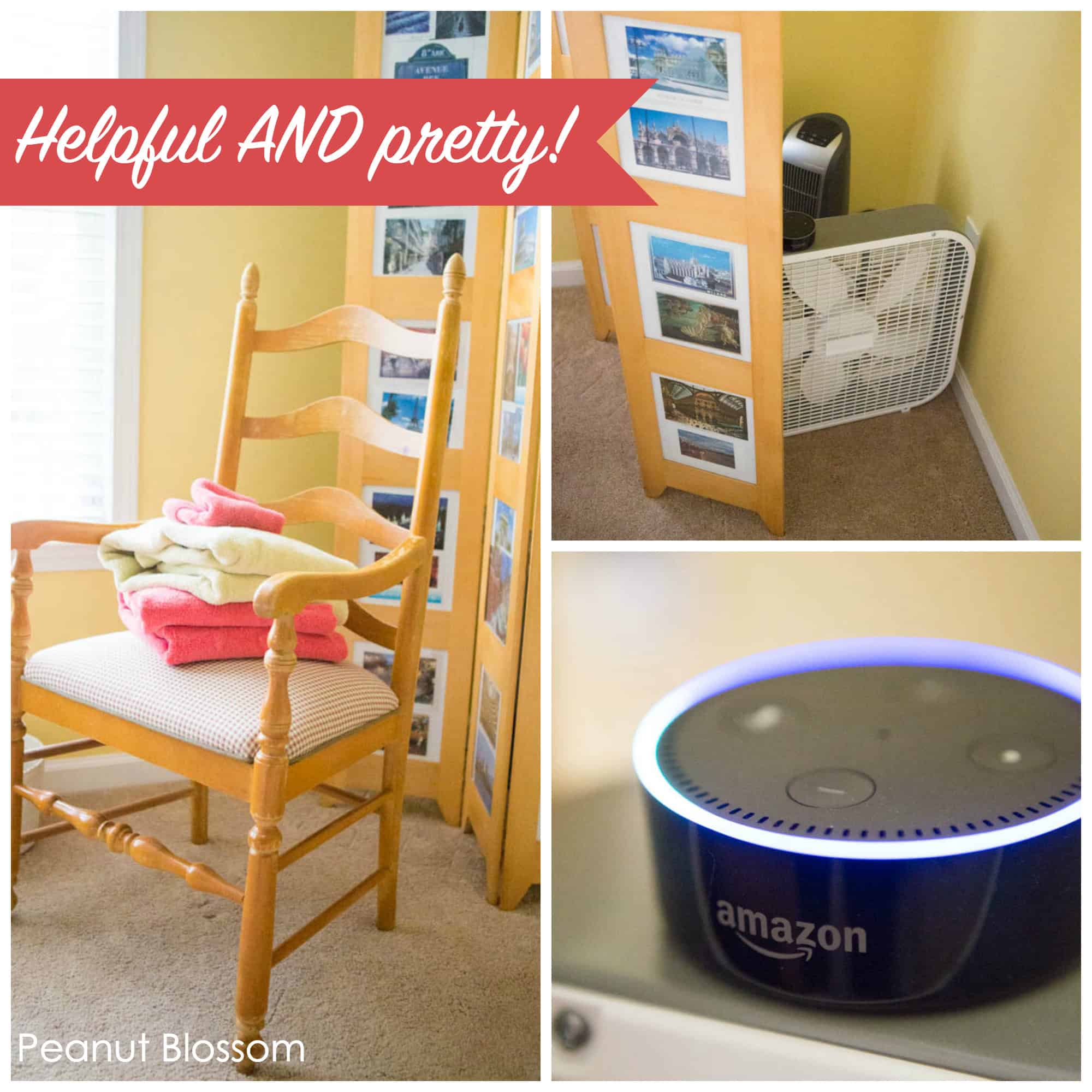 18. An Echo Dot:
Hook this do-it-all device up to your Wifi and it serves your guests as alarm clock, weather predictor, music library/stereo, or white noise machine. I hid it right behind the room divider and since it is voice activated, there's no reason your guest ever needs to even touch it!
19. WiFi password sign:
My sister and our most frequent guests have already saved our Wifi password into their devices but the next thing on my list is to create a cute framed sign with the password on display. I love this example here.
20. Hamper:
Add a simple clothing hamper for your guests to store their dirty clothes during the trip. I know I love to keep my dirty things separate from my clean ones, and it is so nice to have a spot to put them. At the end of the visit, they can put their dirty towels in there and you can grab it for the laundry in a pinch.
More Family Christmas Ideas